Scouting report: UCLA men's basketball vs. Utah, Colorado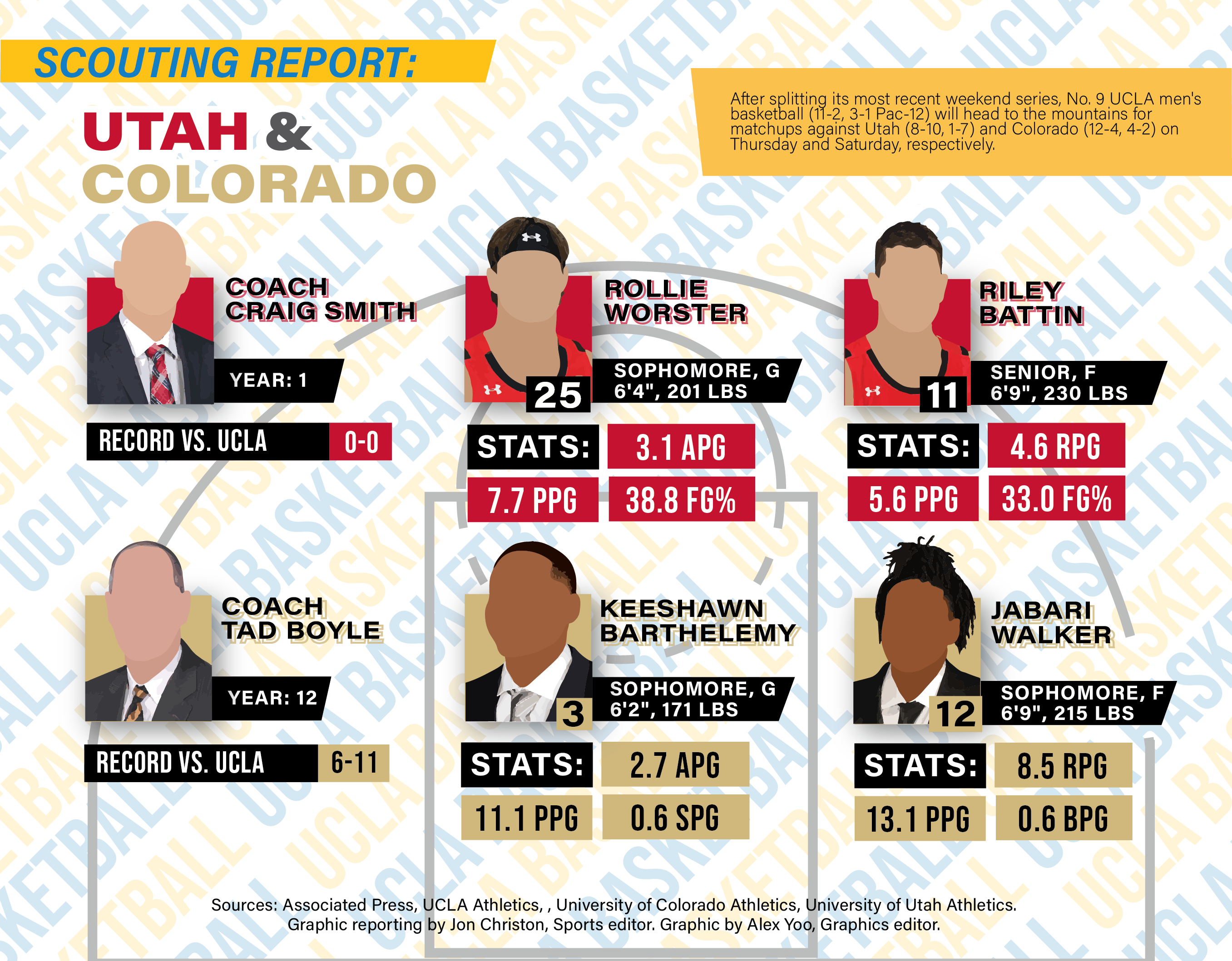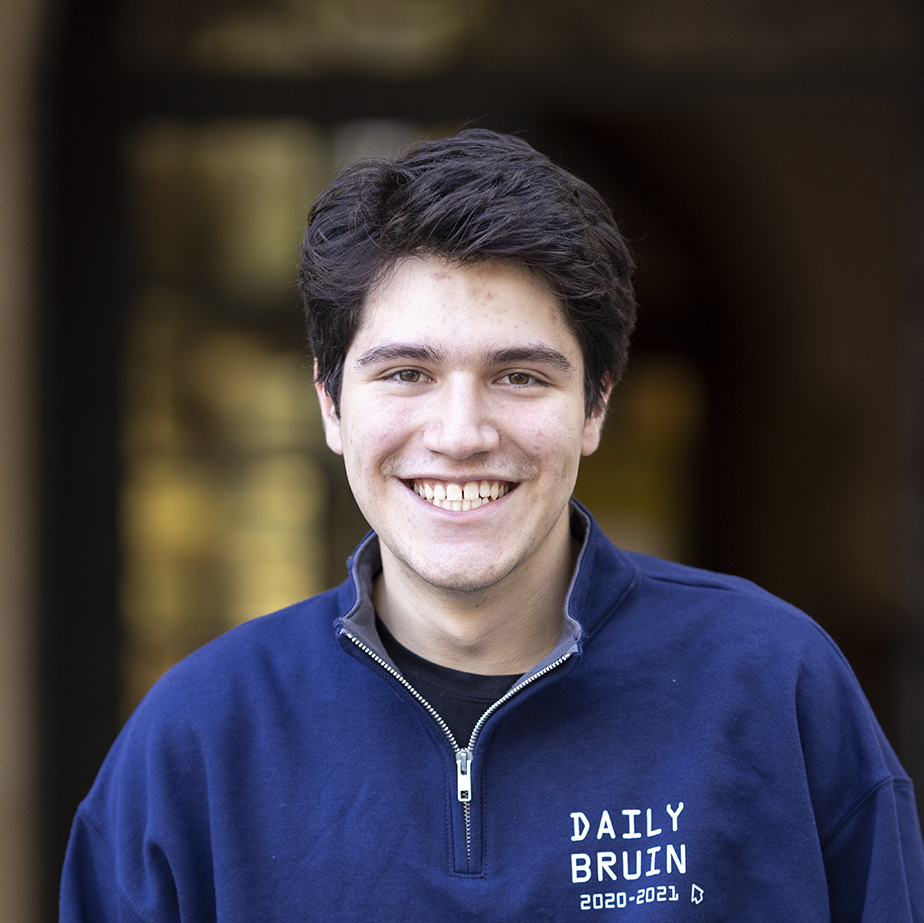 No. 9 UCLA men's basketball (11-2, 3-1 Pac-12) is set to embark on the daunting Pac-12 mountain road trip this weekend, taking on Utah (8-10, 1-7) and Colorado (12-4, 4-2) on Thursday and Saturday, respectively. Here is this week's scouting report from Sports editor Jon Christon – who is sad Bill Wilton will probably not be on the call for either game this weekend.
Utah:
KenPom ranking: 112
Adjusted offensive efficiency: 108.4 (74th)
Adjusted defensive efficiency: 102.6 (166th)
Base defense: Man-to-man
X-Factor(s): Guard David Jenkins Jr.
Utah marks an unfamiliar opponent.
Joining the Pac-12 just over a decade ago, the Utes fired the only Utah coach UCLA has ever known in Larry Krystkowiak this past offseason, making Thursday's matchup a bit of an unknown for the blue and gold.
But UCLA does have one thing in its favor: the fact that Utah quite possibly is the worst team in the Pac-12.
The Utes enter the matchup sitting in last place in the conference while in the midst of a six-game losing streak dating back to Dec. 30. The stretch includes losses to Pac-12 bottom-dwellers Oregon State, Arizona State and Washington.
It doesn't help that the Utes have been without their leading scorer and best player in recent weeks, with center Branden Carlson missing the last three games with appendicitis. Unfortunately for Utah, Carlson will likely miss Thursday's bout with UCLA as well.
Without their go-to option down low, Utah has been tasked with replacing a team-best 13.5 points per game. For a squad already lacking much offensive firepower, this is a critical blow.
The 7-footer is one of only three Utes to average double figures in scoring, and without him in the lineups, Utah has recorded 62.3 points per game against conference opponents – a mark that not only would rank as the worst in the Pac-12, but bottom-25 out of 350 teams nationally.
What makes the loss of Carlson even more impactful for the Utes is how much of first-year coach Craig Smith's offense is predicated on a tall, high-post big. Much of the offense is initiated from the top of the key, with said big setting screens, running dribble handoffs and finding wings on backdoor cuts.
Defensively, however, is where Utah misses Carlson and his 2.1 blocks per game – which ranks second in the Pac-12 – the most.
Smith utilizes a man-to-man defense, which features a hard-hedge on ball screens. While this can be a bit overaggressive at times, it can be masked with a rim-protecting center down low who can cover the open screener should he slip to the basket – a job tailor-made for Carlson.
But without their starting man in the middle, the Utes have continued to get burned by high ball screens. In its four games that Carlson has missed against Power Five opponents this season, Utah's defense has allowed 76.5 points per game – another mark that would place them as the Pac-12's worst.
Sure, it's a small sample, but time and again Utah puts two on the ball-handler, leading to a wide-open big down low without a shot-blocking player on the help side.
Should Carlson not play, watch for Utah to try to supplement his offensive load between forward Riley Battin and guard David Jenkins Jr. – its sixth man who, at times, can be a prolific scorer – and defensively with new starting center Lahat Thioune manning the middle.
Colorado:
KenPom ranking: 78
Adjusted offensive efficiency: 107 (97th)
Adjusted defensive efficiency: 96.8 (67th)
Base defense: Man-to-man
X-Factor: Forward Jabari Walker
As the Bruins saw in early December, the Buffaloes revolve around forward Jabari Walker.
Despite sitting on the bench for much of last season and averaging fewer than 15 minutes behind guard/forward D'Shawn Schwartz and forward Jeriah Horne, Walker was still able to earn Pac-12 All-Freshman Team honors.
With over half of his team's production from a year ago gone to graduation, Walker has immediately stepped in as the Buffaloes go-to wing.
And so far, that's been a recipe for success for Colorado.
Finishing third in the Pac-12 a season ago, the Buffaloes are right back into the thick of things this season with Walker front and center, sitting in fourth place with a 4-2 conference record.
The sophomore forward has put up a team-high 13.1 points per game so far this season while also leading Colorado with 8.5 rebounds per contest – a mark that currently ranks third in the Pac-12 and is by far the best of any wing player in the conference.
Coincidentally, Walker's best offensive game this campaign came against UCLA, in which he put up a season-high 22 points on 7-of-11 shooting. While the Bruins were able to reign in the rest of the Buffaloes that night – the team scored only 39 points on 37.2% shooting aside from Walker's production – the forward's presence alone makes this a tough matchup for UCLA on Saturday.
What makes Walker so unique is his offensive versatility. He can be used as a guard, wing or big in the half court, often utilizing screens from forward Evan Battey as a ball handler or catching straight post touches to isolate down low.
Walker is not dependent on a guard like many of the conference's top rebounders are, making him dangerous in transition. He has the ability to grab a board on one end and quickly take it the length of the floor while leading the fast break.
This versatility translates onto the defensive end as well, with the 6-foot-9 Walker being one of two Buffaloes with double-digit totals in both blocks and steals on the season. The other Colorado player to do so is guard Elijah Parquet – a member of the 2020-2021 Pac-12 All-Defensive Team.
In addition to the likely pair of all-defensive wings, Colorado also has 6-foot-9 forward Tristan da Silva, who is a more than capable defender out on the perimeter.
With the trio of Walker, Parquet and da Silva, Colorado offers a formidable matchup for UCLA's junior guard Johnny Juzang, senior guard Jules Bernard and junior guard/forward Jaime Jaquez Jr. – each of whom were held below season-averages in the first matchup between UCLA and Colorado, though Jaquez was limited to seven minutes because of injury.
But while they are switchable on the perimeter and have respectable block numbers from the wing, the Buffaloes lack a true interior force defensively.
Battey, who starts at center for Colorado, stands at 6-feet, 8-inches and is not vertically inclined, to say the least. With only eight blocks on the season from their center, the Buffaloes are overly reliant on wings like Walker and Parquet – and guard Nique Clifford with his team-leading 12 blocks – for their rim-protecting duties.
UCLA outscored Colorado 34-24 in the paint the last time the two teams met Dec. 1 with redshirt senior center Myles Johnson scoring a season-high 12 points.
Expect that same kind of interior dominance from the Bruins on Saturday.
Christon is currently a Sports senior staff writer. He was previously the Sports editor on the men's basketball and football beats and the assistant Sports editor on the women's basketball, softball, men's tennis and women's tennis beats. Christon was previously a contributor on the women's basketball and softball beats.
Christon is currently a Sports senior staff writer. He was previously the Sports editor on the men's basketball and football beats and the assistant Sports editor on the women's basketball, softball, men's tennis and women's tennis beats. Christon was previously a contributor on the women's basketball and softball beats.