Track and field athletes break personal, facility records at first indoor meet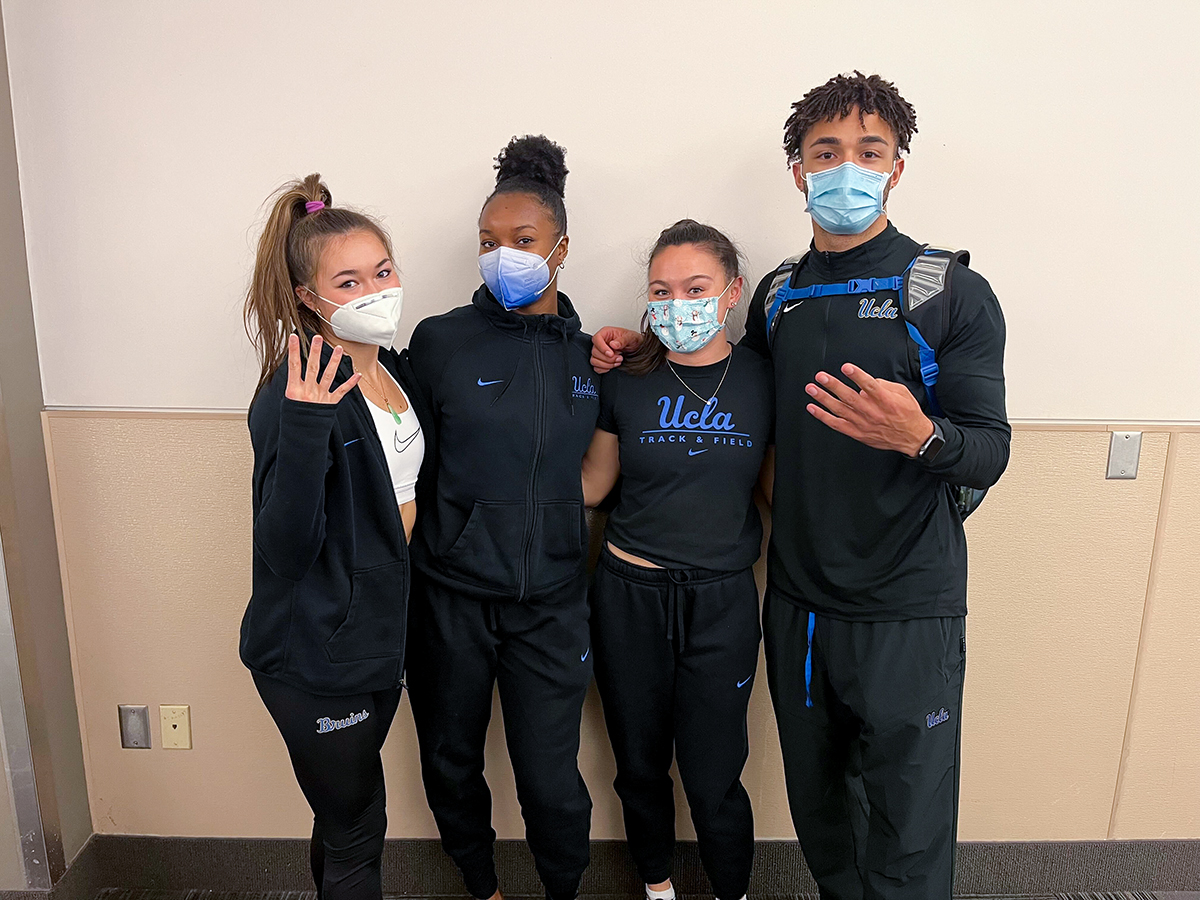 (From left to right) UCLA track and field junior sprinters Catherine Leger, Makenzy Pierre-Webster, Maddy Doane and Myles Misener-Daley pose for a photo following their first indoor competition of the season Jan. 15. All four athletes broke previous facility records at The Podium in Spokane, Washington.(Courtesy of UCLA Athletics)
In their first indoor competition in almost a year, the Bruins were able to compile event victories and set new records.
UCLA track and field traveled to Spokane, Washington, to compete in the Cougar Classic on Friday and Saturday, its first indoor team competition of the year after participating in one such event in the entirety of last season. Against a 19-team field, several Bruins set personal records and broke previous facility records at The Podium.
Multiple sprinters posted personal bests. In the women's 200-meter dash, three Bruins broke the previous facility record of 24.66 seconds. Junior Makenzy Pierre-Webster led the way by placing third overall with a time of 23.86 seconds, junior Catherine Leger set a new personal record with 23.94 seconds, and junior Maddy Doane recorded a time of 24.35 seconds.
Pierre-Webster, who also recorded a sixth-overall finish in the women's 60-meter race, said the lack of opportunities to compete indoors last year didn't change her mindset when preparing for the first indoor meet of this season.
"Same prep, same mindset. It's not too different," Pierre-Webster said. "Just listen to music and get in the zone."
After this weekend's performance, the junior now holds the fourth-best mark in the indoor women's 60-meter dash and fifth-best performance in the 200-meter dash in UCLA history. Still, Pierre-Webster said there is a lot of room for personal improvement as the season goes on.
"It's meet number one. The entire team is going to come back 10 times harder every meet here on after," Pierre-Webster said.
On the men's side, junior Myles Misener-Daley, who competed in the 400-meter race, ran a recorded time of 47.54 seconds to achieve both a first-place finish and meet record. Senior Seth Holloway competed in the 60-meter race, finishing sixth with a time of 6.83 seconds and finishing fourth in the 200-meter dash with a time of 21.85 seconds. Junior Cristian Moore also ran in the 200-meter dash, finishing sixth with a time of 21.91 seconds.
In the men's shot put, Bruins placed both first and second. Redshirt senior Jacob Wilson and sophomore Dayne Gordien both passed the previous event record of 16.17 meters.
Unlike Pierre-Webster, Wilson said there is a noticeable difference when competing inside and added he prefers an outdoor setting.
"It seems to be more competitive. There's more people and more energy," Wilson said.
For Wilson, the outdoor setting also holds greater significance.
"I love the atmosphere outside. It's also sentimental. I grew up competing outdoors," Wilson said.
Despite the environment, the redshirt senior still grabbed a first-place finish by setting a Cougar Classic record with a 17.94-meter throw. Gordien, who was competing in his second indoor collegiate competition with UCLA, tossed a mark of 16.64 meters. Wilson said he still expects more from himself in future meets, especially after competing with limited preparation due to COVID-19 restrictions.
"It's a good starting spot for the year, but (I) had to shake some rust off," Wilson said. "Things are looking up, only up from here."
With a mix of young and experienced athletes on the roster, Wilson said the team has plenty of potential this season as it finds its footing.
"The team is in a good spot," Wilson said. "Lots of athletes had their first meet, and it'll build a huge base for the team. People in jumps and sprints are ready to go and prove themselves."
The Bruins will next compete in the UW Invitational, a two-day meet beginning Jan. 28.
Freeman Sacker is currently a Sports contributor on the men's golf and track & field beats.
Freeman Sacker is currently a Sports contributor on the men's golf and track & field beats.