Opinion: Independent redistricting commission will improve representation in city council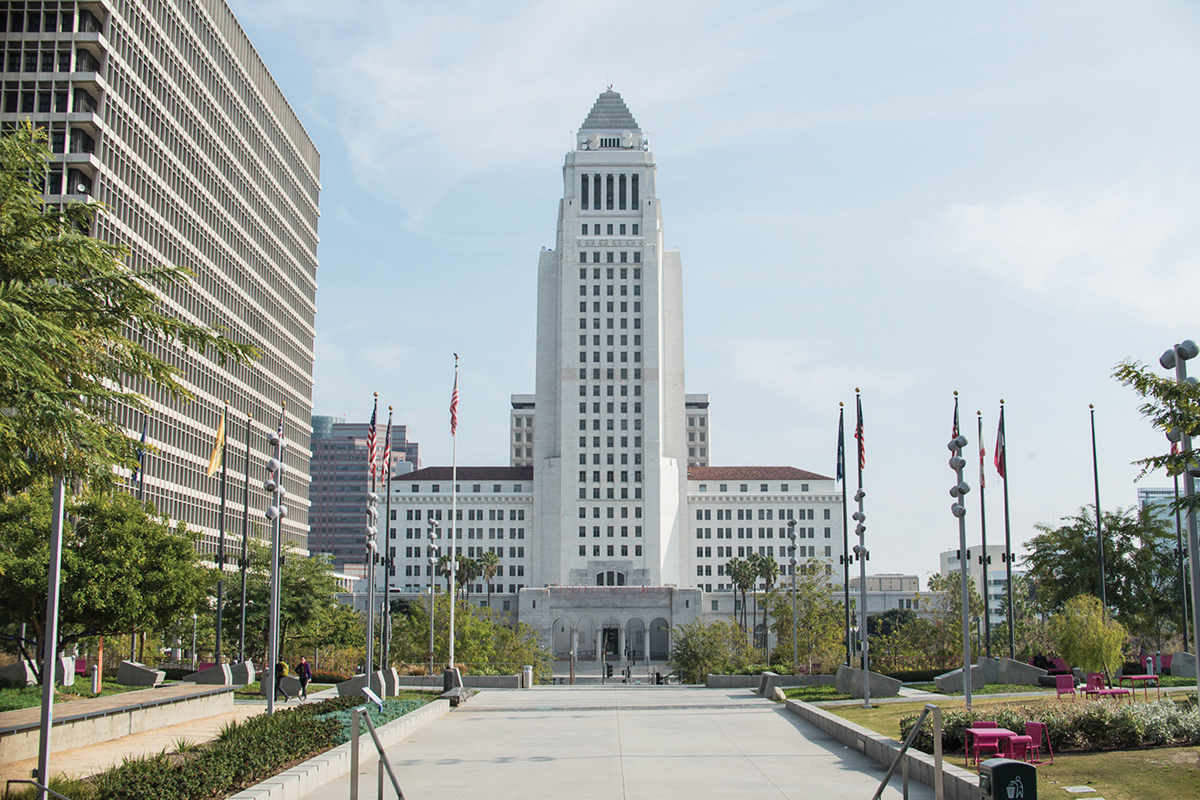 The Los Angeles City Hall is home to the mayor's office and the city council. The city of LA needs an independent commission to lead the redistricting process in order to ensure fair representation. (Daily Bruin file photo)
The people of Los Angeles keep electing the same politicians – overwhelmingly Democratic yet continuously unproductive.
The city's politics are filled with grandiose promises of solving endemic problems, but issues such as homelessness and crumbling infrastructure remain.
These shortcomings can be traced directly to the city's redistricting process, which has historically benefitted incumbents, keeping new politicians with bright ideas from entering the conversation.
This process, which occurs every 10 years after the census is taken, is led by a redistricting commission that is composed of members hand-picked by each serving city council member and the mayor. The primary goal of redrawing district lines is to reapportion LA's 15 districts based on population changes.
However, the city council votes on the final map, which means it can ignore the commission's map if it wishes and decide to draw its own.
Moving forward, a fully independent commission must spearhead redistricting – a process that should, in theory, ensure the fair representation of Angelenos. An essentially gerrymandered district map means voters, including UCLA students, may not be properly heard and advocated for in their city councils.
In fact, the chair of the 2021 redistricting commission came out in support of creating a truly independent process. He did this after his commission's work was overshadowed by complaints from the city council. And in December, LA city councilmembers Nithya Raman and Paul Krekorian – two council members whose districts were most affected by initial maps – proposed a motion that would allow voters to decide whether an independent commission should be responsible for future city redistricting.
Next steps are obvious: City council members must pass the motion. Without this measure, the city council still largely controls the work of the redistricting commission, with the sitting council ultimately having the last say. Incumbents are able to shore up their own districts, greatly cutting down the chance of a political upset.
This perhaps explains why no incumbent lost an election for nearly two decades before Raman ousted incumbent David Ryu in 2020.
Redistricting, as it currently stands, can also prevent underrepresented voices from being heard in government. For example, the 2011 redistricting commission split Koreatown four ways, diluting the diverse community's voting power.
Little turnover in the city council has led to political stagnation. Redistricting may bring new representation ready to address serious issues that have previously been overlooked in the UCLA community – as long as it's done fairly.
"Some of the biggest issues that we have in Westwood are the cost of housing," said Andrew Lewis, the vice president of the North Westwood Neighborhood Council. "We have students that are housing insecure and a lot of students that are homeless."
In a welcome change during the recent redrawing, the council was more open about the process and received a record amount of public input. These signs of improvement may have been helped by the online nature of meetings forced by the pandemic.
"The remote meetings of the commission made it a much more transparent process," said Zev Yaroslavsky, a former LA city council member and LA County supervisor and current director of the Los Angeles Initiative at the UCLA Luskin School of Public Affairs.
The recent process also helped give more representation to minority communities, like reuniting Koreatown.
Despite these improvements, the redistricting process was far from perfect. In the commission's first map, Raman, the current progressive council member of the fourth council district retained virtually none of her district – an undemocratic move that would have left her to represent residents who were unable to vote for her.
"She lost 100% of her constituents and I think that would anger any member," said Robb Korinke, the principal of GrassrootsLab – a California public relations firm that researches local government and community engagement, among other things. "It sort of seems particularly egregious."
The redistricting process comes on the heels of the hotly contested race between then-councilmember Ryu and newcomer Raman in 2020. Raman ran to the left of Ryu, courting many of the progressive voters of the district. This led to a surprising upset, marking the first time a city council incumbent had lost since 2003.
The stark change in the status quo provided a much-needed jolt to a static council with a reputation for being less progressive than the city as a whole. Redistricting commissioners may claim the process isn't about elections, but it's hard to believe the initial plan wasn't designed to stifle rising progressive power – or to make it more difficult for Raman's supporters, like the Democratic Socialists of America, from gaining a foothold in the city.
It should be understood that redistricting is not by any means an easy process.
"It's difficult, and it's like trying to solve a Rubik's Cube," Yaroslavsky said.
An independent redistricting commission may not make things simpler, but it will certainly prevent incumbents from benefitting at the expense of underrepresented groups.
Thankfully, the redistricting committee's first map was met with overwhelming backlash, not only from Raman and Krekorian but from many Angelenos who voiced their concerns about the process.
An independent commission will help remove politics from redistricting, creating a system that doesn't accede to the whims of politicians. This may portend a political awakening in Los Angeles, with progressive candidates being at the forefront of the city's political future.
The city council must pass Raman and Krekorian's motion. Angelenos have waited long enough.