The Quad: Examining progression of omicron variant amid winter surge in US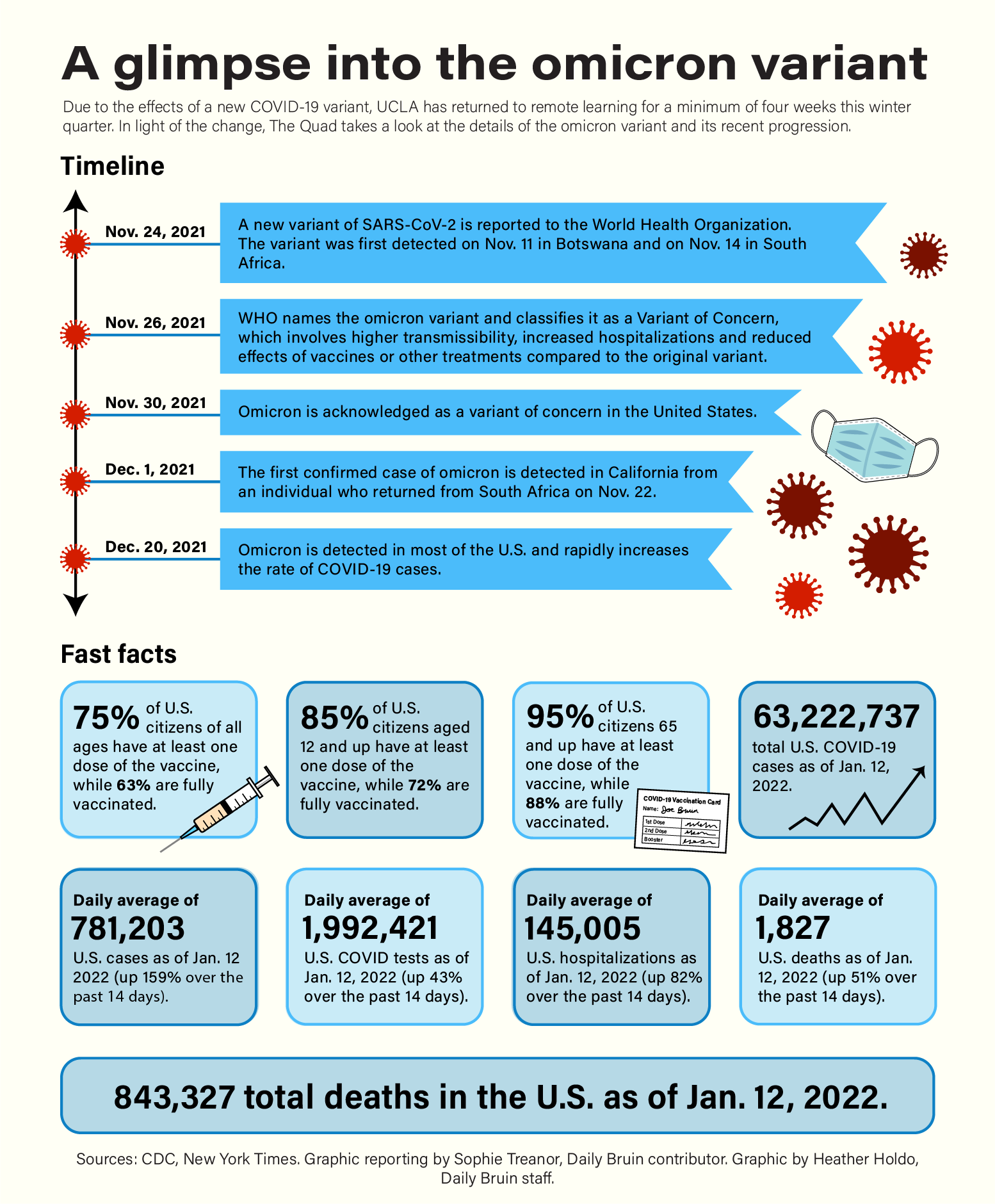 This post was updated Jan. 18 at 2:35 p.m.
Omicron – the new COVID-19 variant that has caused a spike in COVID-19 cases nationwide and forced Bruins back to online learning.
The World Health Organization classified omicron as a variant of concern Nov. 26 because of its high transmissibility, according to the WHO website.
Omicron has surpassed the prominence of both the alpha and delta variants within the U.S, according to the Centers for Disease Control and Prevention as of Jan. 14. Omicron makes up 98.3% of COVID-19 cases in the U.S., with delta making up 1.7%.
According to medicine and epidemiology professor Timothy Brewer, the arrival of omicron has created an unprecedented spike in daily COVID-19 cases. The daily average of cases in the U.S. has risen to 806,157 as of Jan. 14, whereas the U.S. peaked at around 250,000 daily COVID-19 cases in 2021, according to the New York Times.
Brewer said there are about two to three times more cases than there was last year with the delta variant.
"Our single-day record (with omicron) was 1.4 million. So you know, substantially more cases than before, and that's mirrored in California as well," Brewer said.
According to the New York Times, the daily average of COVID cases as of Jan. 8 increased by 226% over 14 days. The daily average of U.S. citizens hospitalized from COVID-19 has risen to 150,237 with a daily average of 1,928 deaths reported as of Jan. 14.
Brewer said there are certain aspects differentiating omicron from other variants and contributing to its high transmissibility.
"One (difference) is that it's more transmissible, and alpha and delta were already highly transmissible variants," Brewer said. "The second is, and more importantly, is omicron is demonstrating what's called immune escape, which means that people who have been previously vaccinated or previously infected with SARS-CoV-2, the virus that causes COVID-19, are usually protected from delta or alpha. But these individuals can still become infected with omicron."
According to the NBC, it can take as little as three days for omicron symptoms to appear after exposure.
According to the CDC, the quarantine period for asymptomatic individuals with omicron is five days shorter than delta due to its shorter infectious period, which refers to the period of time in which someone is capable of infecting others after contracting a disease. UCLA recently updated its policy to follow this CDC guideline.
"Some data from South Africa suggest that it may not be quite as pathogenic as delta, meaning you're less likely to develop serious disease or end up in the hospital with omicron compared to delta," Brewer said.
According to biostatistics professor Christina Ramirez, the vaccine also contributes to the relatively low hospitalization and death rates for omicron. However, it may lack the ability to prevent long COVID-19, the symptoms that exist for a long period of time after the initial infection of COVID-19.
"To try and prevent long (COVID-19), we need to have really good early treatment to keep the virus from running amok within a person," Ramirez said.
As for looking toward the future, Brewer said that the COVID-19 virus is not likely to disappear anytime soon.
"The important thing to recognize is that the virus SARS-CoV-2 is very well adapted for human-to-human transmission, and that means it's unlikely to go away," Brewer said. "We need to move from a frame of mind of 'What are all the things we can do to make this virus disappear from the … human population,' to 'What are all the things we can do to minimize the impact of this virus on our health, our healthcare system and our lives?'"
Brewer said that vaccination should be everyone's top priority.
"The single most important thing any student can do is to be vaccinated. And if you're eligible for a booster, to make sure you get your booster," Brewer said.
In light of the continuing COVID-19 pandemic, UCLA announced the extension of online learning to Jan. 28, according to its website.
Sara Lehman, a second-year communications and economics student, said that although online school is not ideal, she approves of UCLA going online for part of winter quarter.
"Health is probably the most important thing. So it's probably a good idea that UCLA has such stringent protocols, … but it's just kind of a lot to deal with," Lehman said.
Meghana Chintala, a third-year business economics student, said that if UCLA continues in-person schooling for the rest of the quarter, there should be more accountability with COVID-19 testing among students to reduce the spread of the Omicron variant on campus, rather than using the Daily Symptom Monitoring Survey.
"I realize I have to take (the survey) when I go to the gym or something that actually requires you to show proof. But for actual classes, I have gone to class many days and have skipped the daily symptom (survey)," Chintala said. "A lot of the professors also don't remind you to take it."
However, Chintala said that UCLA has been successfully transitioning to an online environment and appreciates how the pandemic has made learning more accessible through applications like Zoom, BruinLearn and Lockdown Browser.
With this new variant becoming a part of our lives, UCLA has encouraged individuals to use the COVID-19 test vending machines on campus, get vaccinated and keep up healthy habits.
"It just takes one person to spread it," Chintala said.