Women's basketball prepares for return to Pauley Pavilion against Washington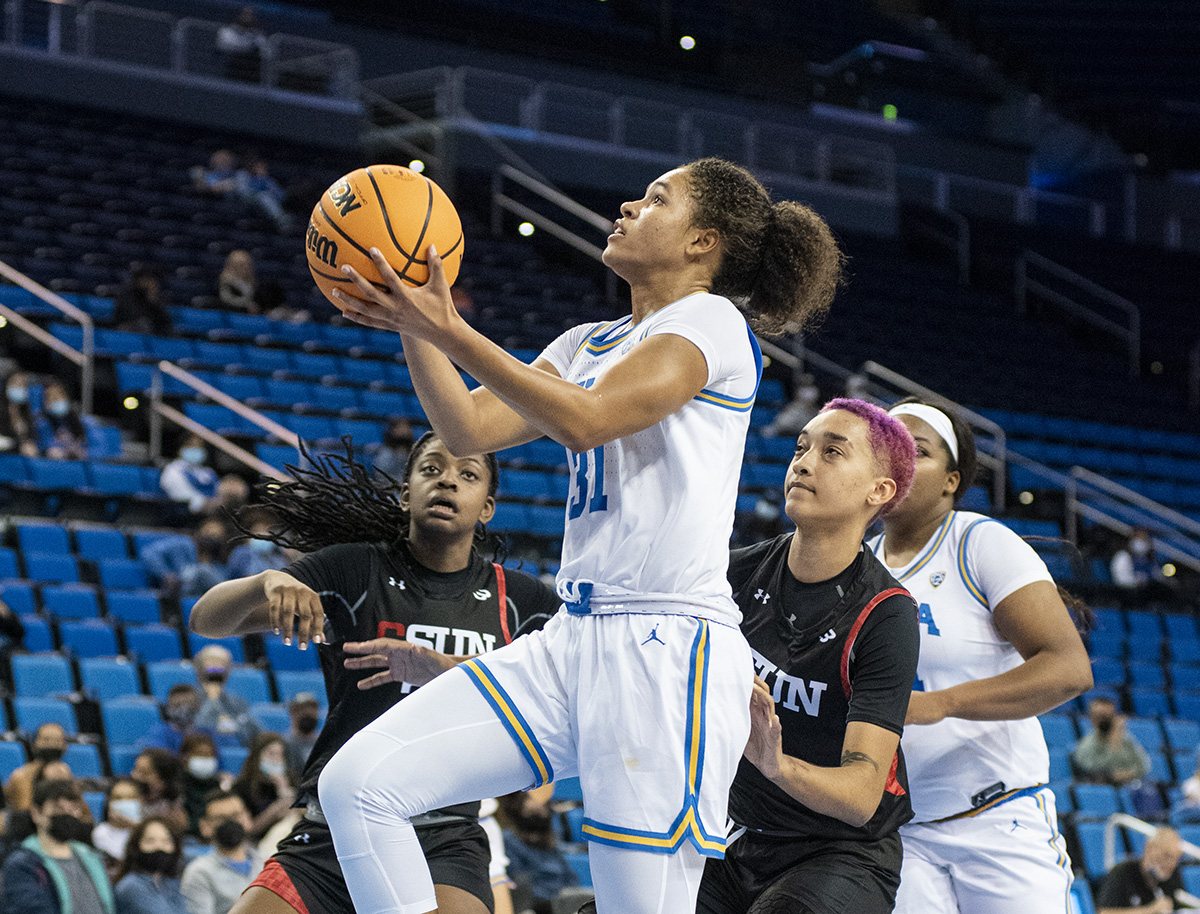 UCLA women's basketball graduate student guard Jaelynn Penn drives in for a layup during the Bruin's win over Cal State Northridge Nov. 18. Penn has scored in double figures for seven of nine games thus far in her first season with the blue and gold. (Marie Goldfarb/Daily Bruin)
Women's basketball
---
Washington
Friday, 7 p.m.
Pauley Pavilion
Pac-12 networks
---
Washington State
Sunday, 12 p.m.
Pauley Pavilion
Pac-12 Los Angeles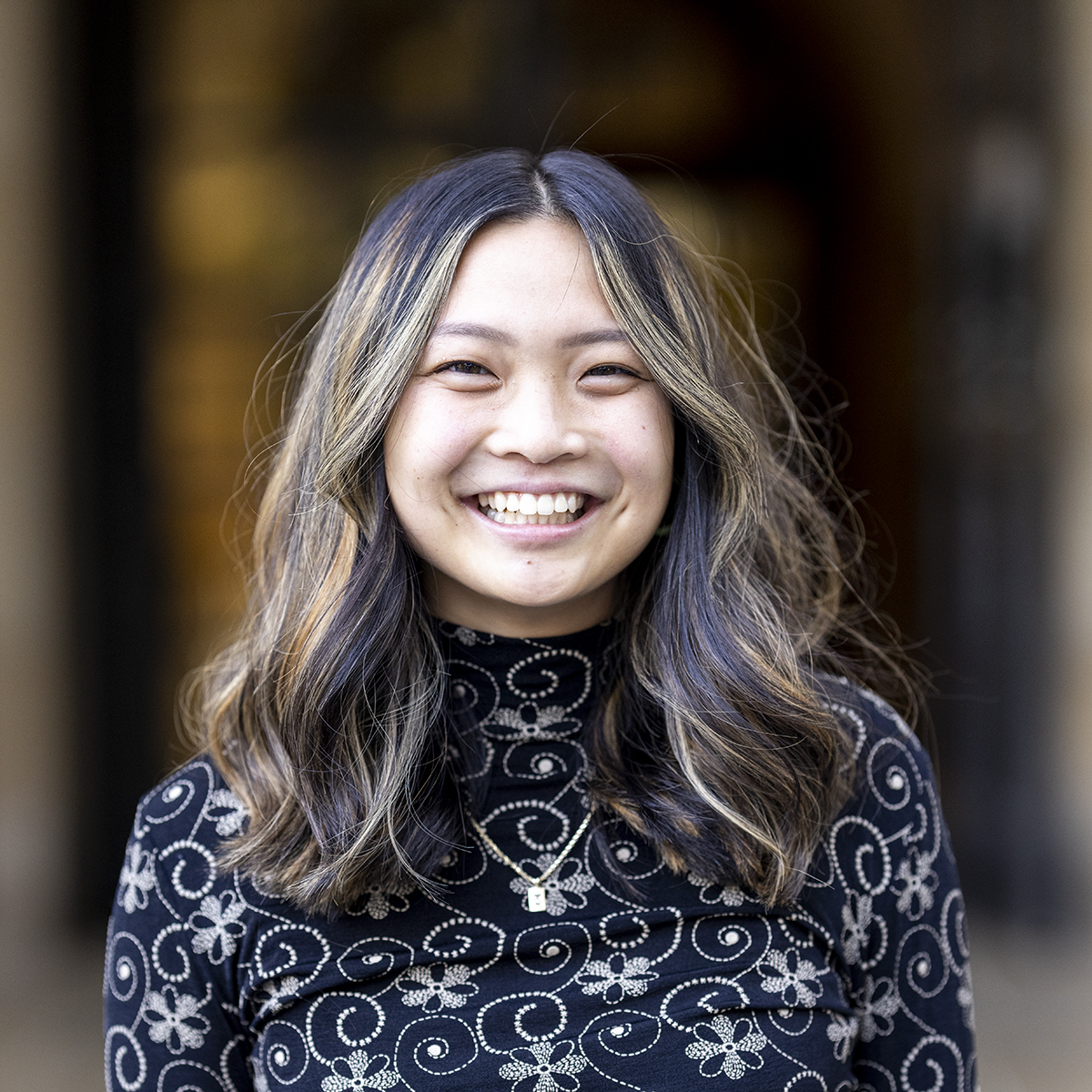 The Bruins will play at home for the first time in over a month.
UCLA women's basketball (5-4, 0-1 Pac-12) will host Washington (5-3) on Friday and Washington State (9-5, 1-2) on Sunday at Pauley Pavilion for its first two Pac-12 home contests of the season. Because of COVID-19 related cancellations and postponements, the Bruins last played in Westwood on Dec. 11, when they secured a 79-point victory against San Jose State to extend their undefeated home record on the season.
The matchup will mark the first time UCLA has hosted Washington since Jan. 2020. Last season's scheduled matchup at Pauley Pavilion was postponed because of COVID-19 concerns within the Husky program – and like many other postponed games for the Bruins that year, it was never rescheduled.
Friday's game is also Washington's first Pac-12 matchup of the season. Similar to UCLA – which played its first conference contest Thursday – the Huskies endured four consecutive postponements against Pac-12 teams to delay the start of their conference schedule.
While the Huskies haven't played since Dec. 20, graduate student guard Jaelynn Penn said the Bruins aren't taking their opponent for granted and are focused on preparing for the Huskies' motion offense.
"Our main scouting report on Washington is just taking them out of their action offensively," Penn said. "We're just trying to make it uncomfortable for them to run that – whether it's denying reversals or making it tough for them to see passes – because they cut a lot as a team."
Graduate student guard Natalie Chou also said defense will be the key to the Bruins' success Friday evening.
"Just being really disruptive on the defensive end and just going hard on our defensive principles that we've been working on since the summer," Chou said.
On the other hand, Washington State has played three Pac-12 contests thus far – the most games of any team in the conference. After starting their season with six straight wins, the Cougars are now coming off four losses in their last five games – though their last two contests have come against Stanford and Arizona, two Pac-12 teams currently ranked in the AP Top 25 poll.
Despite Washington State's recent losses, coach Cori Close said the Cougars' ability to create and maintain their momentum may pose a challenge for the Bruins, especially on the defensive end.
"They're playing well (and) they're very solid defensively," Close said. "I think both these teams are really solid in half-court defense and quarter-court defense. … If we can spread them out, get the ball behind them and score in transition, that will be really important."
Referring to her team's 8-point loss to Colorado on Jan. 9, Close said she knows the Bruins are capable of meeting a high standard on the defensive end but haven't shown the level of consistency she desires.
"We held Colorado scoreless for six and a half minutes to start the game off," Close said. "We need to be able to have more consistency and to capitalize on that so that's going to be a really big focus all weekend."
While the Bruins are undefeated at home, this weekend's games will look different than their first four games at Pauley Pavilion this season. Earlier this week, UCLA announced that all indoor athletic competitions on campus will be limited to the families of team members through Jan. 21.
However, Close said she doesn't foresee the lack of fans in the stands as a major obstacle in her team's success.
"It really tells you who the competitors are," Close said. "Attendance is the least of our worries – we're just trying to win games."
UCLA will face Washington at 7 p.m. on Friday and Washington State at 12 p.m. on Sunday.
Wang is currently a Sports reporter on the women's basketball beat. She was previously a contributor on the women's golf beat.
Wang is currently a Sports reporter on the women's basketball beat. She was previously a contributor on the women's golf beat.