UCLA students, faculty share experiences with transition to Bruin Learn system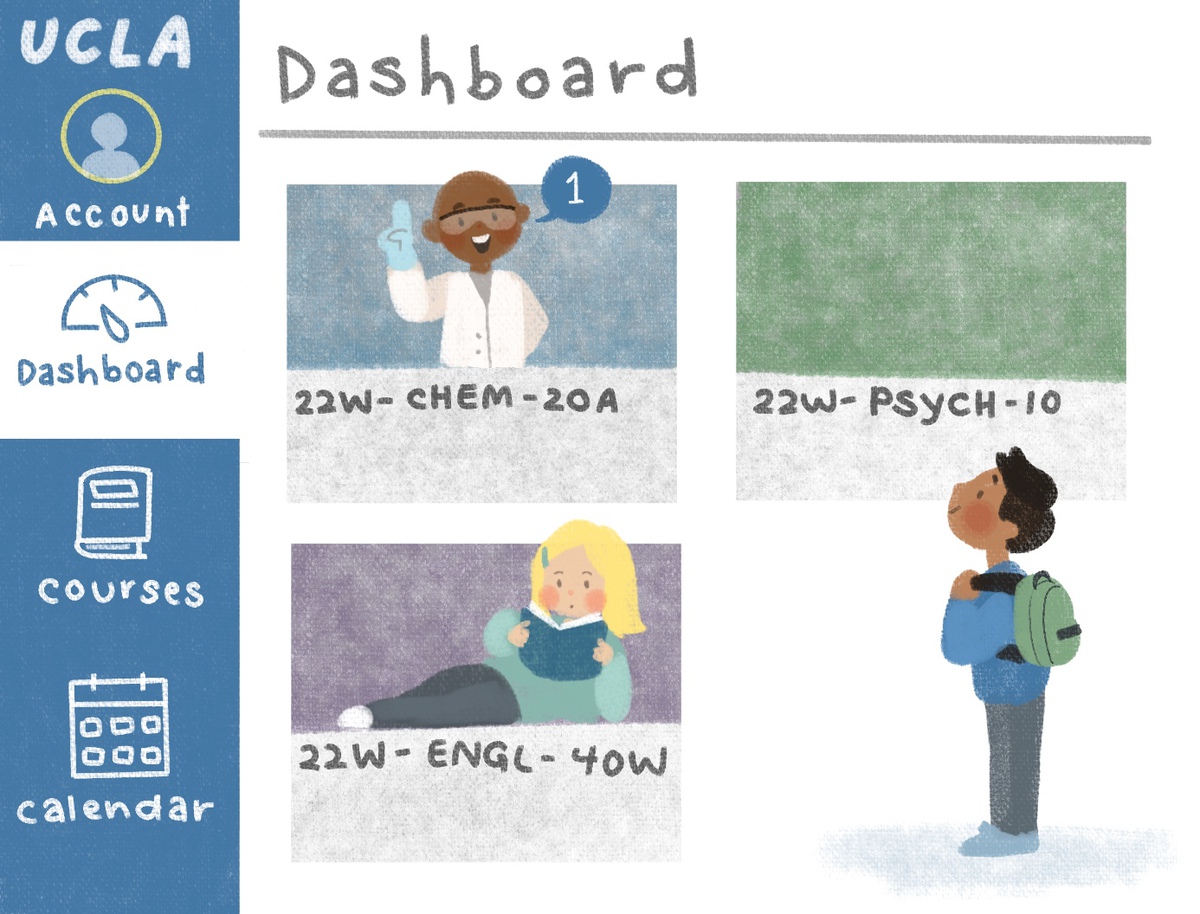 (Katelyn Dang/Illustrations director)
Students and professors have expressed mixed feelings about UCLA's transition to Bruin Learn, a new learning management system, during winter quarter.
Bruin Learn is built on the Canvas online platform and will include other tools, according to the UCLA LMS Transformation website. The website also states the university switched from CCLE to Canvas because it is widely used across the UC system and better suited to serve UCLA into the future.
[Related: UCLA prepares for winter transition to Canvas system from CCLE]
UCLA transitioned some classes to Bruin Learn in fall quarter, which allowed the university to get acquainted with the new learning platform.
"The pilot implementation in fall allowed us to address many issues, including challenges with the integration of external tools and functionality regarding some of the complex tasks that folks had customized in CCLE," said UCLA spokesperson Katherine Alvarado in an emailed statement.
Alvarado added that resources are available to assist students with Bruin Learn, including guides on the Bruin Learn website and a chat with Bruin Learn support.
Some students and faculty said UCLA provided helpful resources for understanding Bruin Learn.
Parmis Goshtasbi, a fourth-year biology transfer student, said UCLA's resources have helped her adjust to Bruin Learn. She added that the university sent many emails to help students navigate the website.
"We were getting all kinds of notices throughout fall quarter," said Kevin Coffey, a lecturer in the department of earth, planetary and space sciences. "There are links to trainings and walkthroughs, … and there are all kinds of active workshops and troubleshooting."
Jessica Collett, a professor and the vice chair of undergraduate education for the department of sociology, emphasized the technical support of Bruin Learn.
"The main benefit for faculty (and students) is access to 24/7 tech support," Collett said in an emailed statement. "Moodle (what we called CCLE) was an open-source software with more localized support but less of it."
Students can access this support through the UCLA LMS Transformation website, which provides links for 24/7 assistance.
Julia Steinhouse, a first-year undeclared student, said students and professors are working together to understand the new learning environment.
However, some students and faculty said UCLA's decision to temporarily move to online instruction has made the transition to Bruin Learn more difficult.
Jennifer Young, a third-year psychology student, said the number of tabs and information on Bruin Learn made it difficult for her to find Zoom links. She added she has struggled with figuring out Bruin Learn on her own, whereas in-person instruction could have made the learning platform easier to navigate.
Hung Pham, an assistant adjunct professor in the department of chemistry and biochemistry, said many factors have made adjusting to Bruin Learn more difficult, including fully remote instruction, the transition being in the middle of an academic year, and the speed of the shift toward Canvas. He added that Bruin Learn uses HTML code, which can be restrictive for faculty members unfamiliar with the software.
"I have to teach two different courses, which means two different Canvas sites. … It's just a lot to take in, in addition to trying to figure out how to teach the class online and maybe in person or maybe not," Pham said.
Pham added that he had anticipated in-person classes during the winter quarter, but the university's decision to shift to online learning for a few weeks made the transition more difficult.
"We're just figuring everything out for ourselves and for our students," Pham said. "I'm not saying that (Bruin Learn) is horrible, but the situation is horrible."