Weekend preview: Jan. 13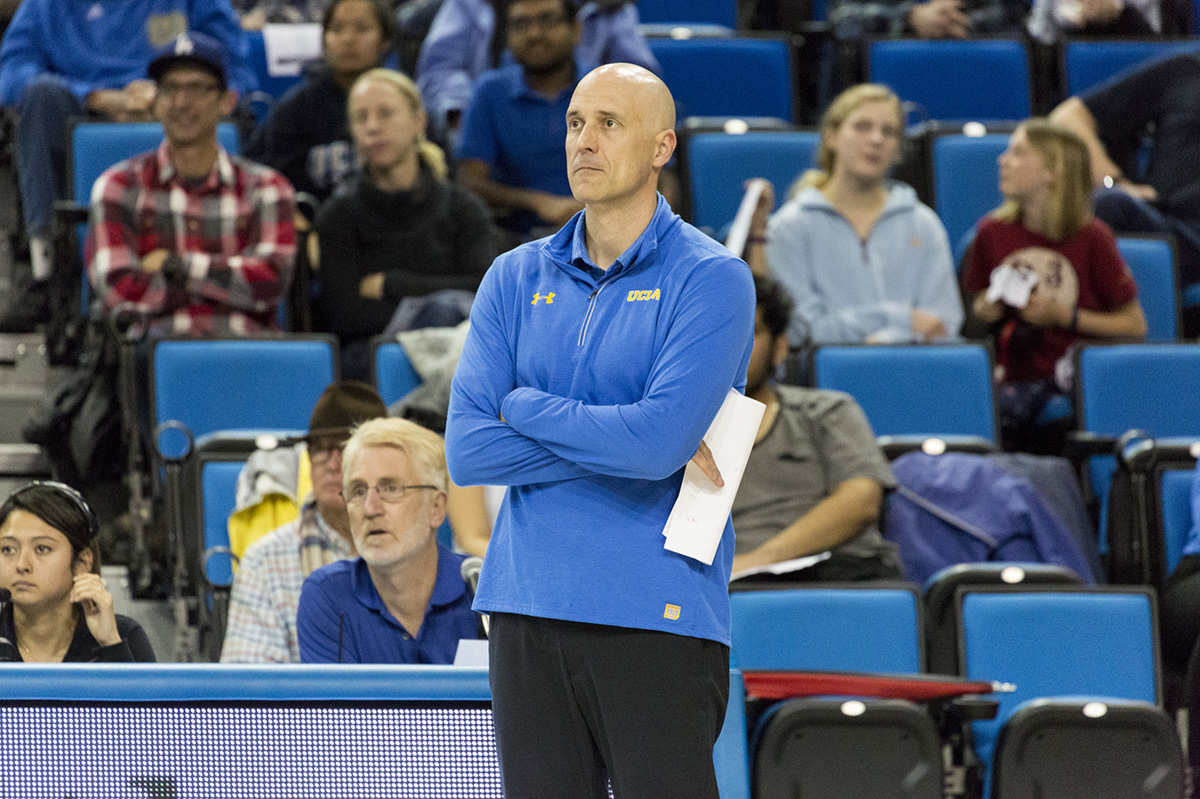 Coach John Speraw coaches from the sidelines. Speraw and No. 2 UCLA men's volleyball will return to the court Saturday against Princeton. (Daily Bruin file photo)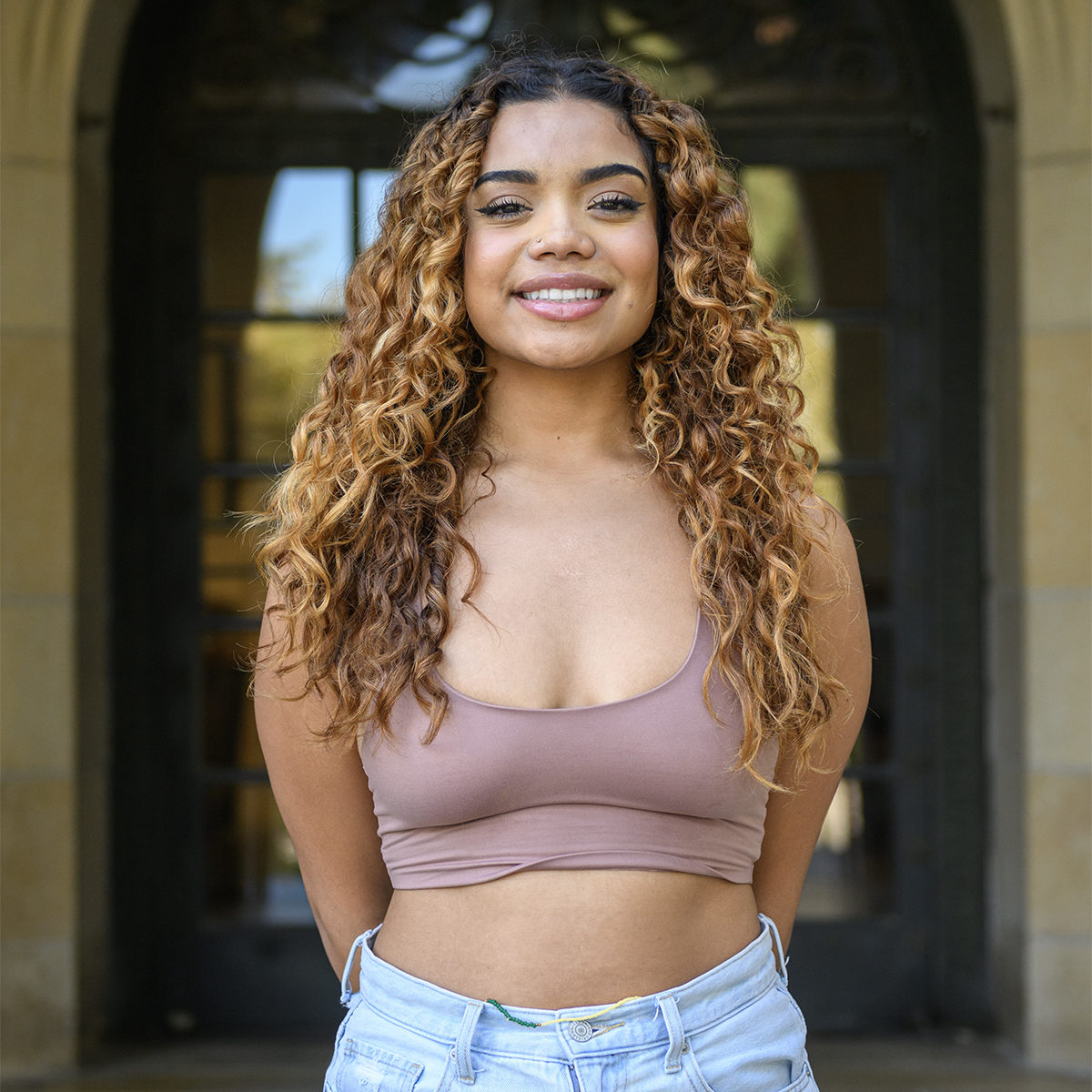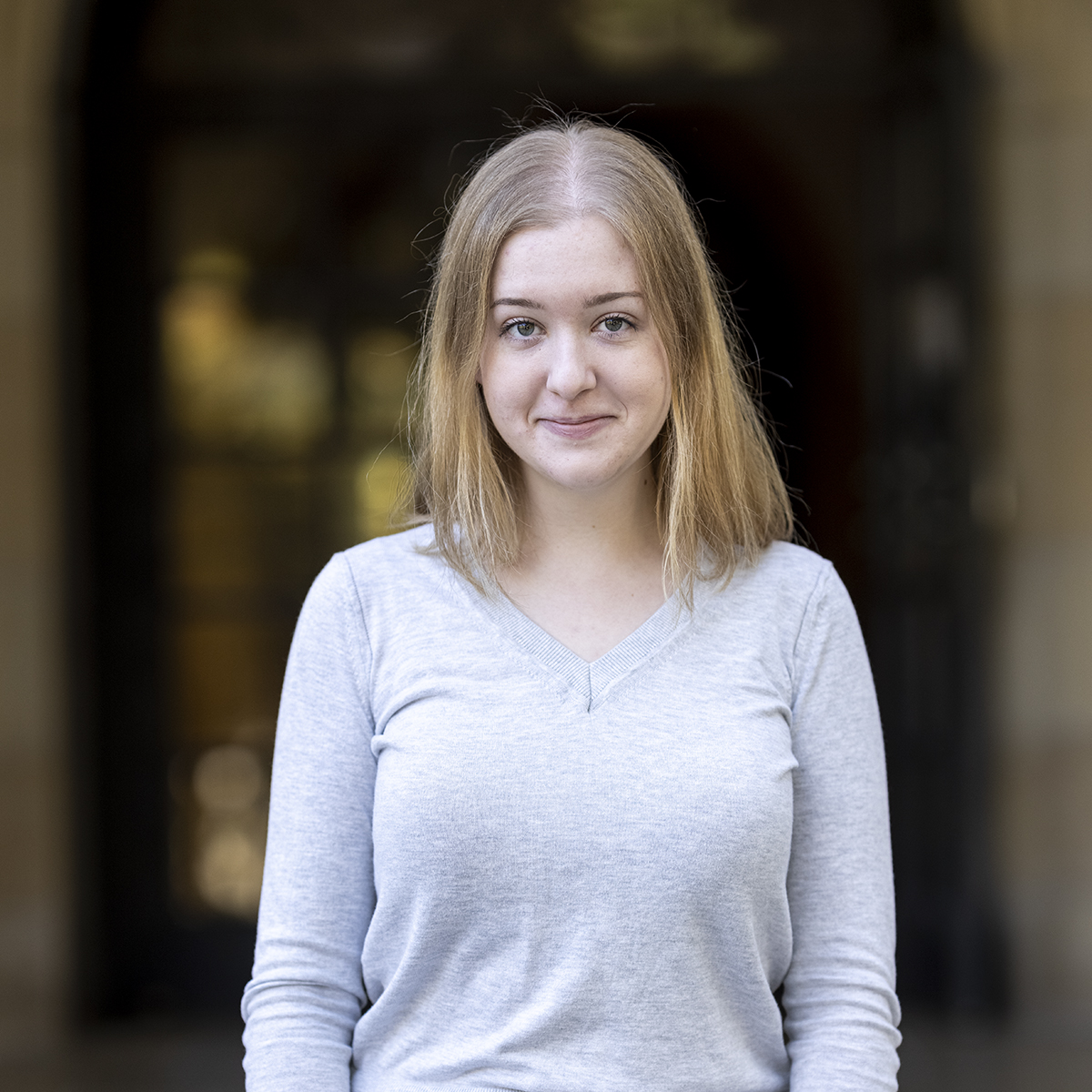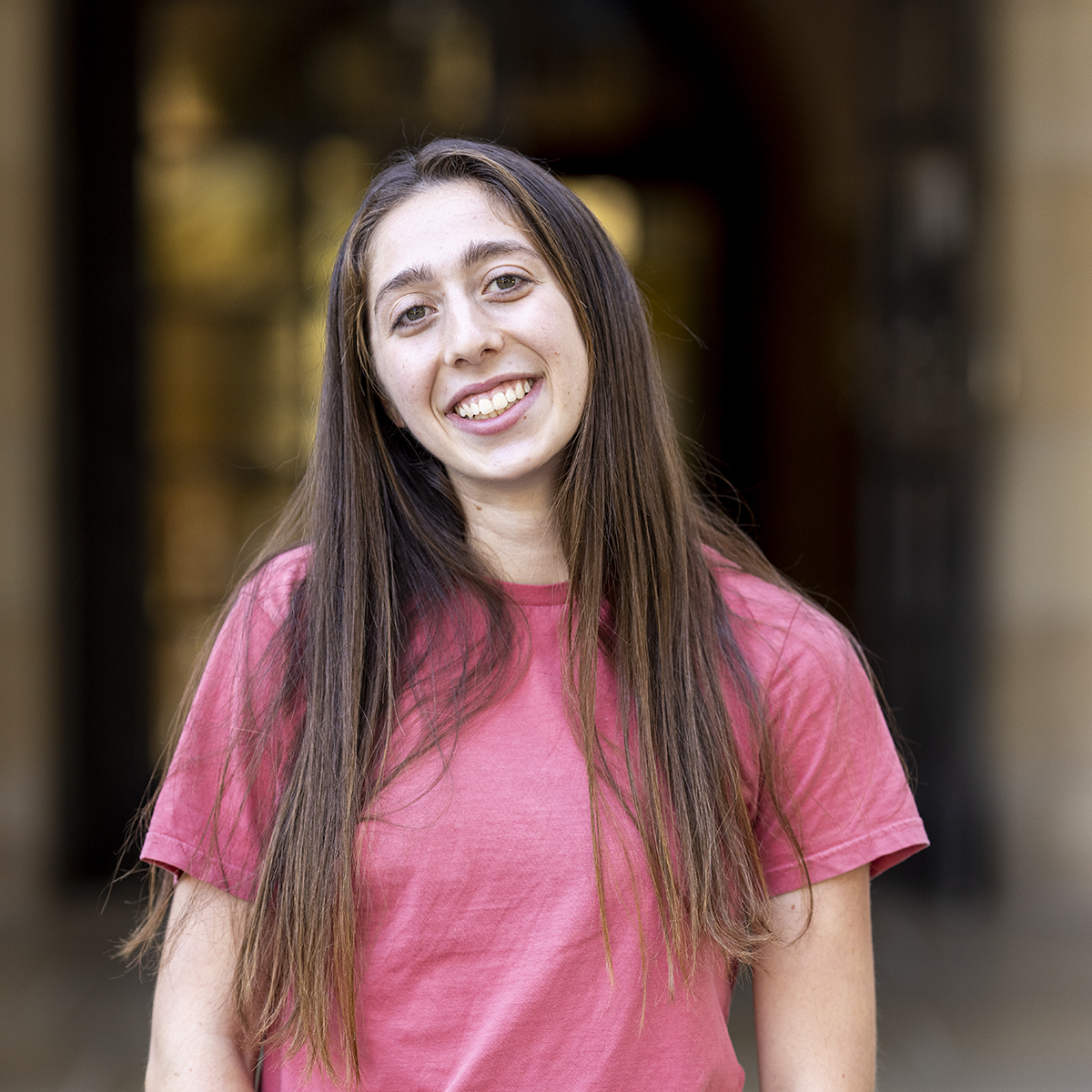 Men's Volleyball
Leila Bivins, Daily Bruin contributor
After a coronavirus-related hiatus, the Bruins are slated to begin the 2022 campaign.
No. 2 UCLA men's volleyball will take on Princeton at the John Wooden Center on Saturday evening to open its season.
The Bruins' season opener was delayed after COVID-19 protocols within the program forced the team to withdraw from the UC Santa Barbara Asics Invitational. Originally scheduled to play from Jan. 6-8 in Santa Barbara, the Bruins will now open their season at home.
"For the most part we've just tried to get our team back and healthy and get more players available so that we can train," said coach John Speraw. "It's been a challenge … just to have enough guys to run a full practice and work on some of the systems that we needed to implement prior to the start of the year."
UCLA's last competitive match, an unofficial fall contest versus Trinity Western University, occurred nearly two months ago on Nov. 17.
Ahead of Saturday's matchup, Princeton was swept by USC on Wednesday night at the Galen Center to kick off its respective season. Wednesday's defeat marks the first of two matches on the road in Los Angeles to kick off the Tigers' 2022 slate.
Despite the Bruins' unconventional start to the season, Speraw said the team plans to give it their all Saturday night.
"We're going to go out there and compete and give it our best and, if we need to early in the season, win ugly," Speraw said.
First serve for the Bruins will take place Saturday at 5 p.m.
Swim and Dive
Garrison Hallum, Daily Bruin contributor
With a prior history of success in the event, the Bruins will return to the diving boards for a weekend invitational.
A week after competing against UC San Diego, UCLA swim and dive (3-2, 1-2 Pac-12) will remain at home to host the Bruin Diving Invitational, an event in which the blue and gold earned multiple top-three finishes in 2021. The Invitational will include 11 other diving programs that will send an estimated 45 divers from across the country to compete against the Bruins at Spieker Aquatics Center from Friday to Sunday.
The 2021 iteration of the invitational saw the Bruins earn a first-place finish in the 1-meter competition and multiple top-three finishes in the platform competition.
For this year's event, returning Bruins will have the chance to defend their previous accomplishments while a new coming freshman will make her Bruin Diving Invitational debut. Freshman diver Zoe Jespersgaard will compete in the event for the first time after finishing second in both events she competed in last weekend.
"I'd like to have a performance consistent with my training," Jespersgaard said. "It'll give great experience for the upcoming zone meet. This is a good practice experience for that."
Along with Jespersgaard, junior diver Hannah Butler will have the opportunity to build off of two first-place finishes last weekend.
With the NCAA diving championships coming up in March, the Bruin Diving Invitational provides UCLA divers with the opportunity to both qualify and prepare to dive against top-ranked teams.
"We're pretty well prepared, especially just coming off of our break," Jespersgaard said. "We're excited to have our first big home meet."
Women's Tennis
Olivia Simons, assistant Sports editor
The Bruins are down to their last event to prepare for the dual meet season.
Returning to competition for the first time since November, UCLA women's tennis will travel to Las Vegas for the Freeman Memorial Championships from Friday through Sunday. The invitational features six schools from across the country and will conclude five days before the Bruins' first dual meet of the season, a matchup with Loyola Marymount on Jan. 21.
"They're coming off a break so some of them have played more than others," said coach Stella Sampras Webster. "(The Championships are) going to show who's a little more match-ready than others."
Sampras Webster added that the team will be using the information from the Championships to finalize lineups for the season, particularly in regard to doubles pairings.
One player who will need a new doubles partner this season is senior Elysia Bolton, who is set to make her season debut at the Championships. Bolton took the fall off to compete professionally and will have the weekend to find a new doubles partner after her former partner Jada Hart graduated last spring.
"Elysia is a big part of our team," Sampras Webster said. "She's got a great presence out there and a lot of great leadership from her always. She comes to practice ready to go and just with great intensity, so it's great to have her back."
Aside from its lineups, UCLA will also have the opportunity to continue to improve upon its rankings, both as a team and individually. The Bruins placed fifth as a team in the ITA preseason poll, with juniors Sasha Vagramov and Abbey Forbes earning the No. 49 and No. 68 spots in the singles rankings, respectively.
"I'm really happy for them – they've earned that," Sampras Webster said. "It's nice to get that recognition after their fall. I'm excited to see where they go because they're both great players, and (I'm) hoping that we get more players ranked this year. We're excited to compete and see what we can do out there."
Men's tennis
Zoe Moskowitz, Daily Bruin contributor
The Bruins will take the court for the first time in two months.
UCLA men's tennis is heading to Thousand Oaks, California, to compete in the Sherwood Collegiate Cup this weekend.
While their original regular-season opener was scheduled for Wednesday against Grand Canyon University, it was postponed because of COVID-19 protocols within the Bruins' program. However, all players will be participating in the tournament this weekend, which is set to begin Saturday.
Coach Billy Martin said he sees this weekend as a chance to assess where his players are following the long break and that it will be helpful in making decisions about the lineup for UCLA's first dual match against Saint Mary's on Jan. 25.
"It's exactly what the doctor ordered as far as needing good competition and, from a coach's standpoint, seeing where our guys are at with their game – especially lineup-wise with our first dual match and having to make a decision about who plays where," Martin said.
While the Sherwood Cup does not affect team rankings, Martin said it is still an opportunity for players to play in competitive matches against other teams in their conference before dual matches begin.
Martin added that despite the constant changes on campus and within the program this month due to the pandemic, the team is feeling upbeat and excited for the start of the season.
"We're getting along just fine, seeing that it's partially the same as last year," Martin said. "Our mental state is good, and (we're) staying really positive and looking forward to this weekend's competition and next week's first dual match."
Track and Field
Garrison Hallum, Daily Bruin contributor
The Bruins will travel to Washington for their first team meet of the season.
UCLA track and field will compete in its first team event of the year, taking on 18 other programs at the Cougar Classic Invitational in Spokane. The competition marks the first team meet for the Bruins since June 2021.
Coach Avery Anderson said the genesis of the new season brings excitement for both himself and his team, as they can put their offseason work to use.
"I'm looking forward to seeing our athletes perform at a high level," Anderson said. "It is a very early season, but we'll have a launching place to start the season."
UCLA will have the opportunity to build off of a 2021 season that saw multiple top-10 finishes in the 2021 NCAA Championships, where five individual athletes and two relay teams competed for the blue and gold.
"We're trying to be able to build momentum on what we were able to do in the abbreviated season last year," Anderson said. "I think we're in for a pretty good 2022 – we have a lot of really exciting student athletes that are really high caliber."
The Bruins will compete on both Friday and Saturday, with field events set to begin at 9 a.m. Friday.