Scouting report: UCLA men's basketball vs. Oregon, Oregon State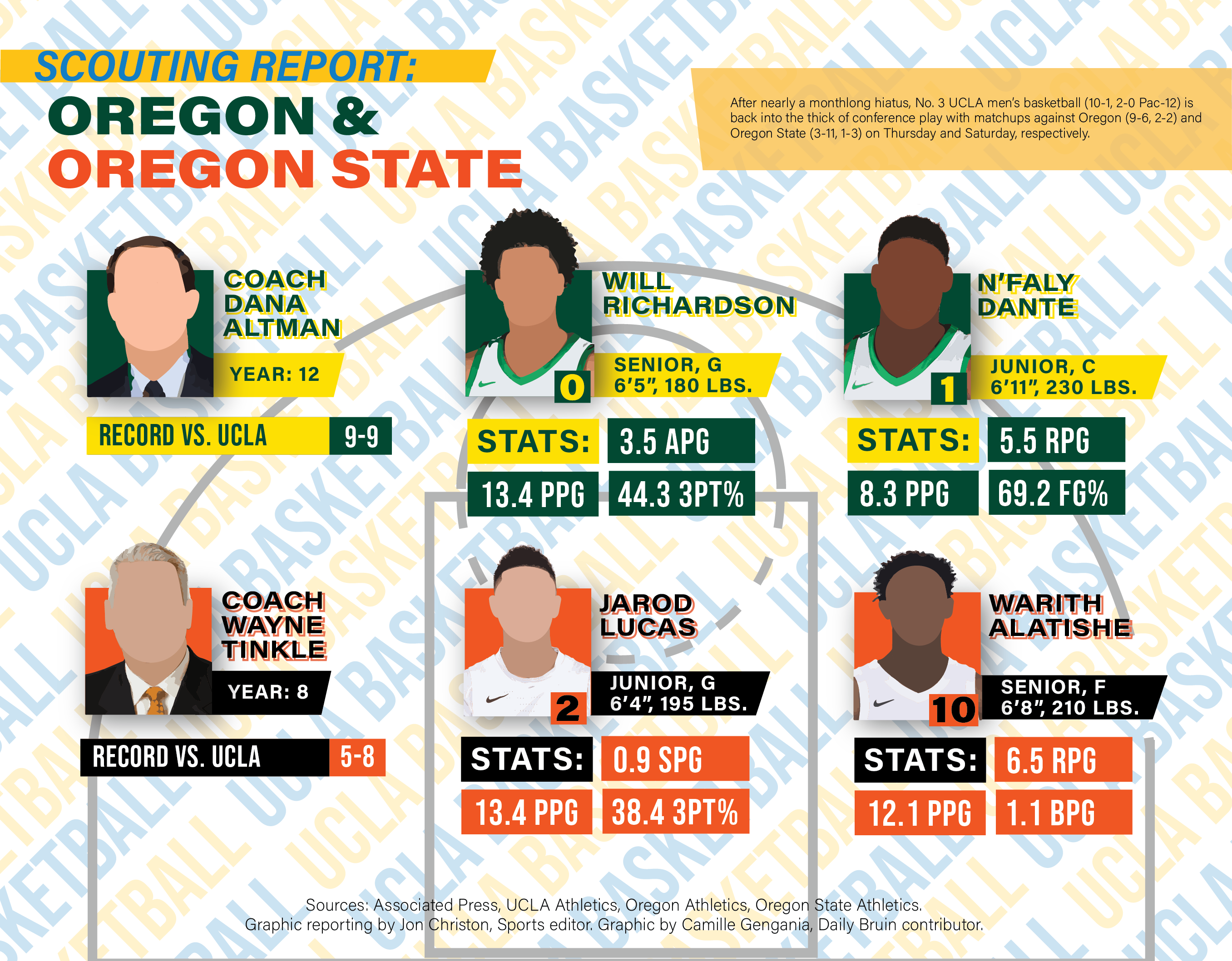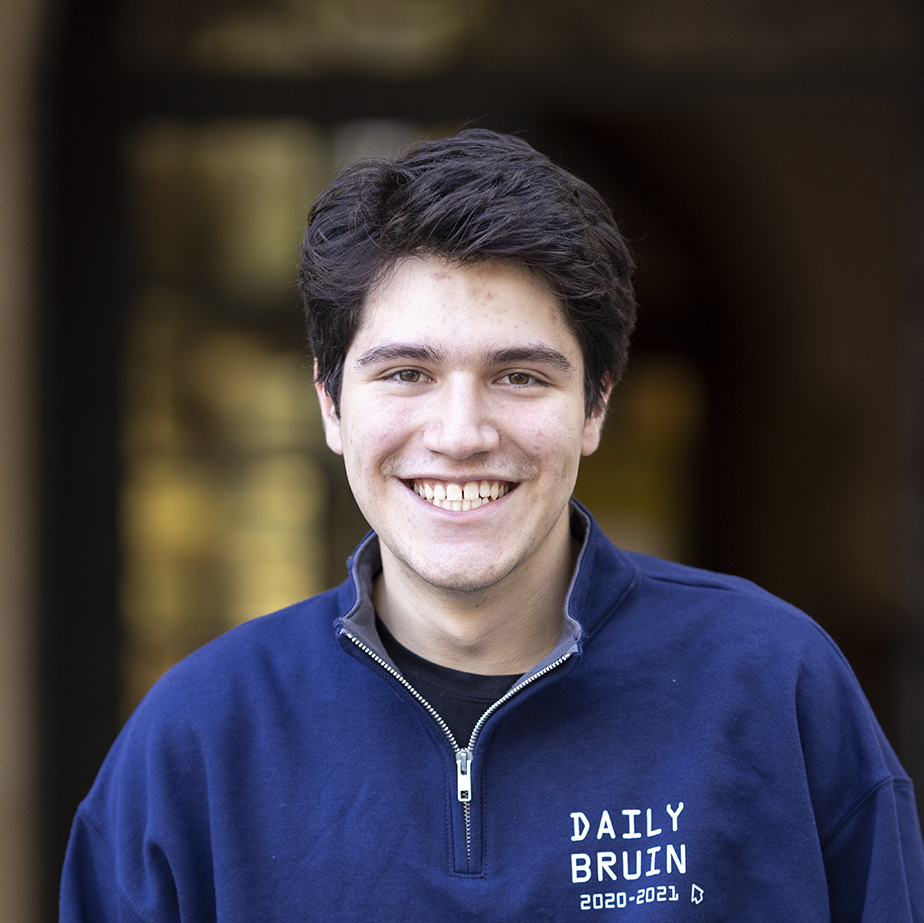 No. 3 UCLA men's basketball (10-1, 2-0 Pac-12) is right back into the thick of the Pac-12 season after nearly a monthlong hiatus, matching up against Oregon (9-6, 2-2) and Oregon State (3-11, 1-3) on Thursday and Saturday, respectively. The Bruins have yet to beat the Ducks in coach Mick Cronin's tenure, but the third-year coach holds a 2-1 record against the Beavers. Here is this week's scouting report from Sports editor Jon Christon – who hopes he will be able to write a scouting report every week for the rest of the season without waking up in a cold sweat to the phrase "pick-and-roll" in his head each night.
Oregon:
KenPom ranking: 61
Adjusted offensive efficiency: 113.0 (29th)
Adjusted defensive efficiency: 101.5 (129th)
Base defense: Matchup 2-3 zone
X-Factor(s): Forward Eric Williams Jr./Guard Will Richardson
As the great college basketball reporter Jon Rothstein would say, Dana Altman "aligns Rubik's Cubes."
Call it bad luck for the Bruins, but the Ducks' coach appears to be on the cusp of solving the puzzle ahead of Thursday's matchup.
A preseason top-15 team loaded with transfer talent, Oregon dropped out of the national conversation after early-season losses to BYU, Saint Mary's and Houston by an average margin of 24.3 points. The team scored 50 points or less in each of the defeats, still a ways away from finding its rhythm on offense.
The Ducks have been showing signs of a dangerous offense in recent weeks, however, scoring 70 points or more in four of their last five contests.
Their offensive improvement starts with preseason All-Pac-12 guard Will Richardson, who, just like the rest of his team, needed some time to get his footing underneath him.
Richardson averaged 9.3 points per game in Oregon's first six games but has since scored to the tune of 15.9 points per game in his team's last eight contests. The Ducks are 7-1 when Richardson scores more than 15 points and just 2-5 when he doesn't.
Behind Richardson are two more ball-dominant guards in Jacob Young and De'Vion Harmon. The trio of dangerous backcourt players constitute Oregon's three leading scorers and make up nearly half of the minutes played by the Ducks this season.
While many college and professional coaches utilize a north-to-south offensive setup centered around pick-and-roll actions with a guard and a diving big, Altman tends to run a more east-to-west offense to best utilize his three starting backcourt players. This scheme features weaves and other two-man perimeter sets in addition to frequent backdoor cuts from the wings.
While the lack of a true pick-and-roll game may have stifled Oregon's offense earlier in the season, it may serve as a positive going up against a strong, disciplined UCLA defense that excels in defending such actions.
As he does with his offense, Altman runs one of the most unique defenses in the country. Altman's characteristic matchup zone utilizes the on-ball characteristics of a classic man-to-man defense with the off-ball help-side tendencies of a 2-3 zone and features frequent switches regardless of position.
There aren't many gaps in an Oregon defense firing on all cylinders. Only one player in the Ducks' rotation is shorter than 6 feet, 3 inches tall, and the roster boasts four players 6 feet, 11 inches or taller and a litany of big wings who fit Altman's defense to a tee.
Oregon uses its length to send pressure 90 feet from the basket, as Altman is also a frequenter of a full-court 1-2-2 trap after made shots.
On paper, this sounds like a perfect defense. In practice, not so much.
Oregon's defense has been painstakingly average for the majority of the year, giving up 66.8 points per game – ranked seventh in the Pac-12. For a defense predicated on pressure on the perimeter, length on the wings and height down low, the Ducks don't force as many turnovers as one would think, nor do they block shots at a high rate.
Part of this can be attributed to a lack of an interior presence. Oregon has allowed opposing teams to convert on more than half of their two-point attempts, with its 44.4% opposing field goal percentage good for the second-worst rate in the conference. Once teams do break down the Ducks defense and make it into the paint, centers N'Faly Dante and Franck Kepnang have been a step slow stopping opponents at the rim.
Nonetheless, for a Bruin offense that prides itself on hunting mismatches, a matchup zone is their greatest adversary.
But if it stays patient, UCLA has the perimeter talent to break down the Oregon defense and get to its lacking interior.
Oregon State:
KenPom ranking: 140
Adjusted offensive efficiency: 106.9 (109th)
Adjusted defensive efficiency: 104.6 (192nd)
Base defense: Extended man-to-man
X-Factor: Guard Jarod Lucas
Similar to the Ducks, the Beavers enter their matchup with the Bruins carrying the most momentum they have had all season.
Well, as much momentum as a 3-11 team can have.
After embarrassing early-season losses to Samford, Princeton and UC Davis, Oregon State has won two of its last three games, including a victory over Utah and a two-point loss to a surging Oregon team.
Some hot shooting definitely has helped, but many key cogs from last year's Elite Eight squad have also increased their play of late.
Guard Jarod Lucas, forward Warith Alatishe and center Roman Silva all have seen recent upticks in their minutes and scoring over recent weeks.
When he's hot, Lucas is one of the most dynamic ball-handlers in the conference. Oregon State coach Wayne Tinkle knows this, with most of the Beavers' offense predicated on the gravity Lucas creates with and without the ball. Oregon State's offense involves plenty of off-ball pin downs to get Lucas open from the perimeter, as well as many pick-and-roll actions with him as the primary ball-handler. In short, Lucas is in a constant state of motion when the Beavers have the ball, á la Steph Curry.
As shown during its Elite Eight run a year ago, this can make for an Oregon State offense that is near-impossible to stop in late-game situations when Lucas shoots up to his ability.
However, Lucas simply isn't consistent enough to carry that big of an offensive load on a season-long scale.
Lucas is shooting a respectable 38.4% from deep, but this season he has he finished just one game knocking down between 30% and 40% of his 3-point attempts.
In the six contests where he has shot worse than 30% from deep, the Beavers are 0-6 and average fewer than 65 points a game. Conversely, when he shoots 40% or better, Oregon State is 3-4 and puts up over 75 points a night on average.
On defense, the Beavers predominantly run a basic man-to-man defense, occasionally extending pressure on the perimeter.
That pressure is seen particularly in the defense's pick-and-roll coverage, with the big-man defender meeting the ball handler out on the perimeter through a hard hedge before recovering into the paint.
It's largely the same defense the team employed a year ago when the Beavers had the fourth-best defense in the conference and held NCAA tournament opponents to 62.8 points per game en route to an Elite Eight appearance.
It hasn't quite been as effective this season, to say the least.
Oregon State gives up 72.6 points a night, the worst mark in the conference, while boasting bottom-third opponent field goal and 3-point percentages.
The Beavers also rank ninth in the conference in blocked shots at 3.2 per game, which is confounding considering they have three of the best shot-blockers in the conference in Silva, Alatishe and forward Ahmad Rand.
Part of the problem is just an overall lack of talent on the roster, forcing Tinkle to often play two of his three bigs at the same time. This leaves at least one of them out of position defensively throughout the game, giving opposing offenses a target to exploit every time up the floor.
In Oregon State's game against Oregon on Monday, Tinkle often utilized a lineup that featured both Silva and Alatishe. Even with the two imposing shot blockers on the court, the Beavers finished the game with only one blocked shot, as the Ducks continuously ran actions at the 7-foot-1, 265-pound Silva, resulting in easy layups.
Beyond Silva, three-fifths of the Beavers' starting lineup is 6 feet, 5 inches or shorter – a stark contrast to the five-man core from a year ago that featured four players 6 feet, 5 inches or taller.
Between the short guards and the slow-footed bigs that constitute the majority of Oregon State's roster, the Beavers have no shortage of defensive liabilities for opposing offenses to attack, especially running a man-to-man defense.
For a matchup-oriented UCLA offense, this is a match made in heaven.
Christon is currently the Sports editor and a reporter on the men's basketball and football beats. He was previously an assistant Sports editor on the women's basketball, softball, men's tennis and women's tennis beats and a reporter on the women's basketball and softball beats.
Christon is currently the Sports editor and a reporter on the men's basketball and football beats. He was previously an assistant Sports editor on the women's basketball, softball, men's tennis and women's tennis beats and a reporter on the women's basketball and softball beats.