Changing COVID-19 protocols complicate students' plans to return to campus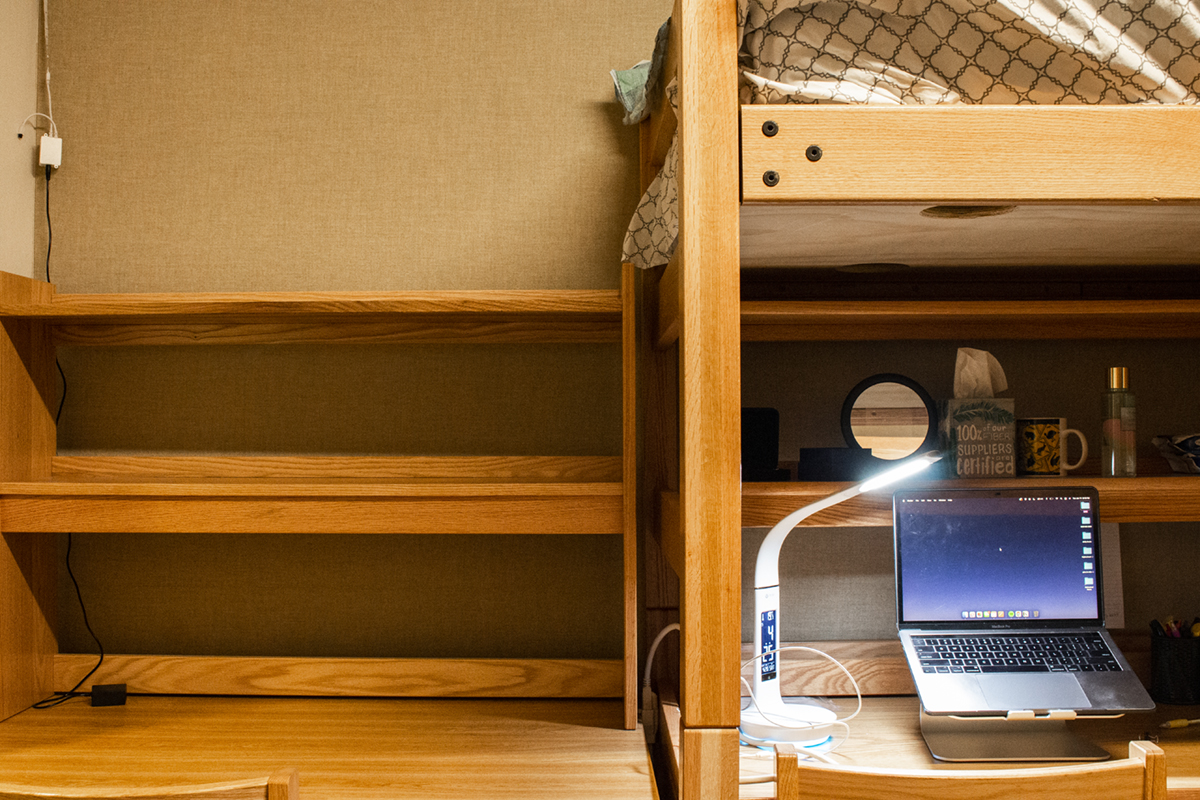 With looming uncertainty about how university protocols regarding COVID-19 may continue to change, some students felt conflicted about moving back to Westwood for the winter quarter. Students discuss weighing the hope for an upcoming return to in-person classes against the drawbacks of a campus where many amenities remain temporarily unavailable. (Megan Cai/Daily Bruin)
This post was updated Jan. 18 at 12:29 a.m.
Some students have expressed concerns about moving into the dorms amid online classes and changes from the university administration.
On Dec. 21, UCLA announced that the winter quarter would start remotely through Jan. 18 because of an increase in COVID-19 cases in Los Angeles County from the omicron variant. On Jan. 7, university administrators extended the remote instruction period to Jan. 28, four weeks after the start of winter quarter.
[Related: UCLA extends online instruction until Jan. 28 amid rising COVID-19 cases]
In its first announcement, UCLA said all students should still plan to be on campus on or before Jan. 9. The second communication noted that students who had not traveled back to UCLA or Westwood could now delay doing so if desired.
The university's changing COVID-19 protocols for remote instruction are sowing reluctance among students to move back to campus following the winter break. Among some students' concerns are juggling roommates' Zoom class schedules and living in the high-density residential halls during the recent surge in COVID-19 cases.
Sanaa Malik, a first-year pre-human biology and society student from Atlanta, Georgia, said she felt pressured to move back into the dorms by Jan. 9, despite the difficulty move-in poses to her as a person with an autoimmune disease, and she worried that she would be moving in only to have to leave soon after because of evolving COVID-19 protocols.
"I tried to contact (the UCLA Center for Accessible Education) and (UCLA) Housing and they said, 'Just deal with it, or cancel your housing contract,' which I think is really unfair to students with disabilities and autoimmune diseases," Malik said.
For out-of-state students such as Malik, the recent change to extend online learning also poses the financial burden of rearranging travel plans. Malik estimated her original $1,600 plane ticket that includes seating to accommodate her disability would cost nearly $2,000 to rebook on short notice.
She added that prematurely moving into the dorms seemed an unfavorable option, especially as an immunocompromised person. Living on campus could potentially create a higher risk of COVID-19 exposure and make focusing on online classes more difficult because of conflicting schedules with roommates, she said. Malik is opting to cancel her flight and delay her move-in, which was scheduled for Jan. 8 – a day after UCLA's update to extend remote instruction.
"They should be reimbursing us," Malik said.
Stella Foreman, a first-year political science and psychology student, said she lived in a UCLA dorm in the fall quarter and is currently living off campus with her boyfriend. She said there were a few reasons for her to not move in.
Foreman said it is hard for her to concentrate on Zoom lectures while living with two other roommates also taking classes, sometimes without earphones.
"From people who I had heard moved back in, everyone was saying campus was really dead," Foreman said. "Libraries have smaller hours, the gyms are closed, food is takeout only. … It just seems like there's not a lot of places on campus to go other than your dorm."
Foreman said if online classes continue further, she will likely cancel her housing contract.
"If (the university extends remote instruction), I don't know how long they would extend it for," Foreman said. "But I just don't want to be paying for housing whenever I'm not using it."
Foreman said she thinks she is more attentive during in-person lectures. When online, she is inclined to go on her phone, she added. On the other hand, she said professors are making online classes easier, citing that one of her political science instructors no longer uses tests but instead grades mostly on completion and participation.
"My professors are doing an amazing job," Foreman said. "Since they had done it last year, they really know how to conduct the class and try to engage us, which I really appreciate."
There are exceptions to the online learning mandate for some lectures, such as for certain performance classes in the theater department, according to Iris Zietlow, a second-year theater student.
Zietlow said she received communication that with testing protocols, theater rehearsals – some of which are considered labs by the registrar – could start in person during the first week of winter quarter. She added that the theater department has also obtained an exception to start the in-person studio classes she is taking beginning Jan. 18, provided that students test twice a week and wear masks in class.
A resident of Temecula, California, Zietlow has already arrived near the UCLA campus and is living in a shared apartment. She said if all her classes were online and she was not already paying rent on the apartment, she would probably choose to stay at home instead.
"I have ballet online, I have singing online. I have roommates, I have housemates," Zietlow said. "I was super reluctant to come back to campus because at home, I have the space to dance, to sing, to create. And I have privacy at home, I can kind of go off and do my own thing."
Zietlow said she has concerns about COVID-19, but she believes that UCLA's public health policies are in the students' best interest and will keep people as safe as possible.
"The university has made testing requirements. I believe that is the key, personally, that I think we needed to really monitor the spread, especially with our new, more contagious variant," Zietlow said.