Women's basketball faces familiar foes of injuries, COVID-19 cancellations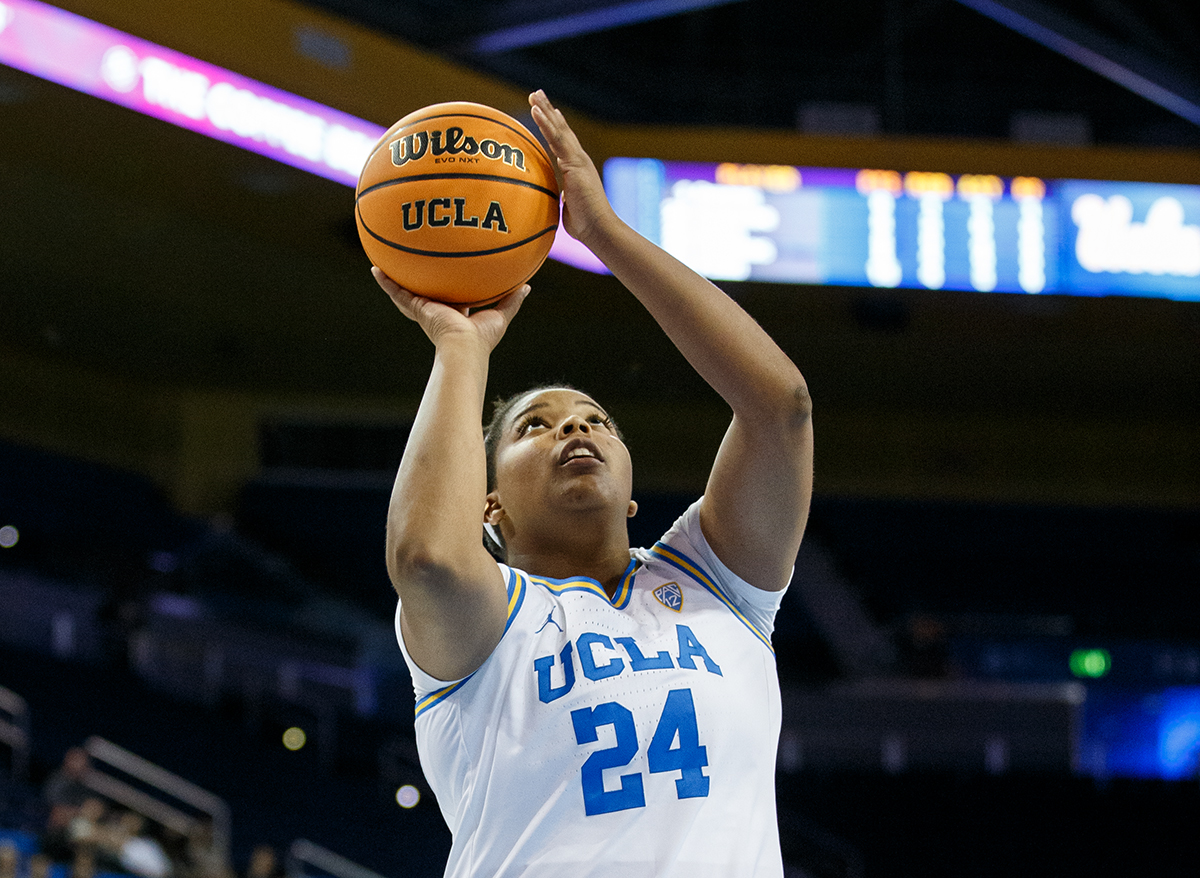 Gruaduate student forward IImar'I Thomas prepares to shoot the ball. Thomas played in her first Pac-12 game as a Bruin on Sunday, scoring 11 points in a loss to Colorado. (Ariana Fadel/Daily Bruin staff)
History often repeats itself.
UCLA women's basketball (5-4, 0-1 Pac-12) played through much of the 2020-2021 season hovering around the NCAA requirement of seven active players, even having to cancel several games because of a combination of injuries and COVID-19 protocols. In total, the team saw eight postponements across the season with just one of those games being made up.
The beginning of this season – with the addition of eight players to the roster and fans to the stands – was supposed to bring a fresh start.
But injuries to sophomore forward Emily Bessoir and graduate student guard Gina Conti – who was projected to be the starting point guard but has yet to don the blue and gold – to kick off the Bruins' 2021-2022 campaign have deterred that hopefulness. The team has yet to play more than eight players in a game thus far this season, suiting up the minimum of seven on two occasions.
"Have we faced a lot of adversity? Absolutely," said coach Cori Close. "But our big thing is we're going to take the tough parts and turn it on its head, and we're going to redeem it for something good that makes us stronger, and we're going to execute no matter what."
The impact of the COVID-19 pandemic continues to be felt across the Bruins' schedule and roster depth. After having reported COVID-19 cases across the entirety of last season, Close said at least three active players have been put in protocols since UCLA's game against Connecticut on Dec. 11. As a result, the team's final three nonconference contests were canceled and its first three conference scheduled matchups were postponed.
The most recent postponement came Jan. 7 because of COVID-19 protocols within the Utah program, marking the sixth schedule adjustment for UCLA this season. By that point last year, the blue and gold had seen the same outcome for three games.
"The first time around last year, it was just uncharted territory. We didn't have any COVID cases during our season last year, and so even when it struck our team this year, it was like, 'How do we handle this?'" said redshirt senior guard Chantel Horvat. "We can learn from what we did well last year and apply that moving forward this year."
After starting the season 3-0, the Bruins sustained their first speed bump when going 1-2 against unranked teams in the Gulf Coast Showcase in late November, subsequently falling out of the AP Top 25 poll for the first time in two years. Following her team's first losses of the campaign, Close said the Bruins were a long way from reaching their potential. That trend has continued, as UCLA has once again taken two losses in its following three games.
Graduate student forward IImar'I Thomas said despite the extended time off, the team is not using it as an excuse and will regroup to fight through this season's early setbacks.
"We all knew that we needed to come back stronger considering the fact that we had almost a month off, but we can't make excuses for ourselves," Thomas said.
Close added that in the coming weeks a few players are expected to return to the court from injury. In addition to Conti and Bessoir, redshirt freshman forward Angela Dugalic and junior guard Camryn Brown have yet to make their debuts this season.
With her team's leading scorer, junior guard Charisma Osborne, dealing with a number of injuries herself – including one sustained in UCLA's most recent loss to Colorado on Sunday – Close said the returns can't come soon enough as the Bruins continue their Pac-12 schedule.
"There's so many phenomenal teams (in the Pac-12), and we had some losses and some injuries," Close said. "I'm telling you, you just wait till February, March. And if people can sleep on them now, they won't sleep on them in the NCAA tournament because they're just going to be getting back into winning games."