UCLA men's basketball secures low-scoring victory over California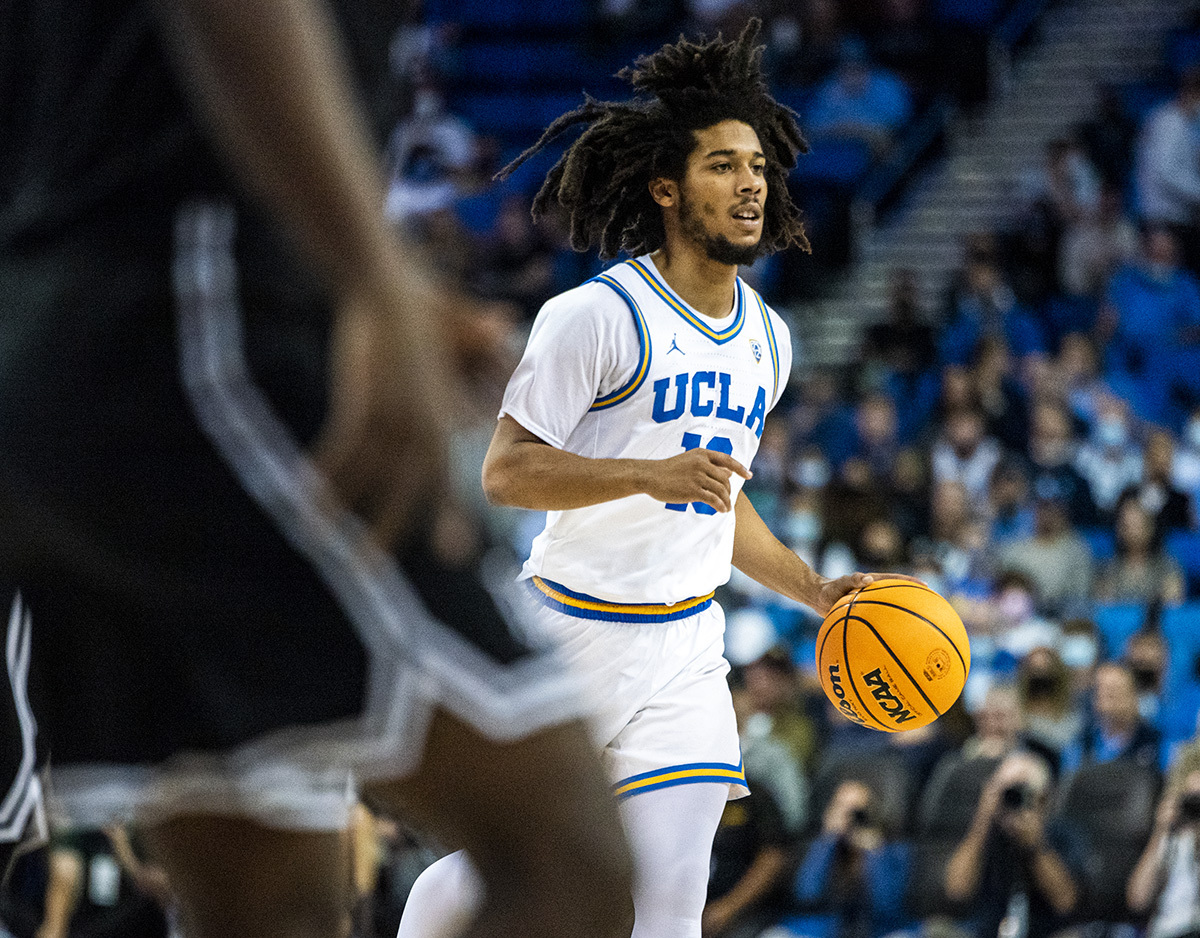 Redshirt junior guard Tyger Campbell surveys the floor with the ball Nov. 15. Campbell finished with a team-high 17 points in No. 5 UCLA men's basketball's victory over California on Saturday. (Jeremy Chen/Daily Bruin staff)
Men's Basketball
---
| | |
| --- | --- |
| No. 5 UCLA | 60 |
| California | 52 |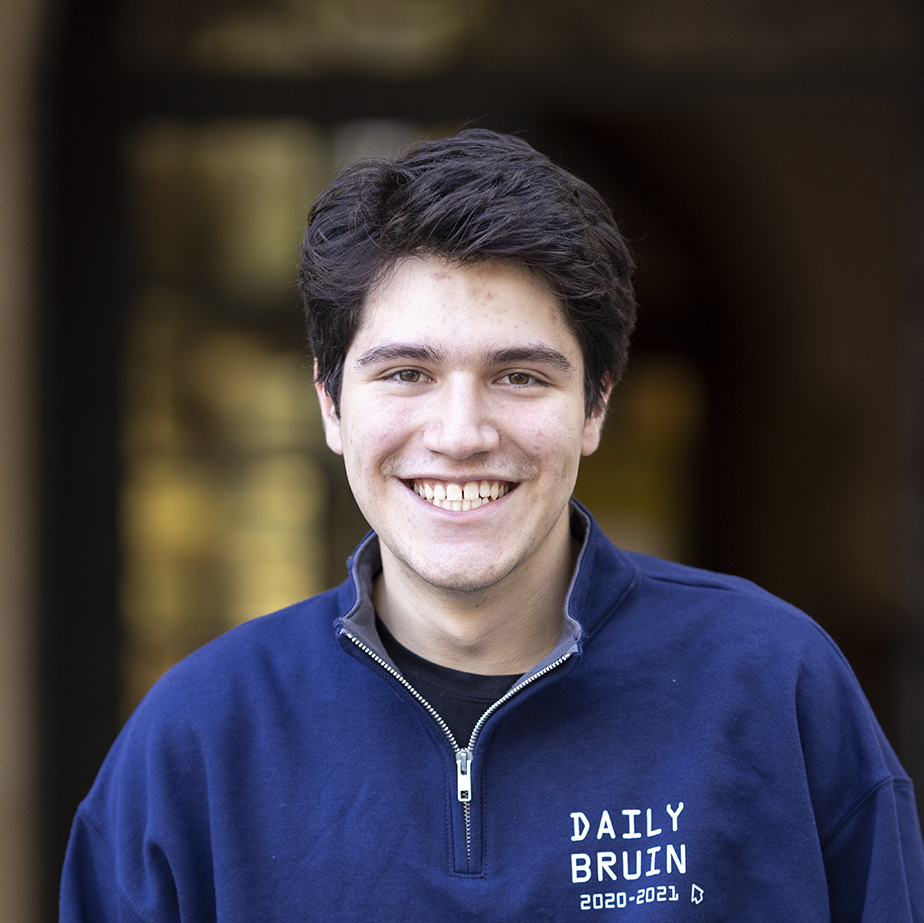 This post was updated Jan. 10 at 12:02 a.m.
BERKELEY — The Bruins had five assists – their lowest total since the 2019-2020 campaign.
Their 60 points are the fewest they have tallied all season while their leading scorer had his worst scoring night of the year.
But, despite all the season-lows offensively, the defense pulled through to give the blue and gold its first true road conference victory of the year.
No. 5 UCLA men's basketball (10-1, 2-0 Pac-12) defeated California (9-7, 2-3) by a score of 60-52 on Saturday evening at Haas Pavilion. The Bruins held the Golden Bears to their lowest home point total of the season, with their 7.1% 3-point percentage the lowest for a UCLA opponent all season.
"​​Nights like tonight, we didn't shoot the best on offense, and our defense kept them under 60," said redshirt junior guard Tyger Campbell. "That helped us win."
The game marked the Bruins' second in the past 27 days, as the team is coming off a pause of team-related activities because of COVID-19 protocols.
After scoring 18 in UCLA's first game back off the hiatus Thursday night against Long Beach State, junior guard Johnny Juzang finished with nine points on 3-of-10 shooting – his worst marks of the season – Saturday night.
In his place, Campbell led the team in scoring, as the redshirt junior put up 17 points while making half of UCLA's four 3-pointers.
Coach Mick Cronin said Campbell's ability to attack Cal's drop pick-and-roll defense was the key to his high-scoring night.
"The way they play the pick and roll, they kind of drop their bigs, so you can attack them off the dribble," Cronin said. "(Campbell is) really well-schooled in taking what you give, and they were giving him that, so he was trying to take them."
Junior guard/forward Jaime Jaquez Jr. – who was a game-time decision before the game because of an ankle injury sustained in the first half of Thursday's win – was the only other Bruin to score in double figures with 14.
Jaquez said his preparation before the game included icing, stretching and even needle therapy to his swollen right ankle.
"I felt good, real good – (my ankle is) a little sore right now," Jaquez said. "We did a monster tape job on my ankle as well, so I wasn't really able to feel nothing."
The Bruins and Golden Bears traded blows in the first half, exchanging the lead four times while sitting in a stalemate on five occasions.
Neither team was able to build a lead of more than four points until the Bruins took a 25-21 advantage with 2:51 left in the half. UCLA extended the margin to 29-21 while on a 6-0 run – thanks in part to four straight points from Jaquez – with its eight-point lead the largest of the half.
After allowing Cal to retaliate twice more to bring the score to 29-25, Cronin called a timeout to draw up a play in the final active possession of the half. Campbell held the ball at the top of the key until seconds remained on the clock, sizing up his opponent to make room for a mid-range jumper that gave UCLA a six-point halftime lead.
"I'm just confident," Campbell said. "If I see an open shot, I'm going to take it and try to make it. My teammates were setting me up and putting me in good position."
Campbell's jumper gave him a team-high 11 points to end the half, but the guard remained without an assist for the entire half. After tallying a turnover-less 10 assists versus Long Beach State on Thursday, the guard finished with four assists to three turnovers Saturday night.
As a whole, the Bruins had one assist in the opening 20 minutes of play. UCLA averaged nearly 17 assists per game in 10 contests this season entering the game but finished the night with five while shooting 44.9% from the field.
"We were driving to score, and we've got to drive to pass," Cronin said. "When we get to that point where we don't try to rely on our individual talent – even though we have it – and we have better ball movement, I think our shooting percentage will go up."
Both the UCLA offense and defense picked up where they left off to open the second half. Despite forcing five more Cal turnovers after the Golden Bears tallied eight in the first half, the Bruins added one assist by the under-16 media timeout – Campbell's first of the game – and were held to one fastbreak point.
Even with the below-average assist total, UCLA's lead ballooned to 40-31 courtesy of four points from Jaquez and five points from redshirt senior forward Cody Riley to open the half. In his second game back after spraining his left MCL in the Bruins' season-opener in November, Riley finished with nine points, five rebounds and four steals.
Riley credited his four-steal performance with a halftime adjustment made by Cronin, saying that he was able to exploit Cal's high-post offense with increased energy at the point of attack.
"​​Just came in at halftime and coach was talking about shots aren't falling so we had to pick up the defensive intensity," Riley said. "Once they did that action up top with the big man, I just tried to pressure up and bring some energy to the team on the defensive side."
Riley's post opponent, Cal forward Andre Kelly, scored 12 of his 22 total points in the second half to keep the Bruin lead from extending past 13.
But with only one other Golden Bear cracking double-figures, the Bruins were able to get enough stops to end the game with an eight-point advantage.
"We told our guys that it was going to be World War III, and we were probably going to have to grind it out," Cronin said. "Our defensive effort was the key to our win tonight."
Christon is currently the Sports editor and a reporter on the men's basketball and football beats. He was previously an assistant Sports editor on the women's basketball, softball, men's tennis and women's tennis beats and a reporter on the women's basketball and softball beats.
Christon is currently the Sports editor and a reporter on the men's basketball and football beats. He was previously an assistant Sports editor on the women's basketball, softball, men's tennis and women's tennis beats and a reporter on the women's basketball and softball beats.