Op-ed: Black women excel in academics, yet face impostor syndrome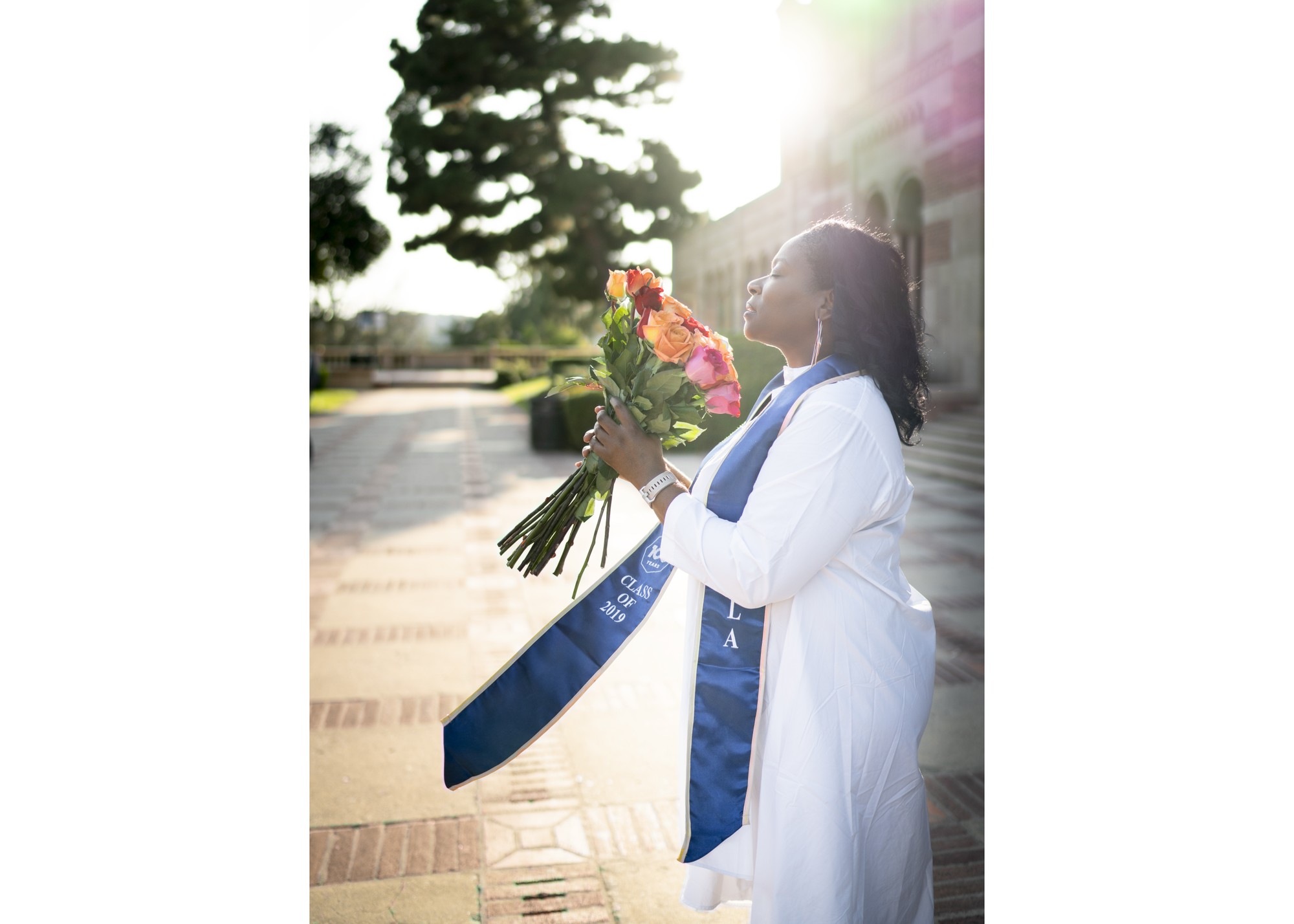 Ph.D. student Sonya Brooks stands outside Royce Hall upon graduating UCLA in 2019. In this column, Brooks explores the struggles and triumphs she's faced as a Black woman in academia – and shares her commitment to supporting Black girls everywhere. (Courtesy of Sonya Brooks)
"Are you a student here? What are you doing here?" Those were the first words I received at 10:30 a.m. on a Thursday when I walked into the building for my class last December. During the 30 second encounter with this individual, who I later came to know as a professor, existentially, I was returned to a space I tried to escape since being accepted into this prestigious school – impostor syndrome. Now, mind you, these questions are not unfamiliar to me, as I have asked myself these questions time and time again, especially when first arriving. However, this time, it was different. This time, it came from another individual – an individual who never went through nor ever would go through what I did to get here. And they will never have to do what I do every day to stay. My reaction to this encounter was not because I don't have what it takes to be a phenomenal student, because I am that already. It's because, with all of my intersectionalities, the fear of not being accepted and worthy of a space here, or anywhere, screams at me from the time I leave my front door to the time I return, closing the door of a screaming world behind me.
Impostor syndrome, or impostor phenomenon, is "a psychological condition that is characterized by persistent doubt concerning one's abilities or accomplishments accompanied by the fear of being exposed as a fraud despite evidence of one's ongoing success," according to the Merriam-Webster Dictionary. My inner me is saying, "YES, ME, SHE, HER … RIGHT HERE. THAT'S ME," while my outer me is saying, "Naw, that's not me. I'm a Phenomenal Woman. Yes, that's me." But something isn't adding up. My inner and outer self are at odds, and well, at least after the incident, the inner is winning.
I learned of a story in the Bible some time ago and never really understood why I always felt so connected to it: Joseph and his Coat of Many Colors. Even though there are many similarities with this story, I think the thing I am most drawn to is the Coat and what it symbolizes. For me, I look at all of the colors on the Coat as all of my identities – mother, scholar, #MeToo survivor, victor of housing insecurity, Ivy League graduate, recipient of many prestigious awards and fellowships, etc. Yet, even with everything I am and have accomplished, the first – and typically the only – thing that is ever noticed is my color and gender (and sometimes my bamboo earrings – I have at least two pairs). This causes me to consistently ask myself, what is the benefit of having this Coat if I am treated the same without it? Wasn't the purpose of the Coat to ensure better life outcomes and trajectories? Well, when does it begin?
Black women, according to the National Center for Education Statistics and countless newspaper channels, are the most educated, ranked by race and gender. They continue to have high degree attainment rates when compared to other groups, yet the gap in income levels between them and their white female counterparts continues to widen. In "The Black American Gender Gaps: American Citizenship, Educational Attainment, and National Leadership Positions" by Amadu Jacky Kaba, a sociology professor at Seton Hall University, Kaba suggests that Black women have been considered the new model minority. In the U.S., the term "model minority" is defined as "groups that were at one time marginalized, educationally, economically, and socially, but eventually rose up despite their many obstacles to become prosperous, admired, and even emulated" and has typically referred to certain Asian communities. According to Kaba, even with their intersectionalities, Black women, when compared to white men and women, boast the highest number of degree attainment rates, the lowest death rates per every 100,000, the largest group of centenarians, the lowest numbers of suicide rates and of consumers of alcohol and illicit drugs, and the largest group of small business owners. Factors like these add to the colors on the Coats Black women wear, yet stories that dismiss and degrade their existence are reported daily.
Even though I am not the representative for all Black women, the symptoms of being ostracized despite our accomplishments are the same: feelings of "Otherness," high levels of anxiety, low self-regard and depressions, seclusion, poor physical and mental health care, and – a big one for me – feeling unworthy when celebrated. Since the incident with that professor, even though I have been known for my "drip" (appearance always on fleek), I have become even more selective of my attire, my hair and my verbiage, hoping these changes in combination with my Coat will cause me to be treated better and accepted.
Through this experience, I have become very knowledgeable about the tacit nature of the two questions, "Are you a student here? What are you doing here?" Knowing these statements may not end, "allow me to re-introduce myself" – I Am That Phenomenal Scholar, that Researcher, that Teacher, that Advocate and that Woman. I am a Mother, a Leader, a Friend, and am Loved and the proud bearer of a Coat of Many Colors. My Coat has afforded me great opportunities that I wouldn't trade for the world. I am committed to remaining true to the Phenomenal Being I have become for myself, my children and the Black girls coming behind me.
Brooks graduated from UCLA in 2019 and Brown University in 2021 and is currently a Ph.D. student at UCLA in education/urban schooling. She advocates for the health and well-being of Black girls in PK-12, leads Beautiful Brown Girls – a school program in the Bay Area – and is a graduate researcher for UCLA Center for Education Innovation and Learning in the Sciences for the David Geffen School of Medicine. Additionally, Brooks is the 2021 Center for the Study of Women Black Feminism Initiative recipient for her research on Black women and empowerment.