UCLA Housing launches Epicuria at Covel, gives insight on dining operations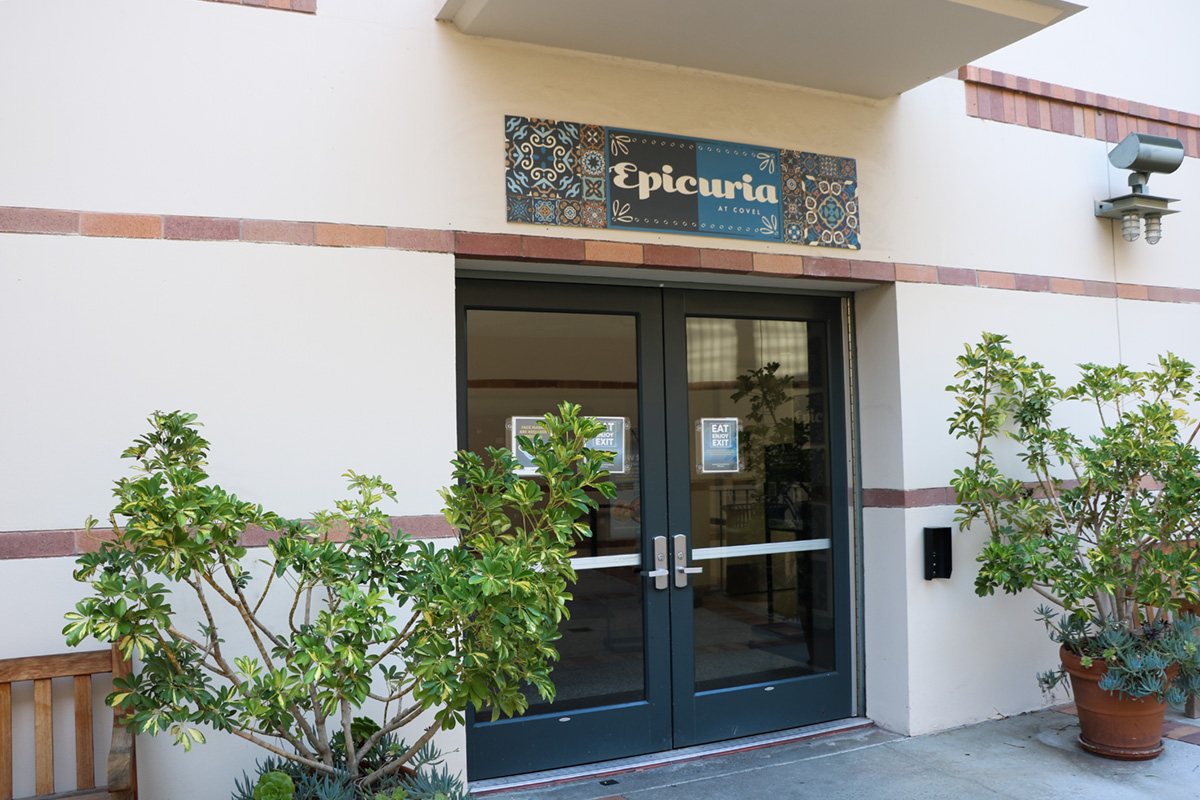 Epicuria, a Mediterranean-inspired dining hall, has now replaced the Covel Commons Residential Restaurant. UCLA soon plans to open a satellite location of Epicuria at Ackerman Union, which will feature a similar menu and be available to all students, whether they reside on or off campus. (Noah Danesh/Daily Bruin)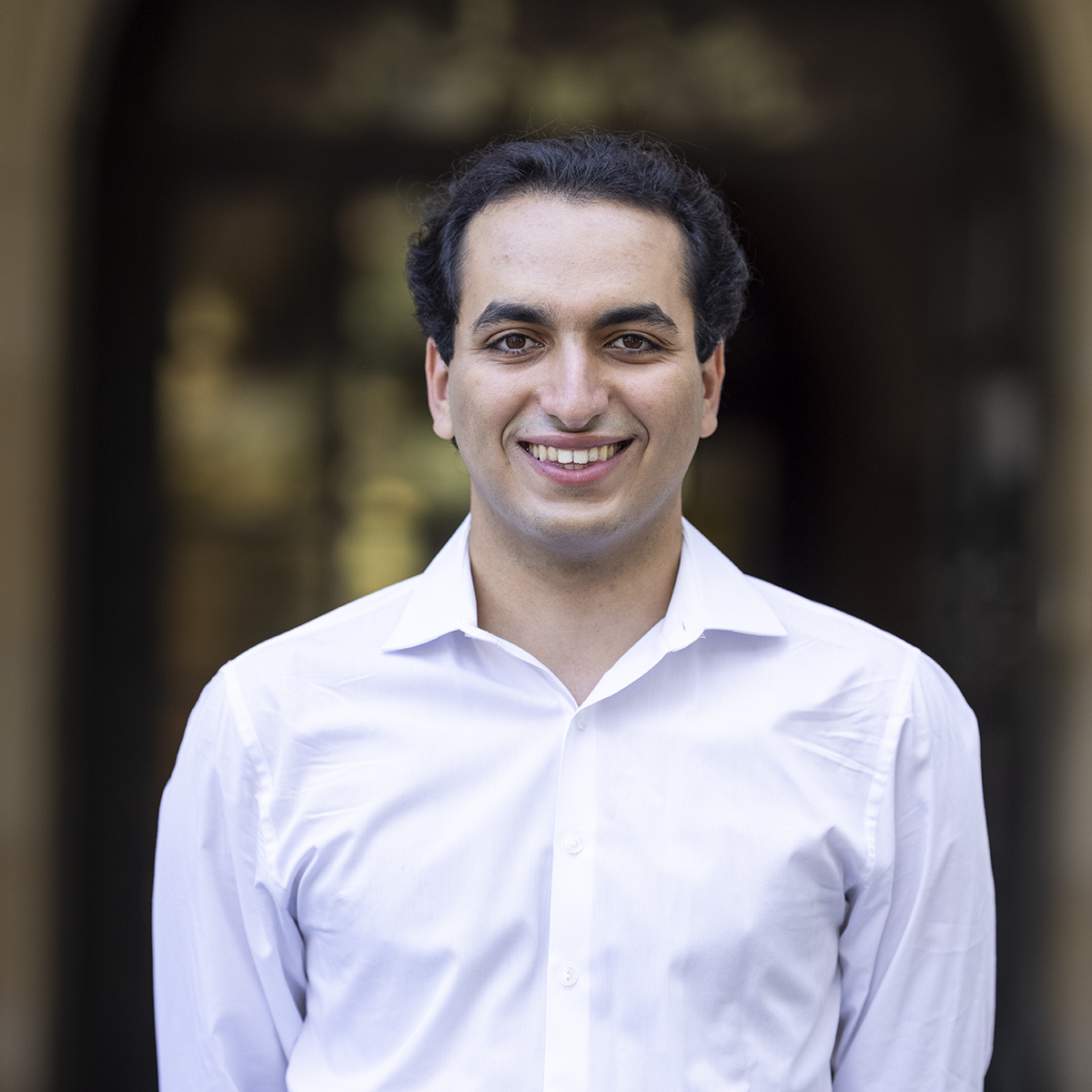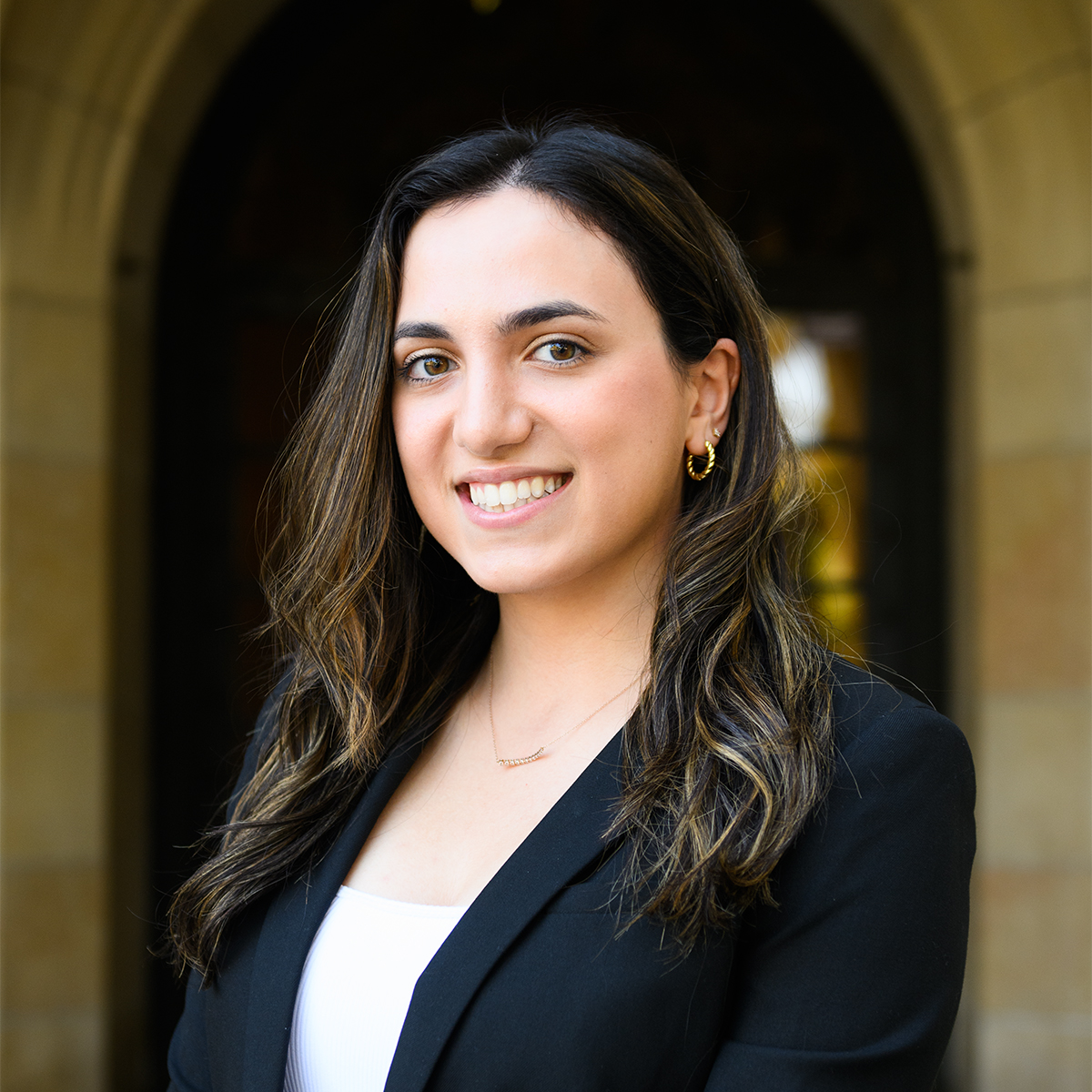 UCLA Housing launched a new residential restaurant in fall quarter and implemented new dining concepts to help meet the need for tens of thousands of meals served daily on the Hill.
Epicuria at Covel opened as a new dining hall that replaced the Covel Commons Residential Restaurant and features a Mediterranean-inspired concept that focuses on local, fresh and sustainable meat and produce served alongside daily options of different housemade pizzas and pastas.
The interior design reflects Mediterranean colors and textiles, with mosaic walls and catenary lights that provide a space for eating, socializing and studying, said Pete Angelis, assistant vice chancellor of Housing and Hospitality.
Recent changes to COVID-19 protocols have shifted the typical dining experience, including a takeout-only format and meal plans offered only to on-campus residents. However, UCLA Housing has remained persistent with dining updates as part of a long-term plan to explore new concepts and enhance dining at UCLA, Angelis said. UCLA Housing has repeatedly been ranked as having the No. 1 dining halls in the nation.
[Related link: The Quad: Bruins Savor taste of UCLA's No. 1-ranked dining hall food]
In tandem with the Epicuria location on the Hill, UCLA Housing is working to launch a satellite Epicuria location at Ackerman Union that will be open to all students, whether they live on or off campus.
"This is the first time that students will be able to utilize their residential swipes on the core campus, and that's a huge win," said Samantha Chan, director of conferences, catering and marketing at UCLA Housing.
The satellite location is expected to open once staffing levels increase, Chan said, and will serve dishes similar to those at the main location. Staffing levels across campus, including in the dining sector, have been lower because of coronavirus-related campus closures and a nationwide labor shortage.
UCLA Housing also recently launched new concept restaurants across the Hill to provide additional food options, including The Drey – a to-go restaurant that serves sandwiches and ramen, which opened in fall 2021 – and Bruin Bowl, a build-your-own bowl location that features a rotating set of cuisines.
More than 30,000 meals are served on the Hill during the busier days of the week, said Al Ferrone, senior director of food and beverage at UCLA Housing. To help students avoid lines, the dining team is working to launch an online system that displays wait times at each of the dining locations, he said.
Before closing for renovations, Covel Commons was typically the least frequented dining hall, Ferrone said. Now, residents dine at Epicuria at the same or better rate than all other dining halls, he added.
The starting point of Epicuria's concept, like that of many of Housing's new projects, was by analyzing the private sector. Angelis said he and his team took design inspiration from Eataly, a modern marketplace and eatery at the nearby Westfield Century City mall.
In addition to using new tones of wood and lighting fixtures, the team incorporated elements that will help turn the space into a study area, including installing outlets throughout the hall. After dining hours, Epicuria will be able to remain open as a study space.
"(Students) can really focus on their studying and their well-being, and then have a really great dining experience that could be social, or they can sit by themselves," Angelis said.
Epicuria is also unique from standard cafeterias with its Mediterranean-diet focus, Angelis said. While most higher education dining is done in a food-court format with different platforms for different cuisines, Angelis said UCLA has strived to create more immersive dining experiences for students.
"Early on in our dining program, we made the decision that because it's like a city here and we have 15,000 people between 18 and 20, we want to start transitioning the dining commons to be themed cuisine," Angelis said.
The themed dining hall system began at other dining halls on campus, including Feast, which features eight different Asian cuisines and decor, as well as Bruin Plate, which serves California fresh and sustainable type food, Angelis said.
To ease access to healthy options, Epicuria has greens and vegetables incorporated into nearly every food option instead of keeping them at a single isolated salad bar, Ferrone said.
A Mediterranean diet is linked to improved health outcomes and includes larger portions of whole grains and vegetables and smaller portions of meat – a foundation the menu developers will use to alter meal options throughout the year, he added.
Ferrone said he recognizes the importance of introducing healthy and fresh food options to young college students.
"When they leave here, we hope that they take this dining experience and try to replicate it at home or with their families in the future," Ferrone said.
His team consistently works to ensure the menu evolves and features new options, Ferrone added. While items on the menu such as hummus and tzatziki sauce are daily staples, specialty pizzas, pastas and other dishes are rotated often.
Dining traffic is used when making menu decisions, Ferrone said. Because supply chain shortages during the COVID-19 pandemic have made ordering ingredients more difficult, the data is used to ensure there are enough raw ingredients – but not too many that would end up as waste.
The UCLA dining team analyzes the number of swipes and other metrics on a daily basis, which is then relayed to both menu developers and staff in the commissary to assess what food options are popular.
"We see where the swipes go, and that's telling us that we're doing something right. And if it's not, the swipes are way down," Angelis said.
UCLA Dining also renovated its commissary, the central kitchen and bakery located on the Hill. Nearly every pasta sauce, salad dressing, slice of bread and dessert is made from scratch in this facility and used within one to two days, Ferrone said.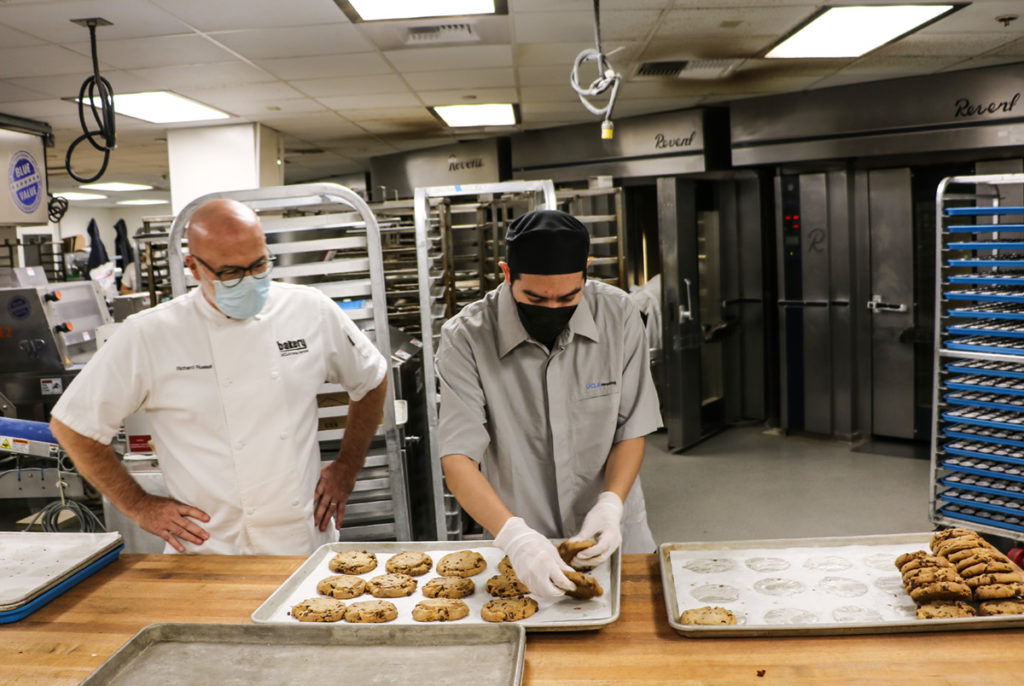 The bakery on the Hill begins operations every morning at 3 a.m., said Richard Ruskell, the executive pastry chef. This on-campus location prepares more than 95% of the baked goods in the dining halls.
His team prepares a wide range of baked goods – including artisanal bread, hamburger buns, pizza dough and chocolate chip cookies. Nearly all of the bakery needs of UCLA Dining and catering are made by bakers on-campus, Ruskell said.
"The secret to our program is that everything is at scale, but it still doesn't taste mass-produced because everything is made from scratch," Angelis said. "So, it stays fresh, it's delivered fast and served quickly."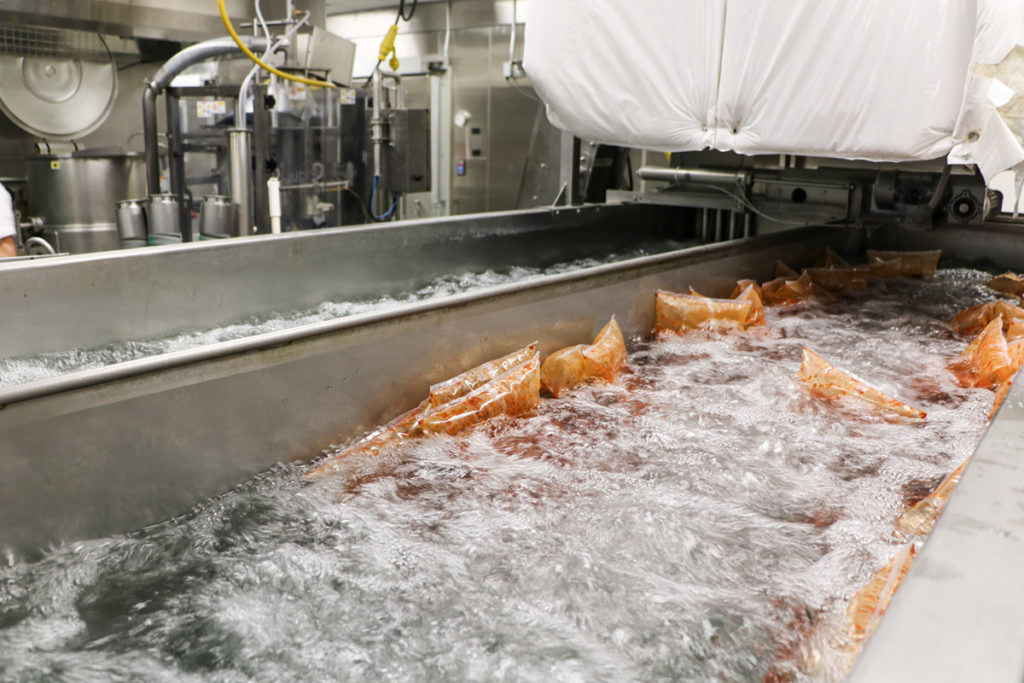 At the recently renovated on-campus commissary, sauces, dressings and other staples are freshly made and packaged using professional machinery. The modern systems allow for large-scale food production and rapid distribution. For example, one machine rapidly lowers the temperature of bags containing just-cooked food, which are then refrigerated and transported to the dining halls across the Hill.
With new developments like these, Angelis said that freshness, flavors and safety are maintained while the efficiency and magnitude needed to serve the students are met.
"We're very proud of the dining program," Angelis said. "Housing and Hospitality really wants to do things that are high level. We really want to have a culture of continuous improvement and innovation, and we want that to result in things that are a high level of excellence."