The Quad: UCLA professors, students discuss California's proposed Mathematics Framework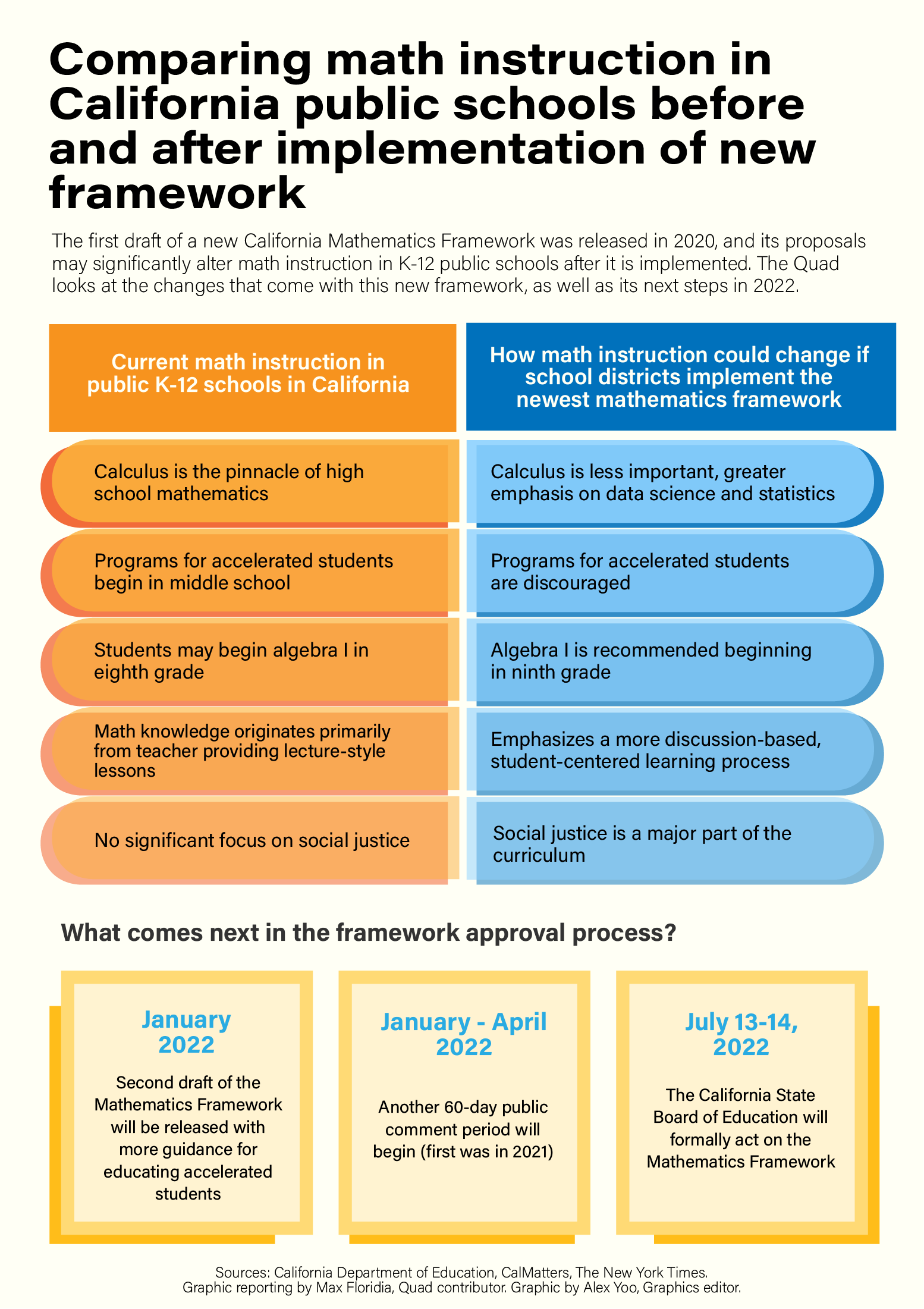 This post was updated Jan. 6 12:00 a.m.
From policing to the workplace, the push for social justice has reached across society. Among these issues is tackling racial disparities in math education.
The California Department of Education is currently revising the Mathematics Framework for California Public Schools, a set of guidelines and recommendations helping K-12 public school districts implement the state's mathematics standards.
The first draft of the new framework, known officially as the draft Mathematics Framework, was released in early 2021, and an updated version is expected to be published in January. The final plan is scheduled to go before the State Board of Education for ultimate approval in July.
If the framework is eventually approved, districts may choose which parts of the framework to adopt or may disregard it entirely.
In an open letter written by the California Mathematics Council, the authors praised the plan for introducing research-based changes into math classrooms that they said promote inclusivity and offer better access to math education regardless of students' races or backgrounds. Eleven UCLA affiliates signed this letter.
The Mathematics Framework also explicitly recommends applying math to social justice issues, scaling back programs for advanced learners and emphasizing noncalculus branches of math.
These aspects of the framework have faced especially vocal pushback.
According to an open letter published by the Independent Institute in July, the plan would weaken the effectiveness of math instruction and subvert mathematics – an impartial subject – to a political agenda.
The open letter has received 1,210 signatures as of December, including 75 from signatories affiliated with UCLA.
Oleg Gleizer, director of the UCLA Olga Radko Endowed Math Circle, a group working with advanced K-12 math students, said the draft's explicit rejection of "natural gifts and talents" is a reason he is opposed to the framework.
According to the framework, labeling students as "gifted" pressures these students to succeed and discourages others; further, it suggests that students of all abilities should take the same classes until 11th grade and avoid being separated into accelerated programs.
Gleizer said his experience with a bright student influenced his view on the issue.
"In the 6th grade, she invented integral in front of me at the board. Currently in 11th grade, she took 15 minutes to solve a problem a very strong grad student at the (math department) was stuck with for about a month," Gleizer said in an emailed statement. "The Framework calls for not giving this girl an opportunity to be the next Newton."
The framework also seeks to lessen the emphasis on calculus in secondary education, asserting that students often rush through foundational lower-level math courses to take calculus before graduating. According to a 2018 report from the U.S. Department of Education, calculus is not as frequently available in schools that serve predominantly African American or Latino student populations, so the document instead promotes data science and statistics as suitable alternatives.
Rob Gould, vice chair of the UCLA Department of Statistics and vice president of the International Association of Statistics Education, said he supports this move.
"Many people do not have the basic understandings to help them make important, life-saving decisions using data," Gould said in an emailed statement. "It is vital, in my opinion, that every high school student study the fundamentals of data science."
Haven Hunt, a second-year comparative literature and public affairs student, said if she had taken data science or statistics before coming to UCLA, she would have felt more confident in her math abilities.
"Academically, it would have been more inclined to my interests, my strengths, and then socially, I also think that I would have been better off," Hunt said.
However, this change does not come without some skepticism. Gleizer said some familiarity with calculus is essential to understanding the fundamentals of statistics.
Similarly, Subramanian Iyer, an electrical and computer engineering professor, said he often encounters students who lack the mathematical foundation necessary to understand important concepts.
"Instead of teaching them about the physics of the device, I'm teaching them math," Iyer said. "I am not a math teacher."
Iyer added that, ideally, these advanced math concepts should be taught before college, but instead he sees the framework as making high school mathematics less rigorous.
Critics, including those in the Independent Institute letter, have also called out the draft's recommendation that teachers introduce social justice to math classes.
Taylor Cantarini, a fourth-year financial actuarial mathematics student, said he would be comfortable doing an impartial analysis of sensitive topics, such as immigration, but would be hesitant about going further.
"When it comes to making a political argument based on (social justice topics), then I would say that would be best reserved for other classes that are more discussion based," Cantarini said.
Iyer also said he disagreed with this part of the framework.
"I'm not saying that inequality and diversity are not important," he said. "But math is not the medium one uses to teach those things."
While there are debates over the future of math education and what the ultimate plan should look like, individuals like Hunt said they are curious to see how it all pans out.
"I know that it needs to be tweaked, and I don't think it's passing easily anytime soon," said Hunt. "But I'm looking forward to seeing more conversation around it."