The Quad: South Korea's household debt crisis has devastating effects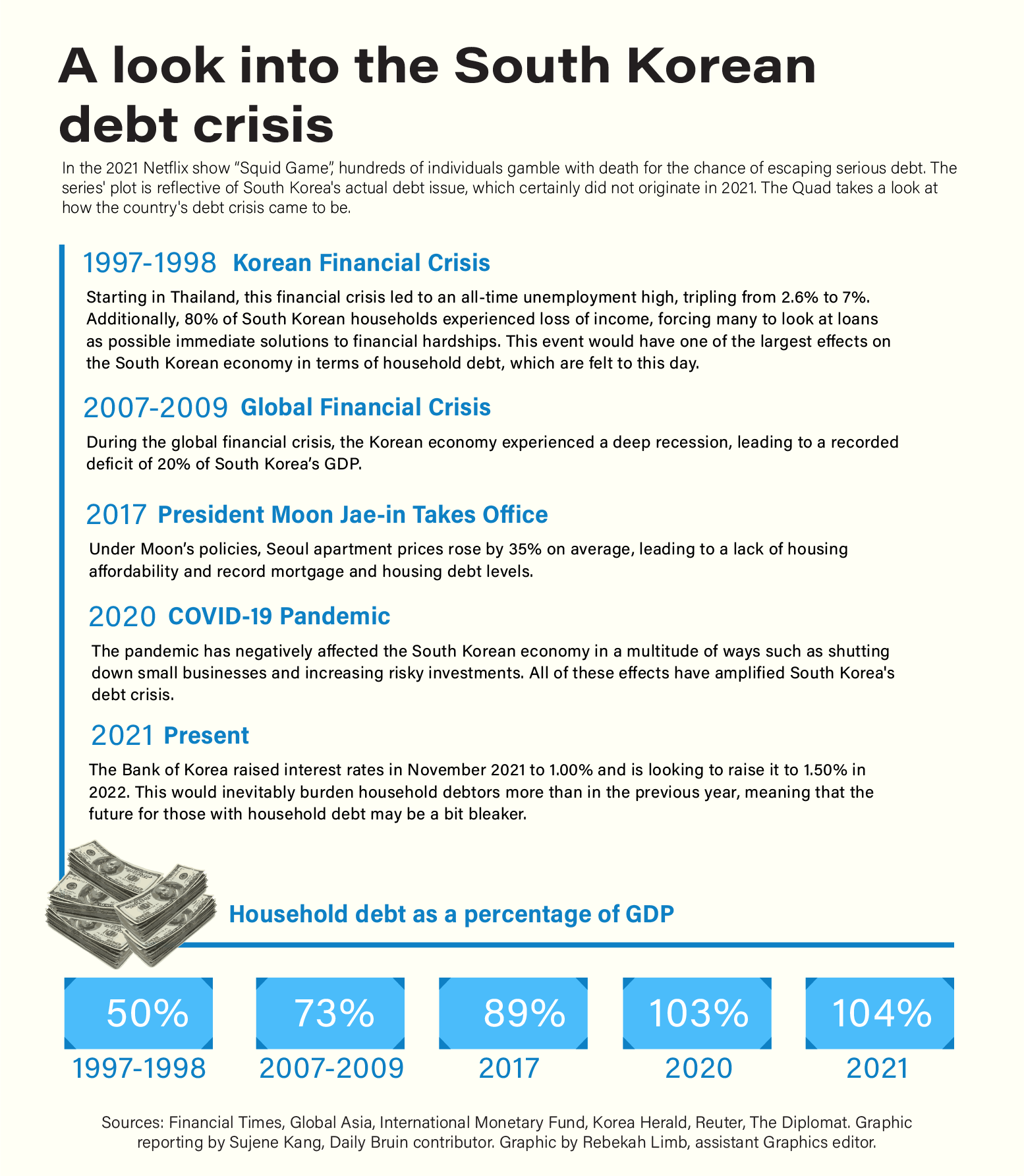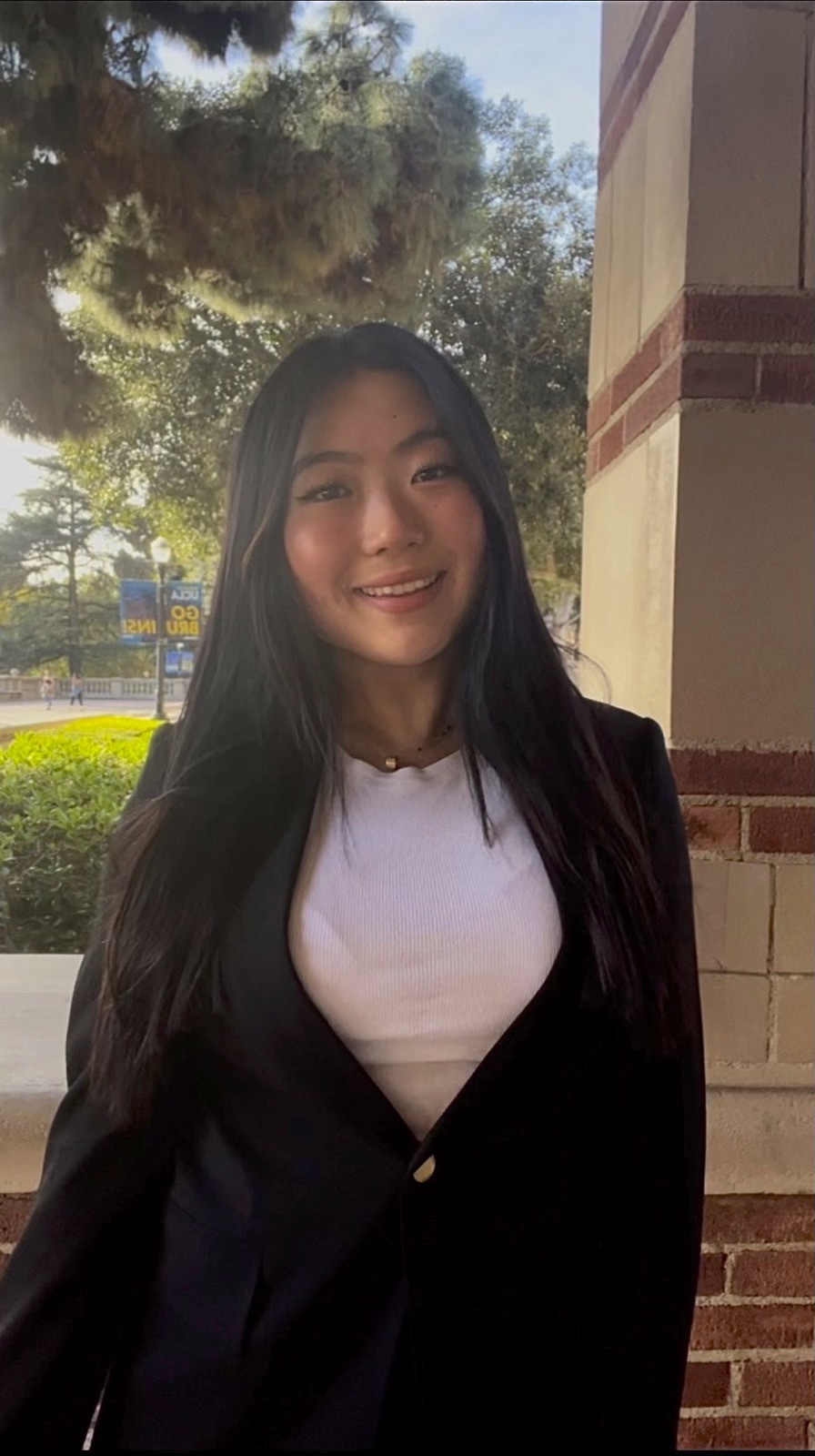 This post was updated Jan. 5 at 11:58 p.m.
Death or $38 million: an ultimatum given to 456 heavily indebted individuals in the popular South Korean Netflix drama "Squid Game." Though fictional, the show's dystopian plot was meant to shed light on a real, ongoing issue – South Korea's household debt crisis and its negative effects on citizens.
In November, the Institute of International Finance revealed that South Korea's household debt to GDP ratio was 104.2%, meaning that if every household saved all their income earned in the past year, they would still be unable to pay back the debt they owed.
Furthermore, a report by the Bank of Korea and the Financial Supervisory Service in December showed that there was an average of $74,360 worth of debt per South Korean household.
Namhee Lee, an associate professor of modern Korean history at UCLA, said this household debt crisis can be traced back to the agreement between the International Monetary Fund and the South Korean government in 1997. The Asian financial crisis triggered this agreement, and both events eventually led to a high rate of unemployment and a substantial increase in the need to borrow money from banks.
"As a result of this agreement between (the) IMF and the South Korean government in 1997, one of the agreements made it easy for those big corporations to lay off workers," Lee said. "People would have to keep on borrowing money."
According to Seungyub Han, a doctoral candidate in economics, rapidly rising property prices and decreases in South Korean wages, which were exacerbated by the pandemic, have increased borrowing.
Overall, the housing price to income ratio in Seoul, South Korea, was 17.8 times larger than income growth in the first economic quarter of 2021, meaning that it would take an average South Korean individual nearly 18 years of saving all of their income to buy one piece of property in the country's capital.
Han said housing prices began increasing rapidly in 2014. This, coupled with low interest rates, sparked an adverse chain reaction in consumption habits.
"This led many – especially young – households to think that they should buy a house as fast as they can before the house prices increase too much," Han said. "So naturally, this led to high mortgage-debt ratio and more than half of the household debt is from mortgages in South Korea."
Asian languages and cultures professor Jennifer Jung-Kim added that within the last three years, housing prices have changed so drastically that it would simply be unaffordable to move back to South Korea even if her family wanted to.
Han also said rising household debt could be attributed to the increasing amount of South Koreans taking on riskier investments, spurred by economic trends in assets investments, such as in the stock market and in digital assets.
According to the Korea Financial Investment Association, outstanding deposits for stock investment surged 128.2% in 2021, especially after the South Korean government imposed a mortgage ban on the retail market because of the COVID-19 pandemic.
This usually would not be a problem, but for those borrowing to invest in the market, unsuccessful investments can be problematic since an investor can lose their initial investment on top of their loan, leading to more loans.
Nodutdol, a New York-based Korean organization, reported that financial hardship was a leading factor in suicide in South Korea in 2021. The pandemic has only worsened this trend, especially among small business owners.
"It is really costly to live in Korea, which is why they often characterized it as Hell Joseon," Jung-Kim said. "This idea that you work your whole life, when you're young, to do well in school, then you get a job, and even that process of getting a job is so difficult. … It's just rough at every stage."
Nonetheless, Han said that there are certain governmental actions that can help mitigate this issue faced by many South Korean residents. This can include curbing additional borrowing by household income or giving penalties to the banks that lend excessively.
According to Bloomberg Businessweek, even though the South Korean government attempted to reduce household debt through income-based lending rules and other economic policies, the government has still failed to reduce housing prices from being at an all-time high, thus increasing public doubt.
Han said raising economic awareness on the possibilities of overborrowing and the implementation of stable economic policies can help reduce the upward trend of household debt and its negative impact on the public.
"It is of the foremost importance to control the household debt level," Han said.