UCLA gymnastics welcomes back fans with Meet the Bruins intrasquad competition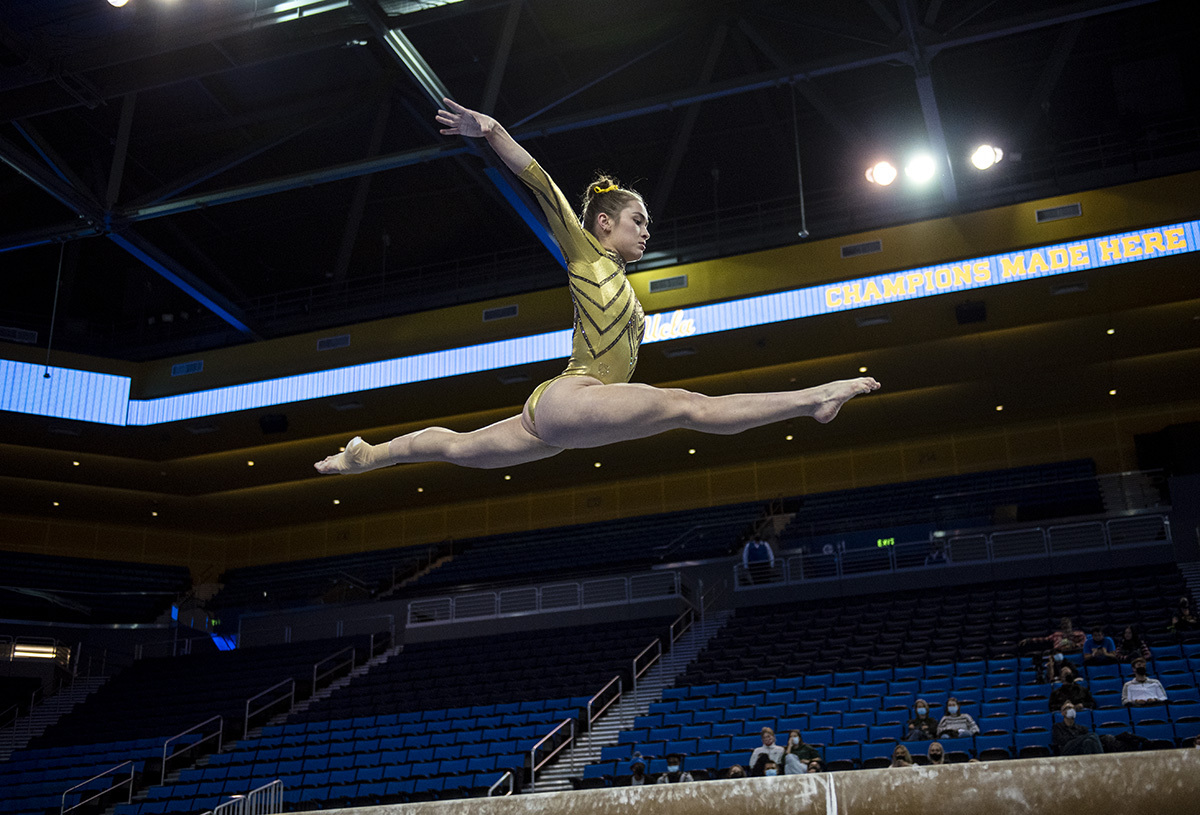 Senior Norah Flatley performs on beam. Flatley and UCLA gymnastics competed in an intrasquad competition in Pauley Pavilion on Friday prior to the official start of the 2022 season. (Jason Zhu/Daily Bruin staff)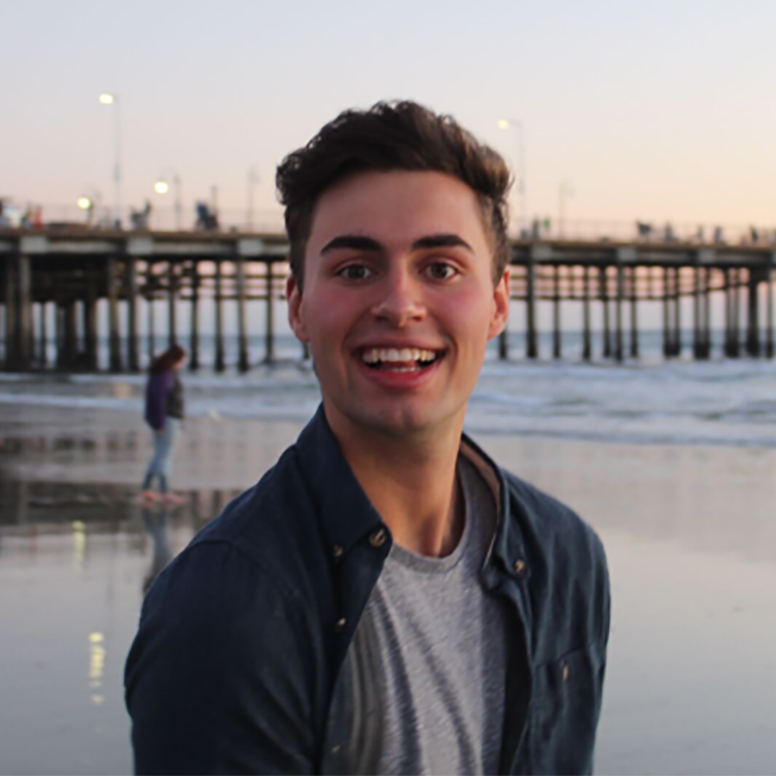 For the first time in nearly two years, the Bruins were able to perform for a crowd in their home arena.
In No. 8 UCLA gymnastics' first event of the season, team gold competed against team blue in the annual Meet the Bruins intrasquad in Pauley Pavilion on Friday, with team gold taking home the victory by an 8-7 margin. The scoring was determined by a celebrity panel of judges including former Bruin gymnast Ariana Berlin, UCLA softball alumnus Jennifer Schroeder and UCLA football redshirt senior defensive back Qwuantrezz Knight.
"We have a lot to build on after today," said senior Norah Flatley. "It was a great start to the 2022 season, but we can do better. We can do better landings, (and) overall just (with) confidence with our routines, I think we can do better. Despite that, it was a great start."
Freshman Jordan Chiles replaced sophomore Chae Campbell on team blue after Campbell was scratched from the competition for precautionary reasons because of a back injury. Also not competing was freshman Brooklyn Moors, who sat out because of an illness.
Coach Chris Waller said after the meet that the moves were solely precautionary.
The Bruins' two most senior members kicked off the meet on vault for the Bruins, with senior Pauline Tratz edging out fellow senior Kendal Poston for the first point. Pairs of gymnasts competed head-to-head on each event, with the panel of judges determining the winner of each matchup.
UCLA introduced two new faces next, as freshman Emma Malubuyo drew favorable reviews from the celebrity judges in a head-to-head with freshman Alexis Jeffrey to double the blue team's lead.
To cap off the vault rotation, senior Margzetta Frazier pulled team gold within a point after defeating newcomer Chiles. Six gymnasts vaulted for the Bruins on an event for which UCLA registered multiple meets with only five vaulters competing in 2021.
Despite heading into the second rotation with a one-point deficit, a sweep on bars provided all the cushion team gold would need to claim the victory. Wins by Jeffrey, Frazier, Flatley and senior Sara Taubman gave team gold all four points on the event, as Frazier capped off the rotation with a stuck double layout dismount.
After missing the majority of the 2021 season with an ankle injury, Flatley competed in three events, notching two victories and introducing a new triple twist pass in her floor routine. Flatley said competing as a senior for the first time felt different relative to her previous years as a Bruin.
"It was a lot of fun. I felt very calm overall," Flatley said. "My energy this year feels a little different, just very chill and zen. That's new to me."
Last season, the Bruins ranked 10th in the nation on bars and Frazier took home her third consecutive All-American designation on the event. Sophomore Sara Ulias, a mainstay in UCLA's bar lineup a year ago after breaking out midseason, debuted a new double layout dismount in an exhibition routine to close out the event.
After having nine gymnasts compete on bars, Waller praised his team's depth.
"We want so much depth that it takes six hours to determine a lineup," Waller said. "We have a lot of depth and we need to work hard to get every person on the team better and better. That being said, weird things happen, and I hope none of them happen, but I'm not sitting here resting on my laurels."
Team blue would pull within one during the beam rotation, but never tied it up. Freshman Ana Padurariu – who holds a world championship silver medal on beam – avenged her loss to Jeffrey on bars, while senior Samantha Sakti and Chiles tallied the other two points for team blue.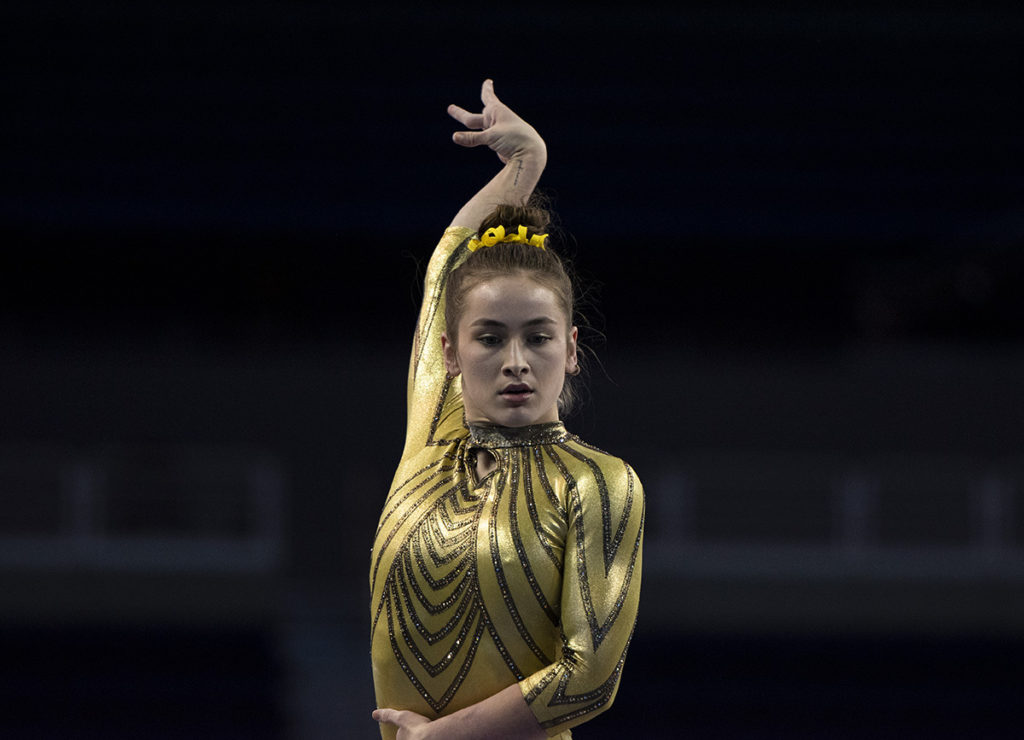 Flatley helped team gold avoid getting swept on beam in the rotation's last matchup, beating Malabuyo to put team gold ahead 7-5. UCLA ranked 19th in the nation last season on beam, its lowest ranking on any event.
On floor, Ulias clinched the victory for team gold in the opening matchup, defeating Tratz – who showcased a new floor routine to Alors On Danse by French singer Stromae – to put her team ahead 8-6 with one matchup remaining.
The Bruins closed out the meet with an exhibition on floor from Olympic silver medalist Chiles, who said it would be the last time performing her Olympic floor routine.
"That's why I was emotional and literally started crying afterwards," Chiles said. "You're definitely going to see a new routine and it's going to be a little different than what you guys normally see. It'll be less serious and show a spunky side of me. I'm excited."
Chiles said her first performance in Pauley Pavilion was surreal.
"It was amazing," Chiles said. "The very first time I stepped into Pauley Pavilion was my first time coming to Meet the Bruins in eighth grade, so actually being on the floor and competing for the team was amazing."
Edgar is currently a Sports reporter on the gymnastics beat. He was previously a contributor on the men's tennis beat.
Edgar is currently a Sports reporter on the gymnastics beat. He was previously a contributor on the men's tennis beat.