UCLA gymnastics prepares to jump-start season with Meet the Bruins intrasquad meet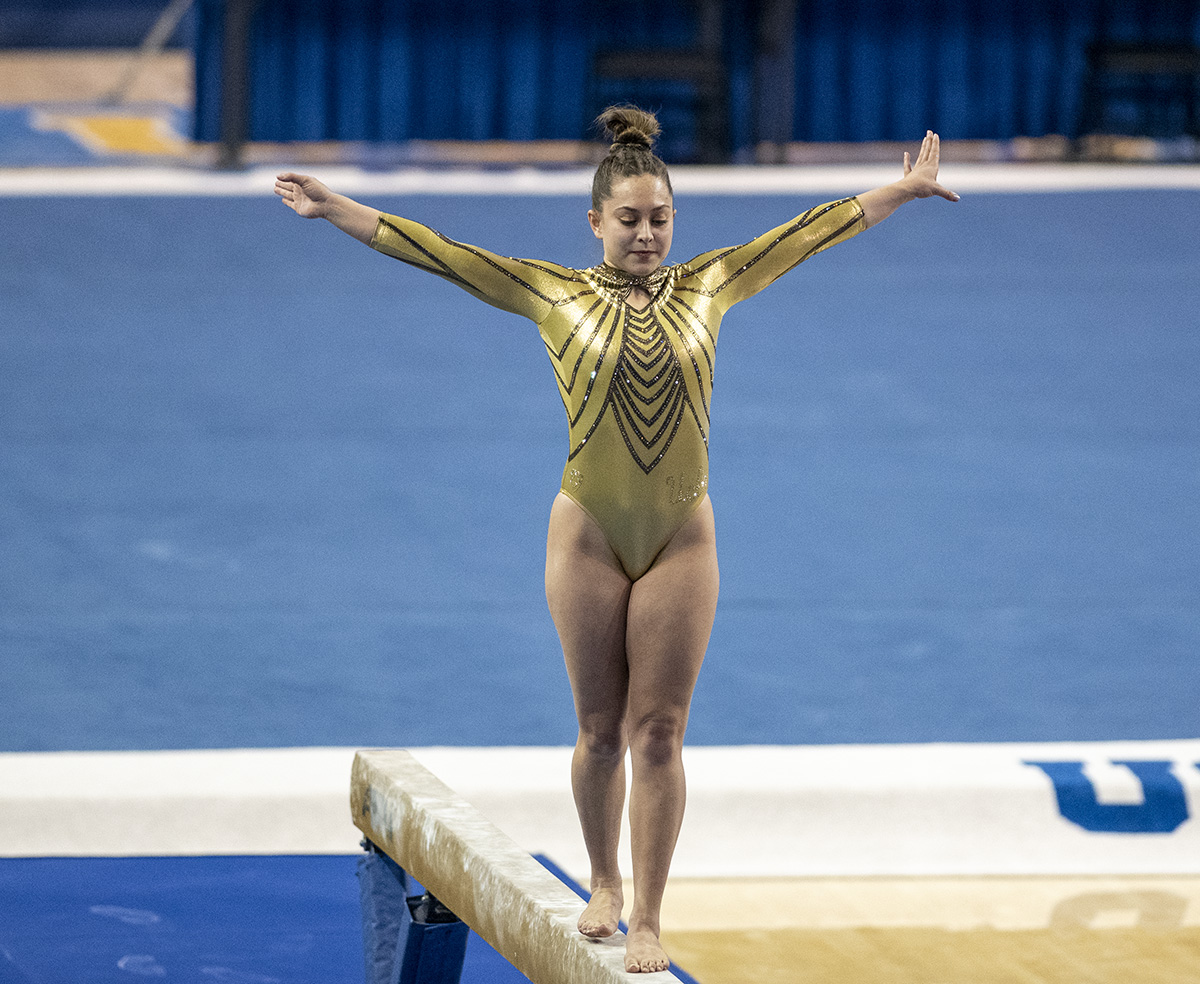 Senior Kendal Poston is set to begin her fifth season with UCLA gymnastics on Friday as the Bruins host their annual intrasquad meet at Pauley Pavilion. (Kanishka Mehra/Daily Bruin senior staff)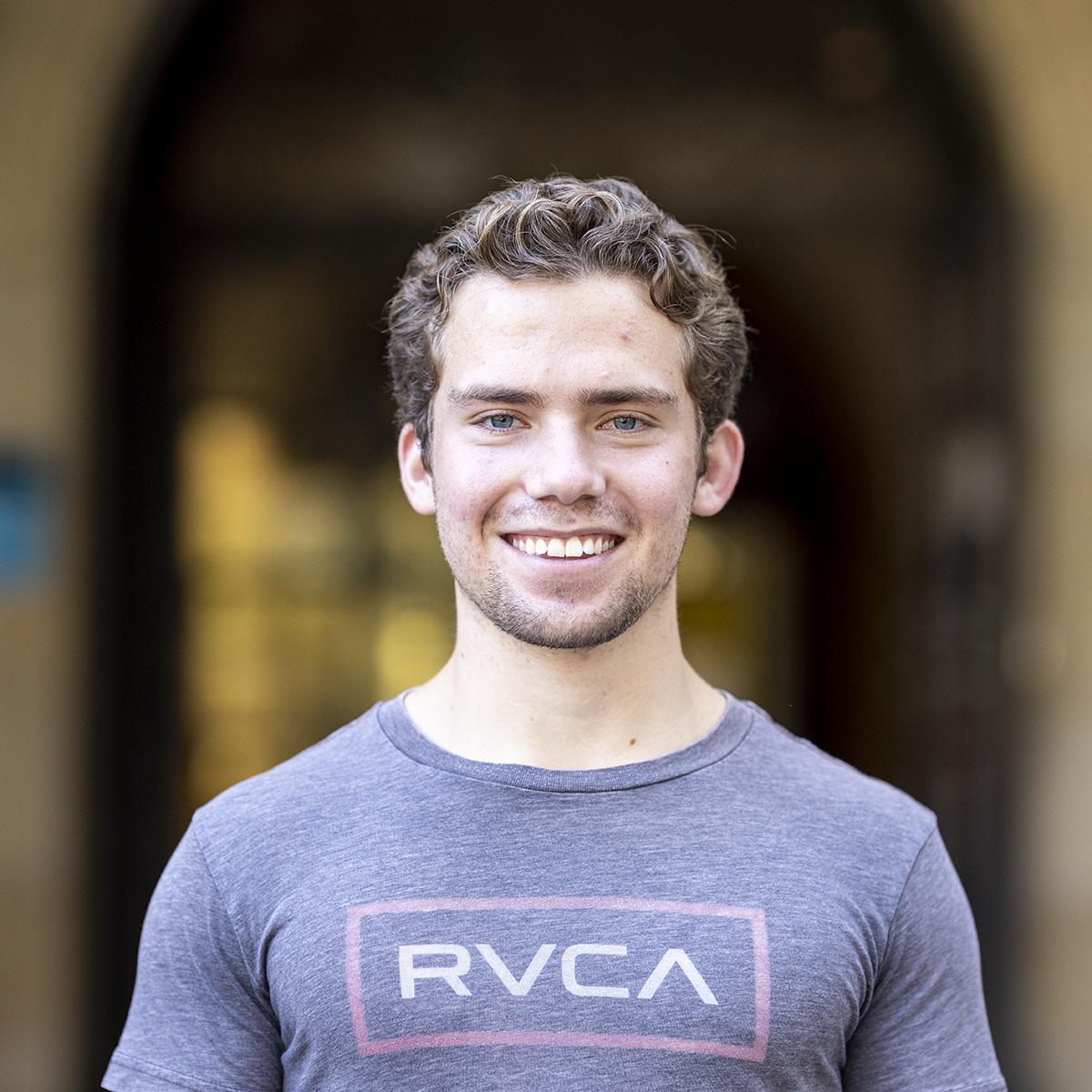 The Bruins might not be facing an opponent Friday, but that won't dampen the competitive atmosphere, according to coach Chris Waller.
"Our student-athletes are crazy competitive," Waller said. "If we don't have an opponent, then we have to create an opponent."
Prior to officially beginning its 2022 season Jan. 8 at the Collegiate Challenge, No. 8 UCLA gymnastics will host Meet the Bruins at Pauley Pavilion on Friday. The meet is an intrasquad competition in which the Bruins will be split into a blue team and a gold team, with the two squads going head-to-head on all four events and the winner being decided by a celebrity judge panel.
While the Bruins only compete against each other in a televised intrasquad meet once all season, blue versus gold battles occur throughout the season. Whether it's playing capture the flag at a retreat or racing to see who can complete an escape room faster, the two squads are in constant competition.
"We could literally be blue versus gold checkers and each team will be sweating as they play checkers because they want to win so bad," Waller said. "Gold won the escape room thing and we're out there on Melrose (Avenue), and you would have thought they just won the NCAA championship."
Meet the Bruins has been a staple in UCLA's schedule over the last 20 years, but the Bruins didn't get the opportunity to engage in the annual intrasquad meet a season ago, with the 2021 schedule being released less than a week prior to the season opener.
After training for months with no schedule last offseason, Waller said having a set start date has been a breath of fresh air.
"Having some sense of normalcy in a schedule is just simply inspiring," Waller said. "Last year, looking back, it felt like whatever we were attempting to do … (it was) like we were speaking and communicating through a 10-foot barrier of COVID trauma. It just felt like we could never fully get going."
Instead of resuming their normal offseason training regimen this year, the Bruins have opted to incorporate more weight training. Waller said when he first took over the program prior to the 2020 season, he didn't feel comfortable implementing a new weight training program. This year, he added, the team has come in with the desire to make 2022 a breakout season.
Senior Kendal Poston said the added weight training has made the team more explosive.
"The team's coming in a lot stronger than we normally come in," Poston said. "We always come in strong, but I think that the consistency that we've been doing weights has really made a difference. … It's actually been a positive change that's been super cool to be a part of."
One of the reasons Waller said he decided to make the change to the training regimen this season was the bevy of new faces on the team. With seven freshmen and a sophomore transfer, UCLA has added eight gymnasts to its roster in anticipation of the 2022 season.
Senior Margzetta Frazier said she has taken on an increased leadership role in her fourth year with the Bruins, adding that she sometimes has to remind the underclassmen to lighten up in the gym.
"Gymnastics, when you're in college, you have mastered your sport and it should be way less stressful," Frazier said. "You should only be stressing about class, you shouldn't be stressing about gymnastics. That's really been my goal this year, making inappropriate jokes here and there when we're in important, serious team meetings and just trying to keep everyone lighthearted."
While six of the freshmen arrived by Sept. 7 when UCLA first reported to preseason camp, freshman Jordan Chiles made her first appearance in Westwood less than a week ago. Chiles – who won a silver medal with Team USA at the Tokyo Olympics over the summer – spent much of the fall on the Gold Over America Tour.
Despite the late start for the Olympic medalist, Waller said Chiles will compete on all four events right out of the gates after doing so at the Bruins' latest intrasquad Saturday.
"She just doesn't look even the least bit tired, she just looks excited to be here," Waller said. "When she arrived, we said, 'Well, why don't you warm up and see what you can do on Saturday?' She did something on every event."
Chiles and the Bruins will make their season debuts Friday with Meet the Bruins scheduled to begin at 7 p.m. on the Pac-12 Network.
Settleman is currently an assistant Sports editor on the gymnastics, women's soccer, women's golf, women's water polo and men's water polo beats. He was previously a contributor on the gymnastics and women's water polo beats.
Settleman is currently an assistant Sports editor on the gymnastics, women's soccer, women's golf, women's water polo and men's water polo beats. He was previously a contributor on the gymnastics and women's water polo beats.