USAC recap – Nov. 30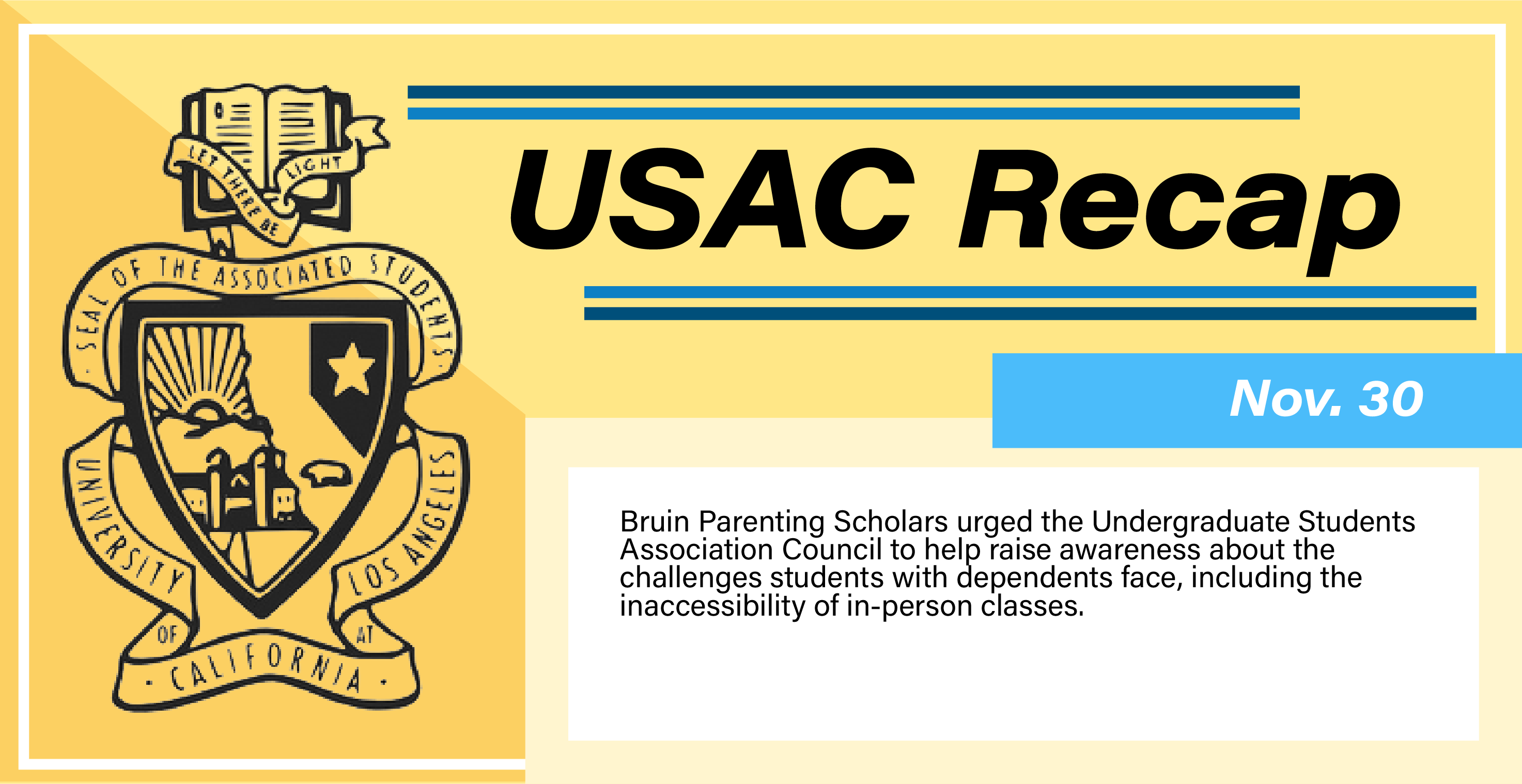 Bruin Parenting Scholars urged the Undergraduate Students Association Council to help raise awareness about the challenges students with dependents face, including the inaccessibility of in-person classes.
Public Comment:
Zuleika Bravo, the 2020-2021 USAC transfer student representative, said students with dependents are seeking to raise awareness on the lack of accessibility of classes for the winter quarter. A large proportion of the student-parent population are also commuters, and these students find it difficult to manage their responsibilities outside of school with in-person classes, Bravo said.
Special Presentations:
In a presentation, Bruin Parenting Scholars representatives said they need the council's support to address advocacy and community-building for students with dependents campuswide. BPS is a student organization that centers parenting-student voices and works collaboratively with campus departments and student organizations to promote efforts that assist the personal, professional and academic development of parenting students, said Nadine Quinonez, a fourth-year psychology student.
Radha Patel, the chair of the UCLA's California Public Interest Research Group Students chapter, and other CALPIRG representatives highlighted their campaigns for affordable textbooks and food and reducing housing insecurity for this year.
Allocations:
The council allocated $398 to the interval vice president's office for food trucks during finals week.
The council allocated $1,300 to 180 Degrees Consulting, a consulting organization focused on delivering services to socially conscious organizations, for their winter professional night.
The council allocated $500 to MedReach, an organization that aims to educate high school students in medical careers, for their outreach efforts.
The council allocated $411 to Pilipinos for Community Health, an organization that provides culturally relevant health education and services, for their winter general meetings.
The council allocated $411 to the Pre-Physician Assistant Club at UCLA, an organization that familiarizes students with the path to becoming a physician assistant, for their winter general meetings.
The council allocated $650 to Vietnamese Community Health at UCLA for their staff retreat.
The council allocated $750 to the Pilipino Transfer Student Partnership for their winter retreat.
The council allocated $500 to the Saudi Arabian Student Association at UCLA for their end of fall quarter dinner.
The council allocated $500 to Muoi at UCLA, a Vietnamese-centered prayer group, for their 2021-2022 T-shirts.
The council allocated $2,000 to the Unión Centroamericana de UCLA, an activist organization that empowers Central American students, for their Garifuna Settlement and Solidarity Day.
The council allocated $1,000 to the Society of Women Engineers for their hackathon.
The council allocated $1,100 to Fashion and Student Trends at UCLA, an organization centered on fashion, for their winter general meeting gala.
Agenda:
The council approved a bylaw to transfer ownership of the USAC Expenditure Viewer, previously under the General Representative 2's office, to the Financial Supports commissioner.
Appointment:
The council appointed Shyla Khan, a first-year psychology student, as assistant budget review director. Khan said she hopes to learn more about budgeting in this role and be more involved in the UCLA community at large.
Reports:
USAC President Breeze Velazquez said she encourages council members to speak at the Future Leaders of Color Conference on April 16. She added that the conference targets elementary through community college students in an effort to prepare them for higher level education. She also said she and the internal vice president met with Lyft to discuss a proposal to support students' access to safe transportation around campus. Velazquez said her office is taking submissions for those in need of a personal mental health basket. She added that her office's Instagram Live town hall, held by her office Tuesday, addressed the accessibility for winter quarter classes.
Internal Vice President Cassandra Gatica said the IVP office raised over $800 through a crowdfunding campaign for her office's housing relief award, an award to support those undergoing housing insecurity. She added that she is working alongside Spark, the Financial Aid and Scholarships office and the Economic Crisis Response Team on the logistics and eligibility for the award. She said she met with representatives from the office of Student Organizations, Leadership and Engagement to discuss technology accessibility issues that student organizations are experiencing. SOLE is creating a pilot program to fix the issue in the winter quarter, Gatica said. She also said the IVP office is coordinating food trucks to come to campus during finals week.
External Vice President Sarah Wang said in a written statement that her office is coordinating with Associated Students UCLA Marketing and the UCLA CalFresh Initiative to host a kickoff event in the winter quarter at Kerckhoff Hall. She added that her office met with Rep. Jimmy Gomez, Rep. Lucille Roybal-Allard and Sen. Alex Padilla, among others, to advocate for legislation including Double the Pell, a policy that would double the maximum amount of the Pell Grant.
Academic Affairs Commissioner Angelina Quint said her office met with Dr. Suzanne Seplow, assistant vice chancellor of student development, to discuss filling vacant positions for disabilities specialists. She also said her office is continuing to collect student feedback on remote courses in an attempt to continue advocacy for remote learning in the future quarters. She added that she will have a meeting with the UCLA Center for the Advancement of Teaching to discuss remote learning options for the winter quarter, along with closed captioning for recorded lectures. In partnership with the Facilities commission, AAC is working on distributing blue books and scantrons, Quint said. She added that the AAC office is also collaborating with Residential Life on a fall quarter de-stress event that took place in Carnesale Commons on Saturday. Quint also said she will meet with Bruin Learn representatives to assure that students will have a smooth transition to Canvas.
Student Wellness Commissioner Tayloneei Jackson said in a written statement that her office is planning to meet with Claris Health Mobile Clinic, a clinic that assists individuals with sexual health choices, and Harm Reduction LA, an organization that provides clinical spaces to substance users, to build community partnerships.
Transfer Student Representative Herman Luis Chavez said in a written statement that his office is collaborating with SWC on the You Belong Here campaign to address the effect of imposter syndrome on transfer students. He added that his office is collecting student input on their experiences with the dining shortage this quarter. He also added that they are planning a winter networking event for transfer students in a joint effort with General Representative 2's office.