UCLA women's basketball defeats San Jose State by season-high 79 points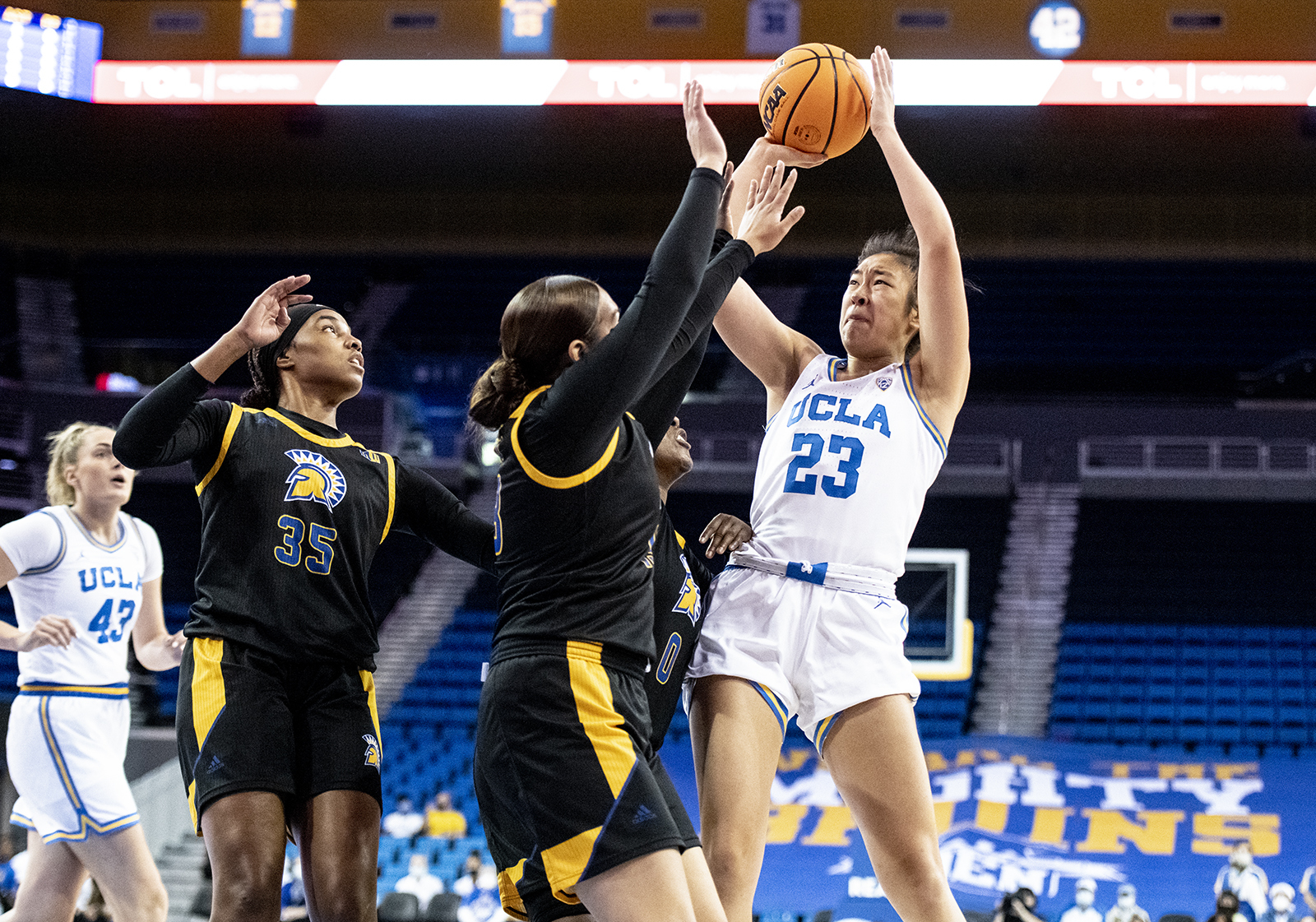 UCLA women's basketball graduate student guard Natalie Chou shoots over three San Jose State defenders in the two teams' matchup Sunday afternoon. Chou recorded 31 points, six rebounds and 11 assists while making six 3-pointers. (Sakshi Joglekar/Assistant Photo editor)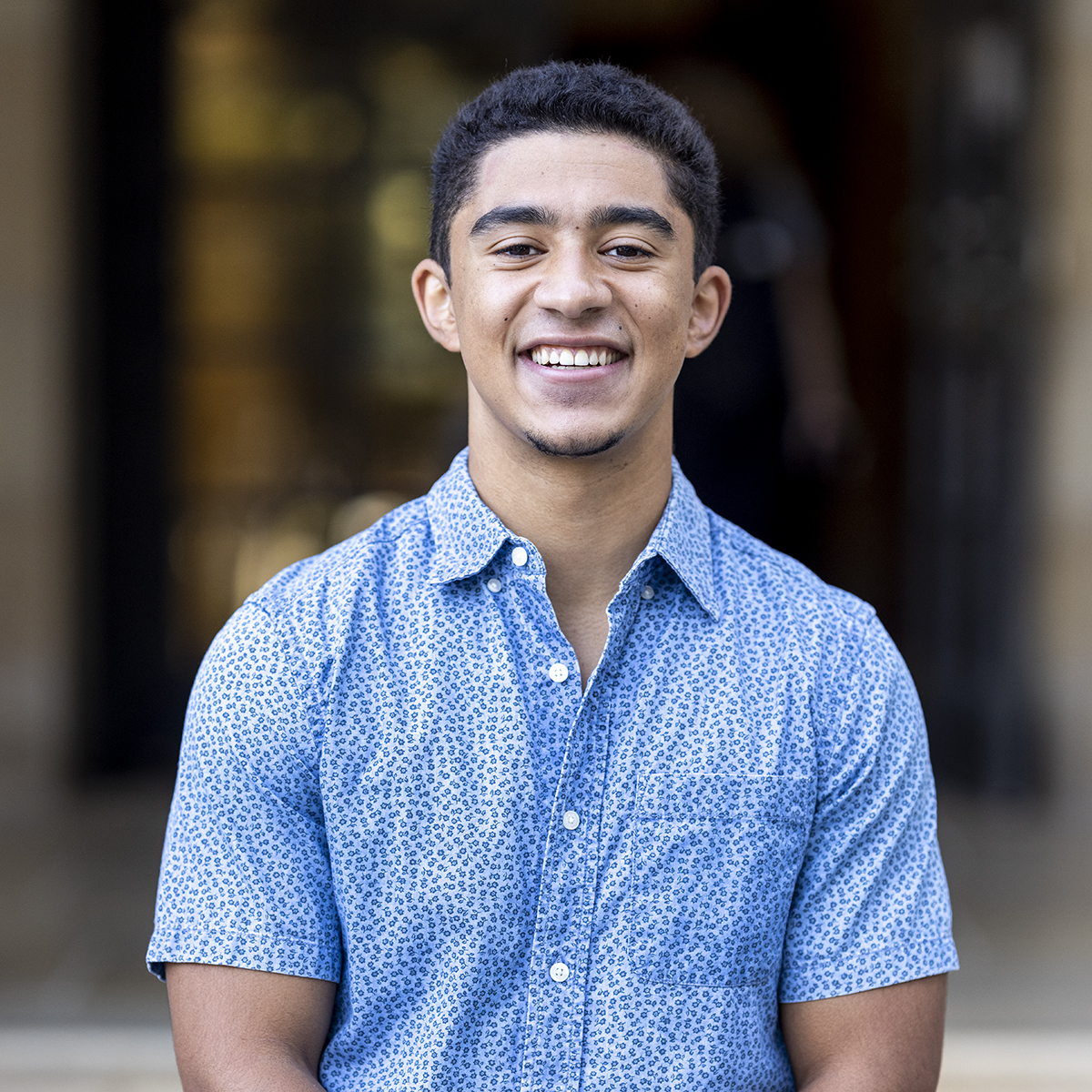 This post was updated Dec. 5 at 5:37 p.m.
The Bruins were tied 7-7 after the opening five minutes.
But after a third straight basket from graduate student guard Jaelynn Penn, they would hold onto the lead for the rest of the game behind a 48-5 run over the remaining 15 minutes of the half.
In its first game as an unranked team since 2019, UCLA women's basketball (5-2) defeated San Jose State (3-6) by a score of 112-33 Sunday afternoon in Pauley Pavilion. The Bruins scored their most points since setting a school record for points in a game in their last matchup with the Spartans in 2017 and allowed their lowest opposing point total in the coach Cori Close era.
"I couldn't care less about how many points we score," Close said. "For me, it was about executing a scouting report, and I want our team to believe that we're anchors on the defensive end. Anytime you can hold teams scoreless in one quarter that's a good step in the right direction."
Leading 19-12 with 1:07 to play in the first, UCLA began what would become a 36-0 run with a layup from graduate student forward IImar'I Thomas before seven straight points from Penn and graduate student guard Natalie Chou pushed the Bruins' lead to 16 after one quarter.
Penn – who averaged 11.8 points per game coming into Sunday's matchup – scored 12 points on 4-of-4 shooting from the field in the opening frame to lead all scorers. Penn finished with a season-high 20 points for the game and added eight rebounds in the contest.
"She gave the spark," Close said. "I actually didn't think we had great energy right from the start, … (but Penn) really got us going in that direction. She not only sparked us with her scoring, but I thought she sparked us with her defensive play as well. We're really counting on her to do that."
UCLA outscored San Jose State 27-0 in the second quarter behind a combined 12-of-14 shooting from the field while its opponent was unable to connect on 14 tries. Thomas shot a perfect 5-of-5 from the field and scored 10 points in the period to extend the Bruins' lead to 55-12 at the halftime break.
After scoring eight points in the first half, Chou posted 15 in the third quarter to help the blue and gold outscore the Spartans 28-10 in the period and push the lead to 83-22 heading into the fourth quarter. Chou finished the game with career highs of 31 points and 11 assists while shooting 68.8% from the field in her first career double-double.
Chou said encouragement from the sidelines helped motivate her career performance.
"My teammates and also my coaches always instill confidence in me," Chou said. "That's just something that's always been consistent even when I might not be as confident in myself."
Thomas was the second Bruin to reach the 30-point mark, scoring four baskets to close the game and finish with a season-high 32 points on 15-of-19 shooting. Junior guard Charisma Osborne added 13 points while the bench contributed 16 to help the Bruins score their highest point total since scoring 129 against the Spartans in 2017.
Thomas said the combined effort of the team was a result of its efforts to respond from its two losses last week.
"Last week was as much of a wake up call as we could get," Thomas said. "We knew that we – as a team, as a unit – we need to grow in so many areas, and I think that was our mindset going into this week in practice."
After seeing their first two defeats of the season and going 1-2 at the Gulf Coast Showcase in Florida last weekend, the Bruins managed to stay undefeated at home on the season by earning a 79-point victory – their largest in the Close era.
"It was super fun – just to celebrate with each other and get a chance to really enjoy our time out there," Thomas said. "We're all so happy for each other's success, and I think that really showed in the game."
Carlson is currently a staffer on the women's basketball and softball beats. He was previously a reporter on the men's golf beat.
Carlson is currently a staffer on the women's basketball and softball beats. He was previously a reporter on the men's golf beat.