Opinion: Open-note assessments offer more flexibility, opportunities to learn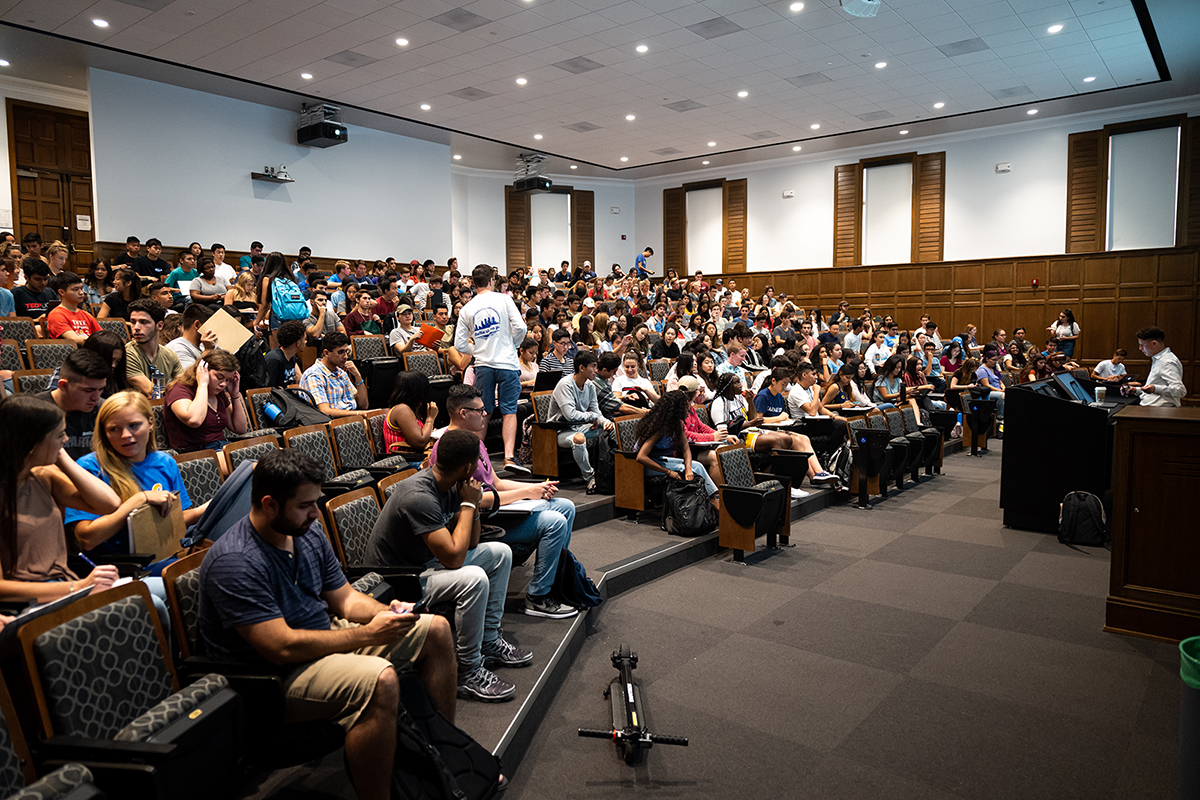 By this time in the quarter, Bruins are used to pre-pandemic scenes such as this one: students packed into a lecture hall with little wiggle room. However, going back to in-person classes doesn't have to mean going back to closed note exams. Moving forward, educators should capitalize on the benefits of others forms of assessing student learning. (Daily Bruin file photo)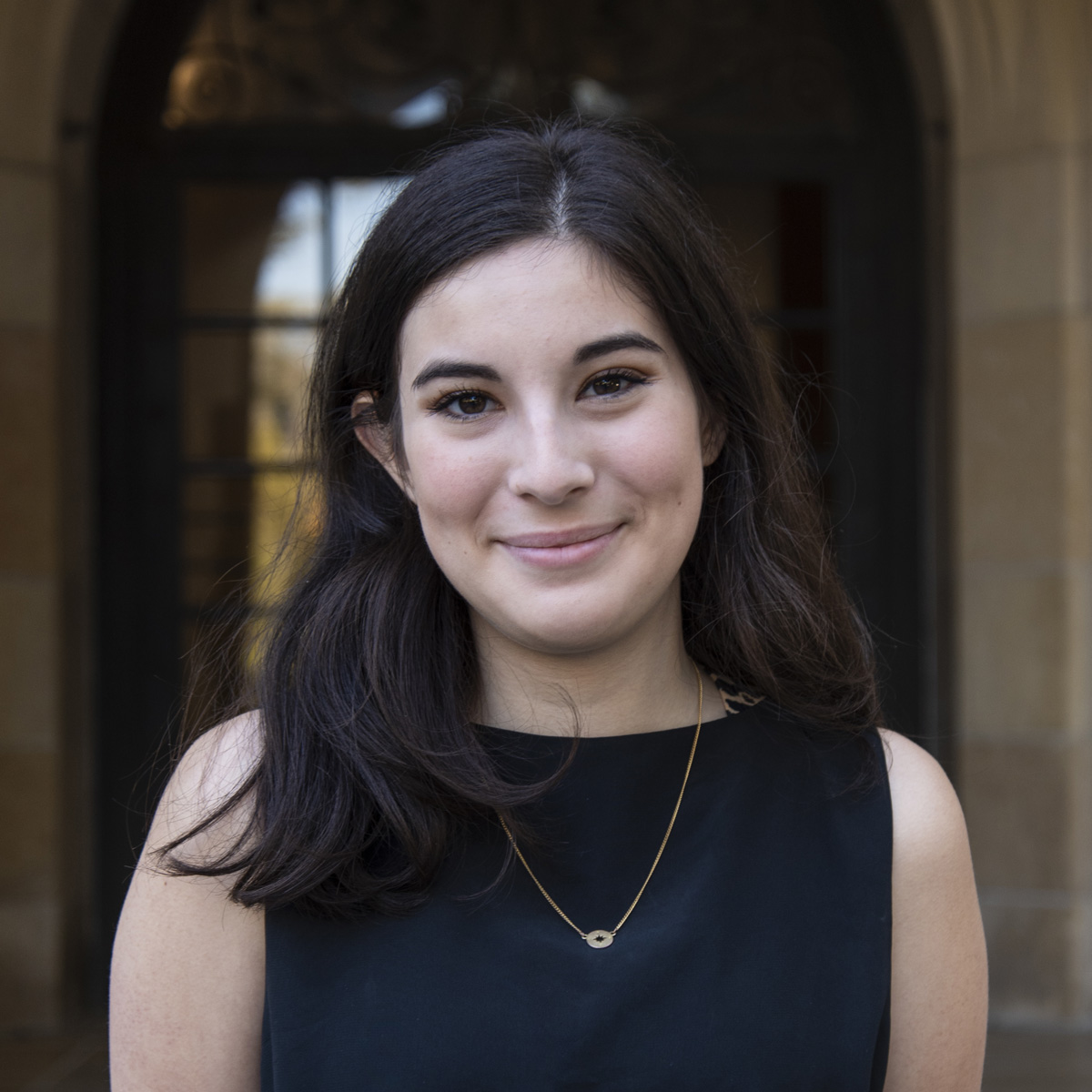 Finals season is once again rearing its head.
But these exams look different from the ones students have grown used to during online learning. The return of in-person classes this quarter has brought with it the return of closed-note, timed exams.
For many students, these exams mean late-night cramming sessions, lots of coffee and long hours questioning the benefit of the exams they take.
Yes, school is stressful, but exam season doesn't have to be this way.
Instead of focusing on closed-note, timed exams, UCLA instructors should move to other forms of assessments, such as papers, projects, or longer-term, open-note tests.
These other types of assessments are better measures of student performance and understanding of material. Whereas closed-note, timed exams force students to memorize material they will likely forget in a matter of weeks, alternative testing options allow students to focus more on actually learning and understanding the material.
Andrew Goldstein, an assistant professor in the molecular, cell & developmental biology and urology departments, moved all of his assessments away from closed-note exams at the start of online learning and has since administered open-note exams.
"Maintaining this kind of assessment has given greater flexibility and also allowed students to focus on what's the most important concepts of the class rather than the specific details," Goldstein said.
This means students are less focused on memorizing information and more focused on understanding it.
Students see the difference in study habits when they take alternative types of assessments instead of closed-note exams. Studies have shown that the study habits needed for take-home exams that are open-note are more likely to engage students, promote learning beyond memorization and improve retention.
"I can focus more on the broader material (and) more comprehension of the overall material," said Emily Lemas, a third-year political science student.
And the benefit of these other styles of assessments is especially apparent after their prevalence during online learning. There's no reason we can't keep these styles around.
"It's like they're trying to go back to before COVID, and it's not working out for anyone," said Emily Zinati, a fourth-year political science student.
Online learning showed both instructors and students how many other ways there are to assess learning. Instead of casting these aside, educators should capitalize on the benefits of alternative assessment methods.
"COVID really made me like open-note (exams) because it's a lot more understanding (of) the broader material," Lemas said. "I don't have to focus as much on tiny little details when I'm studying."
Depending on what type of class it is, this alternative assessment may vary. North Campus classes might focus more on papers or presentations, while South Campus classes may focus more on projects or labs.
Jake Kristy, a fourth-year political science student, said he feels other forms of assessments enable him to produce better work.
"Instead of just one or two or three nights of studying and then you'd have an hour to take an assessment, I think (when) you have a week or more to work on something, the essay will turn out better and look better, and you'll be more happy with your work," Kristy said.
With timed exams, students are more likely to leave out information they know but just don't have time to fit into the time they are given.
Open-note assessments won't work in every class. Some classes still require that students learn a lot of material and know it off the top of their head.
"As an upper division course, we don't have the same requirements to provide core knowledge to the students, but we can spend more time encouraging them to think creatively in developing new hypotheses and designing experiments to test their hypotheses," Goldstein said. "So that is a larger learning objective for my class, but another class that has to provide core knowledge might be better suited in a different way."
But especially in upper-division classes in which the focus should be on critical thinking, alternative assessments are just a better way to gauge students' ability to apply their knowledge.
And letting students use their notes doesn't mean they don't still need to have working knowledge of the information from class.
In most real-world situations, people don't have to memorize all of the necessary information; they are able to do research and find answers. This means that being able to quickly find needed information is an important skill for students to learn.
"A lot of the world is open note, and most people aren't going to ask you just to go up in front of a presentation and spew random facts," Lemas said.
Unless students wish to learn an entire class in the time period of an assessment, they will still be focused on knowing and understanding course material throughout the quarter. But open-note exams teach students how to organize information in a way that is easily accessible and understandable – a valuable skill for anyone to have.
To be fair, there is little evidence that one type of exam results in better grades for students.
But open-note exams undoubtedly offer other benefits to students, starting with decreased anxiety and greater flexibility. Especially after going through school in a global pandemic, students need and appreciate any solution that decreases their stress.
Closed-note exams and other forms of assessments are the difference between grading based on a student's ability to memorize or a student's comprehension of material learned in class and ability to apply that material.
Instructors must move away from closed-note exams. A college education based on memorization will not prepare Bruins for the real world.