Restaurants to stop providing single-use plastics unless requested by customer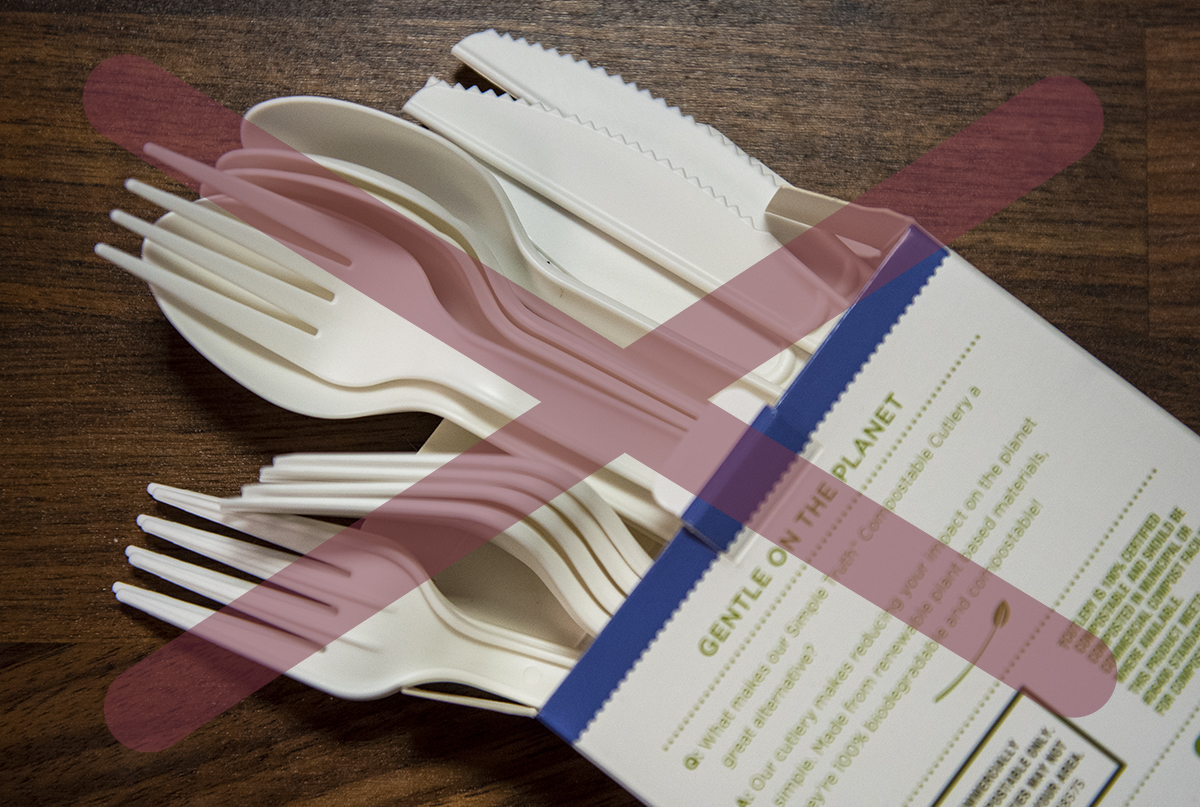 The Los Angeles City Council passed an ordinance requiring most food service providers and restaurants in LA to only offer disposable utensils at customers' request. (Photo illustration by Ashley Kenney/Photo editor)
Single-use plastic utensils and napkins will no longer be offered at restaurants in Los Angeles unless customers directly ask for them.
A Los Angeles City Council ordinance took effect Nov. 15 that requires most food service providers and restaurants to stop providing disposable tableware for customers unless they specifically ask for it. The city will begin formal enforcement of the ordinance in January.
The ordinance currently applies to restaurants with more than 26 employees, third-party food delivery companies, and other online platforms providing prepared meals. The ordinance is scheduled to expand to include all restaurants in the city by April 22.
Beginning Jan. 1, businesses found to be in violation of the ordinance will be given written warnings on first and second complaints and a $25 fine for third and subsequent violations.
The ordinance aims to reduce waste from disposable plastics, including plastic utensils and napkins, which would end up in a landfill, said Andy Shrader, a spokesperson for LA City Councilmember Paul Koretz, in an emailed statement.
Disposable utensils contribute to pollution in oceans and beaches, posing an environmental hazard, said Tom Waldman, a spokesperson for LA City Councilmember Paul Krekorian.
"Millions of pounds of waste at this point are dumped every year into our ocean and roll on the beaches in Southern California as the result of the disposal of plastic items," Waldman said.
Waldman also said the ordinance will produce financial benefits over time as restaurants save money because they need to purchase fewer plastic utensils.
Some local restaurants, however, raised concerns over the ordinance.
Cathy Blake, a director of international training and development at The Boiling Crab and a UCLA alumnus, said in an emailed statement that although she does not think the ordinance would be effective as a cost-saving measure, it aligns with the restaurant's own goal of reducing plastic waste.
However, Blake added that she thinks the ordinance may face challenges in enforcement given the large number of restaurants impacted and the need for educating customers on the new policies.
Andrew Thomas, executive director of the Westwood Village Improvement Association, said he doesn't think the ordinance will pose a significant problem in the Village.
"I see a lot of customers will bring their own utensils, … so I don't think this is going to come as a huge inconvenience for our user base, and I think that they and our merchants will adapt quickly," Thomas said.
The city ordinance follows previous statewide limitations on other plastic goods, including plastic bags and plastic straws in 2016 and 2019, respectively.
Waldman said people had similar concerns when the state implemented these regulations, but these concerns quickly vanished when customers started bringing their own bags to grocery stores instead of paying for plastic bags at checkout.
Waldman added that similar to the previous plastic ban restriction, he thinks restaurants and customers will adjust to the city's disposable utensil policy quickly.