​​Op-ed: UCLA Dining Services works diligently on solutions to staffing shortage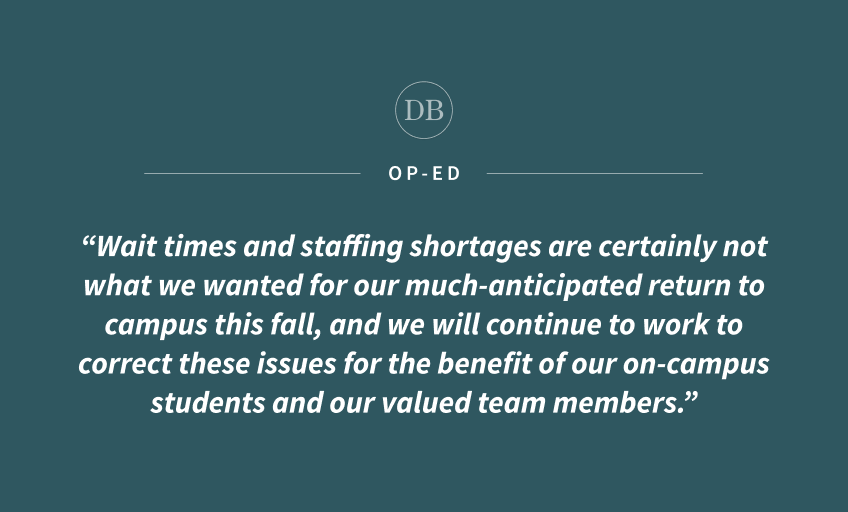 This quarter has brought about tremendous strides in terms of our long-awaited return to campus, but it also has brought about new challenges for the UCLA dining program that have required us to be creative with our resources.
Throughout the nation, the hospitality industry has seen a severe labor shortage and a record number of job vacancies. Here at UCLA Dining Services, that has meant that we are operating with half the number of team members we need, in spite of extensive efforts to fill our staff and student openings. As a result, we have had to pivot and adjust our operations as we prepare more than 30,000 meals daily.
One step we have taken is to introduce a program that allows meal plan holders to exchange a swipe for a ticket that can be used at any ASUCLA eatery as well as any of the local food trucks that we have stationed on the Hill daily from 11 a.m.-11 p.m.
But we've done much more. We temporarily suspended our campus catering operations and reassigned those team members to our nine restaurants on the Hill to support our residential dining program. In addition, we limited service to on-campus residents only – allowing no outside guests and suspending non-resident meal plans – to make sure that the needs of student residents come first.
As we've been able to bring some staff on board, we also recently opened The Drey, a new grab-and-go eatery at Olympic Hall, and The Spice Kitchen at Feast.
In observing service levels and flow patterns at each of our locations, we've found that lines at our grab-and-go locations tend to be heavier than those at our all-you-care-to-eat locations. Two of our all-you-care-to-eat restaurants – De Neve dining hall and Bruin Plate – also allow guests the option to fill a box with items and take it to go. In addition, by visiting any of our locations during non-peak hours – specifically 7-7:30 a.m., 1-3 p.m. and 8-9 p.m. – students can get in and out more quickly.
For the past six months, we have been diligently working behind the scenes to recruit full-time career employees by encouraging our 2,600 UCLA Housing & Hospitality team members to recommend that friends and family members apply, posting job flyers in local neighborhoods, placing flyers in 10,000 boxed meals distributed via the Venice Family Clinic, posting job information on social media, launching an ad campaign on 100 local buses, organizing biweekly mass hiring events and attending numerous job fairs around the region, including those in which we have interviewed and offered positions to qualified candidates on the spot.
On Dec. 11, from 9 a.m.-3 p.m., we will be partnering with other campus departments to hold a hiring fair in which we are hoping to bring a large number of new full-time hires aboard. It will be held at a JVS SoCal site in West Los Angeles located at 5446 Sepulveda Blvd. in Culver City. We have also been actively attempting to work with American Federation of State, County and Municipal Employees Local 3299, the union that represents service, patient care and skilled craft workers across the University of California, to reach and hire qualified candidates. Interested applicants can apply for our dining jobs online.
We currently have about 200 well-paying full-time positions. Each offers exceptional health care, vacation and retirement benefits, opportunities for growth and a supportive and engaging work environment. Year after year, UCLA Dining Services leads the nation when it comes to college food services, and our team members take great pride in supporting our students' college experience.
Speaking of students' college experience, there are also about 300 part-time positions in dining for students that offer competitive pay and schedules that work around classes and other responsibilities. Students can apply directly online or speak with a manager at any of our dining locations.
Wait times and staffing shortages are certainly not what we wanted for our much-anticipated return to campus this fall, and we will continue to work to correct these issues for the benefit of our on-campus students and our valued team members. We appreciate the cooperation and understanding of our students during this time.
Angelis is the assistant vice chancellor of UCLA Housing & Hospitality.