UCLA aims to add Braille signs to Boelter Hall, improve accessibility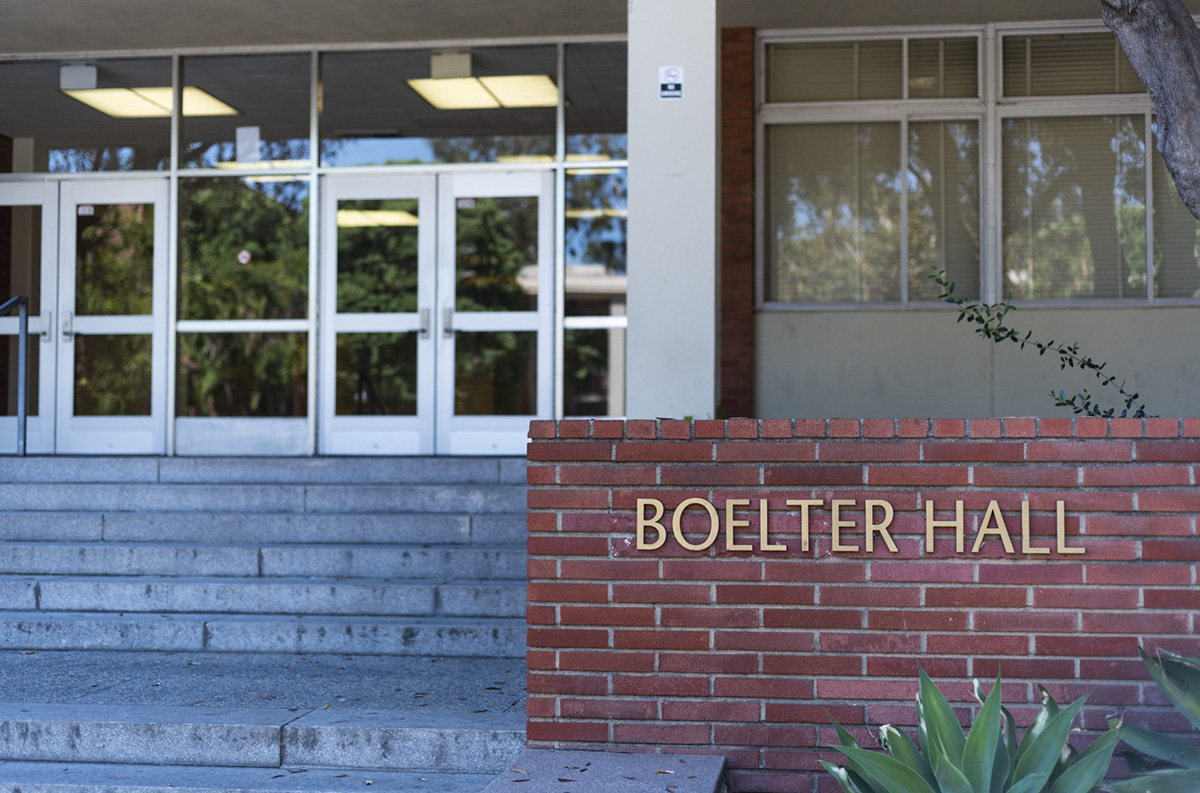 The office of general representative 2 in the Undergraduate Students Association Council is leading an effort to add Braille signs in Boelter Hall. (Daily Bruin file photo).
UCLA is working on a measure to add Braille signs in Boelter Hall to improve accessibility for visually impaired students.
The office of general representative Passa Pungchai in the Undergraduate Students Association Council undertook the project to improve Boelter Hall. Passa Pungchai, the USAC general representative 2, announced the project during the Oct. 26 USAC meeting. Pungchai was a Daily Bruin contributor from fall 2019 to spring 2021.
The project is ongoing and the office of GR2 has documented which rooms need signs on floors one through nine, according to a Nov. 2 report.
Jane Ni, USAC facilities commissioner, said her office is also working with the office of GR2 to gain the university's perspective on these signs.
"Boelter is historically known as kind of just a confusing building to navigate," Ni said. "I think that this project kind of just came about because students were interested in making it more accessible for those who use Braille."
The process for assessing this campus project involved the UCLA Capital Programs, a department responsible for creating and executing major capital construction and renovation projects on campus. UCLA Facilities Management is working with engineering students to develop ways to add accessibility signage inside Boelter Hall while maintaining compliance with university and California Building Code policies, UCLA spokesperson Katherine Alvarado said.
Ni said USAC also worked with Kelly Schmader, the vice chancellor of facilities management, who Ni spoke with to learn about how the installation would proceed.
Ni said building accommodations at UCLA can take longer than expected due to the nature of the installation process. Ni added that this measure could take longer because it is a new construction installation as well. Ni said she and Schmader discussed obstacles the project may face, including sign consistency and installations.
"There needs to be consistency in building signage, and also, all building signage is governed by union contracts," she said. "So there is just some bureaucracy behind putting up signage."
Overall, Ni said the project highlights a broader campus effort to go beyond compliance with the Americans with Disabilities Act, especially with the input of the Facilities Commission – the USAC organization advocating for campus accessibility and sustainability.
"We don't want it to just be what's ADA-compliant," Ni said. "You really want the university to be always moving forward and trying to go above and beyond toward universal design instead of just doing what they are mandated to do by the law."
The office of general representative Passa Pungchai declined to comment due to the project being in its early stages.