Scouting report: UCLA football vs California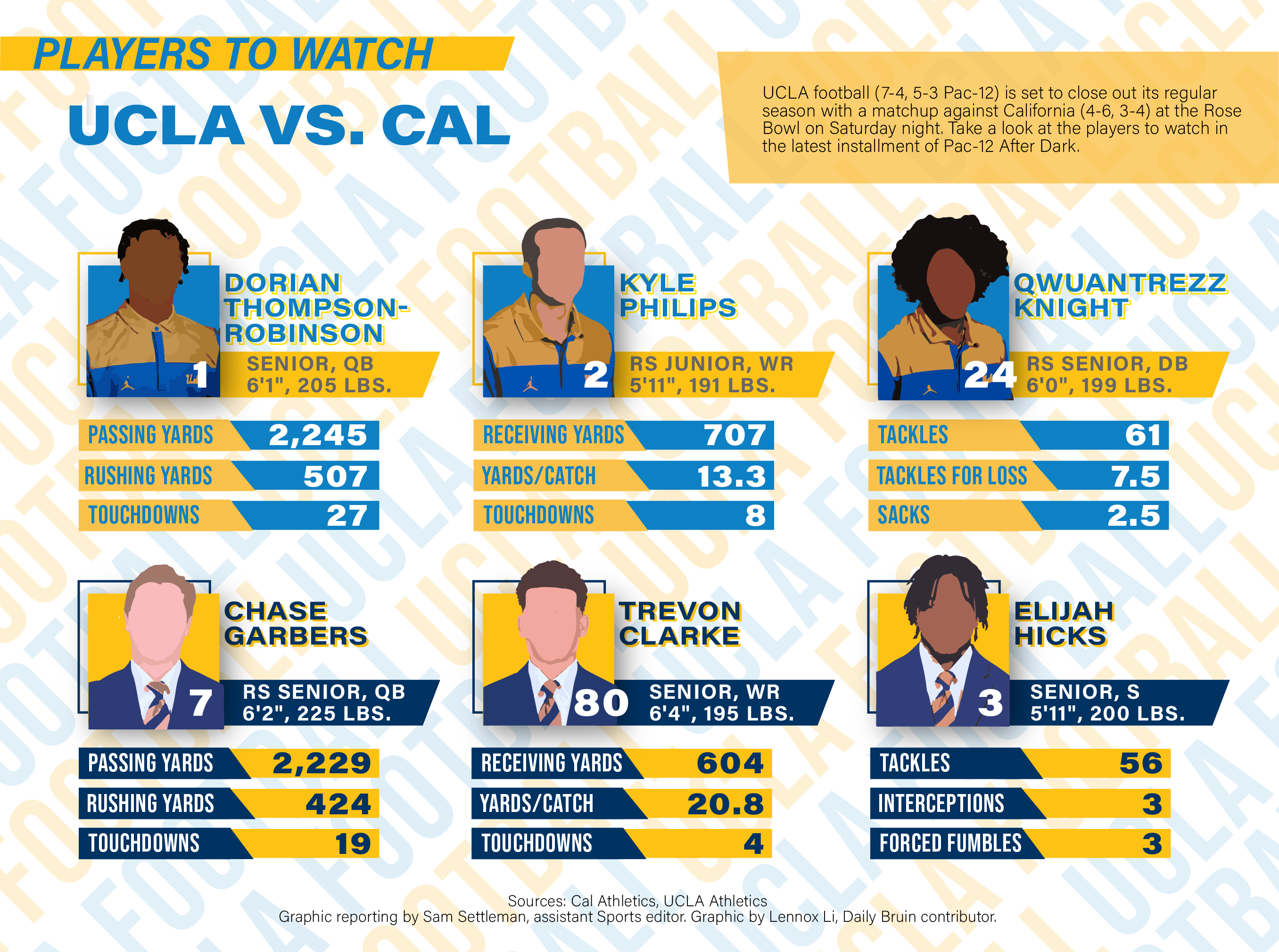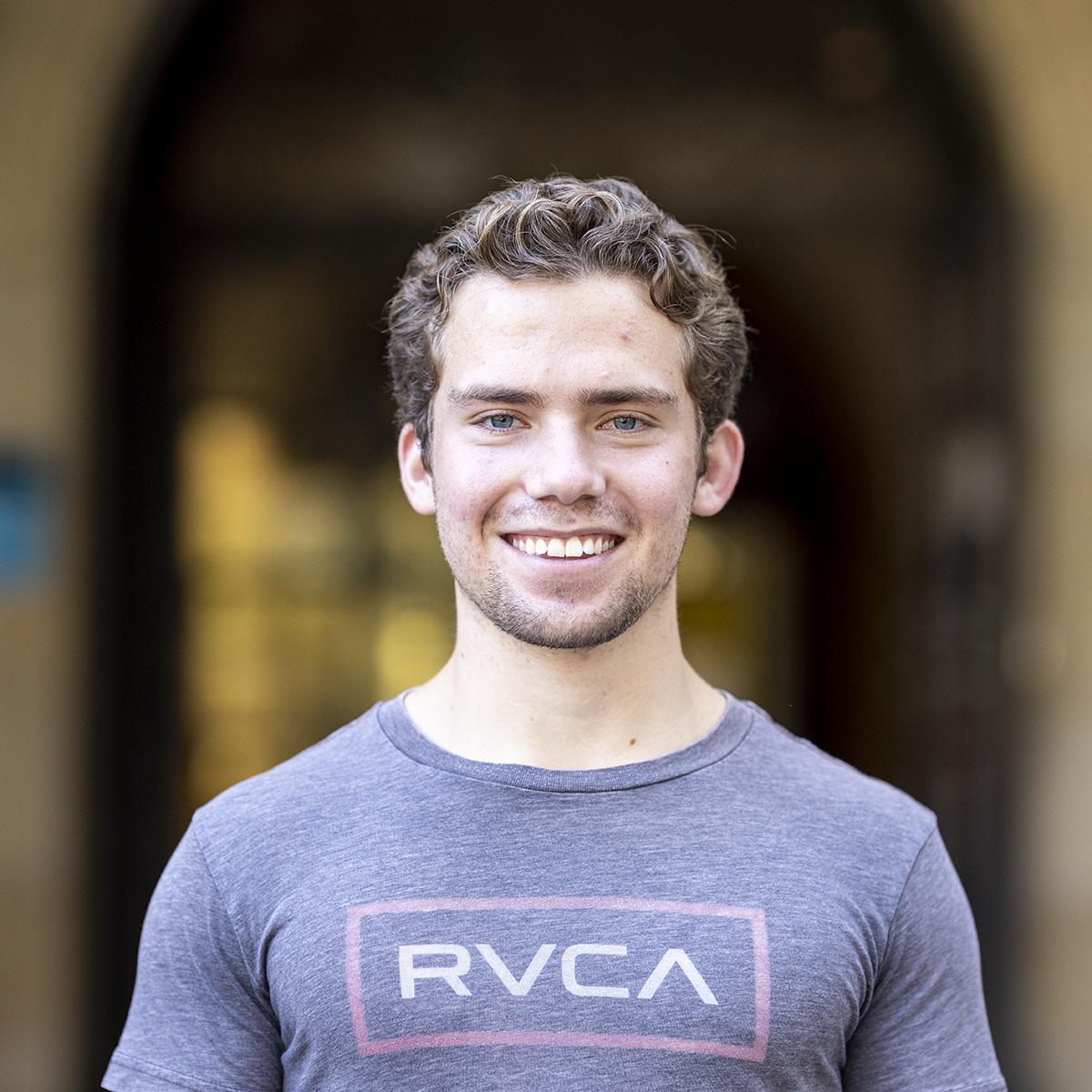 UCLA football (7-4, 5-3 Pac-12) will wrap up its regular season against California (4-6, 3-4) at the Rose Bowl on Saturday with a chance to reach the eight-win mark for the first time since 2015. Here is this week's scouting report from assistant Sports editor Sam Settleman – who would like to remind everyone that Joe Bruin would destroy Oski the Bear in a fight.
Cal's offense
Offensive scheme: Pro-style
Run-pass percentage: 50.7% run, 49.3% pass
Strength: Play-action attack
Weakness: Explosive plays
X-factor: OC Bill Musgrave
Just like Thanksgiving turkey, Cal is remarkably mediocre.
Sitting in fourth place in the Pac-12 North, the Golden Bears rank in the middle of the conference in most key metrics of offensive production – including eighth in points per game and sixth in total yards per game.
While there is nothing statistically special about this Cal offense, it's a unit that has started to heat up in recent weeks. After starting the season 1-5, the Golden Bears have won three of their last four, with the lone loss coming when they were missing practically half of their starting lineup because of COVID-19-related absences.
It's possible that the early-season growing pains could be attributed to the relatively new offensive scheme implemented by offensive coordinator Bill Musgrave, who was hired in 2020. One of the most experienced coordinators in all of college football, Musgrave amassed 20 seasons of service on NFL sidelines before making the move to Berkeley.
Under Musgrave, Cal runs an offense predicated on running out of heavy sets and utilizing play-action rollouts – an offensive scheme similar to that popularized by San Francisco 49ers head coach Kyle Shanahan. The Golden Bears like to keep the ball on the ground and control the clock before opening it up with a heavy dose of play action.
But Cal's style of offense depends on the credibility of an effective run game, which hasn't been there for the Golden Bears for much of the season – at least until their most recent contest. Currently ranking sixth in the conference with 179.1 rushing yards per game, Cal exploded for 352 yards on the ground against Stanford on Saturday.
After finally finding a rhythm in the run game in their win over the Cardinal, the Golden Bears started to find some success with their patented play-action attack as well. When the run game has success, it forces extra defenders into the box, which allows Cal to take advantage by dumping it off to its tight ends or allowing its receivers to get behind the defense off the play fake.
Despite the inherent disguise of play action, Cal's offensive tendencies are not hard to pick up on. When the Golden Bears line up in their heavy sets with two or even three tight ends in the game, they almost always run the ball. And when they come out in the shotgun, it's a passing play the majority of the time.
The predictability of the offense is hurt by the fact that Cal doesn't have any dynamic tight ends in the passing game, even though it regularly trots out multiple tight end sets.
Instead, most of the play-action success can be attributed to quarterback Chase Garbers, who is one of the more mobile quarterbacks in the conference. Garbers can make effective throws while rolling out to his right and throwing across his body. The signal-caller is also prone to take off and run with the rock out of shotgun.
With 47.1 rushing yards per game, Garbers is only a few yards shy of senior quarterback Dorian Thompson-Robinson's numbers on the ground.
Unsurprisingly, explosive plays are limited in an offense built on a power rushing attack and a dink-and-dunk play-action passing game.
That leaves Cal searching for big plays elsewhere, sometimes digging deep into its back of trick plays, which it used plenty of in its 41-11 win over Stanford. Wide receiver Nikko Remigio – who was named to the Paul Hornung Award Preseason Watch List as one of the most versatile players in the country – could also spark some big gains for the Golden Bears, as he ranks 15th in the country in kickoff return average and has already taken one back to the crib this season.
If Musgrave can dial up some creativity and Cal can find some explosive plays Saturday, UCLA might be in store for a repeat of its Thanksgiving weekend loss to its Northern California rivals in 2019.
Cal's defense
Defensive scheme: Nickel 2-4-5
Strength: Run defense
Weakness: Lack of pressure
X-factor: OLB Cameron Goode
Defensively, the Golden Bears are better than their record indicates.
With 21.1 points allowed per game, Cal ranks first in the Pac-12 and 30th in the country in scoring defense. The defensive unit for the Golden Bears is spearheaded by a run defense that tops the conference.
Cal gives up just 121.5 yards per game on the ground and recently conceded only 134 rushing yards to an Oregon State offense that ranks in the top 10 in the country in rushing offense. The Golden Bears are particularly effective at setting the edge with talented players in the secondary – like safety Elijah Hicks, a future NFL defensive back – stepping up to make plays from the back end.
While Cal's passing defense is not quite as stout as its rushing defense, it's certainly serviceable. The Golden Bears rank in the middle of the Pac-12 in passing yards allowed per game but have been especially adept at forcing turnovers through the air.
With 13 picks in 10 games played, Cal ranks 18th in the country in interceptions. Three Golden Bears have tallied three interceptions this season, including Hicks, who has also forced three fumbles on the year.
Turnovers are a key factor in this defense's success because of its lack of pressure upfront. Cal routinely rushes only three or four bodies, instead allowing its secondary to hold up while trying to win one-on-one battles at the line of scrimmage.
Outside linebacker Cameron Goode is the primary source of those individual wins. The sixth-year senior leads his squad with six sacks to go along with five quarterback hurries.
In a condensed 2020 season, Goode picked up three sacks in four games while ranking second in the country in tackles for loss per game. With the body of an NFL linebacker but the role of a traditional defensive end, Goode opted to return to Berkeley instead of entering the NFL Draft, continuing to have his way with opposing offensive tackles in 2021.
While Cal has seen some success in limiting opposing quarterbacks, the lack of pressure could allow Thompson-Robinson to pick apart the secondary the same way he did to USC on Saturday. Moreover, if he's not under duress, Thompson-Robinson could get loose with his legs against the Golden Bears and potentially earn his first 100-yard rushing game of the season.
Even if junior running back Zach Charbonnet and redshirt senior running back Brittain Brown are contained by Cal's rushing defense, UCLA should have multiple modes of attack to break down this defense and put points on the board.
That being said, the Golden Bears are a dangerous team riding a momentum that could hurt the Bruins if they aren't prepared. With bowl eligibility already secured for the blue and gold, this one has trap game written all over it.
Settleman is currently an assistant Sports editor on the gymnastics, women's soccer, women's golf, women's water polo and men's water polo beats. He was previously a contributor on the gymnastics and women's water polo beats.
Settleman is currently an assistant Sports editor on the gymnastics, women's soccer, women's golf, women's water polo and men's water polo beats. He was previously a contributor on the gymnastics and women's water polo beats.