Gameday predictions: UCLA vs California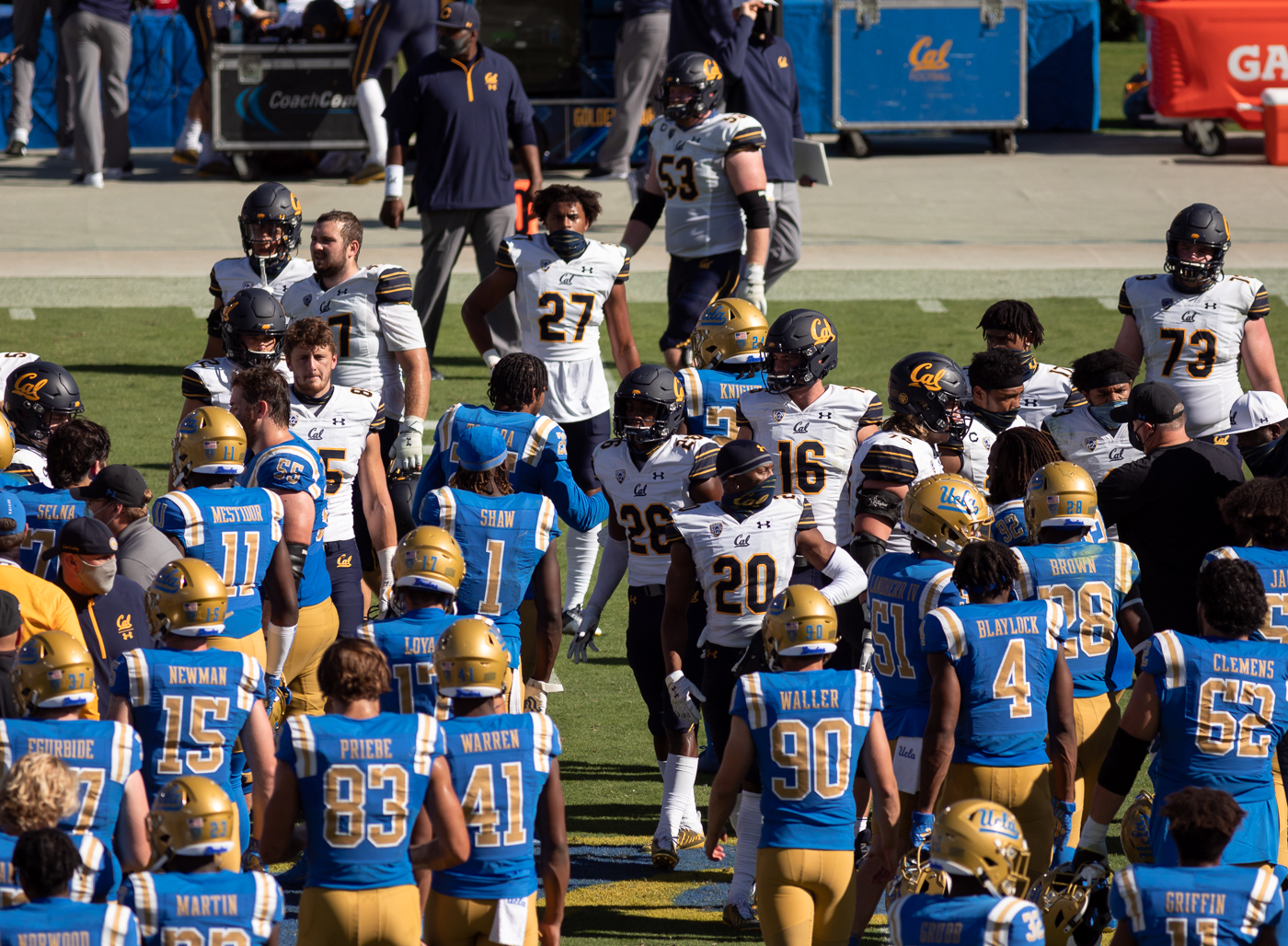 Members of UCLA football shake hands with California players after the Bruin win over the Golden Bears in 2020. UCLA and Cal will match up Saturday at the Rose Bowl. (Tanmay Shankar/Daily Bruin senior staff)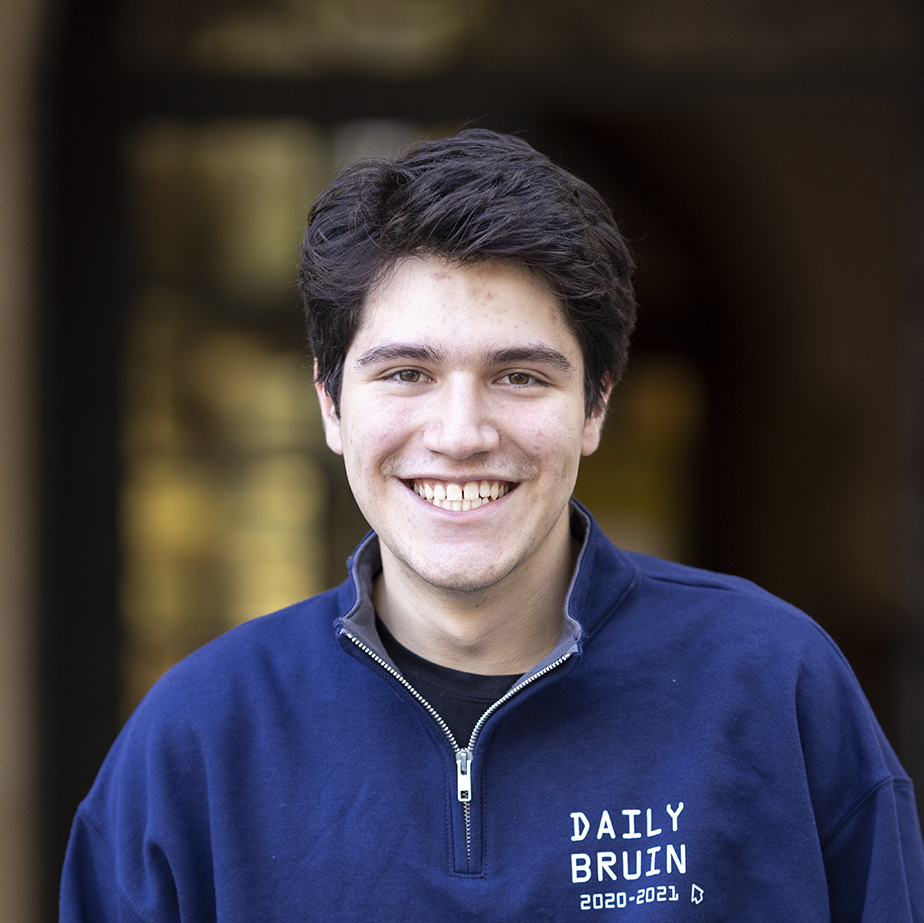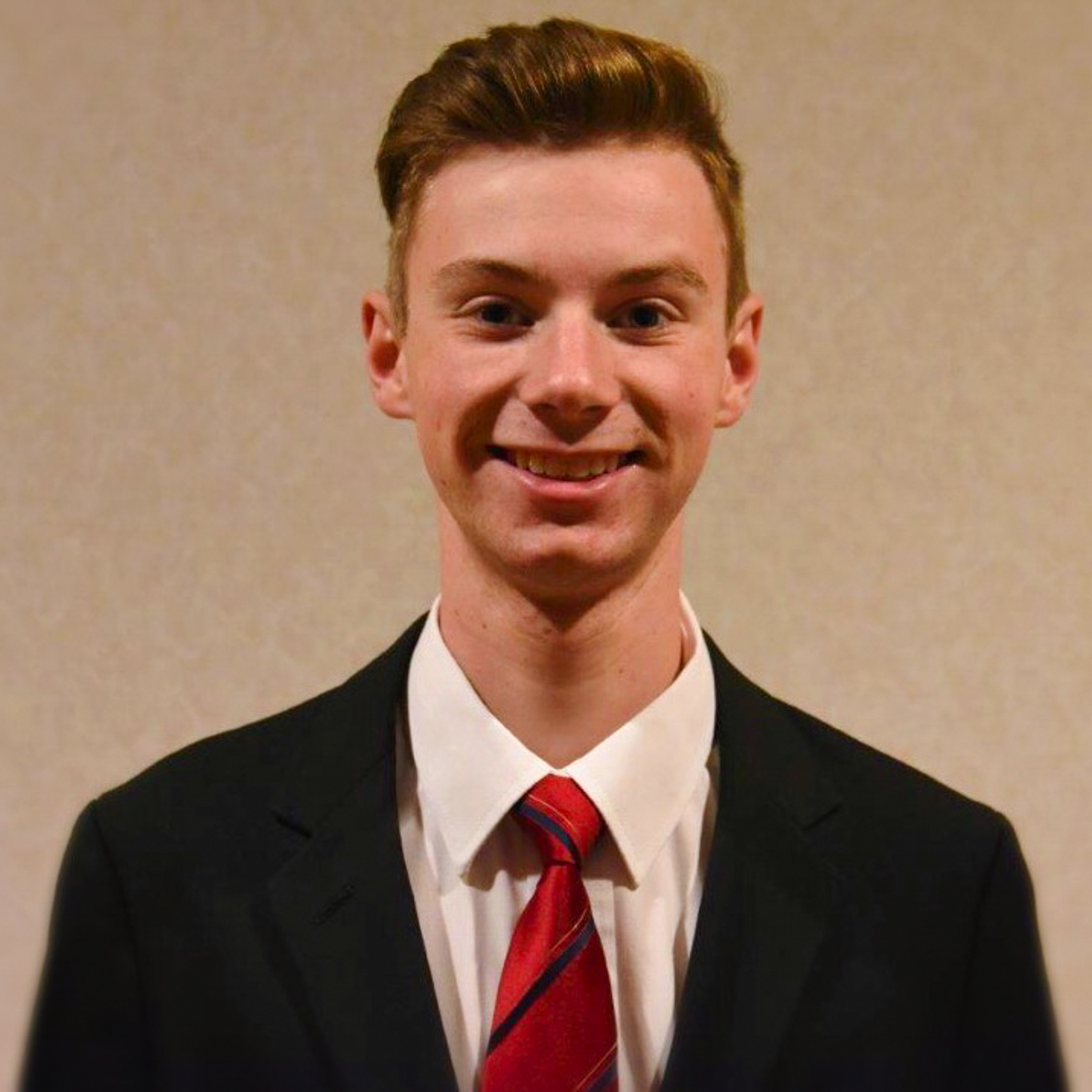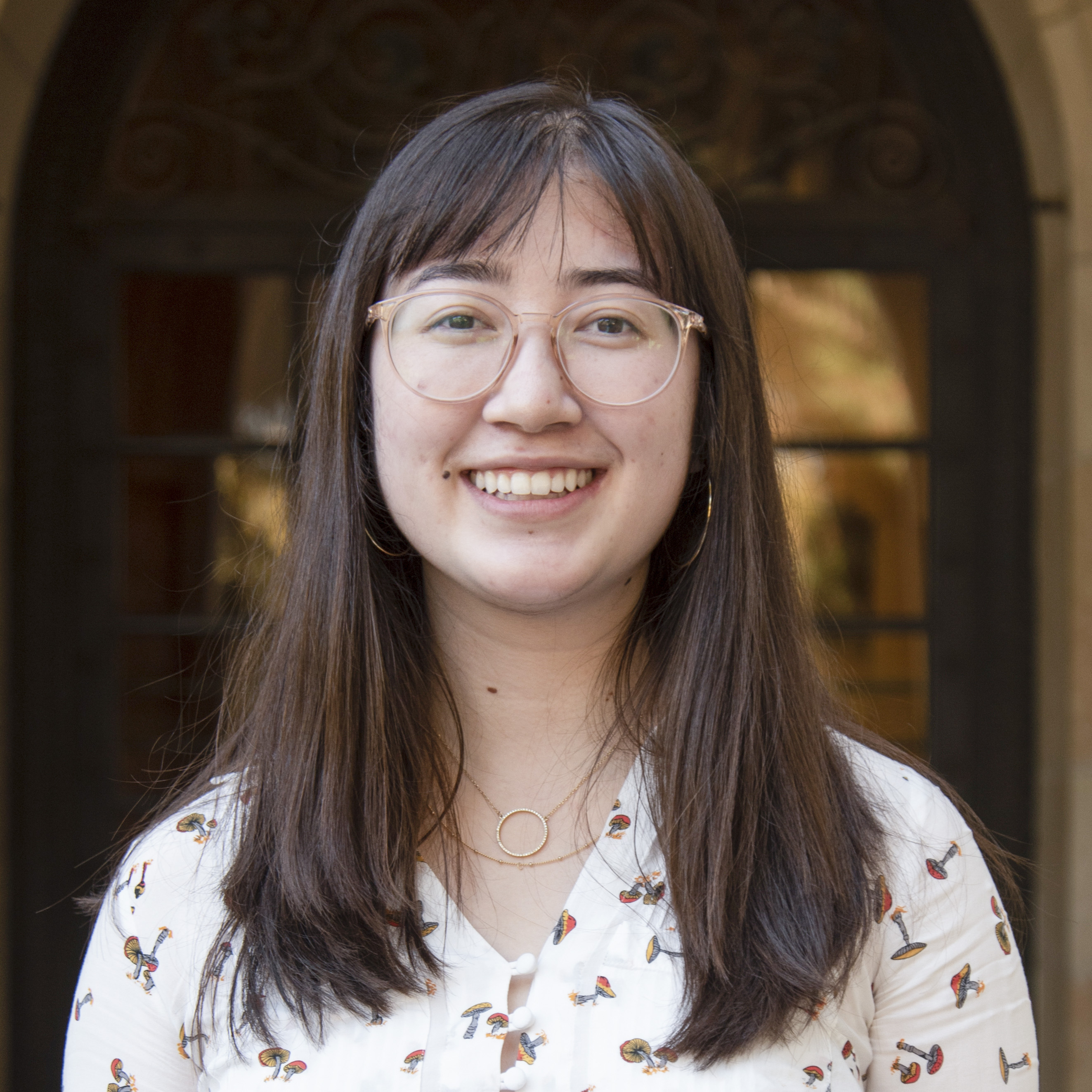 Jon Christon
Sports editor
Prediction: UCLA 21, California 7
It'll be a house divided in more ways than one Saturday.
Not only will Cal quarterback Chase Garbers be matched up against his brother Ethan – who will be on UCLA's sidelines as the backup quarterback – but I will be watching the game in the same house as my sister, Josie, who is a Berkeley grad and a current Golden Bear graduate student.
In honor of a family-filled Thanksgiving weekend, I decided to let my sister take a spin at predicting the final score.
After being reminded that the game was this weekend, she landed on a 14-point Bruin victory – an outcome that may seem low-scoring but is on par with the recent history of the two schools.
UCLA has emerged victorious in two of its last three contests versus Cal, holding the Golden Bears to 8.5 points and 243 yards per game in coach Chip Kelly's two victories over Cal coach Justin Wilcox. A weak Golden Bear offense has been a common theme so far this season, as Cal has put up just 16.5 points per game in its six losses.
The most surprising part of the prediction, however, is the Bruins' point total. UCLA has been flying high on the offensive side of the ball of late, scoring 106 points and accumulating over 1,100 yards across its last two games.
But Cal has also been surging, boasting the conference's best rushing and scoring defenses after holding its rival Stanford to 43 rushing yards and 11 points a week ago.
With their rushing offense likely stifled, the Bruins will instead be led by senior quarterback Dorian Thompson-Robinson – coming off a six-touchdown performance over crosstown rival USC – who I think will do just enough to give UCLA 21 points and its eighth win of the season.
But, even with all of that, I'll let Josie provide her reasoning.
"Because we're a third as good as UCLA."
Ultimately, I agree.
Bryan Palmero
Assistant Sports editor
Prediction: UCLA 28, California 35
I'm not a fan of finales.
I'm sure a few members of the Bruins would share my disdain too.
Last night, UCLA women's volleyball squandered a chance to secure a Pac-12 title with a regular-season-ending loss to USC. Two weeks prior, the men's water polo squad suffered its worst defeat of the season to Cal on Senior Day. Personally, my high school graduating class never even received the send-off it deserved because of the pandemic.
Yet, here I am, inexorably penning my last football prediction of the season, anxiously hedging my guesses for how the Bruins' football game against the Golden Bears will pan out.
And before I bow out following this short blurb, let me poignantly bring up an unfortunate point: today's contest also marks the football team's curtain call.
Since joining the program, Kelly has yet to win a season-finale matchup, including losing to Cal nearly two years prior. While the coach would adamantly disagree, UCLA definitely has a post-USC hangover, and this year's culprit is staring right at it.
The Bruins have struggled against strong rush defenses all season long, with losses coming at the hands of Fresno State, Utah, Oregon and Arizona State – teams all currently ranked in the top 45 in the country in rushing defense. Once the Golden Bears roll into town, they'll be the best ground defense the blue and gold faces this year, limiting their opponents to 122.0 yards per game.
With a streaky Thompson-Robinson, UCLA's offensive modus operandi has fallen upon the existence of an effective run game. Against Cal, the contest will have to be won through the air, which gives the senior quarterback no room for error on his potential day of celebration.
Coinciding with his starting signal-caller, the conclusion of Kelly's fourth year marks a possible finale for a myriad of his players. With up to 43 members of the blue and gold being celebrated tonight, they all better prepare for an unsatisfying denouement.
Kyle Boal
Football beat reporter
Prediction: UCLA 42, California 45
The Bruins have every reason in the world to win this game.
Which is why they won't.
Four years into the Kelly experiment, his program has won three games in a row only once, a streak that was followed by three consecutive losses. The Bruins are currently riding a two-game winning streak.
For a team with as many upperclassmen as UCLA, senior night should be enough reason to find a way to win. But Cal is hot, winning three of its last four games.
Both teams enter the matchup dominating their rivalry game, but UCLA is winless following its games with USC under Kelly. In 2019, UCLA's senior salute ended in a 28-18 defeat against Cal.
The Golden Bears are equipped with the conference's best run defense, allowing 122 rush yards per game. For a Bruin team that's won each of their seven games this season by rushing for over 200 yards, this is concerning.
UCLA also has the possibility of overlooking this game, with its first bowl game under Kelly looming. Cal, on the other hand, needs a win at the Rose Bowl to even keep its chances at a bowl game alive.
This game will undoubtedly be high-scoring and the team that makes fewer mistakes will come out on top. Unfortunately for UCLA, California ranks better in penalty yards per game, turnover margin and time of possession.
The Golden Bears may be mediocre, but they're a horrible matchup for the Bruins. For once, I hope I'm wrong – the UCLA seniors deserve a win – but, sadly, with a 4-1 record predicting Bruin football outcomes this season, I'm usually right.
Ashley Kenney
Photo editor
Prediction: UCLA 33, California 21
During my tour of Cal in sixth grade, the only question I asked my tour guide was whether or not she got into Stanford.
Good thing she didn't get in, considering the Bears defeated the Cardinal last week. Despite this victory, however, I expect this week's game to turn out much like the U.S. News & World Report's ranking of public universities, with UCLA once again triumphing over Cal.
Last week, UCLA did a better job at defeating its rival with a blowout win against USC, its 62-33 win marking the most points ever put up against the Trojans. Cal's 41-11 win over Stanford did not mark any new scoring records and was only tied for the fourth-most points the Bears have put up against the Cardinal.
Having defeated the Golden Bears last year at the Rose Bowl, the Bruins will have home-field advantage for the second year in a row along with a better-performing team – UCLA is currently 7-4 after finishing last season at 3-4. Meanwhile, Cal is currently is 4-6, having also finished the 2020 season below .500.
Within the Pac-12, the only time Cal ranks No. 1 is in points allowed, giving up 21.1 points per game. UCLA, on the other hand, is ranked No. 2 in offensive yards with 440.9 per game, and the Bruins' offense will clearly need to carry them to another win.
Favorable statistics aside, as the Photo editor, I hope to see more pictures of Thompson-Robinson hurdling defenders into the endzone.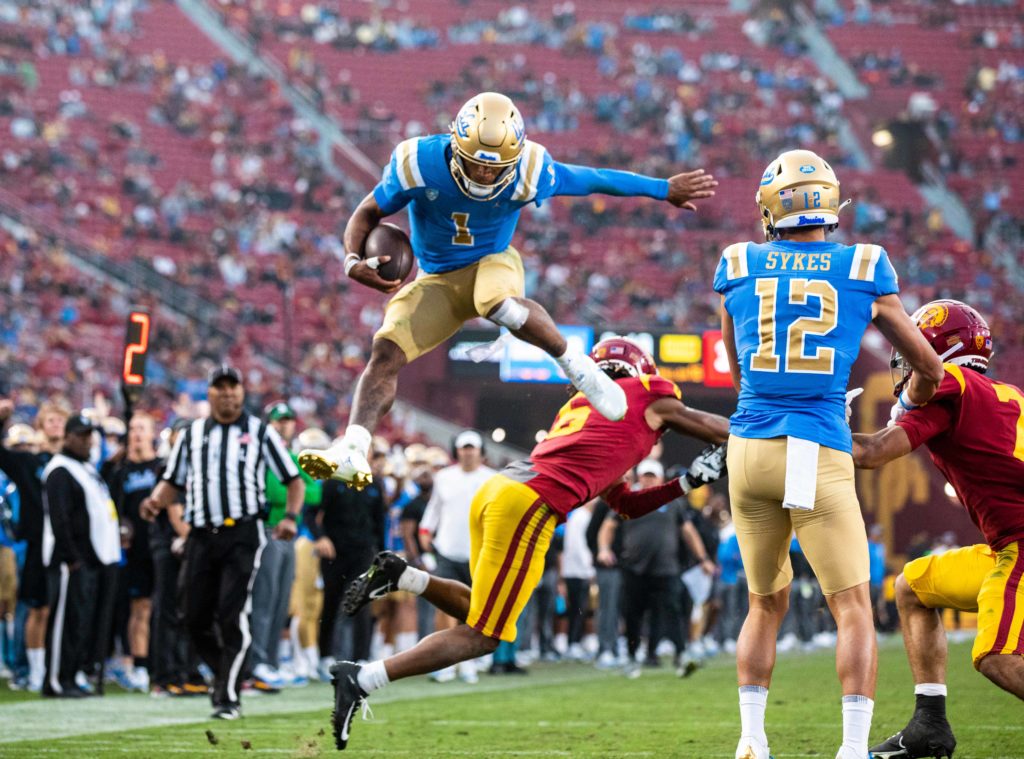 But as a student at the No. 1 public school in the country, I hope that UCLA can once again come out on top over the No. 2 public school – this time on the football field.