Football achieves best season record under Chip Kelly with victory over California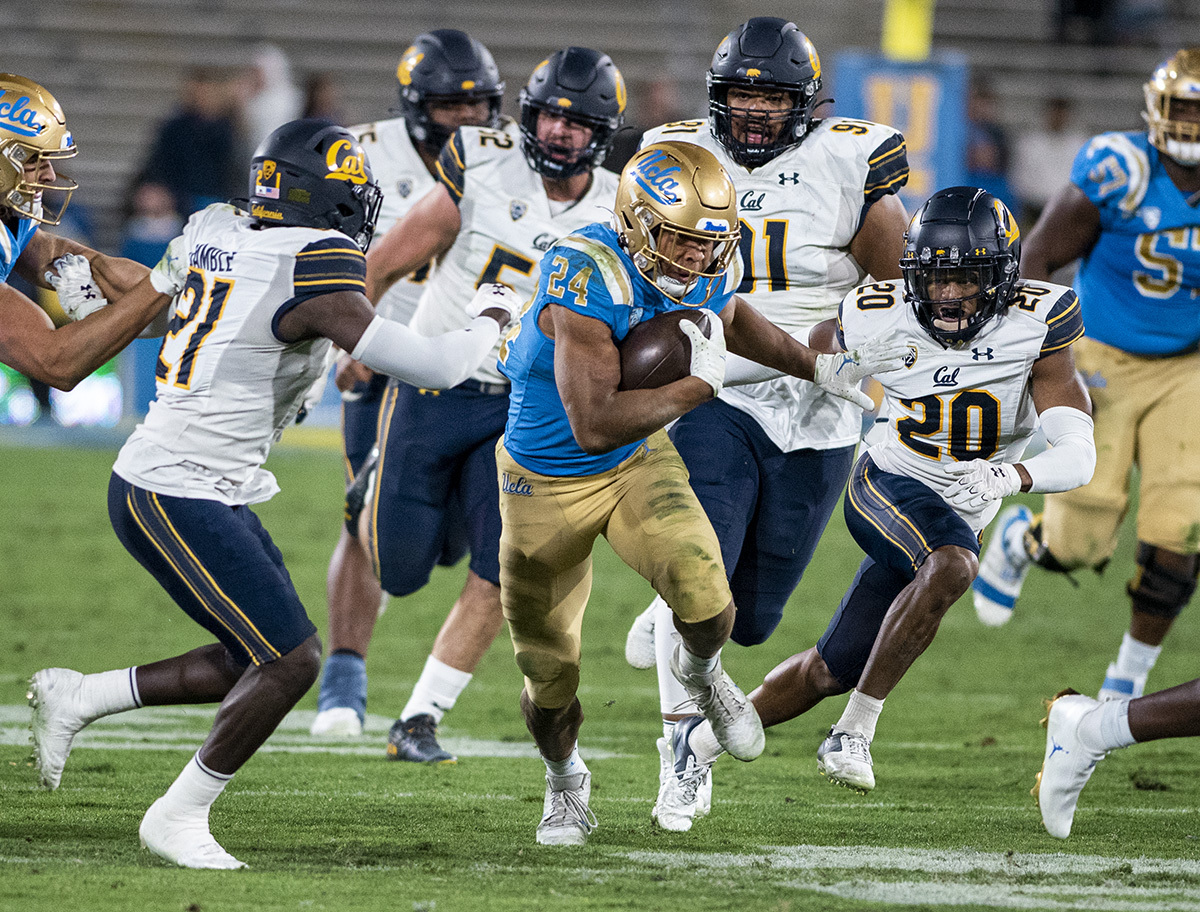 Junior running back Zach Charbonnet runs the ball in UCLA football's win versus California on Saturday. Facing off against the conference's best rushing defense, Charbonnet ran for 106 yards and a touchdown in the victory. (Jason Zhu/Daily Bruin staff)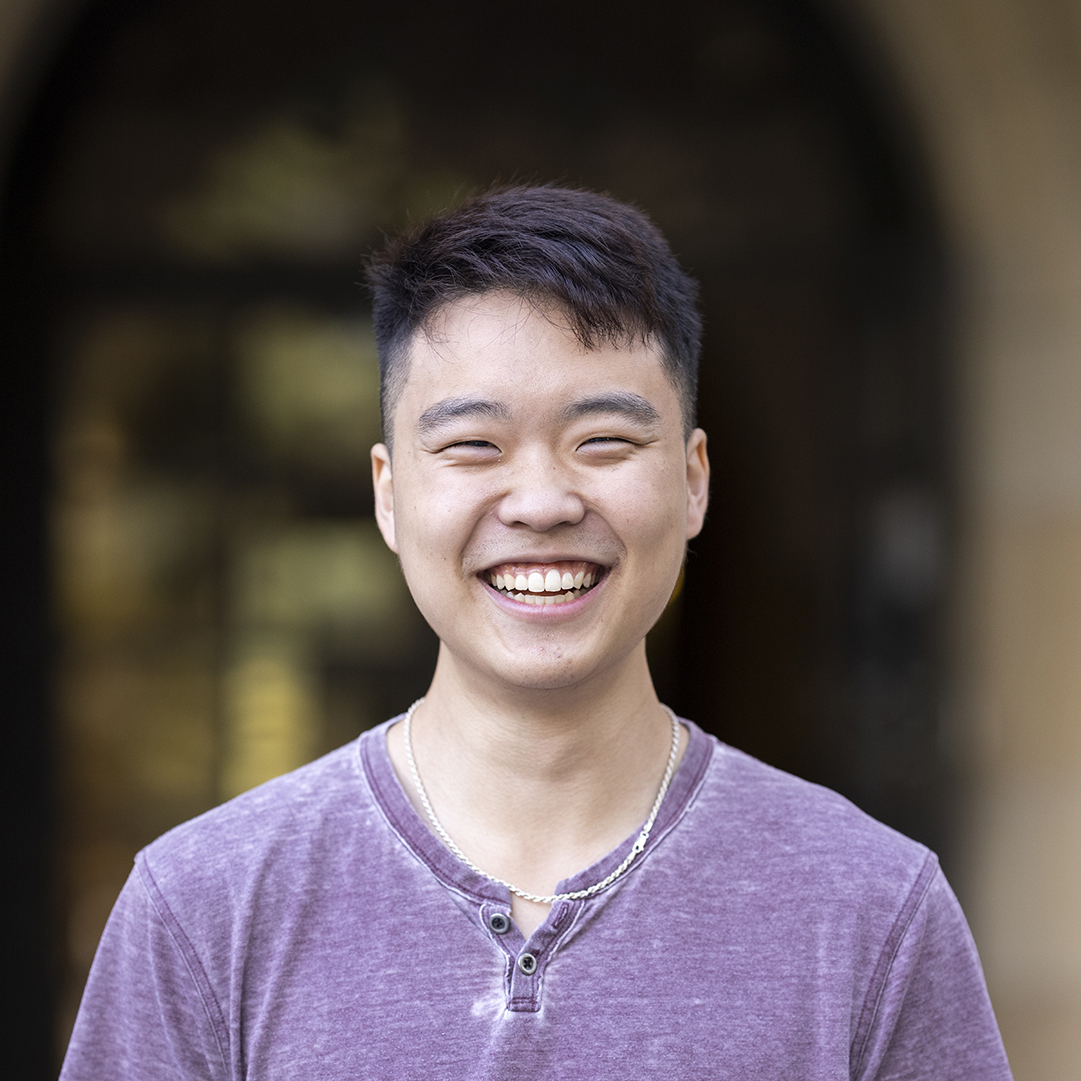 This post was updated Nov. 29 at 1:00 a.m.
In a season full of firsts, Chip Kelly got himself one more.
UCLA football (8-4, 6-3 Pac-12) bested California (4-7, 3-5) by a score of 42-14 at the Rose Bowl on Saturday night to conclude its regular season with a win for the first time in the coach's four-year tenure in Westwood. With the victory, the Bruins also secured their best regular-season finish since 2015 – three years before Kelly took over – and their first sweep of USC, Stanford and Cal since 1998.
"I think our kids have done a really nice job," Kelly said. "You have to practice well, and these guys have really practiced well. You have to pay attention to detail. Proud of the effort they've put in all season long."
After UCLA jumped out to a 10-0 advantage early in the second quarter, Cal took the lead for the first time by scoring on back-to-back possessions. With less than a minute remaining in the half, redshirt junior running back Kazmeir Allen redeemed a prior muffed kickoff by punching in an 8-yard rushing touchdown to help his team reclaim a three-point lead heading into the break.
Both offenses stalled early in the second half, with each side forcing three-and-outs on the opposing team's opening drive of the third period.
On the ensuing series, however, a defensive pass interference call on Cal cornerback Lu-Magia Hearns III set the Bruins up at the Golden Bears' 29-yard line. Senior quarterback Dorian Thompson-Robinson subsequently found redshirt junior tight end Greg Dulcich in the back-left corner of the end zone to complete a three-play drive that lasted just over a minute.
"I've said time and time again, (Dulcich and I) have a great relationship," Thompson-Robinson said. "We see the field the same, and he knows how to get open and he knows how to get in space and use that space well. … It's a blessing to have him as a tight end."
After holding the ball for nearly three minutes longer than their opponent in the first half, the Bruins returned to the long possessions later in the third quarter. Starting the ensuing drive at the 7:51 mark, the Bruins held the ball until redshirt sophomore kicker Nicholas Barr-Mira knocked in a 46-yard field goal 5 1/2 minutes later to extend his team's lead to 13.
The drive was the Bruins' third series lasting more than four minutes – all of which resulted in points. UCLA won the time-of-possession battle by nearly five minutes on the night while converting five more third downs than its opponent despite having the same number of attempts.
Senior defensive back Quentin Lake said the defensive effort was a continuation of the momentum the Bruins have built through their past few matchups.
"We had a big shutout in the second half against Colorado, came out and had multiple turnovers and successful drives against USC, and then tonight, held Cal, who (had) 600 total yards of offense last week against Stanford," Lake said. "When you lock in on the defensive fundamentals on the defensive side, you can do your job and you'll have shutout games or low-scoring games."
The Bruins got the ball back with seconds remaining in the third quarter, and a 33-yard run by Allen set up a score from running back Zach Charbonnet from 1 yard out. The junior followed it up with a scoring reception on the ensuing two-point conversion, giving UCLA a 21-point lead.
Charbonnet finished with 106 yards and a touchdown on 22 carries while Thompson-Robinson and Allen combined for 158 rushing yards to contribute to the team's total of 282 – the second-highest mark of the year for the Bruins.
Another Cal three-and-out led to another touchdown for redshirt junior wide receiver Kyle Philips, this one extending the lead to 42-14 in the fourth quarter – a margin the Bruins would hold on to for good. Thanks to a goal-line stand by UCLA on the following drive, Cal was kept scoreless in the second half despite a 20-play drive that lasted more than six minutes.
Cal entered the matchup with the highest-ranked scoring and rushing defense in the Pac-12, but UCLA became the first team all year to put up 40 or more on the Golden Bears – a mark it reached with 8:53 remaining in the game.
Kelly said his team's second-half performance was a result of halftime adjustments made by both coaches and players – something the Bruins have been honing the past few weeks.
"Our second halves have been really, really good," Kelly said. "There's not a lot of yelling. There's not a lot of screaming. It's really just a very analytical, 'Hey, we've got to do this. They did this. Let's make a comment on this. This is what we've got to do.'"
Thompson-Robinson on his own went 19-of-28 for 164 passing yards and three touchdowns while eclipsing the 100-yard mark on the ground for the first time all season. The senior quarterback passed former Bruin quarterback Josh Rosen to move up to fourth on UCLA's all-time passing touchdowns list and became the sixth UCLA player to record 3,000 total yards in a season.
"This team took a lot of lumps, and I wouldn't trade it for anything in the world," Thompson-Robinson said. "The moments of adversity I got with my teammates and all that bringing us together finally paid off."
Philips, Charbonnet and Dulcich each finished with six receptions in the contest while the trio combined for 159 yards and three touchdowns through the air. Philips now has the fourth-most receptions in program history while Charbonnet jumped 10 spots to 13th on the single-season rushing rankings.
With the win, the Bruins finish their regular season having won their last three matchups by an average of 27 points. The team put up a total of 146 points and 1,556 net yards during its first three-game winning streak of the season – and the third during Kelly's Westwood tenure.
"It's big to win any game – it doesn't matter if it's senior night or junior night or freshman night," Kelly said. "Our kids want to play football and they want to continue. The cool part about it is we get one more opportunity."
UCLA now awaits the announcement of its first bowl matchup since 2017 on Dec. 5.
Moon is currently an assistant Sports editor on the women's basketball, men's soccer, track and field and cross country beats. He was previously a contributor on the women's basketball and women's tennis beats.
Moon is currently an assistant Sports editor on the women's basketball, men's soccer, track and field and cross country beats. He was previously a contributor on the women's basketball and women's tennis beats.