Alumni-founded art gallery aims to highlight diverse range of stories, cultures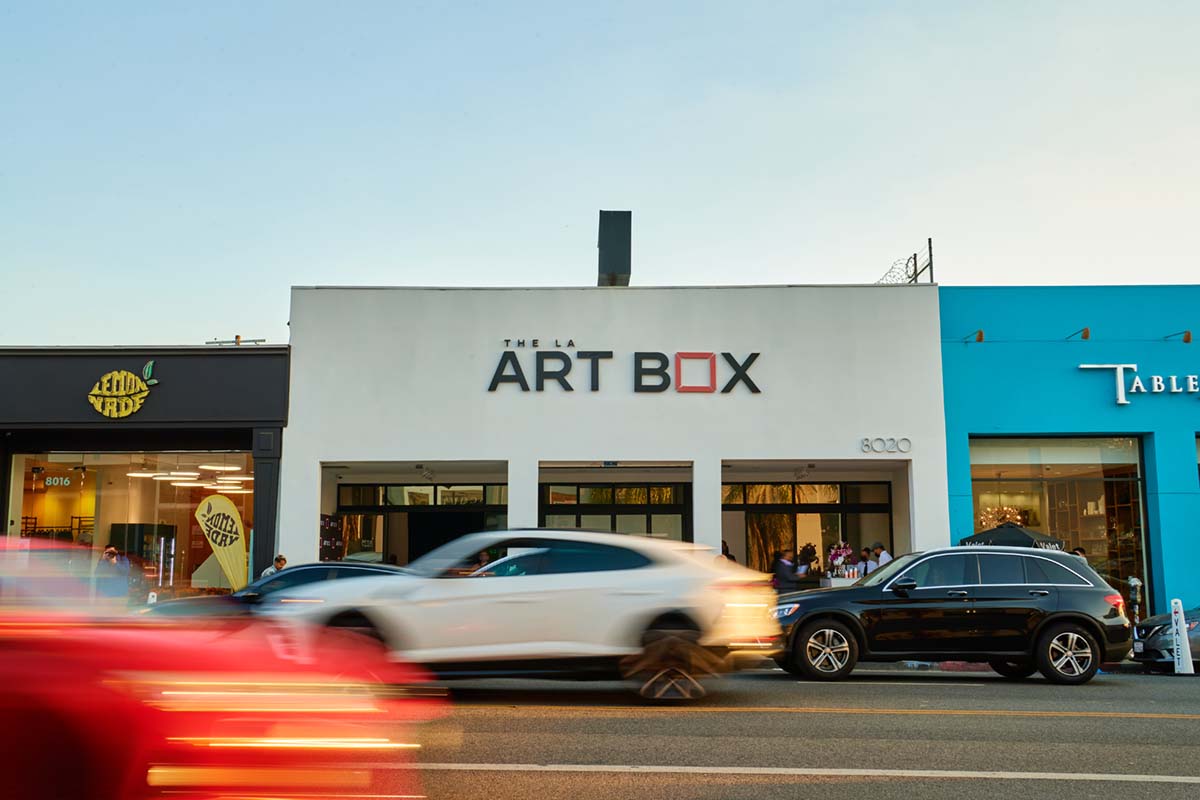 UCLA alumni Mar Dumlao and Bernie Bernardo first met through Samahang Pilipino at UCLA. Years after graduating, the two friends were inspired to open an art gallery together on Melrose Avenue and showcase works from different cultures. (Courtesy of Matt Petit, Jordan Murph and Gabriela Ojeda)
Correction: The original version of this article misspelled Bernie Bernardo's name in a sentence.
This post was updated Nov. 28 at 11:53 p.m.
Two UCLA alumni opened an art gallery on Melrose Avenue on Oct. 3, highlighting overlooked and underserved communities with their debut show "Luminarium: A Culture of Lights."
The mission statement of The LA Art Box is, "To tell your story to everyone, everywhere." The LA Art Box founders Bernie Bernardo and Mar Dumlao first met through Samahang Pilipino at UCLA, developing a lifelong friendship that would eventually lead to the creation of the gallery.
Bernardo said the gallery creates storytelling experiences that highlight communities of color. The founders hope this cultural space can fill a gap they've seen elsewhere in the art world, where these topics are often explored in an inauthentic or incomplete manner, Bernardo said.
The founders have brought together artists from different cultural backgrounds for the gallery's debut. For example, Yuzly Mathurin, a Haitian American portrait artist and muralist, currently has two pieces featured in the gallery. Diversity is a strength of The LA Art Box, Mathurin said.
"I've known Bernie for a couple of years, and she is all about community and really making sure that she has a diverse group of people that come in showcasing their work," Mathurin said.
Part of The LA Art Box's approach involves sourcing its artists exclusively through social media.
Bernardo – who curates the exhibits – said this approach allows her to discover artists who may not otherwise be featured in a gallery. At The LA Art Box, works by well-known creators are featured alongside projects from comparatively unknown creators, allowing all kinds of voices to shine through, she said.
This environment presents some artists, such as freelance photographer Ramil Sumalpong, with a unique opportunity to present their individuality and creativity to a wider audience. As a professional photographer, Sumalpong's work is typically centered around the specific desires of the client. It was gratifying for a gallery to feature his work based solely on his creativity and artistic ambitions, he said.
"It made me feel that my work was appreciated," Sumalpong said. "For people to actually ask about it and want to feature it, it made me feel giddy."
The gallery's first program, "Luminarium: A Culture of Lights," is about the nature of light in art and society. The exhibit also features light festivals from across the world – including form India, Japan and Mexico – where light plays an important thematic and cultural role. The multicultural exhibit was chosen over a single-culture exhibit to emphasize the inclusivity of the gallery, Bernardo said.
Bernardo said she believes this exhibit sets the tone that no matter what culture or exhibit is on display, the space is designed for everybody to enjoy. Although future exhibitions will look and feel very different from "Luminarium: A Culture of Lights" and will typically highlight one particular culture or group, they hope to maintain that inclusive atmosphere in the future, she said.
Dumlao described feeling accomplished after having brought their idea to life, especially given the unique challenges created by the COVID-19 pandemic. He is especially proud to operate a Filipino-owned business, something uncommon on Melrose Avenue, he added.
Bernardo graduated from UCLA in 1992 with a degree in industrial design, and Dumlao graduated in 1994 with a biology degree.
Before the COVID-19 pandemic, the two alumni had not seriously considered opening an art gallery, focusing on their first careers after UCLA, Bernardo said. Bernardo previously worked as the executive director for freestanding stores on the West Coast at MAC Cosmetics, and Dumlao currently works as a senior technical program manager at Uber.
The idea for The LA Art Box first formed when Bernardo's 18-year-old son expressed a desire to learn more about his Filipino heritage. Bernardo then began planning a cultural space where she could explore her own culture and help other people from communities of color do the same. When she pitched the idea to Dumlao early on during the pandemic, he was immediately inspired by it, envisioning the idea as an opportunity for people to discover their own cultures, much like how he discovered his own Filipino culture at UCLA.
"I got to college, and I found out that there was more to being Filipino than either speaking the language or eating the food," Dumlao said. "There was this whole rich culture that I never knew anything about."
The founders have already established a road map for the next several years of The LA Art Box's operation. They plan to run around three exhibitions a year, Dumlao said, with future shows focusing on topics ranging from women's empowerment to Los Angeles' Mexican American community.
The LA Art Box's next multimedia exhibition, titled "Katutubo: Indigenous People," will focus on the rituals and ceremonies of six Indigenous Filipino cultures. The exhibit will feature photographs and attire from these cultures as well as recorded performances by Parangal Dance Company, a Filipino folk dance group based in the Bay Area.
Dumlao noted that these future shows are often inspired by conversations with artists and said he is excited to see what these community collaborations will bring to the table.
"It's fascinating as to how many people have actually reached out to us, and we're excited to be working with each and every one of them," Dumlao said. "Everyone has a story to tell, and when you actually start talking to these artists, it's amazing what you can learn from them."