UCLA women's basketball headed to Florida after three-game perfect record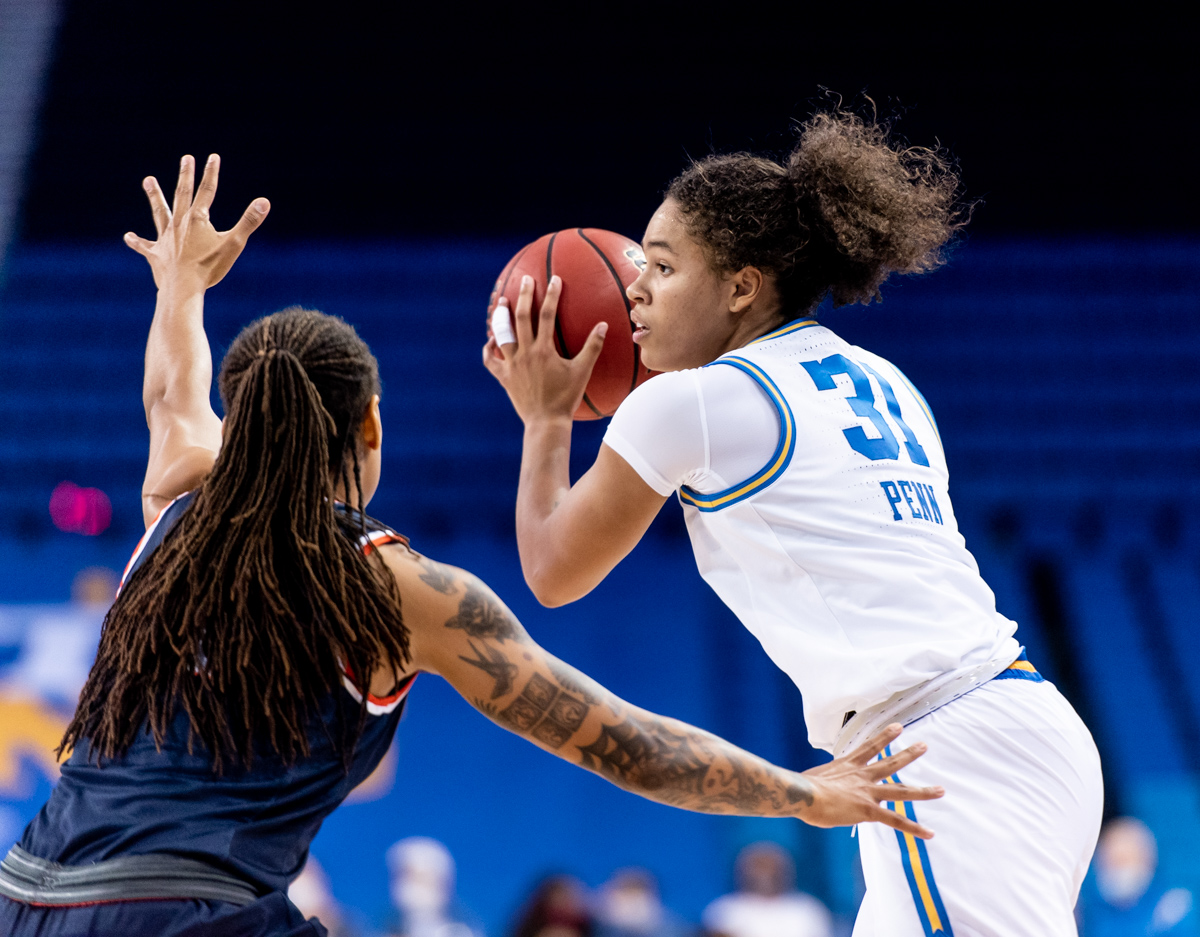 Graduate transfer Jaelynn Penn faces a defender on the wing. The No. 19 UCLA women's basketball guard has averaged 12.7 points, six rebounds and five assists in her first three games as a Bruin. (Lauren Man/Daily Bruin senior staff)
Women's basketball
---
Kent State
Friday, 10:30 a.m.
Estero, FL
FLOHOOPS
The Bruins will head to the Sunshine State after an undefeated start to the season at home.
No. 19 UCLA women's basketball (3-0) is set to compete in the Gulf Coast Showcase in Estero, Florida, where it will first match up with Kent State (3-0) on Friday morning in the opening round of the three-round, single-elimination tournament. The Bruins are coming off three straight wins at Pauley Pavilion to open their campaign.
Junior guard Charisma Osborne – the team's leading scorer and 2020-2021 All Pac-12 Team member – was on the sidelines for the first time in her career in UCLA's win over Virginia on Sunday because of a foot injury. Her status is up in the air, according to coach Cori Close.
In her place, redshirt freshman guard Dominique Onu and graduate transfer guard Jaelynn Penn handled the lead playmaking duties and scored six and 16 points, respectively.
"The confidence of my teammates and my coaches really helps me a lot with that position because it's new for me and I'm a little uncomfortable," Penn said. "But I'm definitely feeling more confident going into this one."
The Bruins defeated the Cavaliers with seven active players on the court for the second time this season because of injuries. Penn said the team has not been treating the roster shortages as a major disadvantage.
"We believe we have more than enough," Penn said. "With that mindset, I think it helps to just to push through that fatigue and knowing that we only have seven but this is all we need to win this game."
Against Virginia, UCLA set a season-high in turnovers with 21 giveaways, including five each from Penn and Onu. Onu said one focus for the team has been working on taking care of the ball.
"We're working on our pace, setting up screens, using screens, catching the ball, creating catches – little details that can be overlooked," Onu said. "We're going to do better at that these upcoming games and we're just going to really focus on limiting those turnovers."
Heading into the tournament without Osborne, Close said the team will have to be more focused against Kent State, who also enter Friday's matchup with a perfect record while beating its opponents by an average of 31.3 points.
Kent State is averaging 84 points per game on 42.6% shooting from beyond the arc, compared to 71.4 points on 33.8% from 3 for the Bruins. UCLA has allowed 58.3 points per game on 30.1% from distance to its opponents thus far this season.
"(Kent State) shoots the ball extremely well, they're very versatile, they're athletic," Close said. "So right now it's, 'What does it look like for us to be tough together, focused, for our game against Kent State?'"
With a first-round victory, UCLA would face the winner of South Dakota State versus UMass on Saturday with a chance to advance to the Gulf Coast Showcase championship game.
With the Bruins playing in their first games away from Westwood this season, Penn said despite it being a difficult task, they are hoping to leave Florida with a perfect record.
"(Away games) are so hard and tough to play," Penn said. "It's definitely good going into it with an undefeated record and we're just hoping to come out of this 6-0."
UCLA is set to face Kent State in the first round of the tournament Friday at 10:30 a.m.