Westwood leaders await approval to turn Broxton Avenue into pedestrian-only plaza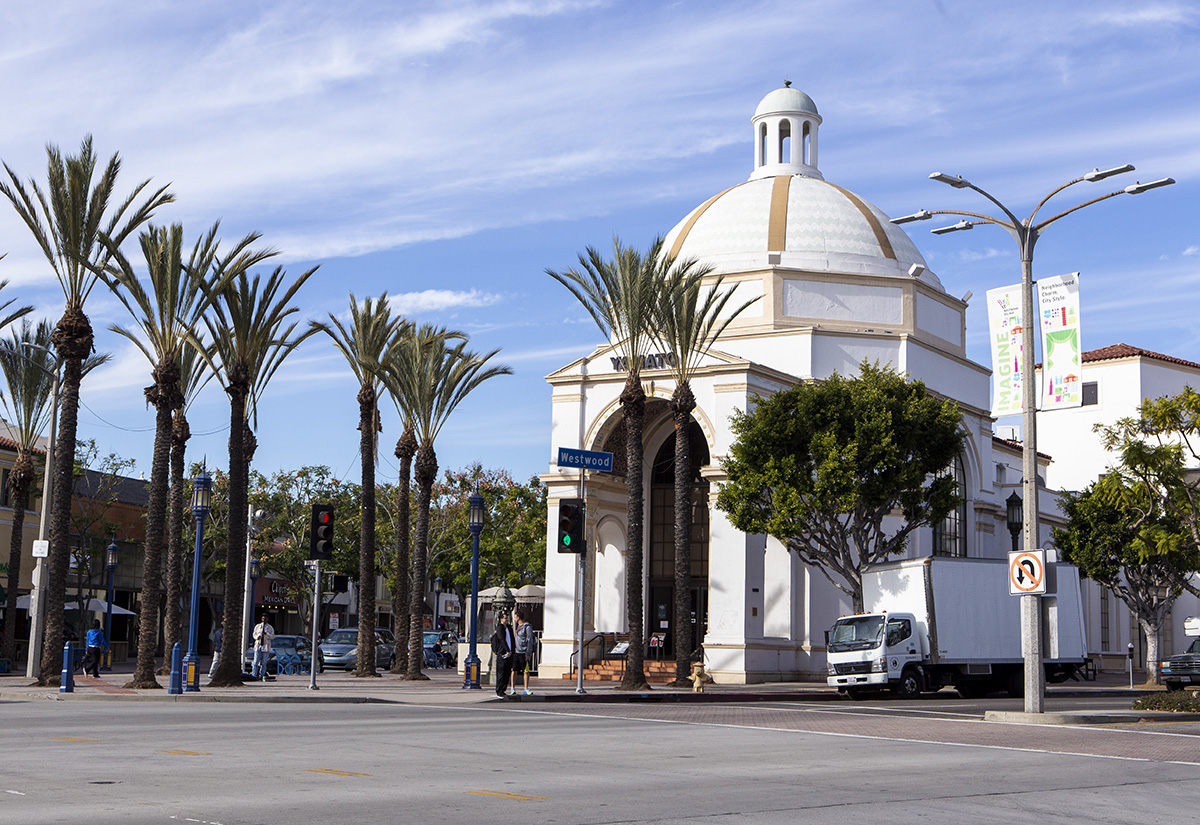 Neighborhood leaders are calling for Broxton Avenue to be converted into a pedestrian-only plaza. (Daily Bruin file photo)
This post was updated Nov. 28 at 11:02 p.m.
Westwood leaders are working to transform Broxton Avenue into a pedestrian-only plaza for community gatherings and events.
In 2018, the board of directors of the Westwood Village Improvement Association approved a plan to apply for People St, a municipal program that would allow Broxton Avenue to be converted into a pedestrian-only plaza.
Under the plan, a portion of the street would be blocked off to vehicular traffic and be converted into a space for pedestrians to walk around, sit at tables and chairs, and enjoy community events. The space is already reserved weekly on Thursdays for the Westwood Village Farmers' Market, providing an example of how this plaza could be utilized.
During the August North Westwood Neighborhood Council meeting, multiple council members voiced their support for the plan, and the council approved a motion to submit a Community Impact Statement in support of the WVIA plan.
Andrew Thomas, the WVIA executive director, said the WVIA is waiting for approval of the application from the city of Los Angeles. It is unclear how long it may take for the city to process the application, Thomas added.
"I wish we had heard by now, but we haven't, and we'll just keep pushing until we do," he said.
Thomas previously said he hopes the conversion process would begin in early 2022 at an LA City Council candidate's campaign event in October.
The conversion plan would include adding chairs and tables for outdoor dining and ample venue space for hosting events such as movie screenings and live entertainment, which could include university musical groups, clubs and performers, Thomas said at the event.
Thomas said it is a goal of the WVIA to have UCLA organizations utilizing the space frequently.
"The space will be really open to the community, and in particular, our friends and neighbors at UCLA," he said.
Businesses along Broxton Avenue expressed excitement at the prospect of the plaza.
AJ Sacher, the director of operations at Barney's Beanery, said he thinks the neighborhood would appreciate a new, safe space for people to engage with businesses, walk around and gather in Westwood Village.
Sachi Cooper, the co-chair of the NWWNC Planning and Land Use Committee, said the street would be painted in a colorful pattern to make it distinct from vehicular streets, and tables and chairs with umbrellas would be set out during the day and removed at night.
"I think that it would be really great for the UCLA community. … It just provides a lot more options for recreation for students, interaction with businesses, and also even safety and security of being able to walk and not worry about cars coming through," said Cooper, an NWWNC undergraduate student member and a fourth-year geography student.
Cooper added that, if approved, the plan would be an innovative change in the community.
"I think that Westwood is really trying to push to be on the forefront of some really innovative urban design principles," Cooper said.