UCLA women's volleyball sweeps Arizona in John Wooden Center court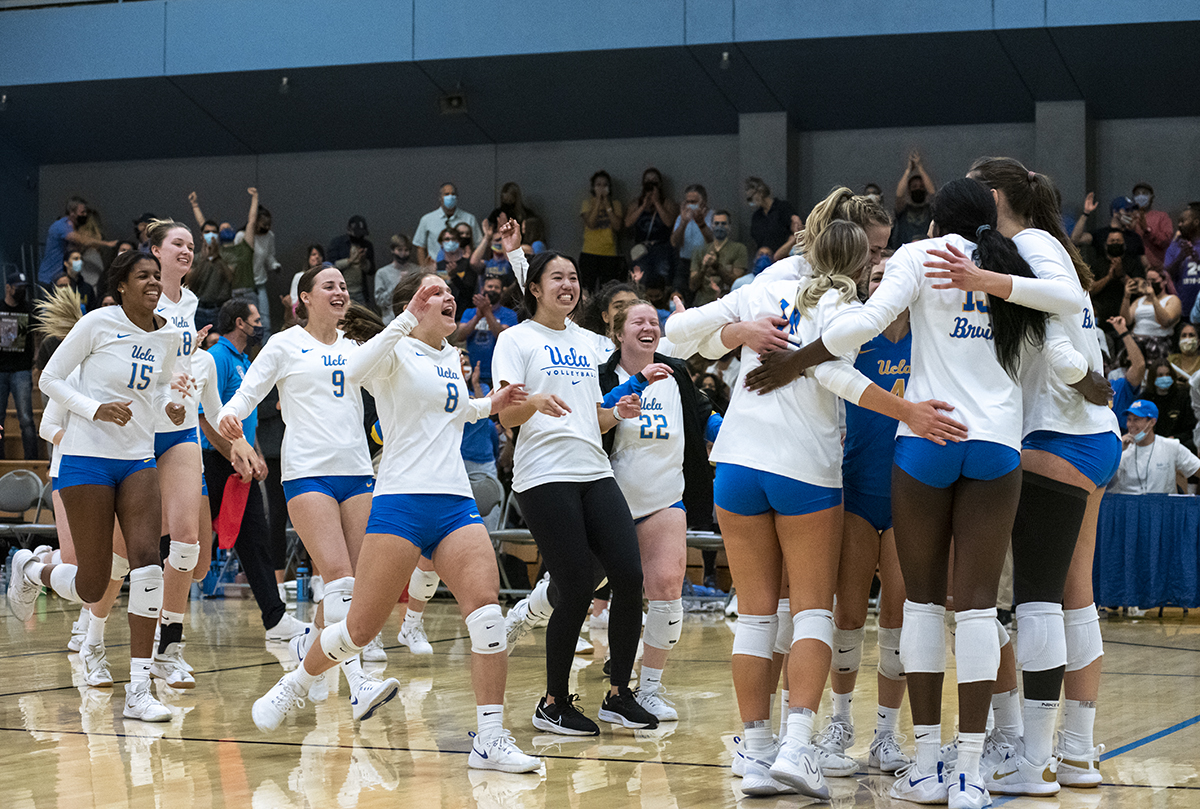 No. 13 UCLA women's volleyball's bench rushes the Collins Court at John Wooden Center to join their teammates after a victory over Arizona on Sunday. The Bruins swept the Wildcats for the second time this season. (Anya Yakimenko/Daily Bruin)
The Bruins pulled out a victory on an unfamiliar court.
No. 13 UCLA women's volleyball (22-4, 15-3 Pac-12) swept Arizona (15-14, 7-11) on Sunday afternoon. While the Bruins had home court advantage, the match took place at the John Wooden Center as opposed to its normal location at Pauley Pavilion.
Sophomore outside hitter/opposite Allison Jacobs said it felt abnormal playing at a different venue.
"Our voices echoed more, and it was harder to communicate," Jacobs said. "The only time we have been in this gym was yesterday for practice."
Throughout the match, Arizona had 10 blocks, five of which occurred in the first set. On the other hand, UCLA finished with zero blocks and 17 total attack errors compared to seven from the Wildcats.
Jacobs, who recorded 11 kills, including six in the first set despite two attack errors, said she wasn't worrying about Arizona's blocking as much as she was focused on building a rhythm with graduate student setter Shelby Martin.
"I was working with Shelby to be more patient and start my approach later," Jacobs said. "We weren't in rhythm and then we got back in sync. It wasn't necessarily what they were doing with the block – it was our connection, and we fixed it and felt good after that."
Martin, who had 31 assists and five digs in the match, said the team was not as polished as it had hoped but that it remained resilient.
"The match was not as clean as we would have liked it to have been," Martin said. "If this was earlier this season, we probably would have lost, but it was great to be in that mentality and still be able to string points together and push to the end."
UCLA began the match by reaching set point with a 24-19 advantage but allowed a three-point unanswered run by Arizona before clinching a 25-22 victory.
Coach Michael Sealy said the team struggled with passing in the opening set which led to attacking errors, including one in the late Wildcat comeback attempt.
"We definitely struggled passing early. The blockers were putting up high-ball blocking, and we were taking low swings and not being very creative," Sealy said. "We definitely padded their blocking numbers early on."
In the third set, the Bruins had a comeback of their own, stringing together five straight points to close out the match 26-24 after being down 21-24.
Graduate student outside hitter/opposite Mac May finished the match with her eighth service ace of the contest, which tied for the program's most aces in a single match and marked the final point of the game.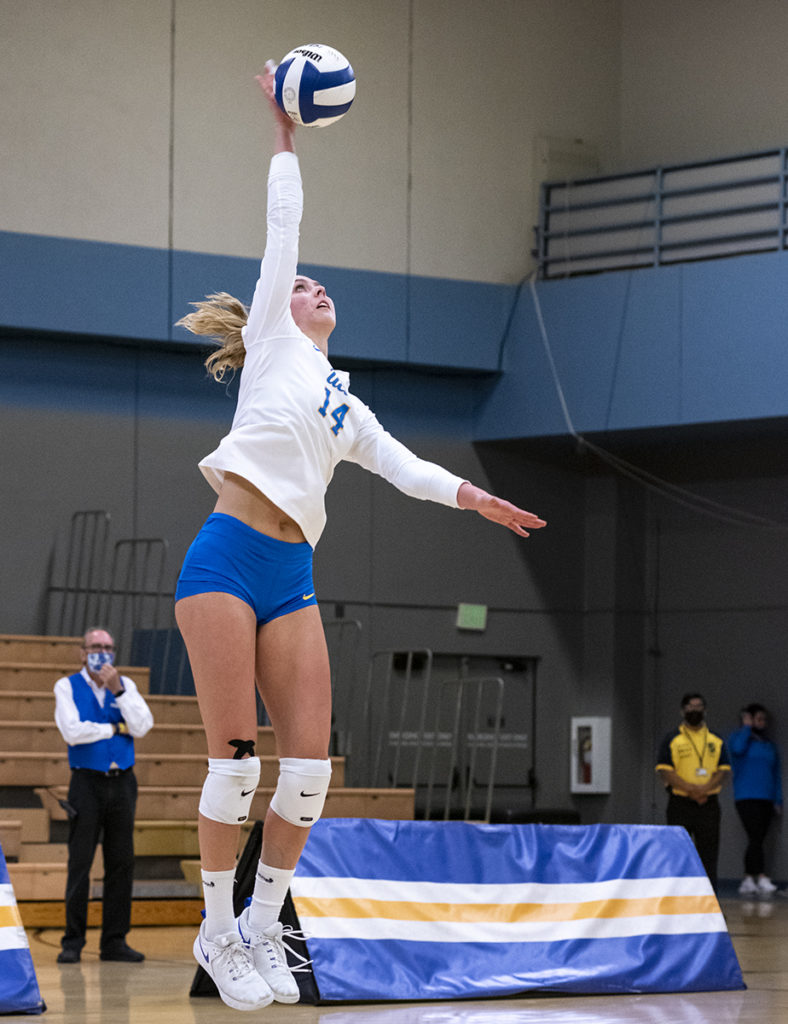 Sealy said the rising pressure to secure an NCAA tournament bid coupled with the Wildcats' new lineup impacted the atmosphere of the match.
"Three out of our last four games are against teams trying to get into the tournament, so you know that they have a huge sense of urgency," Sealy said. "Last time we played (Arizona), they also didn't have two starters, so it's a whole new vibe."
UCLA will next match up against California on Wednesday at noon at Pauley Pavilion.
Chen is currently a Sports contributor on the women's volleyball beat. She was previously a contributor on the women's basketball beat.
Chen is currently a Sports contributor on the women's volleyball beat. She was previously a contributor on the women's basketball beat.