UCLA women's basketball defeats Virginia to extend winning streak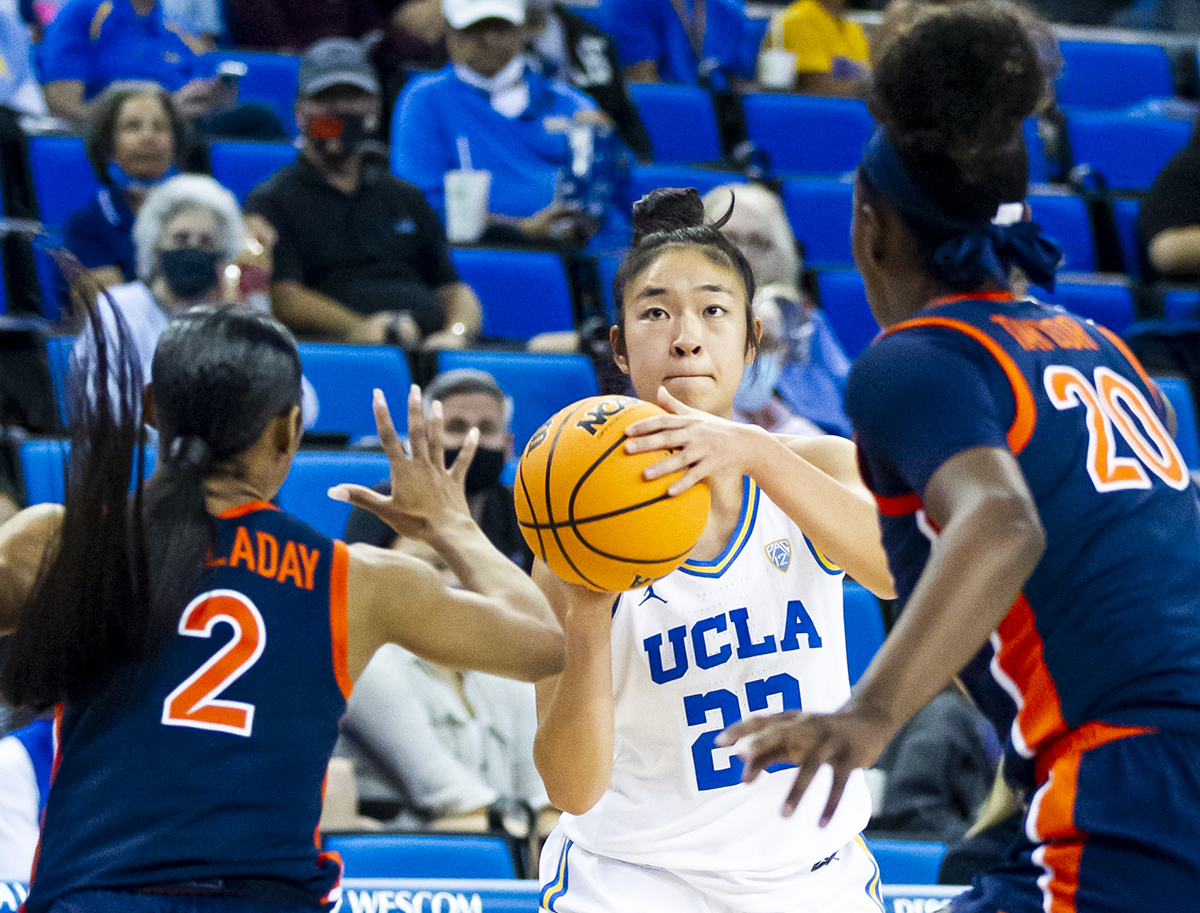 Graduate student guard Natalie Chou shoots the ball in front of two Virginia defenders during No. 20 UCLA women's basketball's win over Virginia on Sunday. Chou scored a team-high 20 points on the night while making eight of ten shots. (Ashley Kenney/Photo editor)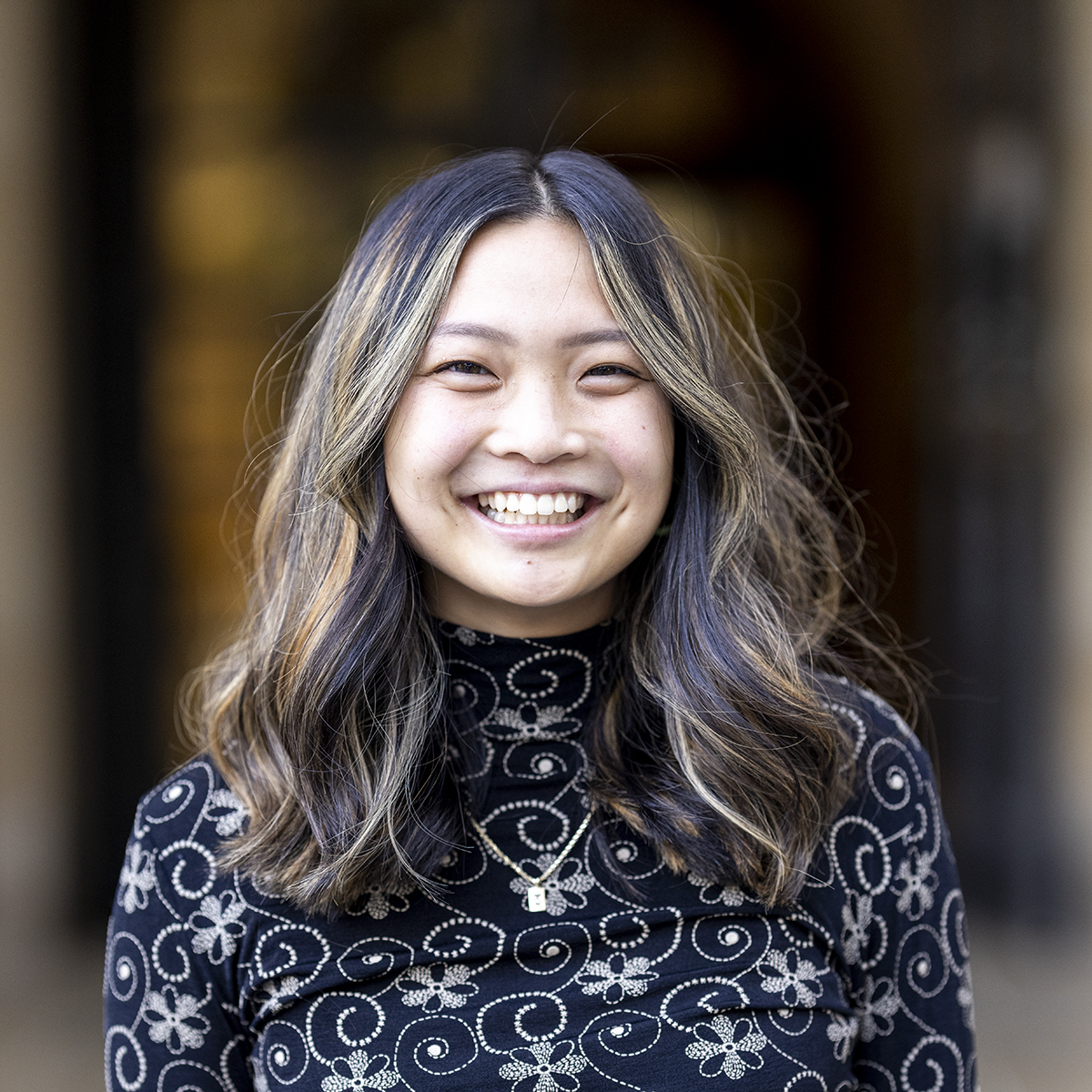 Down their leading scorer, the Bruins still came out on top.
No. 20 UCLA women's basketball (3-0) notched its third consecutive win at home to start the season, taking down Virginia (0-4) by a score of 69-57 on Sunday afternoon at Pauley Pavilion. The Bruins once again had seven active players because of injuries and were missing junior guard Charisma Osborne, who sustained an injury during a matchup with Cal State Northridge last week.
The leading scorer and 2020-2021 All Pac-12 First Team member comprises half of the Bruins' starting backcourt duo alongside graduate transfer Gina Conti, who is also out with a foot injury. With Osborne missing a game for the first time in her UCLA career, redshirt freshman guard Dominique Onu and graduate transfer guard Jaelynn Penn alternated lead playmaking duties against the Cavaliers.
Onu committed four turnovers by the first 14 minutes of the game but entered the locker room at the half with a team-high plus/minus of plus-seven. As a starter for the first time in her career, she finished with six points, four rebounds and two steals.
Coach Cori Close said Onu's work and preparation in the offseason allowed her to be able to step up when the team needs her.
"She's really committed to her fitness, growth and working on the skill set of her shot," Close said. "You always like it when players really put in the time in the offseason and add to their toolbox and then they do it in the pressurized moments."
The Bruins went on an 8-0 run in the first quarter and led 18-11 by the end of the period, signaling a reversal from the first two games of the season in which they had to overcome early deficits. However, the momentum stalled in the second quarter when the Cavaliers tied the Bruins twice and outscored the blue and gold 20-14 in the paint .
Close said she was proud of the way her team, led by Penn and Onu, rebounded from the second-quarter struggles.
"We got in some foul trouble and some rotations that were really not very good in that second quarter, but there's going to be runs," Close said. "What I loved about it is they went right to the next play, and a lot of times they made a really good play. … Even though we didn't have a great second quarter, I really like the way they were trying to respond in their next-play speed."
The second lead change of the game came at the 2:42 mark of the second quarter, but back-to-back 3s by redshirt senior guard Kayla Owens and graduate transfer forward IImar'I Thomas helped the Bruins reclaim a three-point lead heading into halftime.
The Bruins ultimately went 9-of-17 from beyond the arc – their best 3-point percentage in a game this season.
Graduate student guard Natalie Chou achieved a season-high 20 points in a team-high 39 minutes of play, shooting 8-of-10 from the field on the night and contributing two 3-pointers along with one steal.
Close attributed Chou's performance Sunday to her dedication in practice.
"You don't all of a sudden show up and make that happen when the big lights go on," Close said. "(Chou has) been working on her fitness every day, and you get to the point where you earn in the dark the big moments that actually everyone gets to see."
After the game, Chou credited her teammates for getting her looks.
"Shoutout to (Penn) and also (redshirt freshman forward Izzy Anstey) who found me," Chou said. "I just needed to step up for my team and my teammates so we would be successful and win the game."
Behind Chou, Thomas and Penn were the second- and third-leading scorers, respectively. Thomas put up 19 points on 6-of-10 shooting and 2-of-3 shooting behind the arc while Penn posted 16 points on 6-of-16 shooting with a team-high seven assists.
Thomas said the added attention from the defense opened up opportunities for her to make plays for her teammates.
"I don't have to touch the ball because of how many weapons we have, so we just went to the next option," Thomas said. "I know that my teammates will get me the ball if I'm open, but as soon as I saw that, I was like, 'I have shooters like (Chou) here,' so it just makes it easy."
UCLA will next head to Florida for the Gulf Coast Showcase starting Friday, where it will first face Kent State.
Wang is currently a Sports contributor on the women's basketball and men's golf beats. She was previously a contributor on the women's golf beat.
Wang is currently a Sports contributor on the women's basketball and men's golf beats. She was previously a contributor on the women's golf beat.