Postdoctoral scholars' union negotiates new contract with UC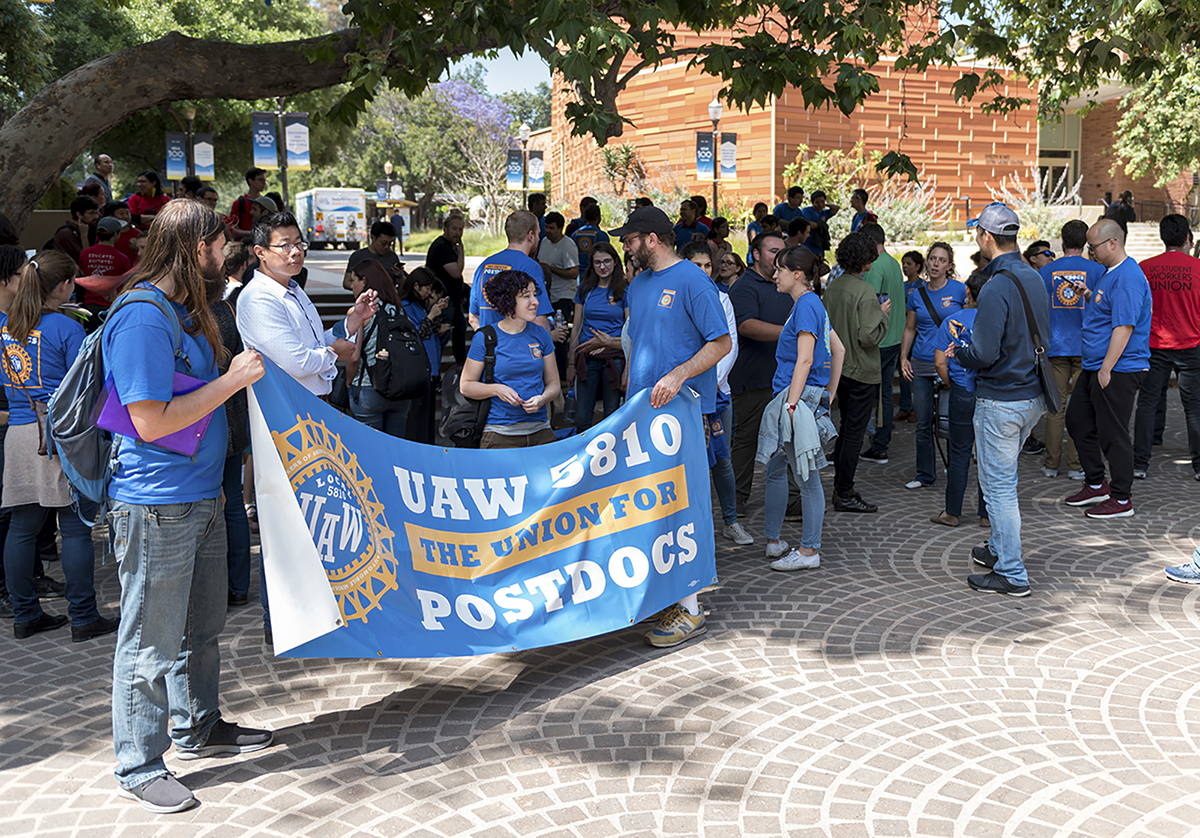 The union representing University of California postdoctoral scholars and academic researchers is currently negotiating a new contract with the UC as its old contract is set to expire Nov. 29. (Tanmay Shankar/Daily Bruin senior staff)
This post was updated Nov. 22 at 1:30 p.m.
University of California postdoctoral scholars and academic researchers said they hope their new contract with the UC is more supportive of their rights to an equitable workplace amid ongoing negotiations.
United Auto Workers Local 5810, a union representing postdoctoral scholars and academic researchers working at the UC, is currently negotiating with the University to determine the terms of a new contract concerning issues such as affordable housing, funding for public transportation, increased appointment lengths and expanded support for child care and family leave.
The previous contract was implemented Oct. 17, 2016, and expired Sept. 30, according to the UC Office of the President. However, according to a UAW Local 5810 press release, the union and the UC agreed on an additional contract extension to Nov. 29.
The union submitted its list of initial demands in June and has been bargaining since then, said Neal Sweeney, president of UAW Local 5810.
One of the most important provisions relates to support for international researchers, said Elsie Jacobson, an international postdoctoral scholar of biological chemistry at UCLA.
International researchers have challenges associated with their employment with the UC, including expenses for visa- and immigration-related appointments, according to the union's initial contract demands.
Jacobson said she recalled a time when international scholars were charged to attend a mandatory orientation, consisting of just viewing a recorded video. On top of the costly visa process required to work at UCLA, she added that instances such as this make additional financial support for postdoctoral scholars more important.
Another provision the union seeks in its upcoming contract is for the UC to provide additional child care support for postdoctoral scholars with families.
Lejla Medzikovic, a postdoctoral scholar of anesthesiology in the David Geffen School of Medicine, said in an emailed statement that child care is a huge financial burden, and the UC's financial support would improve her quality of life.
"Winning child care support in our next contract would mean I don't have to choose between my research career, which I love, and having a family," she said.
The UC granting these provisions is important in not only creating a more equitable workplace but also in increasing the productivity of researchers, Sweeney said.
Currently, the UC is not contracted to subsidize child care for postdoctoral students, according to a UAW Local 5810 press release. Now, the union's contract demands include child care subsidies and expanded family leave from the UC, the press release said.
"My daughter is two months old, so improving paid leave at UC is an issue I care deeply about. The COVID pandemic laid bare the need for better paid leave policies and also the consequences if major institutions like UC don't lead on this issue," said Kevin Cannon, a postdoctoral scholar at the UCLA-Department of Energy Institute for Genomics and Proteomics, in an emailed statement. "Strong paid leave policies help women and caregivers, in particular, stay in the workforce, which is important for their research and the entire research community."
Sweeney added that the provisions in this contract differ from those in previous contracts because of increased costs of living as well as the need for stronger measures against discrimination and bullying.
He also added that in the last contract signed in 2016, postdoctoral scholars won large salary increases, protections against harassment and discrimination, guaranteed paid parental leave and improvements to job security.
"The housing crisis has accelerated so that (at) many places near UC campuses, the rents are dramatically higher than they were even five years ago," he said. "Postdoc working conditions, in general, are evolving, and the UC needs to evolve with it."
The UC is considering the demands made by UAW Local 5810 with a focus on increasing compensation, said Letitia Silas, executive director of the UC's Systemwide Labor Relations unit, in a press release.
The UC seeks to reach an agreement with postdoctoral scholars because they are valued members of the UC, said UCOP spokesperson Ryan King in an emailed statement. According to the press release, the UC plans to propose regular, scheduled annual increases to postdoctoral scholars' salaries.
However, Sweeney said he thinks the UC has not been fair in the bargaining process by not sending the necessary representatives to the bargaining table for certain provisions, such as equitable treatment of international scholars and anti-bullying measures. He added the UC has not responded to several information requests from union members that would better inform the bargaining process.
On Saturday, UAW Local 5810 announced that 98% of postdoctoral scholars voted to allow the union's bargaining unit to call a strike if needed.
Jacobson said she believes the UC is refusing to fully participate in bargaining, which is why she is in support of the strike. She added that she believes striking will help persuade the UC to take the union's demands more seriously.
"The reality is that we're holding the strike authorization vote because the UC has given us no other choice," Jacobson said. "The most important thing right now is that we're sending a really strong message that postdocs are united in seeking fairer treatment … (and) we stand united behind our bargaining team."
Sweeney said he wants the UC to not only accommodate the original list of demands in the final contract but to be transparent with its practices.
"We think it's essential that we win provisions that will promote a more inclusive and equitable research environment," he said. "That's really key to our core value of our union."