Beach volleyball rookies gain experience at SoCal Challenge before season start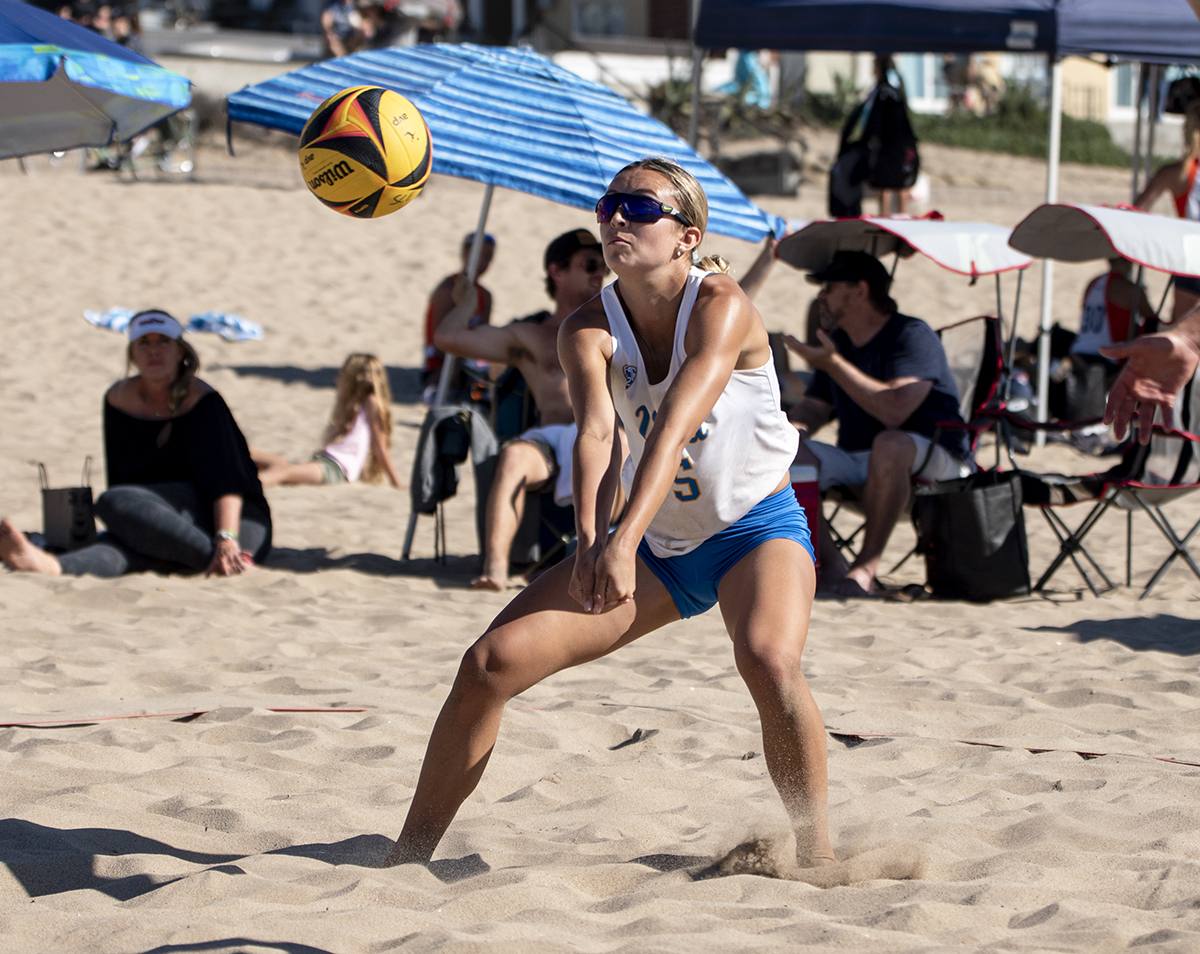 Peri Brennan digs the ball during the SoCal Challenge in Manhattan Beach, California, on Nov. 14. Brennan was partnered with fellow redshirt freshman Tessa Van Winkle for UCLA beach volleyball's dual match versus USC. (Jeremy Chen/Daily Bruin staff)
This post was updated Nov. 29 at 12:58 a.m.
Peri Brennan entered the 2021-2022 school year with zero collegiate games to her name.
And after a handful of preseason contests, the redshirt freshman found herself in a third set in the deciding match versus the reigning NCAA champions.
"I've never quite been in a pressure situation like that," Brennan said. "I wasn't even thinking about the crowd necessarily. I was just so in the zone."
Brennan and UCLA beach volleyball dueled with USC in Manhattan Beach, California, in the final dual of the two-day SoCal Challenge held from Nov. 13 to Nov. 14. Alongside fellow rookie Tessa Van Winkle on court four, the two redshirt freshmen dropped a 30-28 second set against the Trojans' Harper Hallgren and Sunny Villapando to send their game into an extra period.
In the final frame, Brennan and Van Winkle dug themselves into an 8-2 hole as the last remaining court playing that day. As both teams gathered along the sidelines, the Bruin pair summoned a late push to race into another overtime situation at 14-all before Hallgren and Villapando shut the door on a comeback to clinch the set 17-15.
The win sealed a 3-2 overall victory for USC and UCLA's lone defeat of the day. The Bruins' demise also marked their second straight loss to the crosstown rivals after falling in the NCAA championship final in May.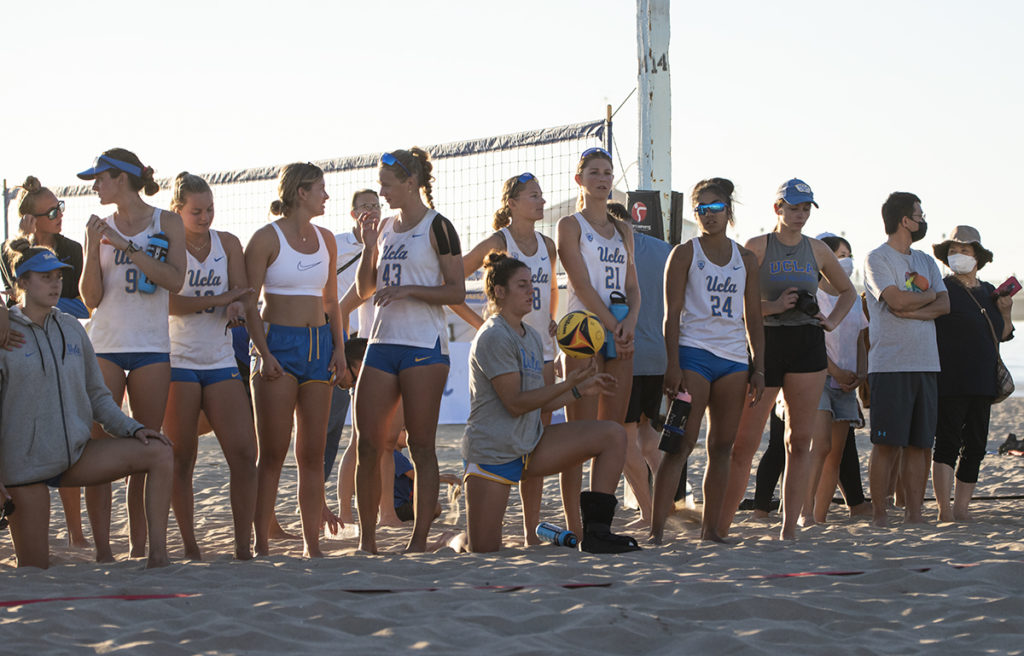 Despite the tournament not being officially recognized by the NCAA, redshirt sophomore Jaden Whitmarsh said the weekend's games provided Van Winkle and Brennan with crucial experience heading into the start of the season.
"It was a cool opportunity for Tessa and Peri, who are younger players, to be able to be in that pressure situation," Whitmarsh said. "I was really proud of the way that everyone fought, and I was really proud of Tessa and Peri for handling their emotions quite well."
Related: Gallery: UCLA beach volleyball narrowly loses to USC in 2nd day of SoCal Challenge
After enrolling at UCLA as a freshman in 2020, Brennan said she was with the team until January 2021 before taking a redshirt year to return home. Like Brennan, Van Winkle also took a redshirt year for the 2021 season and is now on the team's active roster for the upcoming year.
The redshirt freshman duo shared a history prior to joining the program, as the two often played together before their collegiate careers. Both players were reunited for the final dual match against the Trojans after a mild knee sprain suffered by freshman Jessie Smith earlier in the day prompted a shift in the Bruins' lineup.
With sophomore Lexy Denaburg already inactive for the tournament with a boot on her left foot and junior Lindsey Sparks out for the season, coach Stein Metzger said he made the decision to not risk any further injuries by resting Smith and reassigning the partnerships.
Brennan said the new pairing with her previous on-court teammate allowed for both players to complement each other and take advantage of their existing chemistry.
"I'm the shortest person on the team and Tessa's the tallest, but I guess opposites attract," Brennan said. "It's super fun playing with a big blocker. It definitely makes my job easier. She got a ton of blocks in that last match against USC."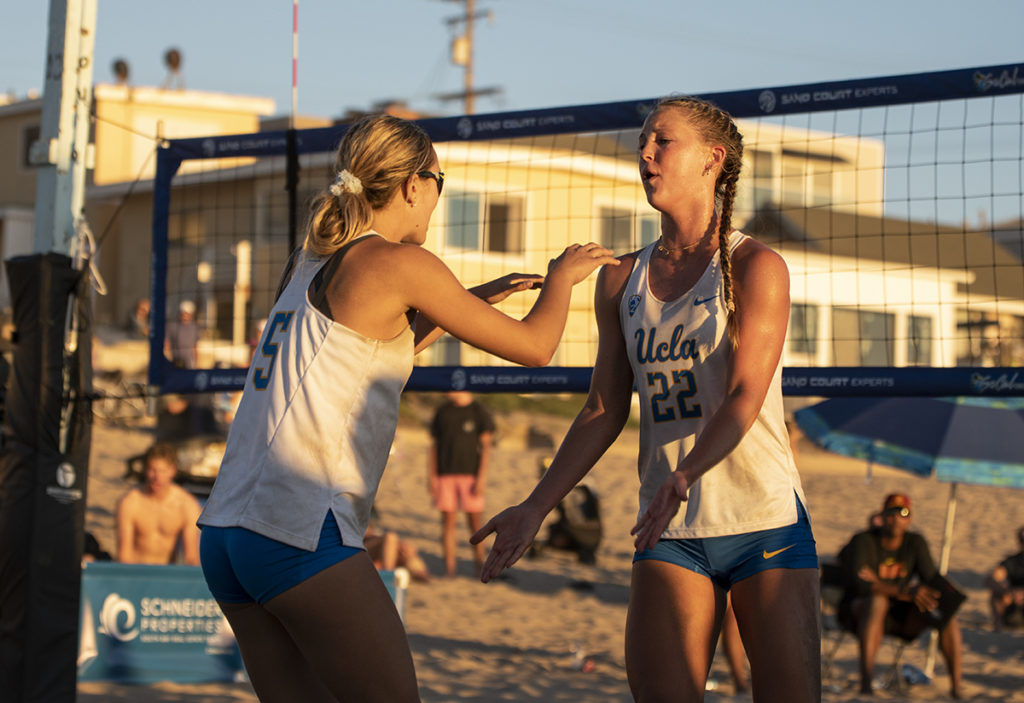 Standing at 5 feet, 7 inches tall, Brennan is tied with redshirt junior Pani Napoleon as the shortest, while Van Winkle shares the tallest teammate distinction with her sister junior Abby Van Winkle at 6 feet, 2 inches.
Despite assigning two players with heights on opposite sides of the spectrum, Metzger said Brennan's skill set precludes any disadvantages her stature may present.
"She has a big presence in terms of her ability to play and know-how to win," Metzger said. "We were calling her 'The Magician' because she just does some incredible digs and finds a way to get a kill despite her size."
Before enrolling at UCLA, Brennan held claim to being the 2019 No. 1-ranked women's AAA player in the California Beach Volleyball Association as well as having the most points in her division. With a full collegiate career of eligibility remaining, Metzger said Brennan has much to show for Bruin fans in the future.
"She's an exciting player. I think people are going to really enjoy watching what she does with the ball," Metzger said. "We're excited to see what she can do as a Bruin over the next four years."
Palmero is currently an assistant Sports editor on the softball, beach volleyball, women's volleyball, men's volleyball and men's golf beats. He was previously a contributor on the beach volleyball and women's volleyball beats.
Palmero is currently an assistant Sports editor on the softball, beach volleyball, women's volleyball, men's volleyball and men's golf beats. He was previously a contributor on the beach volleyball and women's volleyball beats.