UCLA celebrates launch of Amazon-partnered center for AI research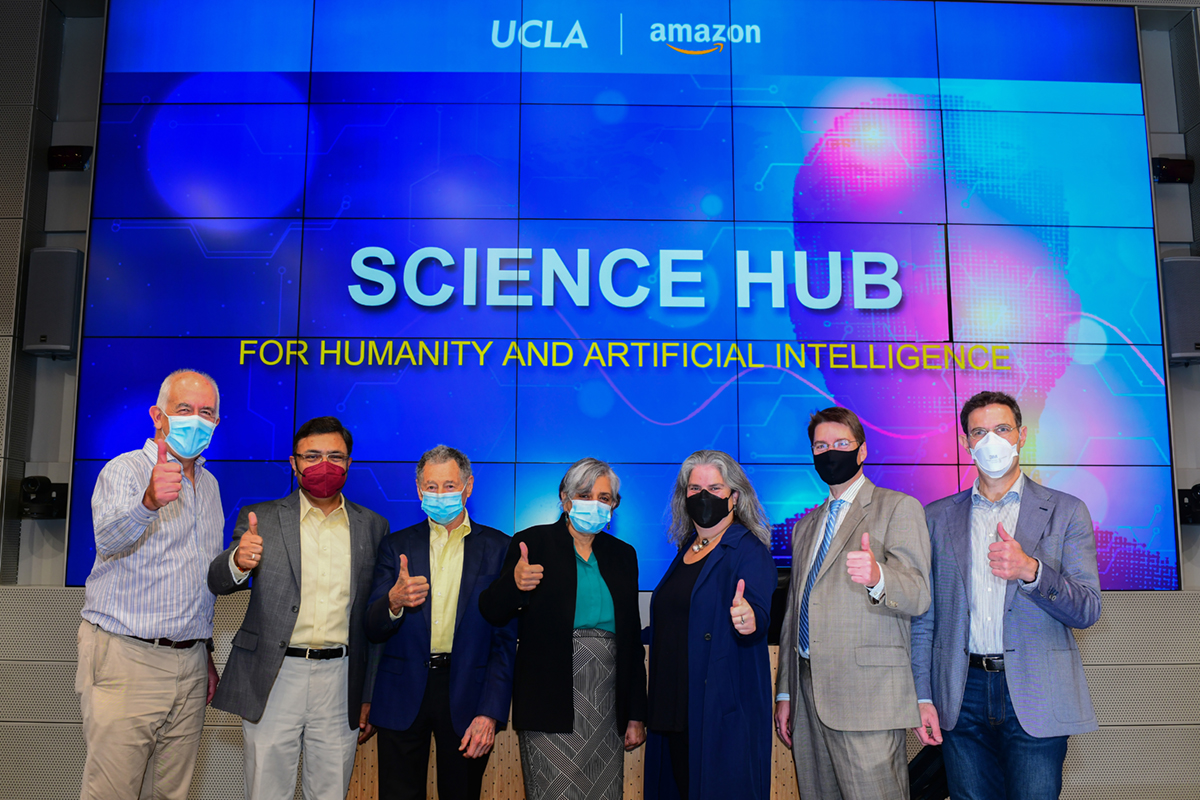 UCLA celebrated the launch of the Science Hub for Humanity and Artificial Intelligence on Oct. 29 with guest speakers from both the university and Amazon (pictured). The collaboration will provide an initial $1 million to UCLA for doctoral student fellowships and faculty research funding. (Courtesy of UCLA)
UCLA collaborated with Amazon to launch a center for artificial intelligence research, education and outreach Oct. 29.
The Science Hub for Humanity and Artificial Intelligence, based at the UCLA Henry Samueli School of Engineering and Applied Science, aims to address social issues and create positive impacts using artificial intelligence.
The three main focuses of the Science Hub are combining research efforts, funding doctoral fellowships and continuing community outreach, as stated on the website.
According to the UCLA press release, this is Amazon's first collaboration with a public university. UCLA received $1 million from Amazon to establish the hub this year, and the agreement may be renewed for a maximum of four more years. This funding will provide fellowships to alleviate financial problems for doctoral students working under this initiative.
Ying Nian Wu, a current Amazon scholar and statistics professor, said that the best research was being done at large technology companies like Amazon, where researchers are able to both solve practical consumer issues and conduct theoretical research.
"It is really a great environment," Wu said. "I got exposed to all kinds of very interesting problems related to artificial intelligence and machine learning."
According to the press release, the program will award $70,000 fellowships to second, third and fourth-year students in the School of Engineering's doctoral program who will be invited to participate in a paid summer internship at Amazon. The Science Hub will also give a maximum of $100,000 in funding for faculty research in areas such as AI for Robotics, Computer Vision, Speech and Natural Language Processing, according to the official Science Hub website.
Wu also said that Amazon will provide the students hired as summer interns through this program with resources and connections to build their knowledge in deep learning and artificial intelligence.
The School of Engineering held a celebration for the launch of the Science Hub on Oct. 29. The program welcomed speakers including distinguished professor of astrophysics Andrea Ghez, dean Jayathi Murthy, distinguished professor emeritus of computer science Leonard Kleinrock and Stefano Soatto, a professor of computer science who directed the establishment of the hub.
Murthy said she is excited for the collaboration with Amazon because of the links created between industry and academia.
She also added that in the past, the School of Engineering has collaborated with fields such as aerospace and defense and companies such as Intel and Pacific Gas and Electric Company. Additionally, she said that this collaboration seeks to expand community outreach and bring together researchers from the southern California region to engage in questions about AI.
While AI and research projects are largely allotted to graduate students, Tina Huang, a third-year computer science student and external vice president of the Association for Computing Machinery at UCLA, said that she thinks this collaboration will benefit the undergraduate student body as well.
Amazon is perceived as a desirable company to work at, Huang said, adding that this collaboration will inspire undergraduates to pursue a career in research in the future.
"A lot of undergraduates … have pressure to go directly into industry," Huang said. "This (collaboration) might shift people towards going more into research and academia."