Sarah Leonard Fine Jewelers honored as Monumental Business on 75th anniversary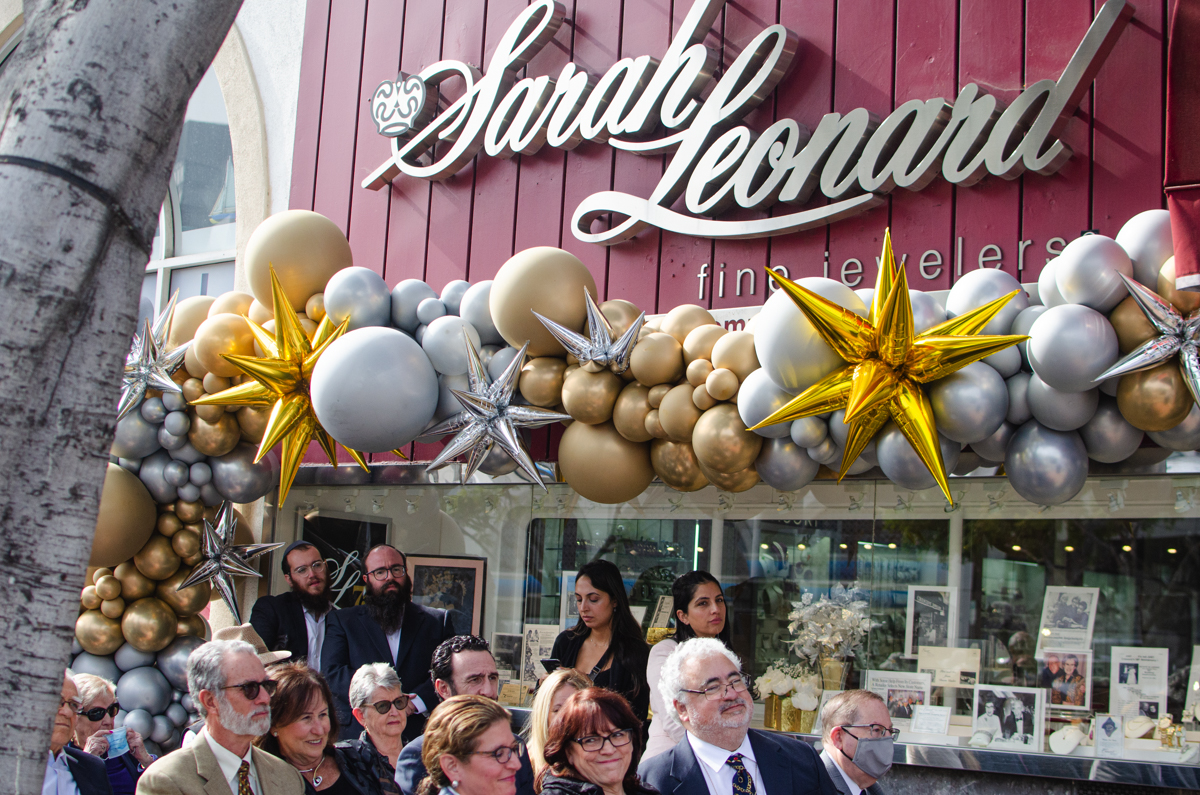 Westwood community members and city officials gathered at Sarah Leonard Fine Jewelers on Thursday, celebrating the store's 75th anniversary and designation as a Monumental Business. (Kanishka Mehra/Daily Bruin senior staff)
Sarah Leonard Fine Jewelers, one of the oldest family-owned businesses in Westwood, celebrated its 75th anniversary and was honored as a Monumental Business by the city of Los Angeles at a commemoration Thursday morning.
An event celebrating their anniversary and the honor was held in front of the Sarah Leonard storefront at 11 a.m., where city and neighborhood officials, community members and customers gathered to commemorate the achievement and congratulate the store owners and their families.
"Generations of family members have worked in that store, and it really built the business to what it's become today, which I consider one of the anchor businesses in our district," said Andrew Thomas, the executive director of the Westwood Village Improvement Association.
[Related: Family-owned Westwood jewelry business spans generations]
The event began with a speech by Steve Sann, the chair of the Westwood Community Council, and a performance of Billy Joel's "The Longest Time" by Bruin Harmony, a UCLA acapella group.
After the acapella performance, Sann explained the history of Sarah Leonard Fine Jewelers, and city representatives, including Los Angeles City Councilmember Paul Koretz, congratulated the store owners and thanked them for their outstanding work and long-lasting service to the Westwood Village community.
"The city of Los Angeles is privileged to recognize Sarah Leonard Fine Jewelers for its extraordinary 75 years of business and the Friedman and Abell families as beloved Westwood Village merchants," said Koretz, who represents District 5, which includes Westwood. "We join in congratulating Sarah Leonard Fine Jewelers and the Friedman and Abell families on their extraordinary 75 years of brilliant business accomplishments, and their tireless devotion to Westwood Village, UCLA and the Los Angeles community."
The jewelry store, initially called Crescent Jewelers, first opened its doors in 1946. The original owners, Sarah "Sunny" Friedman and Leonard "Lenny" Friedman, started a family of Bruins, with six members attending the university over the span of two generations, said Jennifer Poulakidas, the associate vice chancellor of UCLA Government and Community Relations.
The Friedman and Abell families have also supported many of UCLA's activities over the past decades, including UCLA Homecoming, UCLA Dance Marathon, and UCLA Blood Drive, Poulakidas added.
Sarah Leonard started to sponsor many UCLA Athletics events, such as the athlete of the month award and the UCLA watch give-away, Poulakidas said.
"We may never know how many UCLA couples exchanged vows and rings from this great business, or how many UCLA students received a special gift upon graduation from Sarah Leonard Jewelers," Poulakidas said. "We know that they're numerous, and we also know that they're very fortunate."
Sarah Leonard family members attending the event, including Gail Friedman, David Friedman and Dean Abell, said they were proud to continue to serve the UCLA and Westwood community through the family business. Gail and David Friedman added that despite limited capacity due to the COVID-19 pandemic, the event was thoughtfully planned and honored the store's historical relationship with the community.
"We have fourth-generation clients, people whose great grandparents bought their wedding bands from my grandparents back in the late 40s or 50s," Abell said. "Through the generations, they've continued to shop and we've continued to have family members join the business. I've watched kids grow up – literally known them when they were in diapers – and their parents knew me when I was in diapers, and now I'm selling them engagement rings. … It's a very unique proposition and the city wanted to recognize us as being a pillar of Westwood and something special to the city."