UCLA men's water polo looks to focus on self-improvement during MPSF tournament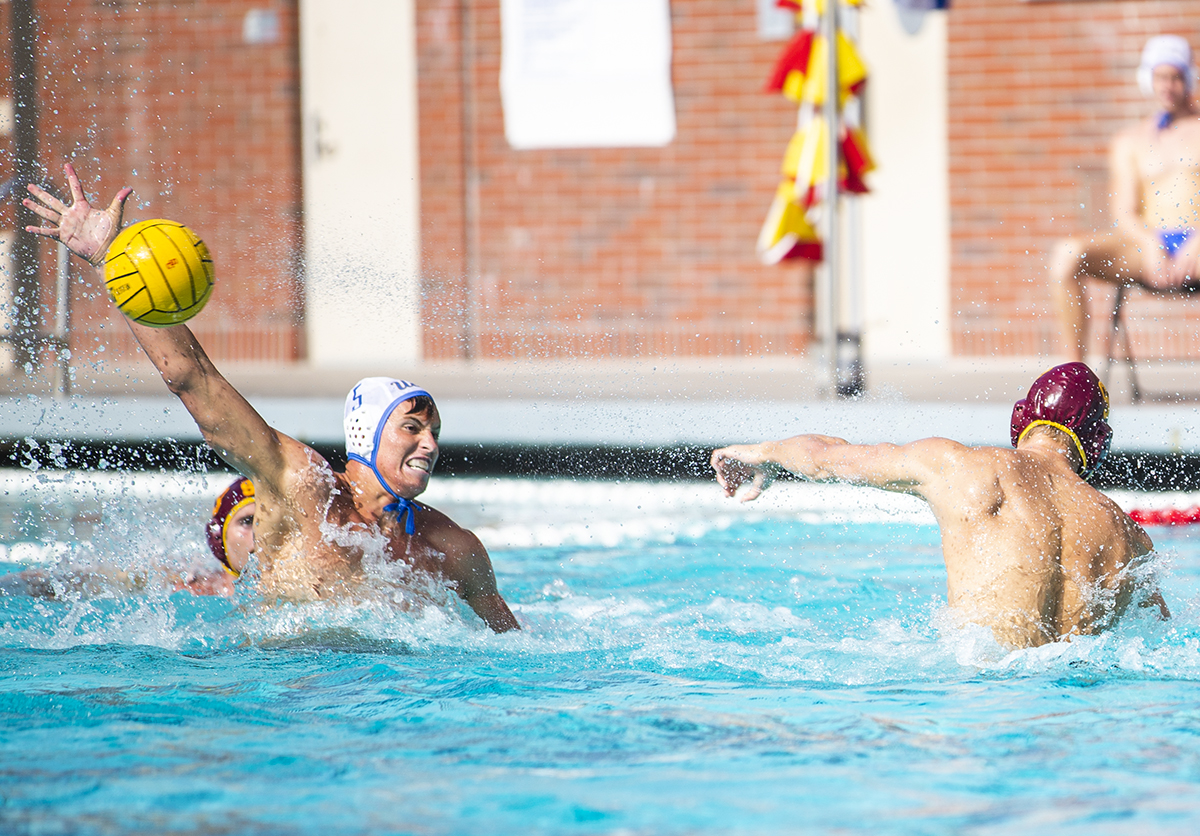 Redshirt sophomore attacker Jack Larsen and UCLA men's water polo will enter the Mountain Pacific Sports Federation tournament as the No. 3 seed. (Ashley Kenney/Photo editor)
After a two-game slide to end the regular season, the Bruins will have the chance to pick up a couple wins before the NCAA tournament.
No. 3 seed UCLA men's water polo (16-3, 1-2 MPSF) will compete in the Mountain Pacific Sports Federation tournament Friday through Sunday at the Avery Aquatic Center in Stanford. The blue and gold enter the tournament on the heels of back-to-back losses, dropping them to the third seed behind No. 1 seed California (20-2, 3-0) and No. 2 seed USC (16-1, 2-1).
"Always at this time of the year, our focus is on ourselves," said coach Adam Wright. "Last week was disappointing on some levels, but also we've been dealing with a little bit of adversity. … We've been in these positions before, and we know what we're up against."
The Bruins have gone a combined 0-3 against the Golden Bears and the Trojans this season, with a rematch against at least one of those opponents potentially in the cards in the MPSF tournament.
Before a potential matchup against Cal or USC, UCLA will face the loser of a game between Austin College and Penn State Behrend on Friday in the quarterfinals.
"Our focus is really on ourselves," Wright said. "It's good that we have a game (Friday). That gives us another opportunity to really get closer to where we really want to be."
While no matchup after the first game is guaranteed, the Bruins could potentially see a rematch with their crosstown rival in their second game. USC earned a bye in the tournament after qualifying as the No. 2 seed.
Graduate student attacker Chasen Travisano said UCLA – which lost to USC 8-7 on Nov. 6 –will have to improve its power play and transition offense to earn a win this time around.
"Defensively, we really did a great job," Travisano said. "Offensively, I think our transition definitely could have been a lot better, and our six-on-five as well. Those are crucial parts of the game. We're really going to have to put those down in order to change the outcome versus last time."
In their past two games, the Bruins have gone a combined 3-of-18 on power plays. Their opponents, however, have shot a combined 7-for-17 on six-on-five opportunities in those games.
Redshirt sophomore attacker Jack Larsen said the team has focused on improving its offense in man-up situations in preparation for the tournament this weekend.
"(Six-on-five) has been our main focus this week, just trying to get that percentage higher," Larsen said. "We thought our defense was pretty consistent, and our intensity was pretty good last time."
In its last game of the tournament, UCLA could face Cal or Stanford in a potential third-place or championship matchup.
The Bruins have lost both matchups this season and five of their last six against the Golden Bears, while they have won both games against the Cardinal on the year.
After coming in fourth place in the MPSF tournament in each of the past two years, UCLA will have a chance to win its first conference title since 2015 before the NCAA tournament begins Dec. 2.
"It's going to come back to us – how we play defense, how we attack," Wright said. "The guys know what to do and now we got to execute."
UCLA will play the loser of Austin College and Penn State Behrend at 1:00 p.m. on Friday to kick off its MPSF tournament run.
Lizar is currently a Sports contributor on the women's water polo beat. He was previously a contributor on the men's water polo beat.
Lizar is currently a Sports contributor on the women's water polo beat. He was previously a contributor on the men's water polo beat.