Q&A: Daily Trojan Sports editor discusses USC's chances against UCLA football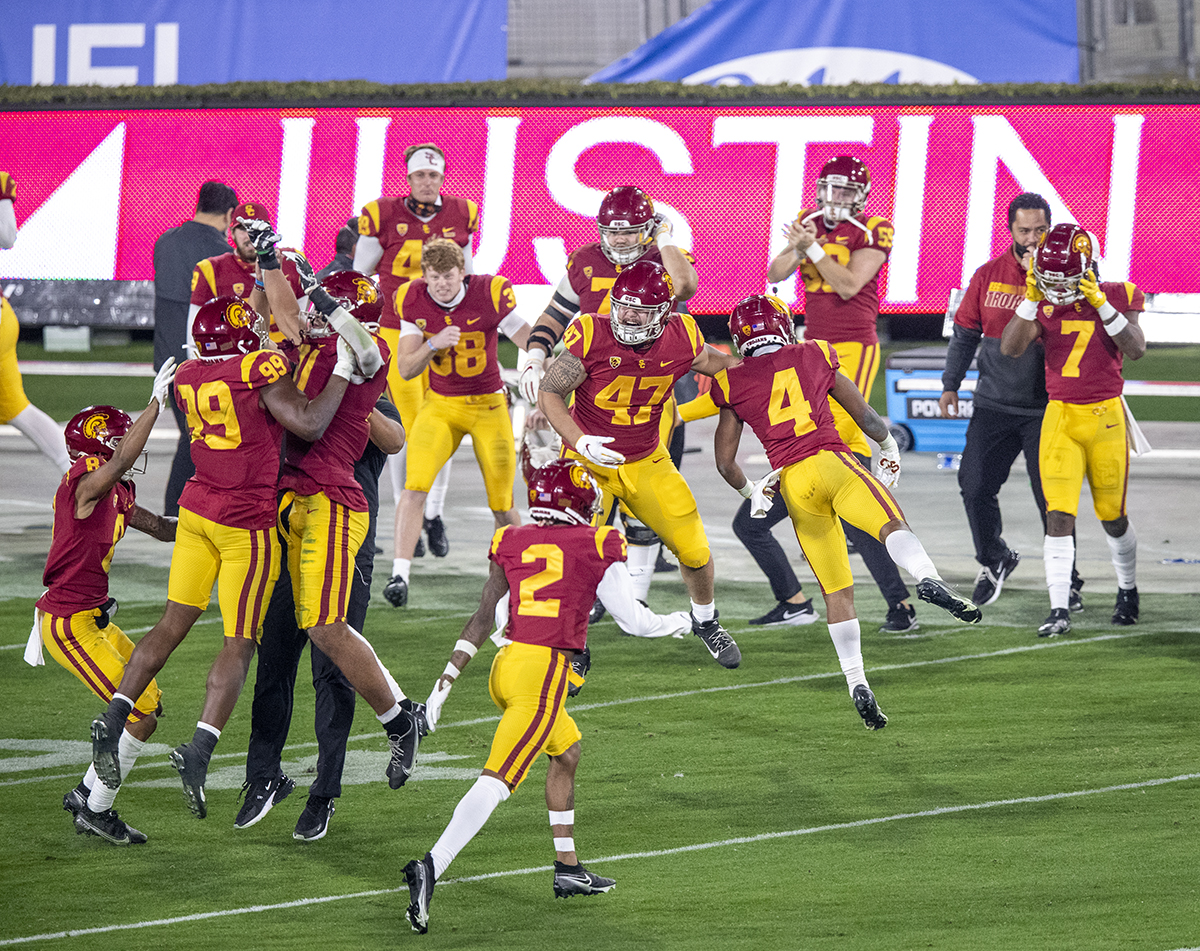 USC celebrates during its win over UCLA football in 2020. The Trojans have a 4-5 record so far in 2021 entering its matchup against the Bruins.(Daily Bruin file photo)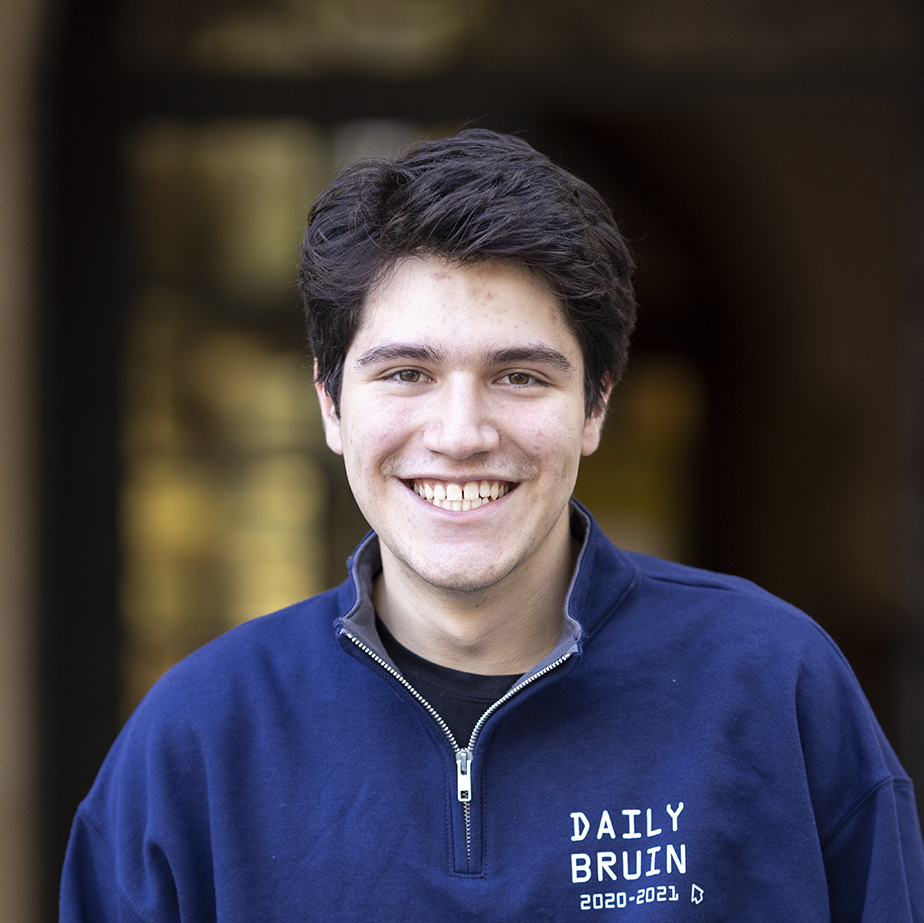 UCLA football (6-4, 4-3 Pac-12) is set to take on USC (4-5, 3-4) on Saturday at the Los Angeles Memorial Coliseum with a chance to reclaim the Victory Bell. With less than a week until the rivalry matchup, Daily Bruin Sports editor Jon Christon sat down with Adam Jasper, the Sports editor at the Daily Trojan, to talk about the 2021 edition of the crosstown clash.
Daily Bruin: Both fan bases are a little deflated right now, so what would you say, from USC's perspective, the vibes are around this game?
Daily Trojan: It's funny because I kind of think of the same thing with basketball season starting up, specifically for us. We had the team coming off the Elite Eight run and people looking forward to that, so I really do think it's kind of taken a bit of a back burner there – the football season I mean. Especially just with the whole head coaching drama at the start of the year, (it) really just feels like a throwaway year almost to fans. I really have thought that the real issue has been losing at home, especially to Pac-12 opponents. It's one thing if you go out on the road against some good teams like Notre Dame; we got not a terrible loss. Last week's Tempe game, (USC) definitely (had) chances to win that against (Arizona State), but another road loss. But I think the real main issue has been losing at the (Los Angeles Memorial) Coliseum in front of home fans. It's just deflating. The amount of blowout losses that we've had at the hands of Pac-12 opponents, it's really kind of killed the vibe honestly. I just don't think that there's that same excitement. I think definitely a rivalry game, we will see more people in the (Los Angeles Memorial) Coliseum. It's been really tough to get attendance this season, and we've had some games where they've announced the attendance as (40,000), 50,000, and it just doesn't look like that many people are there – and there's definitely not that many people there by the fourth quarter. But I imagine the rivalry – I mean, this is one of the all-time historic rivalries to begin with – I think that'll carry it some of the way. But (the) main thing I would say for USC fans is just feeling deflated going into this game.
DB: You mentioned the coaching change with Donte Williams now at the helm. How do you think he's done so far as the interim head coach?
DT: To me, there's only so much he could do. We are however many years into (former coach Clay) Helton's term. I want to say it's like five now since he's officially taken over as head coach. We have all of his recruits, and you can see that the talent level of the team this year, specifically in areas like the secondary, I will mention, is just lacking. There was only really so much that Donte Williams could do, originally coming in as an interim, to turn it around. He's a former cornerbacks coach, so he comes in with defensive knowledge, and he didn't know much about offense, so we had to lean even more on offensive coordinator Graham Harrell, who's already come under a little bit of fire for his air raid system not being so effective. Evaluating Williams and his ability to be a leader? Absolutely. His ability to be a recruiter? Absolutely. He's a phenomenal recruiter and good leader and role model for this program. Do I think that he's the long-term solution at head coach? Absolutely not. I don't think that that's too much of a hot take around the USC fandom, just based on him coming into a really difficult situation, maybe not exactly being prepared for what head coaching entails. That's no disrespect to him as a person or really as a coach. I think he's definitely come in and tried to make the best out of a really rough situation for USC this year.
DB: Who do you think should be the sole starter (at quarterback), and who do you think should start next year (between quarterbacks Jaxson Dart and Kedon Slovis)?
DT: I would say Dart. When I first watched the Washington State game, I mean, everyone was electrified by him, obviously. But I will say after that game, I was like, 'No, we should still start Slovis.' I trusted him after that big freshman season, and last season, you could kind of see during the pandemic, he had some really clutch performances to start the year – especially against UCLA, frankly. But you could kind of see it start to slip, and I think this year he's kind of lost a little bit of that magic that he had in his freshman year. To me, it comes down to not really being decisive (and) poor pocket presence. He really doesn't know when to move. Granted, our offensive line hasn't been amazing for him, but you can definitely see some of the glaring mistakes that he makes. He's thrown a few pick sixes, albeit a few unlucky, but you know that happens anyway. But I think looking at it now, I really do think Dart should be starting for the rest of the year if we are in a win-now mode. That's the question. The big question is, well, do we want to keep Dart's redshirt and then just mail it in this season – which, if you're USC, you can't really mail it in. And that's why I would support putting Dart out there. I just think he gives us a better opportunity to be unpredictable with the air raid system. We've been able to spread the ball a whole lot better when Dart's in the game. I don't necessarily know why that's the case. I think Slovis has a really huge chemistry with (wide receiver) Drake London, and I think that he is just absolutely looking at him pretty much every play, and it's really hard for him to kind of progress through his reads and through his next two targets because of that. I've always seen Dart as a guy that's willing to look toward (wide receivers) Tahj Washington and Gary Bryant Jr., who are good playmakers. Those two have a lot to offer in addition to Drake London. Especially considering (Dart's) mobility and ability to sneak in a few run plays if we want to run a read-option, which we really haven't much all year, but we did have a touchdown run that Dart scored against (Arizona State) last week that kind of displayed his mobility. I would go with Dart in the future. I just think he has that electricity. When he came in for the first time since the injury in the Washington State game, the (Los Angeles Memorial) Coliseum was pretty much dead midgame, boring game against Arizona, and (it) just gets lit up immediately. Everyone is on their feet, 'Let's go Dart,' chants. He kind of brings that electricity, the spark that USC needs right now.
DB: How do you think Drake London's injury affects USC's offense heading into the end of the season right now?
DT: I think it's just big plays mostly and really (a) red-zone threat, which has always really been an issue for USC this year, is who to throw to in the red zone, what plays to run in the red zone. Because we've been getting there, the issue is whether you can convert or if you're going to be left with three points, which has happened a lot of the time. It does force Graham Harrell to get a little more creative with spreading the ball around, which I've honestly liked. I've liked seeing a little more screens, short action to Tahj Washington, who's really an agile receiver. For some reason at the start of the year, even though he sits at, I believe, 5-foot-10, we insisted on running him on go routes and fly routes down the field that just weren't going to help expose the defense in a way. He just wasn't going to be able to win those one-on-one matchups. I've liked seeing the spread more, just giving the ball to different guys now that London's out. But it really is just the big-play threat. Really, it's the guy that you can go to on third down and long, and you just know he's going to be open, and you know he's going to give you a chance to make a play. Also, the gravity of it. You don't really want to put him one-on-one because you think he's going to beat anybody in the secondary, so now you have a second guy, and then it just opens up everything else. You definitely lose a lot of that gravity that he had.
DB: Transitioning to USC's defense here, (senior quarterback) Dorian Thompson-Robinson has had a few good games in a row against USC. He had the 364 passing yard game last year, and then he also had 367 yards two years ago. UCLA lost both of those games, but how do you think USC can try to limit him in the passing game there, and where do you see the biggest threat from Dorian Thompson-Robinson entering this matchup?
DT: I would say it's in the run. Even though last week we looked at (Arizona State quarterback) Jayden Daniels, who does share the, 'Oh, electrifying runner as well as a pretty good passer.' USC, for the most part, did a really good job at limiting him. It was partially on him for missing some throws. We had some interceptions that were blatantly Daniels' fault. I just don't know if you can expect the same from (Thompson-Robinson). I think he's a little more polished as a thrower, and we've seen that in the past against USC. But I think just the ability to take those broken plays for extra yardage is going to really hurt the USC defense. The USC defense has been notoriously bad against the run this year. But on top of that, the secondary's been poor, and I think that that's been more so an issue with receiving matchups – just guys getting burnt on third-and-10, on just big plays for other teams. (It) happened a lot against Stanford, Oregon State with the run, and then Utah, of course. They've just had so many big plays go for touchdowns. It's so hard to rely on some of the guys in the secondary. When you have some good receivers from UCLA with a competent quarterback that can hit those downfield throws but also has the threat of making it into a run play? I just think it's going to be too much for the USC defense. Defensive coordinator Todd Orlando likes blitzing a lot. That may be something that USC looks to employ to throw something off early, but in my experience, I've really just seen that when USC brings five or more, it just means one more guy is going to be open downfield a little quicker. I'm a little bit pessimistic about that front. I just don't know if they have really just the organizational structure and just man-on-man talent to handle a dynamic quarterback like (Thompson-Robinson).
DB: Last question: do you have a score prediction for the game?
DT: Let's give it like a 41-31 UCLA win. I think it will be high scoring. We've both acknowledged the weaknesses in the passing defense, the secondaries, for both teams. We've seen some high-scoring matchups in the past, these two teams really getting at it. I still think it's going to be energized despite both of these teams feeling a little deflated at the end of the season. It definitely seems like UCLA, despite having a down year by their standards, (and) USC, obviously having the exact same thing, (it) seems like UCLA is going to overwhelm the Trojans in this one. That's what I'm feeling.
Christon is currently a Sports senior staff writer. He was previously the Sports editor on the men's basketball and football beats and the assistant Sports editor on the women's basketball, softball, men's tennis and women's tennis beats. Christon was previously a contributor on the women's basketball and softball beats.
Christon is currently a Sports senior staff writer. He was previously the Sports editor on the men's basketball and football beats and the assistant Sports editor on the women's basketball, softball, men's tennis and women's tennis beats. Christon was previously a contributor on the women's basketball and softball beats.