Bruins Around the World brings together cultures for night of celebration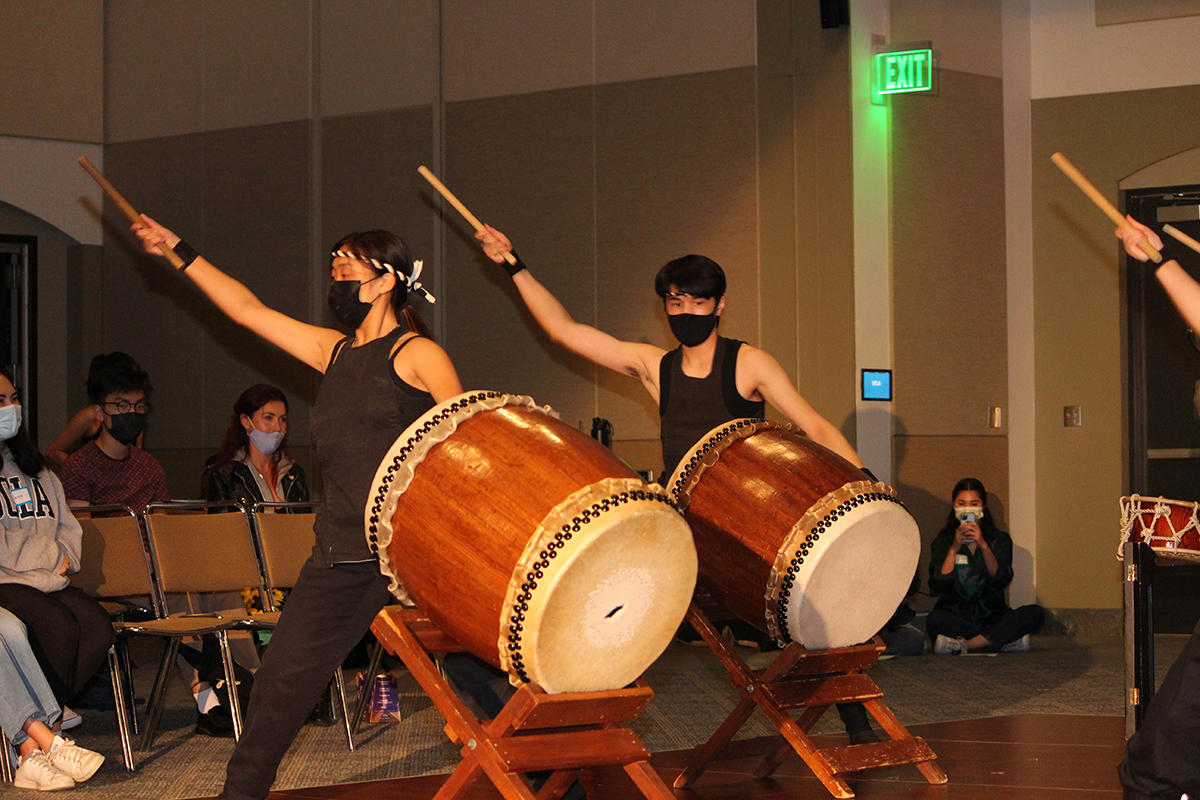 Kyodo Taiko, a Japanese drum ensemble run by students, was one of multiple cultural performances at Bruins Around the World, an event that was a part of the celebration of International Education Week. (Courtesy of Peggy McInerny)
Correction: The original version of this article miscredited two photos. In fact, the photos were courtesy of Peggy McInerny.
This post was updated Nov. 22 at 1:18 p.m.
Student organizations gathered for an annual showcase of cultures across the globe as part of the programming for International Education Week on Wednesday.
Bruins Around the World – a collaboration between UCLA Residential Life, the Dashew Center for International Students and Scholars and the Study Abroad Office – was held in Covel Commons. IEW, presented by the International Institute to promote international education and exchange, ran from Monday to Friday this year.
Peggy McInerny, director of communications for the UCLA International Institute and an organizer of the event, expressed her appreciation for the IEW's support of education and said she was happy to take photos at the in-person event.
"We try to appeal to people from all over campus because there's so many different parts of international education," McInerny said. "The most important thing is to really show the wealth of both resources and experiences there are here."
Enthusiasm was high among performers and the audience as they were able to attend Bruins Around the World in person for the first time in two years. After a fully virtual year, the community was eager to safely return to the event, McInerny added.
Before the program began, people entered the Covel Grand Horizon Ballroom to visit various informational booths, including those by the Study Abroad Office and Residential Life. Attendees had the opportunity to enjoy food from a variety of cultures set up on an outdoor balcony, featuring churros, Mediterranean falafel, Somali sambusas and Chinese egg rolls.
Speakers Naomi Moskowitz, a fourth-year Arabic and cognitive science student who studied abroad for a quarter at Technion – Israel Institute of Technology, and George Li, a first-year pre-economics student from China, recounted their experiences abroad and encouraged others to seek opportunities to study internationally. Giveaways and presentations went on between cultural dance performances.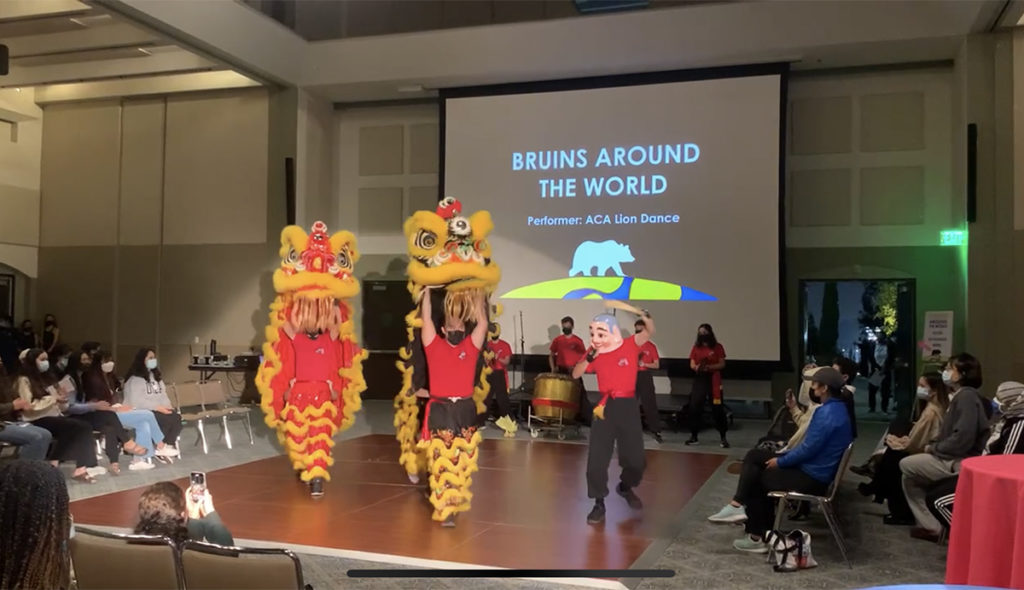 Jade Mazurkiewicz and Karly Kimes, fourth-year students and emcees of the event, introduced the series of speakers and student performance groups.
The Association of Chinese Americans was the first group to take the stage with a lion dance troupe. This dance is a traditional Chinese celebration usually performed around Chinese New Year as well as special occasions such as weddings and birthdays, according to Brian Le, a member of the troupe and former UCLA student. The multiple-person lion costumes represent figures intended to ward off bad luck, he said.
Le joined the team during his freshman year in 2016 to expand his horizons and stay active while staying in touch with his Chinese culture, he added.
"School can occupy so much of your time. It's super important to have something outside of academic life," Le said.
Kyodo Taiko, a student-run Japanese drum ensemble, performed next. Their two songs featured dancing and drumming that Mazurkiewicz said was her favorite performance of the night.
"You could feel it in your bones," Mazurkiewicz said.
Other performances included two dance showcases from the Chinese Cultural Dance Club and the Nigerian Students Association. The NSA's dance group drew a large audience that screamed and cheered along. Chinazam Nnorom, president of the NSA and a third-year communications student, said the organization largely represents West Africans and that their performance was a mix of West African and South African styles. She loved the opportunity to perform with her club, she added.
"That's something that's awesome about dancing, is the audience, that they really give you the energy," Nnorom said.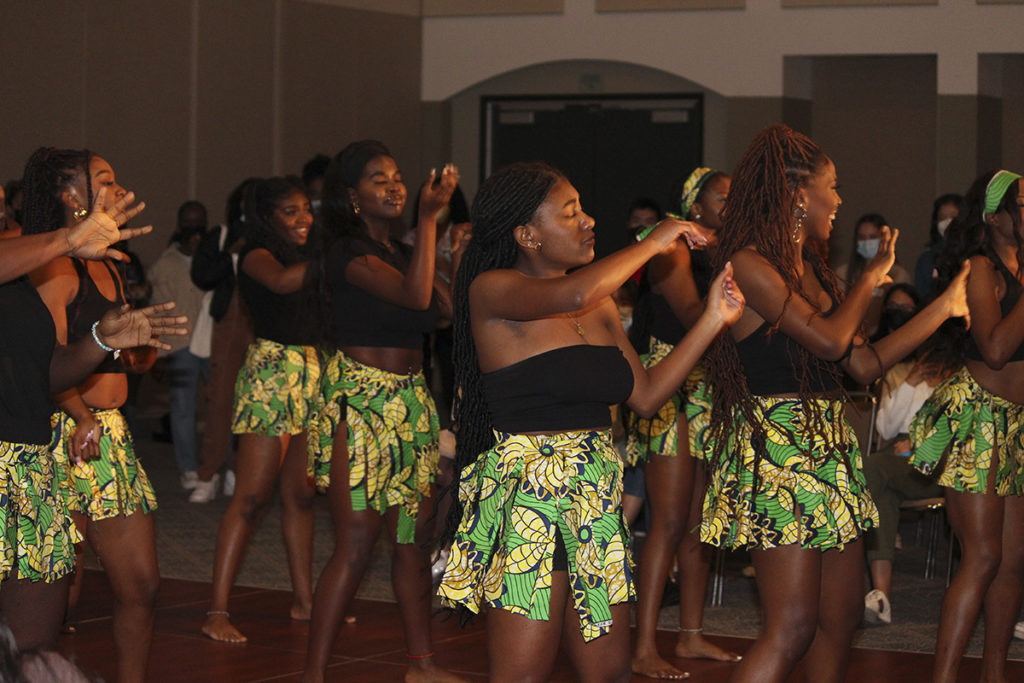 Paulina Fisher, a fourth-year civil engineering student, said she enjoyed the performances and sambusas.
"Seeing the performers lined up from different countries, different parts of the world, it reminds me of how diverse it is currently," she said.
Student organizations sought to foster community within their own identity groups while sharing their cultures with the greater community at UCLA. Nnorom said she was excited to receive the email inviting NSA to perform.
"(The organizers) reached out to us and we were so grateful, we were waiting for the email," Nnorom said. "They said, 'We know you guys usually perform, are you guys still together?' We said 'Yep, we are!' … I was like, 'Oh, thank God.'"