Swim and dive secures several top-5 placements at Trojan Diving Invitational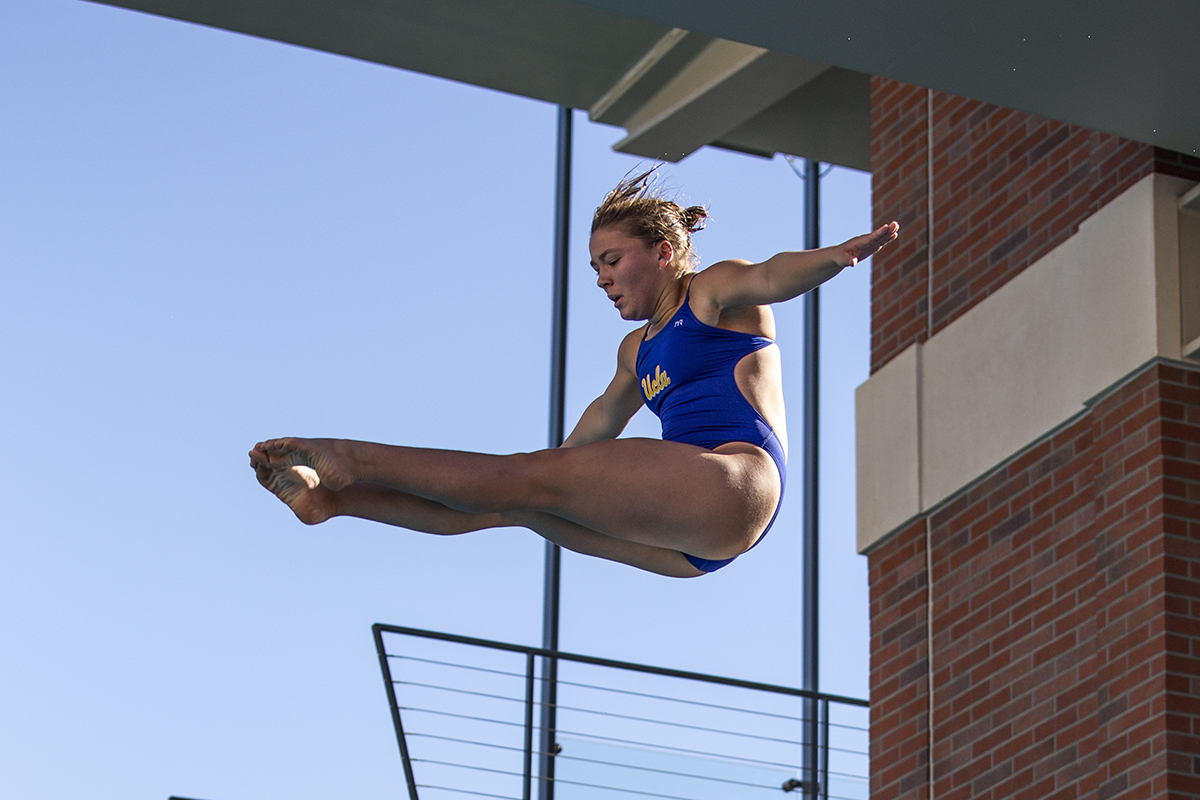 Freshman diver Zoe Jespersgaard dives in the 3-meter dive. Jespersgaard logged a second-place finish in the event at the Trojan Diving Invitational over the weekend. (Michael Vigman/Daily Bruin)
The Bruins concluded their trip across town with multiple top-five finishes.
UCLA swim and dive (2-2, 1-2 Pac-12) sent a squad of divers to crosstown rival USC over the weekend to compete in the Trojan Diving Invitational, in which the Bruins faced off against multiple teams from around the country in a three-day event. The UCLA squad saw a diver finish in the top three in each of the first two days of the event, with a total of six top-10 placements throughout the weekend.
Head diving coach Tom Stebbins said the event allowed the Bruins to measure their skills as the teams' divers continue conditioning and practicing at a physically demanding level.
"We're not in a place where we've made it easy on them in practice – we're still really grinding some things out," Stebbins said. "But I just feel like they're in a really good place and this is a great jumping-off point."
On the first day of the event, junior diver Hannah Butler and freshman diver Zoe Jespersgaard finished second and third in the 1-meter competition, respectively. Both divers concluded the event with final scores over 500 in the event, with first-place finisher Nike Agunbiade from USC being the only other diver to eclipse that score.
The only freshman to earn a top-3 finish, Jespersgaard qualified for the NCAA Zone E Diving Championships with her performance.
Jespersgaard said she was pleased with her results and ability to compete for the second time this season.
"I was pretty happy because I feel like competing is the area of the sport that I am working the most on in improving in," Jespersgaard said. "I was excited that I was able to perform multiple days in a row."
During the second day of the meet, the freshman secured a second-place finish in the 3-meter competition. Both Jespersgaard and freshman diver Maya Salvitti participated in Stebbins' club diving program before coming to Westwood, and Stebbins said this experience has allowed them an easy transition onto his Bruin squad.
"It takes some time and there's some adjustment and I think that they are now seeing that this is a different system from what we run in club," Stebbins said. "It's an effective one and I think for both of them they are going to see that growth moving forward."
The final day of the contest featured three Bruins participating in the platform competition. Sophomore diver Aurora Huxman placed the highest for UCLA, ranking seventh with a final score of 375.45.
Huxman said she is optimistic in regards to the future this season holds.
"Big goals for me personally, I would like to qualify for NCAAs on platform and three meter," Huxman said. "As a team, our goal is to get as many divers as we can to that meet – to the NCAAs."
Bruin divers made improvements in their scores between the qualifying rounds and the final rounds in multiple events throughout the weekend, and have the opportunity to improve their scores again at the next diving-only invitational – the Auburn Diving Invitational – on Dec. 15.
Stebbins said he has high expectations for this upcoming winter contest.
"That's our first scheduled week where we're going to kind of have our focus on performance and trying to feel good as we look good," Stebbins said.
Hallum is currently a contributor on the track & field and swim & dive beats.
Hallum is currently a contributor on the track & field and swim & dive beats.