UCLA women's soccer concludes 2021 season after upset loss to UC Irvine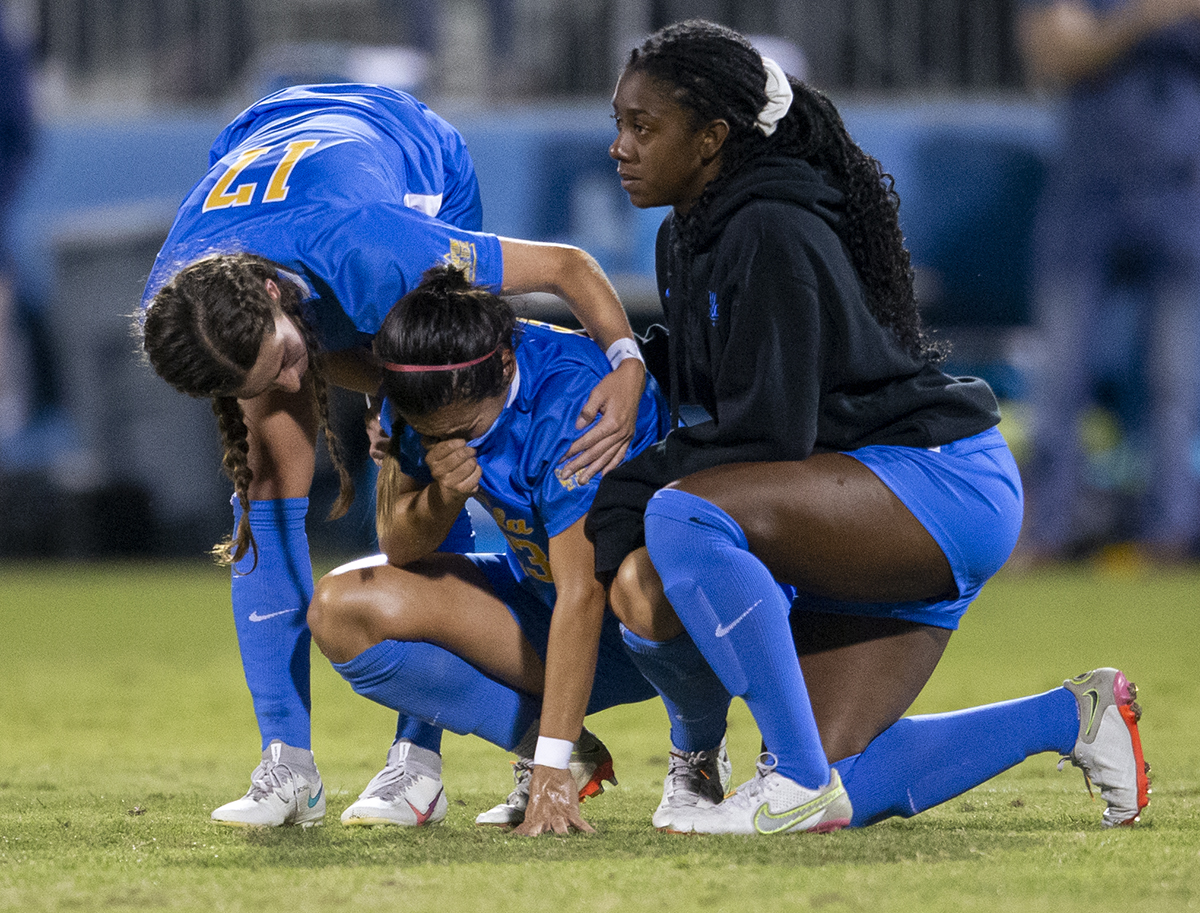 Graduate student midfielder Marley Canales breaks down on the field after No. 2 seed UCLA women's soccer's loss to UC Irvine in the first round of the NCAA tournament Friday. The Bruins had not lost in the first round of the tournament since 1995. (Marc-Anthony Rosas/Daily Bruin)
This post was updated Nov. 18 at 12:23 a.m.
The Bruins are headed home early for the second straight season.
No. 2 seed UCLA women's soccer (16-1-3, 8-0-3 Pac-12) was knocked out in the first round of the NCAA tournament by UC Irvine (16-5, 8-2 Big West) on Friday night at Wallis Annenberg Stadium, losing by a score of 1-0. After winning back-to-back Pac-12 titles for the first time since 2014, the Bruins failed to advance past the first round of the tournament for the first time since 1995 – the same year they last lost to the Anteaters.
In coach Amanda Cromwell's ninth year as head coach of the Bruins, the team won its fourth conference trophy under her tenure but has again failed to replicate the national championship success of her inaugural season in 2013.
After defeating then-defending national champion Stanford to raise the conference banner in the 2020-2021 season, UCLA proceeded to bow out in the third round of the NCAA tournament after losing a penalty shootout against Clemson. Five months later, the blue and gold earned more rings after defeating USC in a title-deciding match on Nov. 5 – one week before its upset loss to UC Irvine.
"I'm really proud of the back-to-back Pac-12 (championships) – a huge accomplishment," Cromwell said. "That's why I'm kind of in shock and numb to it all because I just don't quite believe that we're done. It doesn't seem right."
In addition to the conference hardware, the Bruins remained undefeated through the regular season for the first time in seven years. Cromwell said seeing the regular season success of this team come to an abrupt end reminds her of the 2014 Bruins.
"This team has or (had) the quality to go far," Cromwell said. "I told them (they) reminded me of the 2014 team – we were undefeated going into the Elite Eight and we lost, and we're like, 'What just happened?' You feel that kind of shock – (it) reminds me of that team, that potential to win a championship."
After conceding an early goal to UC Irvine, UCLA was unable to respond despite recording 19 shots on the night, including 13 in the second half. The loss marked the second time over the past two seasons in which the blue and gold has not found the back of the net, and the first shutout loss since a 1-0 defeat by Stanford on Oct. 19, 2019.
Throughout the match, the Bruins hit the woodwork on multiple occasions and saw the Anteater defense make goal-saving plays to preserve the clean sheet.
Junior defender Brianne Riley said regardless of the unlucky bounces of the ball, her team refused to quit.
"We were never going to stop. We were going to keep going," Riley said. "We wish that shot went in or that shot (that) hit the post didn't, but it doesn't take anything out of us. It gives us more fire to keep going and keep pushing for that goal."
The defeat by UC Irvine not only ends the lengthy 2021 calendar year, which saw UCLA raise two banners, but it also concludes the collegiate careers of eight Bruins – including three 2021 All Pac-12 honorees.
Graduate student midfielders Marley Canales and Olivia Athens, who earned third-team and second-team All-Pac-12 honors, respectively, suited up for the final time Friday to complete their fifth season in Westwood. Joining the midfielder duo on the All-Pac-12 list was first-team All-Pac-12 junior forward Mia Fishel, who announced before the season that she would forgo her senior year to pursue a professional career.
Fishel earned All-Pac-12 honors in all three of her seasons at UCLA and led the Bruins in scoring in her freshman and junior campaigns, totaling 32 goals over her decorated career.
"That's what's really sad because this team has so much talent and has so much camaraderie and love for each other," Cromwell said. "Olivia and (Canales) especially, being here forever and giving so much to this program and Mia (in her) last year – just some amazing people on this team."
After playing 37 games in 2021, the Bruins will have nearly a year of rest before gearing up for a run at their second national championship in program history.
Farinha is currently a Sports staffer on the softball beat. He was previously a reporter on the women's soccer beat.
Farinha is currently a Sports staffer on the softball beat. He was previously a reporter on the women's soccer beat.