UCLA men's basketball wraps up four-game homestand with win over North Florida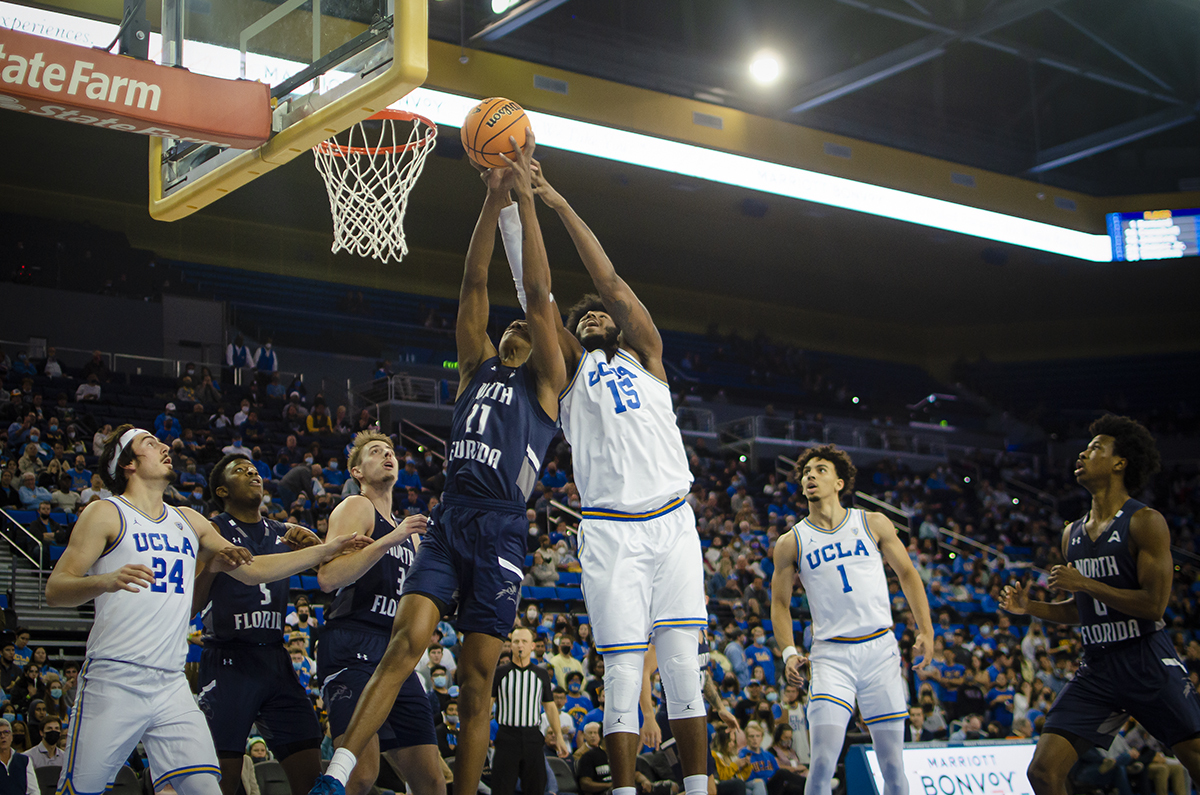 Redshirt senior center Myles Johnson attempts to grab a rebound in No. 2 UCLA men's basketball's victory over North Florida on Wednesday night. Johnson finished with 13 boards – including nine on the offensive glass – to go along with two blocks and two steals in the victory. (Kanishka Mehra/Daily Bruin senior staff)
Men's Basketball
---
| | |
| --- | --- |
| North Florida | 63 |
| No. 2 UCLA | 98 |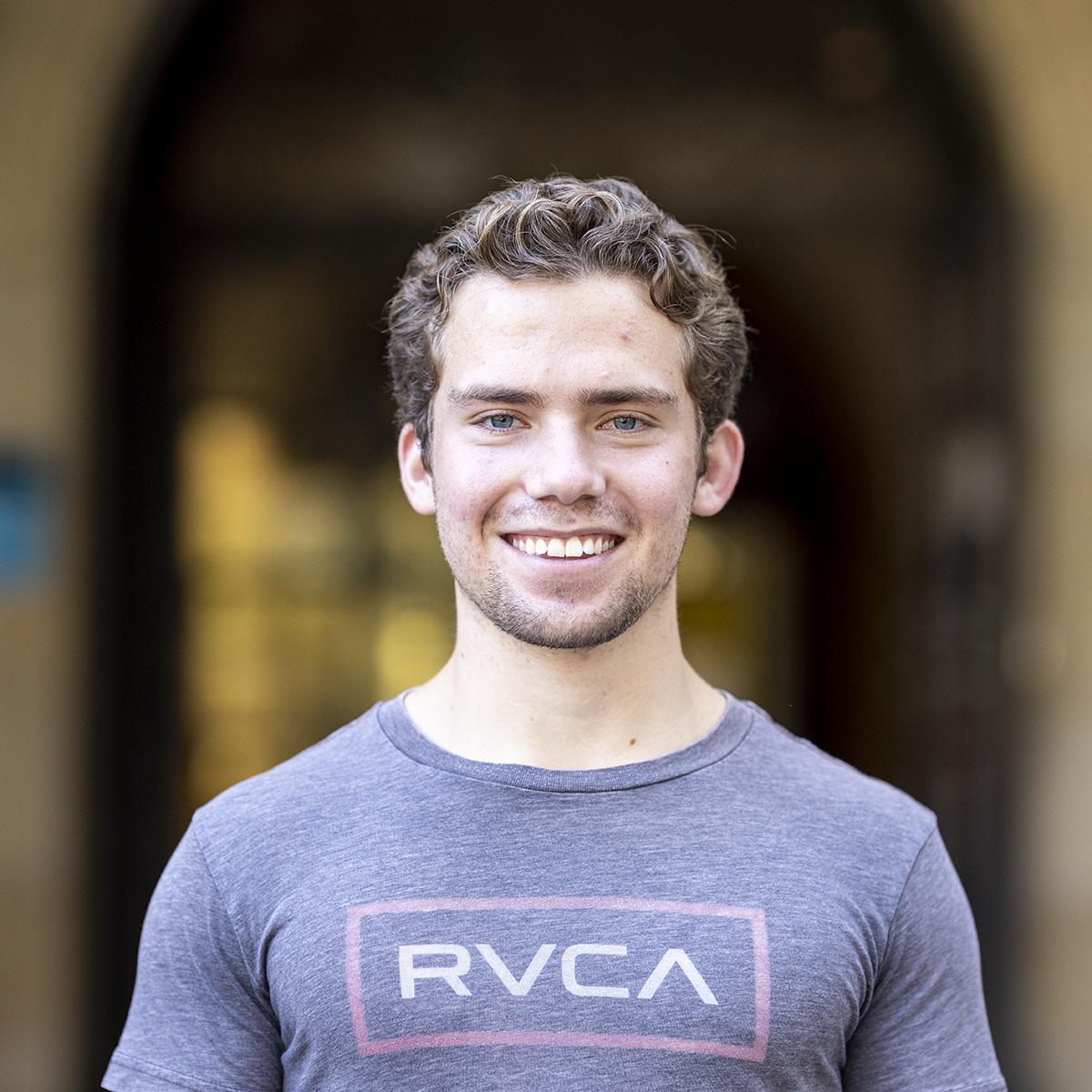 This post was updated Nov. 18 at 12:21 a.m.
Rebounding advantage usually goes to the defense.
But that wasn't the case Wednesday night.
Behind 24 offensive rebounds, No. 2 UCLA men's basketball (4-0) secured a 98-63 win over North Florida (0-5) in Pauley Pavilion. The Bruins finished the game with a 54-24 advantage on the glass over their Sunshine State opponent.
Four of the offensive rebounds came in the first three minutes of the game, including three into the hands of redshirt senior center Myles Johnson. Johnson's third offensive board of the opening minutes was kicked out to redshirt junior guard Tyger Campbell, who cashed in the open 3.
"Coach (Mick) Cronin always emphasizes that I'm always the biggest person out there, and I think today I made that pretty well known," Johnson said. "It definitely helped the team a lot, getting offensive rebounds, kicking it out. I'm surrounded by amazing shooters."
Campbell converted on his first three 3-point attempts in the first half before tacking on another in the second half to finish the game 4-of-4 from three-point range. One year removed from a season in which he shot 25% from beyond the arc, Campbell has opened the 2021-2022 campaign shooting 61.1% from distance.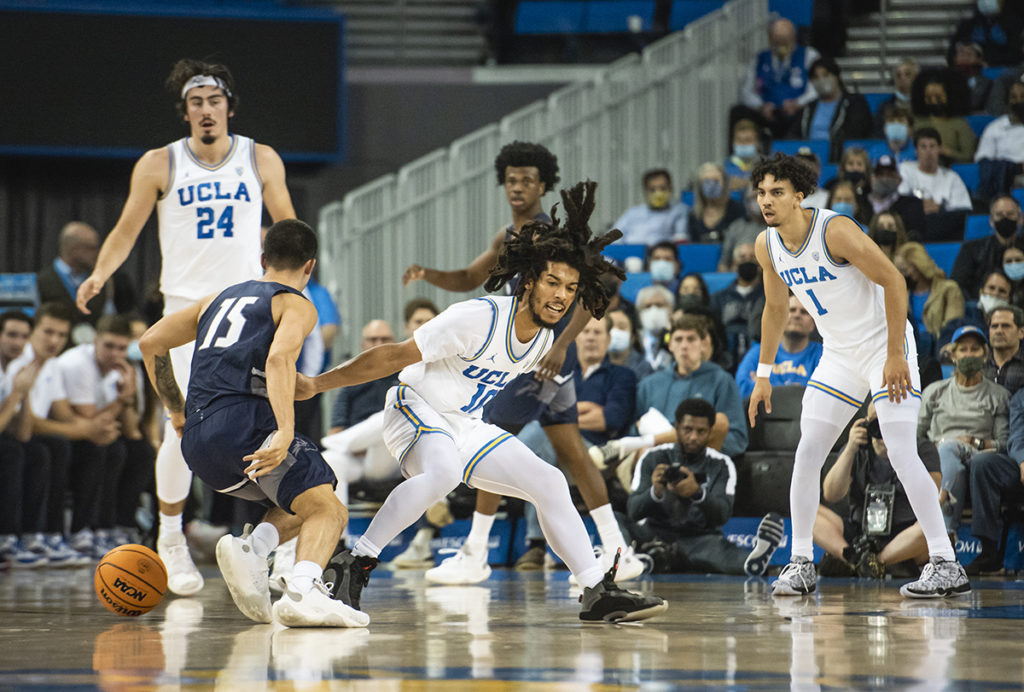 The guard said the early-season shooting success can be attributed to his work in the offseason.
"This summer I just really worked on it," Campbell said. "I worked on my base and holding my follow through and a couple different things, but Coach has just told me he has confidence in me, and he just tells me to go and he doesn't really restrict me at all."
But the Ospreys came out firing too, converting on four of their first seven 3-point attempts. After giving up 79 points to Long Beach State on Monday, UCLA conceded 24 points to North Florida in just over 10 minutes to begin the game.
With the lead up to six coming out of a timeout, Campbell's hot hand drew a bite on a pump fake from an Osprey defender as he put the ball back on the floor, spun past the closing defender and dished a bounce pass to sophomore guard Jaylen Clark that ultimately made its way into the hands of redshirt junior forward/center Kenneth Nwuba, who hammered it home.
Campbell, Clark and Nwuba's connection down low sparked a 15-0 run from the Bruins as junior guard/forward Jaime Jaquez Jr. threw down a two-handed slam on the possession after Nwuba's dunk, following that up with a walk-in 3 in transition to extend the lead to 41-26.
The offensive outburst late in the opening period was capped by a Campbell free throw as the guard finished the half with 10 points, four rebounds and three assists.
"We just looked up and we huddled coming out of that (timeout) and we were just preaching, 'Defense, defense, defense,'" Campbell said. "Our defense led to some offensive opportunities and we're just grateful for that."
With the first 20 minutes coming to a close, Jaquez – who paced the Bruins in the first half with 14 points on 6-of-9 shooting – took on a defender in the paint and finished through contact, giving UCLA a 55-33 lead heading into the break. In the first half, the Bruins finished with 29 rebounds to the Ospreys' 11.
Senior guard David Singleton started the second half in place of junior guard Johnny Juzang, but Juzang was not on the bench for long, subbing back into the game less than four minutes into the half and proceeding to shoot 4-of-5 during his seven-and-a-half-minute stint. With the lead approaching 30, Juzang sat out the rest of the contest, finishing with 17 points in 23 minutes.
With 7:41 to go in the second half, Johnson ripped down his seventh offensive rebound of the game to give UCLA 20 such rebounds and a 40-18 advantage on the glass overall. Minutes later, Johnson pulled down an eight offensive board as he clocked out with a season-high 13 rebounds, nine of which came on the offensive glass.
"It doesn't do (Johnson) any good to be the biggest guy on the floor if you don't play big," Cronin said. "You've got to impose your will and your strength – whatever your strength is, you've got to play to it in life and in basketball. Out there, his size is his strength, so he's got to impose it on his opponents, which I thought he did a better job of tonight."
Singleton punctuated the win with a one-handed jam in the final minute to bring UCLA's lead to 35.
With 11 points off the bench, Singleton was one of five Bruins to finish in double figures on the evening.
"That just says a lot about our team and how unselfish we are," Jaquez said. "It doesn't really matter whose night it is. We're all going to share the ball, we're all going to the shots that we want to get."
Settleman is currently an assistant Sports editor on the gymnastics, women's soccer, women's golf, women's water polo and men's water polo beats. He was previously a contributor on the gymnastics and women's water polo beats.
Settleman is currently an assistant Sports editor on the gymnastics, women's soccer, women's golf, women's water polo and men's water polo beats. He was previously a contributor on the gymnastics and women's water polo beats.