UCLA women's basketball starts off season with win over Pepperdine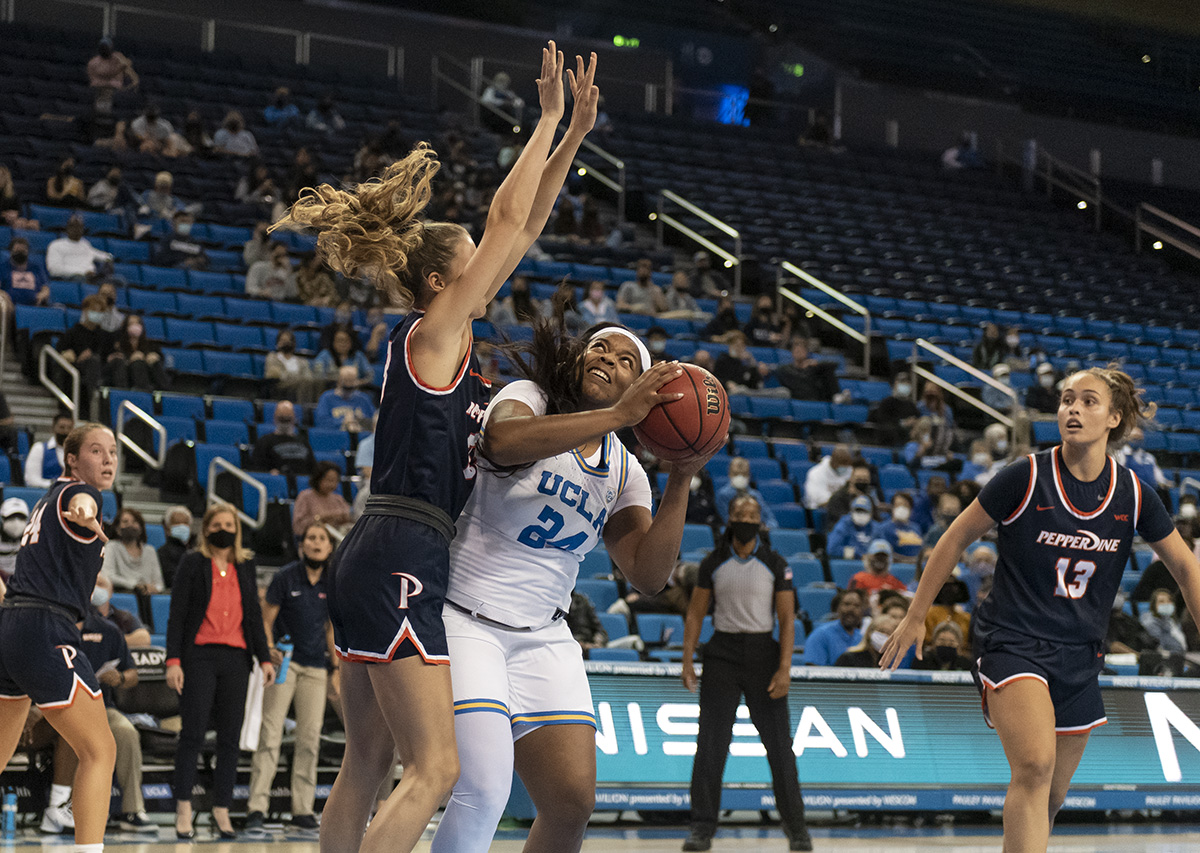 Graduate transfer forward IImar'I Thomas takes on a Pepperdine defender in the paint during No. 20 UCLA women's basketball's season opener. Thomas scored 21 points her debut as a Bruin on Wednesday. (Lauren Man/Daily Bruin senior staff)
Women's basketball
---
| | |
| --- | --- |
| Pepperdine | 69 |
| No. 20 UCLA | 78 |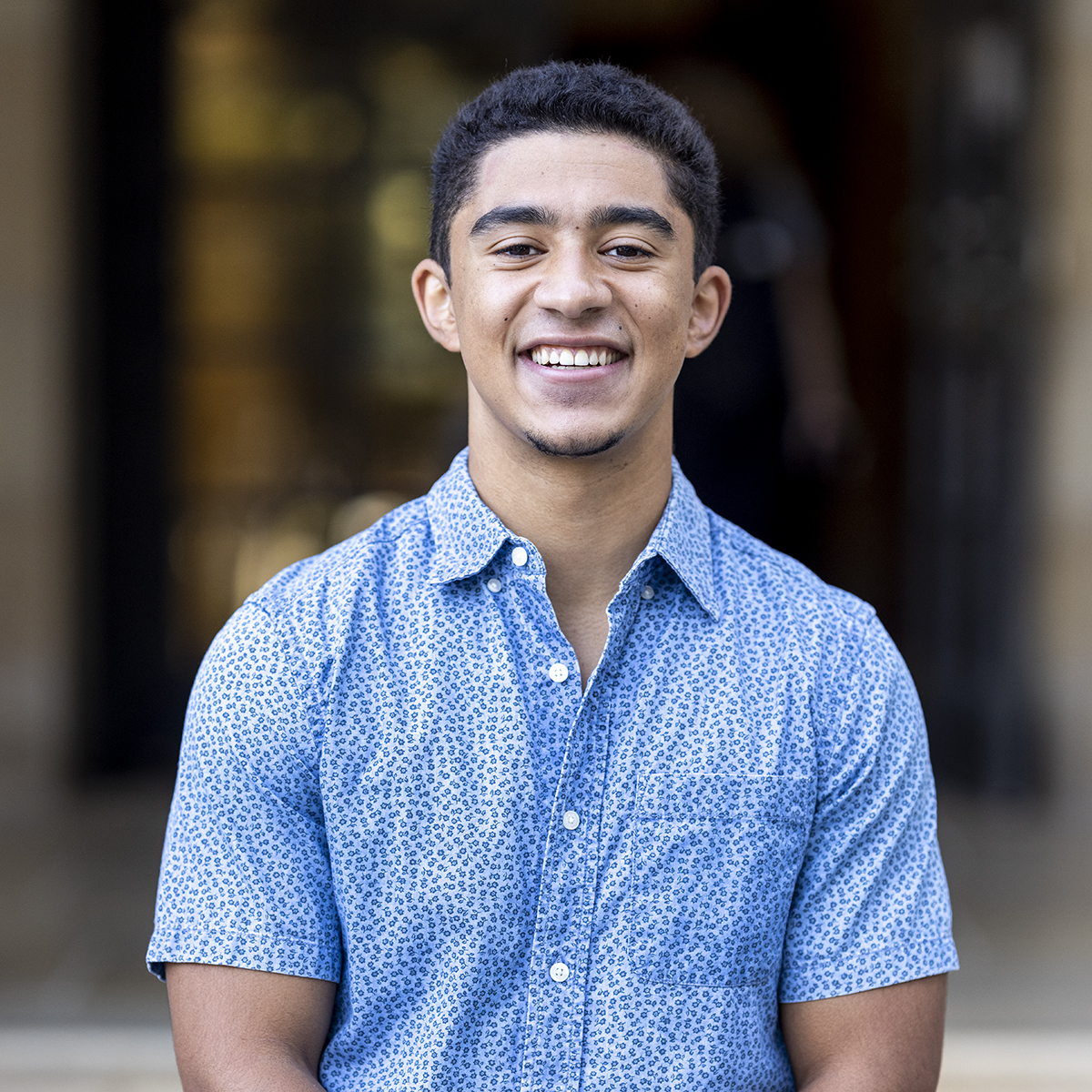 A shorthanded Bruins team opened their season with a victory.
With seven players out because of injury-related reasons, No. 20 UCLA women's basketball (1-0) opened its 2021-2022 season with a 78-69 win over Pepperdine (0-1) at home. Despite seeing the return or addition of eight players who were not with the team last year, the Bruins had just seven active players – a common occurrence throughout last season – available in the team's first game against the Waves since 2013.
Coach Cori Close said she refuses to use either the new players or the injuries as an excuse for what she said was a lackluster performance from her team.
"That was really poor effort on our part," Close said. "We've had a lot of adversity, we have a lot of new faces, I knew that things weren't going to be really smooth and cohesive, … but I can't live with getting beat on attitude, effort and concentration."
Despite forcing six turnovers in their first quarter of the season, the Bruins were outscored 22-15 and allowed six 3-pointers to the Waves by the ninth minute of the game. Pepperdine went on to make six more 3-pointers in the second quarter and finished the first half shooting 13-of-16 from behind the arc.
Graduate transfer forward IImar'I Thomas – who led UCLA with six points in her first quarter as a Bruin to keep the score within seven – said the game result shows her team has lots of room to improve defensively.
"We clearly are going to be a great offensive team," Thomas said. "We took away from this game just how much we need to improve on the defensive end and our effort plays. We know that it needs to happen as soon as possible."
After ranking ninth in the country with 23.7 points per game last season for Cincinnati, Thomas immediately brought her scoring to Westwood with 21 points on the night. She followed her six-point first quarter with 11 more in the second period to help the Bruins even the score at 42 going into halftime.
Close said Thomas kept the team in the game early and praised her potential as an offensive player for the blue and gold.
"(Thomas) is versatile, she can attack off the bounce, and I don't think you've seen even her scratching the surface," Close said. "We're lucky to have her on our team. She had 17 in the first half and definitely kept us in it."
Following a 13-0 run to begin the second quarter, UCLA opened the second half with another 13-0 start to jump out to a 55-42 lead less than four minutes out of the halftime break.
Junior guard Charisma Osborne – who finished with a team-high 24 points – started the run with a 3-pointer and accounted for 10 of UCLA's 18 third-quarter points.
"We needed to get (Osborne) going – it definitely was a conscious effort to try to get her some cleaner shots (in the second half)," Close said. "That's our whole team's job, that's not just (Osborne's) job – it was a really important thing that we got her going in the third quarter."
With 7:11 left to play in the fourth period, Pepperdine guard Ally Stedman connected on her eighth 3-pointer of the game to cut the Bruin lead to just one at 62-61. However, graduate transfer guard Jaelynn Penn responded with nine points in less than four minutes.
Penn began the scoring streak with back-to-back midrange and 3-point baskets before finishing the stretch with a fast break layup and jump shot with 3:27 to play. That score from the Indiana transfer stretched UCLA's lead back to 12 on the back of an 11-0 run.
Osborne said she was proud of her new teammate's first performance for the blue and gold.
"(Penn) plays hard all the time, and she's someone I can definitely trust," Osborne said. "We tell her all the time to score and just look for her shot, and I think she really did that in the fourth quarter – (I'm) proud of how she played."
The Bruins will resume their season at Pauley Pavilion against Cal State Northridge on Thursday.
Carlson is currently a staffer on the women's basketball and softball beats. He was previously a reporter on the men's golf beat.
Carlson is currently a staffer on the women's basketball and softball beats. He was previously a reporter on the men's golf beat.