UCLA men's basketball has full house for 2021-2022 season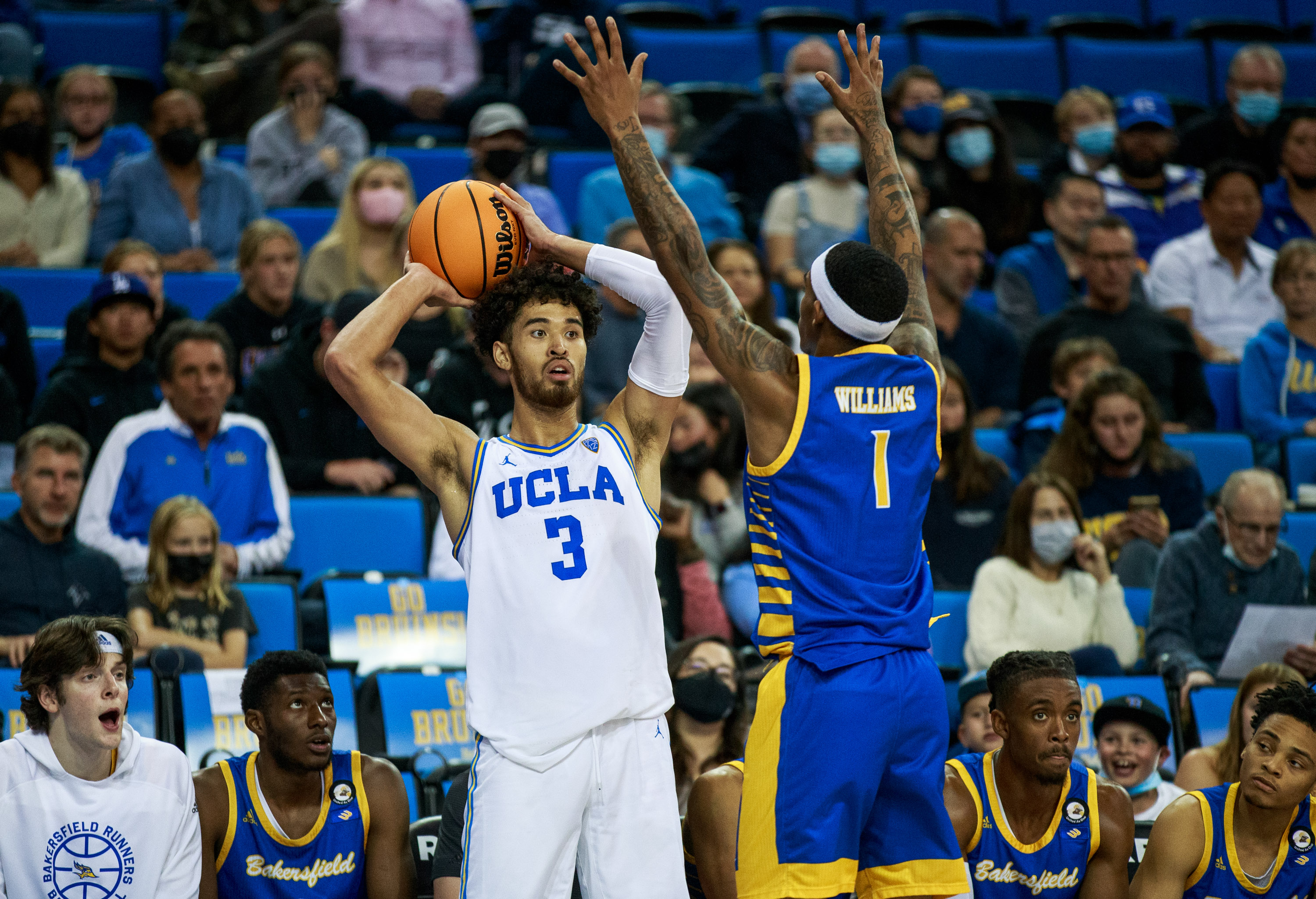 Junior guard Johnny Juzang inbounds the ball against CSU Bakersfield guard Shaun Williams on Tuesday. (David Rimer/Assistant Photo editor)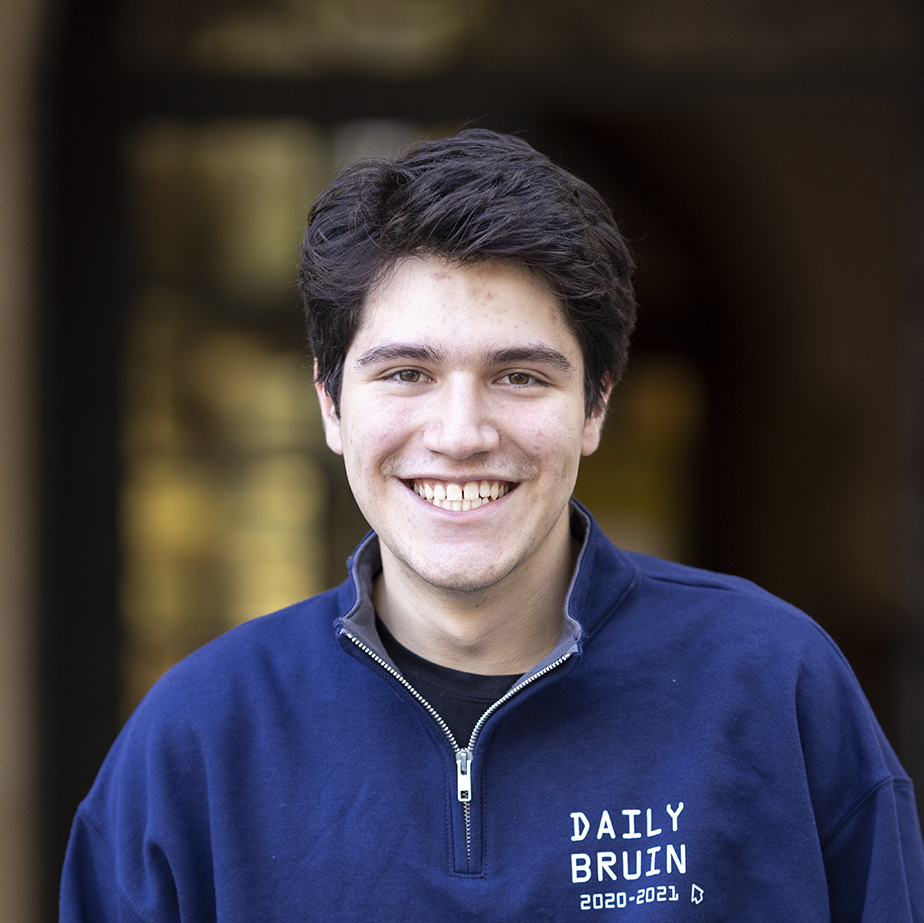 No. 2 UCLA men's basketball returns all 10 rotation players from its Final Four team a year ago, but many questions now surround the 2021-2022 version of the Bruins. What will Johnny Juzang's role look like after his legendary March run? Where can the rest of the veteran mainstays build upon last season's success? How will coach Mick Cronin integrate his two newcomers? Daily Bruin Sports answers these questions and more by looking at the future, predicting what's to come for UCLA's five most intriguing players entering the new season.
Johnny Juzang:
2020-2021 stats:
16.0 PPG
44.1 FG% | 35.3 3PT% | 87.7 FT%
1.6 APG
4.1 RPG
0.8 SPG
Projected 2021-2022 stats:
15.8 PPG
43.2 FG% | 34.2 3P% | 89.7 FT%
2.1 APG
4.1 RPG
1.1 SPG
All eyes will be on Johnny Juzang.
After a Final Four run in which he led the Bruins with 22.8 points per game across six contests, the national spotlight will be back in Westwood with a focus on the junior guard.
Juzang was named to multiple preseason All-American teams and is seen as a trendy preseason pick for Pac-12 Player of the Year. After pacing UCLA in scoring a year ago, the expectation is that the Kentucky transfer will leap into college basketball stardom and lead the Bruins to even more success this season.
But perhaps unfairly, this will raise Juzang's scoring expectations to a level he can't possibly be expected to live up to.
This isn't to say Juzang won't have another standout season donning the blue and gold, as he will still have the ball in his hands at the end of games, and Cronin will rely on him whenever his offense needs a boost.
However, there are only so many points to go around.
UCLA averaged 73.4 points per game a year ago, and since Cronin started at Cincinnati ahead of the 2006-2007 season, his offenses have never put up more than 75 points per contest. Even if this year's Bruin squad marks Cronin's best offensive team in recent memory, Juzang would likely have to score more than a quarter of his team's points on the season to hit the 20 point-per-game plateau.
UCLA's roster will also have more offensive talent than it had a year ago, and so most players will have to sacrifice a little bit for the betterment of the team.
The situation just isn't conducive to Juzang becoming the scoring star the nation wants him to be.
But the junior guard will still have a better season than he did a year ago. He's healthier, has said he is in the best shape of his life and has been working on becoming a more complete player in the offseason after submitting his name for the early NBA Draft process.
Look to see Juzang become more of a playmaker – either by choice or by defenses forcing him to give up the ball – while he increases his focus and energy defensively. His scoring remaining stagnant may be an unwelcome sight to some, but make no mistake, Juzang is still in for a big year in 2021-2022.
Jaime Jaquez Jr.
2020-2021 stats:
12.3 PPG
48.6 FG% | 39.4 3P% | 65.5 FT%
1.7 APG
6.1 RPG
1.2 SPG
Projected 2021-2022 stats:
15.6 PPG
48.8 FG% | 39.5 3P% | 74.9 FT%
1.6 APG
6.7 RPG
1.4 SPG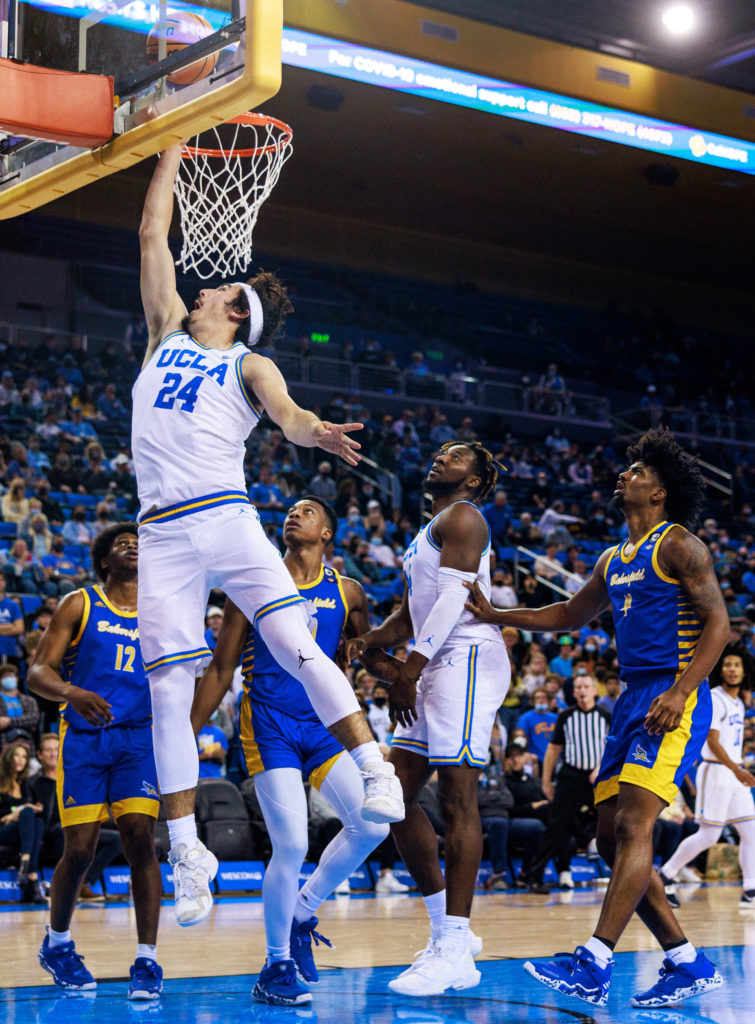 The Robin to Juzang's Batman in the NCAA tournament a year ago, Jaime Jaquez Jr. will be the Bruin to breakout in the scoring column in 2021-2022.
Jaquez did a little bit of everything in his first two years in Westwood, pacing the team in rebounding last season while finishing second in assists after finishing third in each of those categories in his freshman season. The junior guard/forward was UCLA's leader in steals and blocks in 2020-2021 as well.
Given his jack-of-all-trades style of play, it's easy to forget about what Jaquez brings as a scorer.
He finished as UCLA's second-leading total scorer a year ago with 12.3 points per game and put up 8.9 points per contest as a freshman in 2019-2020 – the third-highest mark on the team that season behind former guard Chris Smith and forward/center Jalen Hill.
Most importantly, Jaquez has also been efficient as a Bruin. He shot 48.6% from the field last year – a mark that placed him second in the conference for guards only behind former Oregon Duck Chris Duarte – and 39.4% from beyond the arc, good for 11th in the conference.
Jaquez's rebounding chops and defensive prowess allow him to create easy baskets and give him a relatively-high scoring floor in transition. The only question will be his usage in the halfcourt.
As one of the most experienced players in Cronin's offense, the ball should be in Jaquez's hands more than ever this year. And given his billing as second fiddle, opposing defenses will likely establish their gameplans around stopping Juzang, giving Jaquez the opportunity to feast on opponents' weaker defenders.
But again, the key here will be efficiency. Between his freshman and sophomore years, Jaquez was able to increase his true shooting percentage by two percentage points, while his usage stayed relatively the same. If he can become even a tad more efficient with a larger workload on offense, Jaquez will be able to turn many heads – including those of NBA scouts – while posting a career year on the offensive end.
Tyger Campbell:
2020-2021 stats:
10.4 PPG
42.9 FG% | 25.0 3P% | 77.2 FT%
5.4 APG
2.1 RPG
1.8 TO
Projected 2021-2022 stats:
9.9 PPG
44.5 FG% | 28.3 3P% | 77.1 FT%
5.1 APG
2.0 RPG
1.6 TO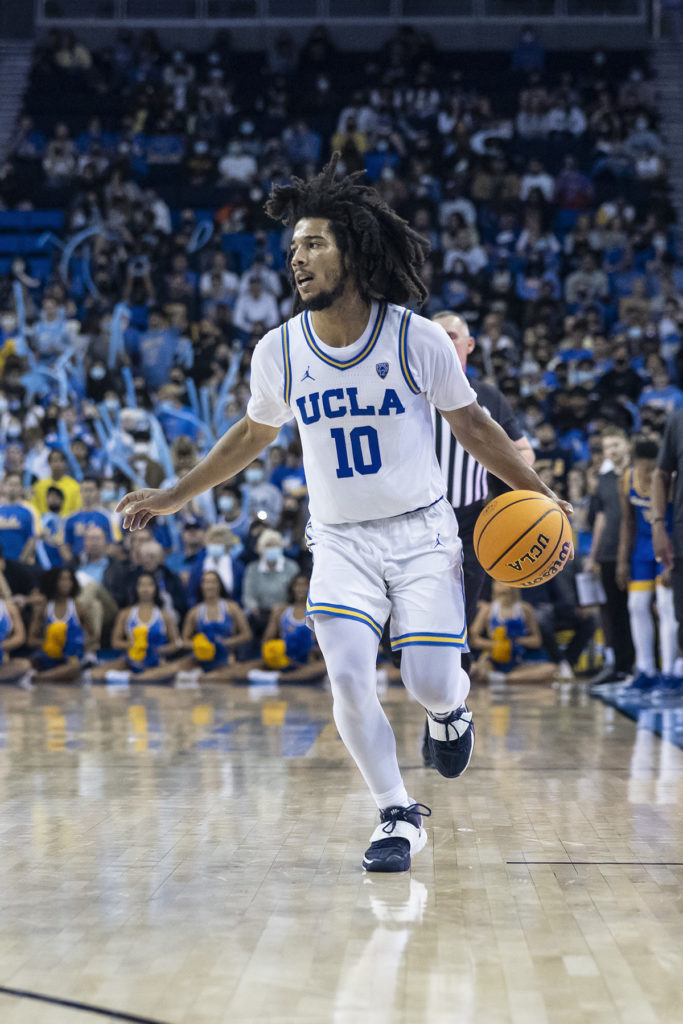 Tyger Campbell has been the model of consistency during his two years in Westwood, so why should we expect anything different in his third go-around?
In both of his active seasons at UCLA, Campbell has played more than 30 minutes per game while averaging nearly five assists, two rebounds and one steal a contest. He has also hovered right around 10 points per game each of the past two years, with the only real difference coming from a more than seven-percentage-point increase in field goal percentage.
The redshirt junior guard will still be the team's facilitator, but Cronin has emphasized that he wants multiple Bruins bringing the ball up the floor this year. The addition of freshman guard/forward Peyton Watson will help Cronin in his goal, as will the increased ball-handling burden on Jaquez, senior guard Jules Bernard and sophomore guard Jaylen Clark.
Because of this, Campbell will likely play more of an off-ball role this year than he has in years past. This could potentially open up driving lanes off the catch for the redshirt junior and give him secondary playmaking opportunities, but the crux of Campbell's offensive responsibility will fall on his jump shot.
Campbell shot just 25% from 3-point range a year ago, and should he cede some of his primary initiation role this season, that number will have to increase for UCLA's offense to run at its fullest potential. With one of redshirt senior forward Cody Riley and redshirt senior center Myles Johnson – neither of which can or should shoot beyond the arc – being on the court most of the time, Campbell's inconsistency from long range will be harder to justify. This is only exacerbated when the team has other players capable of handling the ball and shooting around him.
He's still one of the Bruins' top defensive options at the guard position, and his low turnover numbers will keep him at the front of the rotation, but seeing where his jump shot is early in the season could be an indicator of what's to come in the future.
Peyton Watson:

2020-2021 Stats:
N/A
Projected 2021-2022 stats:
7.8 PPG
48.1 FG% | 29.7 3P% | 69.1 FT%
3.1 APG
6.8 RPG
1.1 BPG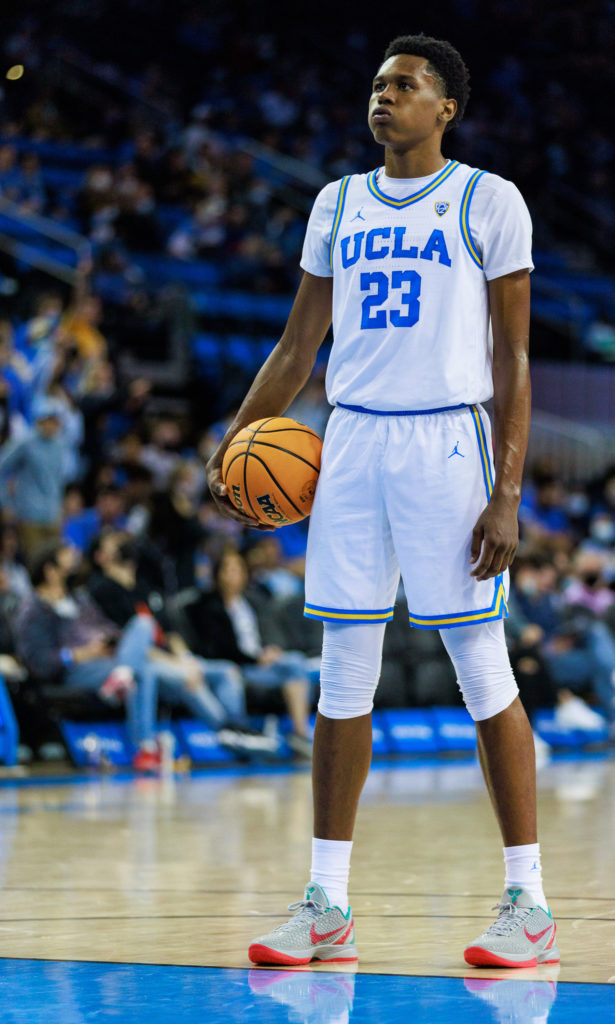 Peyton Watson is the hardest Bruin to project this season.
Not only was the freshman not on the team a year ago, but he didn't even play a true senior season in high school because of the COVID-19 pandemic. This means that the 2021-2022 campaign will be Watson's first full season of organized team basketball in nearly two years.
Cronin has also historically shown a hesitancy to give big minutes to first-year players.
But it's going to be very difficult for Cronin to keep Watson off the floor this season – freshman or not.
Cronin has already raved about the five-star guard/forward's ability to read defenses with the ball in his hands and defend at a high level – two factors that can quickly help Watson gain his coach's trust.
From the get-go, Watson will be tasked with defending the other team's best perimeter player, where his 7-foot-1 wingspan will allow him to tally up defensive counting stats such as deflections, steals and blocks. When the Bruins press, Watson will very likely be the centerpiece of it, terrorizing opposing point guards 90 feet from the basket and forcing turnover after turnover.
The main question on the defensive end arises when Watson isn't guarding the ball. He will be the team's second-best rim protector behind Johnson, and theoretically, coupled with his length and athleticism, that makes him a perfect rover on the backline. But that would involve the guard/forward consistently making advanced reads and rotations, a task that is a little bit too much to ask from Watson in his first year – at least right away.
The other question will be about his offensive role. Watson will have the ball in his hands as the de-facto backup point guard to Campbell, Cronin said. Be prepared for Watson to struggle with turnovers from time to time, but there's a good chance he finishes second on the team in assists.
With his jump shot still a work in progress, Watson's offensive possessions will all be based upon his ability to beat his defender off the dribble and get to the rim. This means the 19-year-old will have to make quick decisions between three main options: dump off to Johnson or Riley under the rim, kick out to one of UCLA's shooters on the perimeter or take it to basket himself.
Perhaps UCLA's most intriguing player this year, Watson's role will almost assuredly expand as the year goes on. By season's end, Watson very well may be the Bruins' most important piece given his versatility on both sides of the floor.
Myles Johnson:
2020-2021 Stats (with Rutgers):
8.0 PPG
62.8 FG% | .000 3P% | 43.5 FT%
8.5 RPG
0.8 APG
2.4 BPG
Projected 2021-2022 stats:
6.8 PPG
65.8 FG% | .000 3P% | 49.1 FT%
6.5 RPG
0.5 APG
1.9 BPG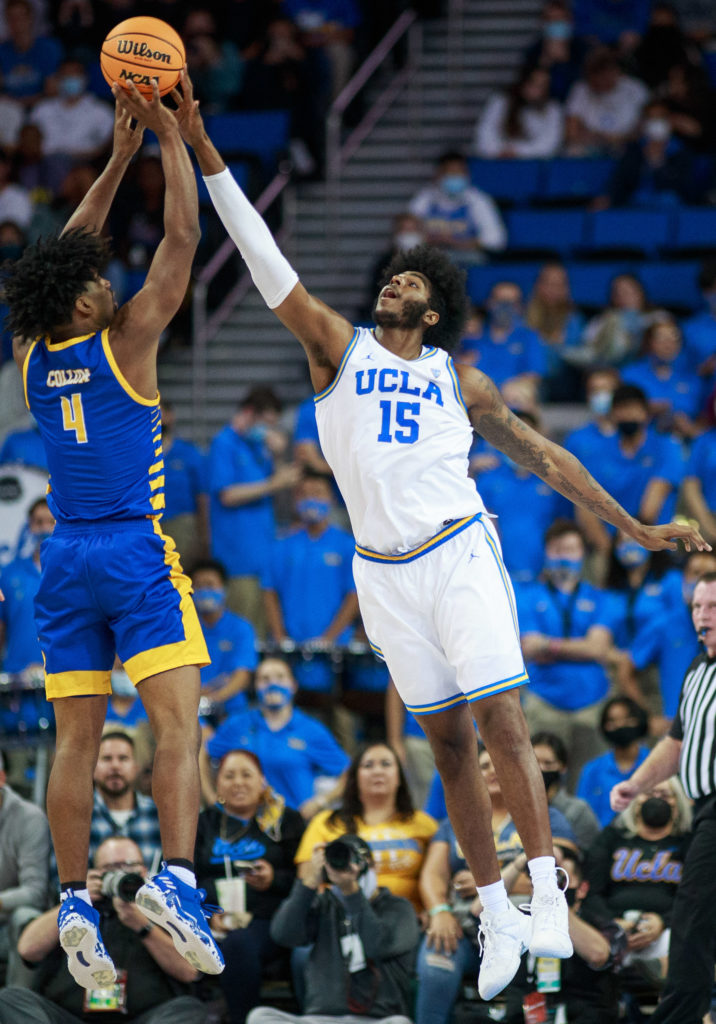 Despite being one of two newcomers on the team, Myles Johnson's role is relatively clear.
The graduate transfer from Rutgers fits the bill of a quintessential Cronin big man: impact defender, rebounder and finisher but limited offensively outside of the paint. While that may ultimately lower his ceiling, Johnson can fit that role better than any center Cronin has had in some time.
This starts with the fact that Johnson is a massive human being. He stands at 6-foot-10, 255 pounds, giving him – along with the 6-foot-10, 255-pound redshirt junior forward/center Kenneth Nwuba – the biggest frame of any player coached by Cronin in his time in Westwood.
Johnson's physical strength allows him to do everything Cronin asks of him at an accelerated level. The third-year coach asks his bigs to screen early and often, and Johnson can certainly do that and more. Though his offensive range begins and ends in the restricted area, Johnson is a plus finisher – meaning opposing defenses will have to respect his rolls to the rim after he sets his screens.
Cronin also likes to throw the ball into the post, and Johnson's size will allow him to carve out space in the paint routinely, either setting himself up for a shot in the key or forcing the defense to collapse onto him and subsequently giving the Bruins space on the perimeter. If a smaller defender switches on to him, Johnson can also back them down with ease.
Johnson's value will be seen the most on defense, however, as the center blocked 2.4 shots per game last season – good for the 19th best mark in the entire country. The center can also finish possessions, as his 8.5 rebounds per game in his senior season ranked sixth in the Big Ten a year ago.
While Riley is surely an above-average defender, his limited size and athleticism constrain his ability to control the paint. Johnson, on the other hand, has the necessary skill set and size to be stationed right under the basket for nearly all of UCLA's defensive possessions. Cronin now will have the option to run more drop-coverage schemes when defending opponents' penetration, something he wasn't able to do given his limited center personnel in his first two years in Westwood.
The Bruins allowed their opponents to shoot just 33.7% from 3-point range a year ago, meaning if they can improve their rim protection with Johnson manning the middle, their defense should become one of the best in the conference.
Johnson won't get the headlines, but he will be a star in his role and will unlock a number of different possibilities for UCLA this season.
Christon is currently the Sports editor and a reporter on the men's basketball and football beats. He was previously an assistant Sports editor on the women's basketball, softball, men's tennis and women's tennis beats and a reporter on the women's basketball and softball beats.
Christon is currently the Sports editor and a reporter on the men's basketball and football beats. He was previously an assistant Sports editor on the women's basketball, softball, men's tennis and women's tennis beats and a reporter on the women's basketball and softball beats.