Scouting report: UCLA football vs. Colorado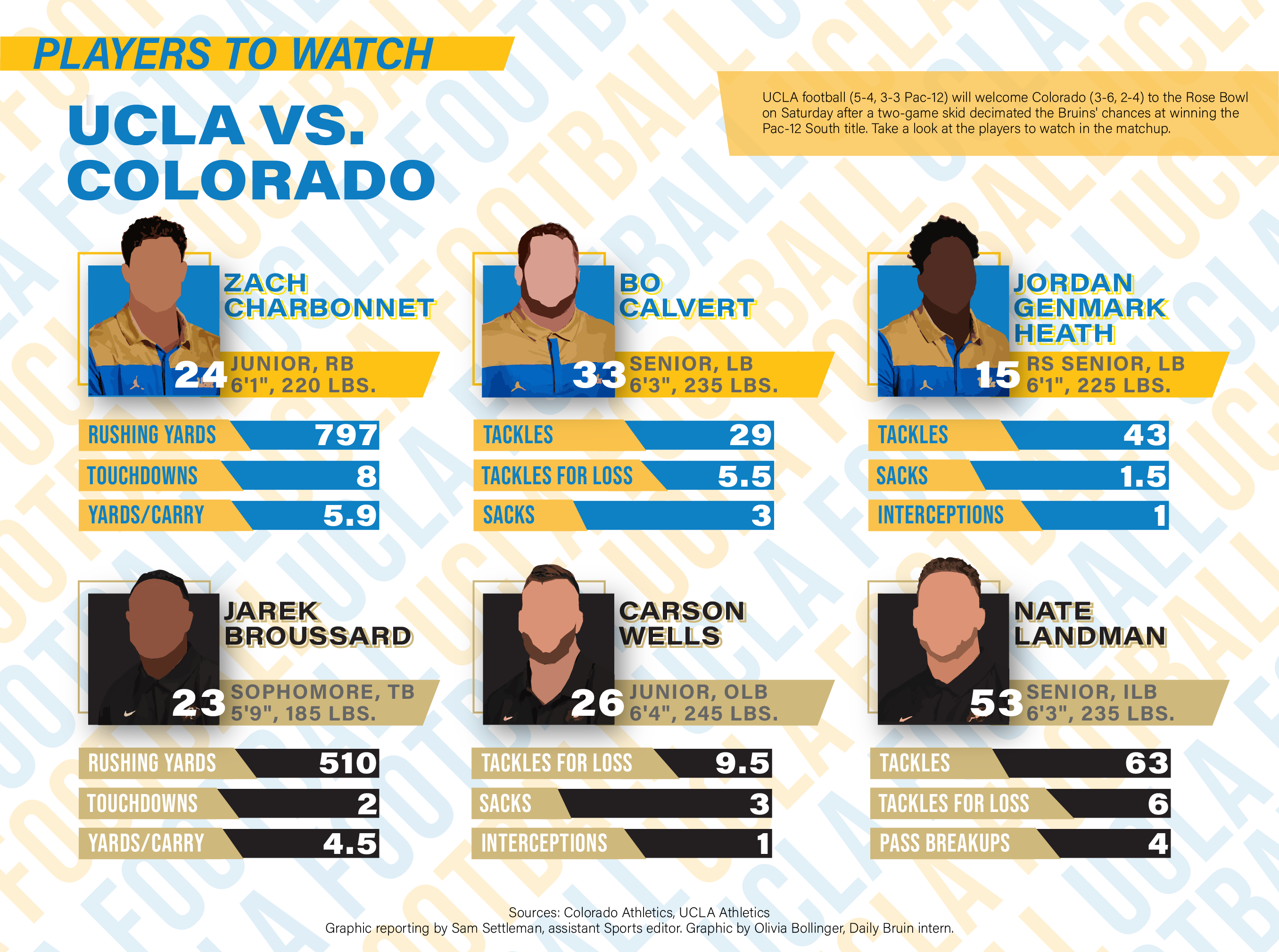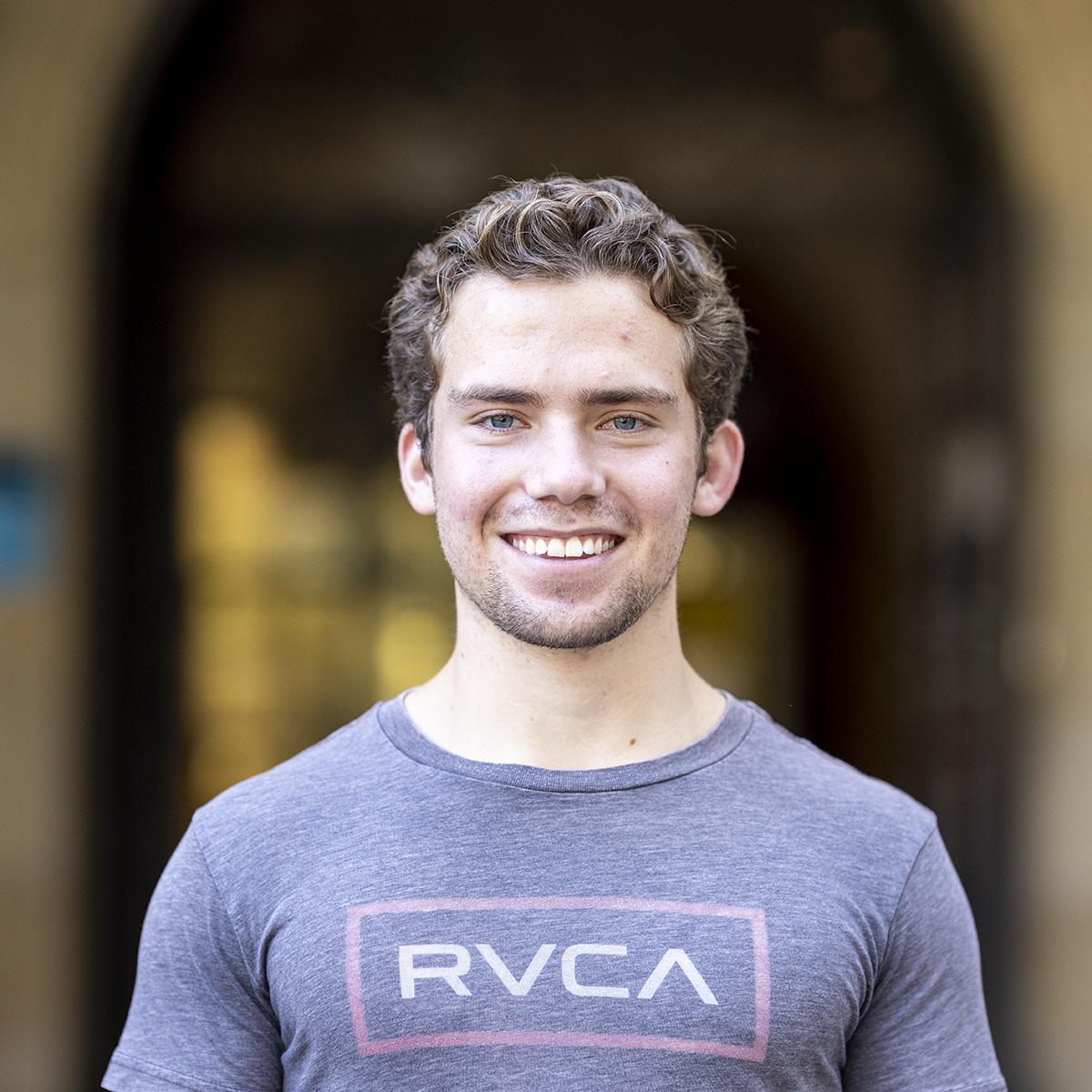 UCLA football (5-4, 3-3 Pac-12) and Colorado (3-6, 2-4) will go head-to-head at the Rose Bowl on Saturday with bowl eligibility on the line for the Bruins for the third contest in a row. Here is this week's scouting report from assistant Sports editor Sam Settleman – who is urging you to spend more time watching UCLA women's soccer instead of UCLA football.
Colorado's offense
Offensive scheme: Pro-style
Run-pass percentage: 63.4% run, 36.6% pass
Strength: Nothing
Weakness: Everything
X-factor: Running back Jarek Broussard
After an impressive win against Oregon State, is it time to put some respect on Colorado's name?
Probably not, but let's entertain the idea for a second anyway.
Running back Jarek Broussard, the reigning Pac-12 Offensive Player of the Year, truly emerged for the first time this season after being limited to 16 carries or fewer in each of the Buffaloes' first eight games. Broussard tallied 24 carries against the Beavers, rushing for 151 yards as Colorado put up a season-high 37 points and took down Oregon State in double overtime behind an all-around efficient performance from the offense.
Putting one anomaly aside, however, this is an atrocious offense – there's really no other way to put it.
Colorado has had a few mediocre showings on the offensive end of the ball, but it has also had more than its fair share of duds. The Buffaloes have scored 14 points or fewer in over half of their games, including getting blanked at home against Minnesota.
Averaging 266.7 yards per game, Colorado ranks last in the Pac-12 in total offense, falling more than 50 yards per game short of the second-worst offense in the conference. Unsurprisingly, that mark also puts the Buffaloes 128th in the nation out of 130 teams.
The offensive incompetence stems from one of the worst passing offenses in the country, led by quarterback Brendon Lewis. A three-star recruit out of high school, Lewis has been thrust into the starting role as a freshman.
Despite having some success as of late out of play action, Lewis is not going to burn anyone through the air, which is a large reason why the Buffaloes run the ball on nearly two-thirds of their snaps.
While Lewis and running back Alex Fontenot get their fair share of carries, Broussard is the primary bell cow for this offense. He's had a down year so far after taking the conference by storm a season ago, but he certainly has had success against the Bruins, gaining 187 yards on the ground and three touchdowns in 2020.
The 5-foot-9, 185-pound running back is built a lot like former UCLA running back Demetric Felton – agility and all – making him one of the hardest backs to stop in the conference. If Broussard gets more opportunities to show his stuff down the stretch this season, he could be an NFL player sooner rather than later.
In sum, Broussard might be the lone Ferrari on a team full of Toyotas.
The sophomore tailback likely won't rush for nearly 200 yards again against a much-improved UCLA run defense. Even if he does, the Bruins shouldn't have too much trouble stopping an otherwise weak offense.
Colorado's defense
Defensive scheme: 3-4
Strength: Linebacking corps
Weakness: Pressure
X-factor: Outside linebacker Carson Wells
With bowl eligibility on the line for the first time ever in the coach Chip Kelly era, it's ironic that the Bruins will have to conquer a team led by coach Karl Dorrell to achieve that feat.
Dorrell spent five years with UCLA as a player before ultimately spending another five seasons with the blue and gold as a head coach. In those 10 years, Dorrell and his squad went to a bowl game every season, a stark contrast to Kelly's current 0-for-3 mark.
While Dorrell was known for his prowess on the offensive side of the ball during his glory days with the Bruins, both as a player and coach, that success hasn't quite translated in Boulder yet. Unfortunately for the Buffaloes, Dorrell hasn't had much success on the other side of the ball either.
Colorado's defense ranks just below average in scoring defense in the Pac-12, allowing 25.7 points per game. The Buffaloes also concede over 400 yards per game, which ranks second to last in the conference and is trending downwards in the absence of their best defensive player.
Nate Landman will be a surefire selection in the NFL Draft and is the leader of Colorado's defense, but the inside linebacker has missed the last two games with an injury. Landman is doubtful to make his return Saturday, which is good news for the Bruins considering opposing offenses have put up 1,043 total yards against the Buffaloes in their last two games.
With Landman out, outside linebacker Carson Wells has taken over as the most disruptive player on Colorado's defense. Wells has made a living in opposing teams' backfields with 9.5 tackles for loss and five quarterback hurries.
But Colorado will need more to have a chance at winning this game. The Buffaloes rank dead last in the Pac-12 with nine sacks in nine games and have only managed to force seven takeaways on the year.
Colorado simply lacks the personnel and talent to make game-changing plays in big moments, which should allow UCLA's offense to go largely uncontested Saturday.
The last time the two teams matched up, UCLA had no trouble generating offense, finishing with nearly 500 total yards in a losing effort as senior quarterback Dorian Thompson-Robinson put up 412 yards of offense by himself.
With Thompson-Robinson likely back after a short hiatus, Saturday should be no different as UCLA will have its best chance in years to finally reach bowl eligibility.
Settleman is currently an assistant Sports editor on the gymnastics, women's soccer, women's golf, women's water polo and men's water polo beats. He was previously a contributor on the gymnastics and women's water polo beats.
Settleman is currently an assistant Sports editor on the gymnastics, women's soccer, women's golf, women's water polo and men's water polo beats. He was previously a contributor on the gymnastics and women's water polo beats.