Campaign for national title kicks off between UCLA women's soccer and UC Irvine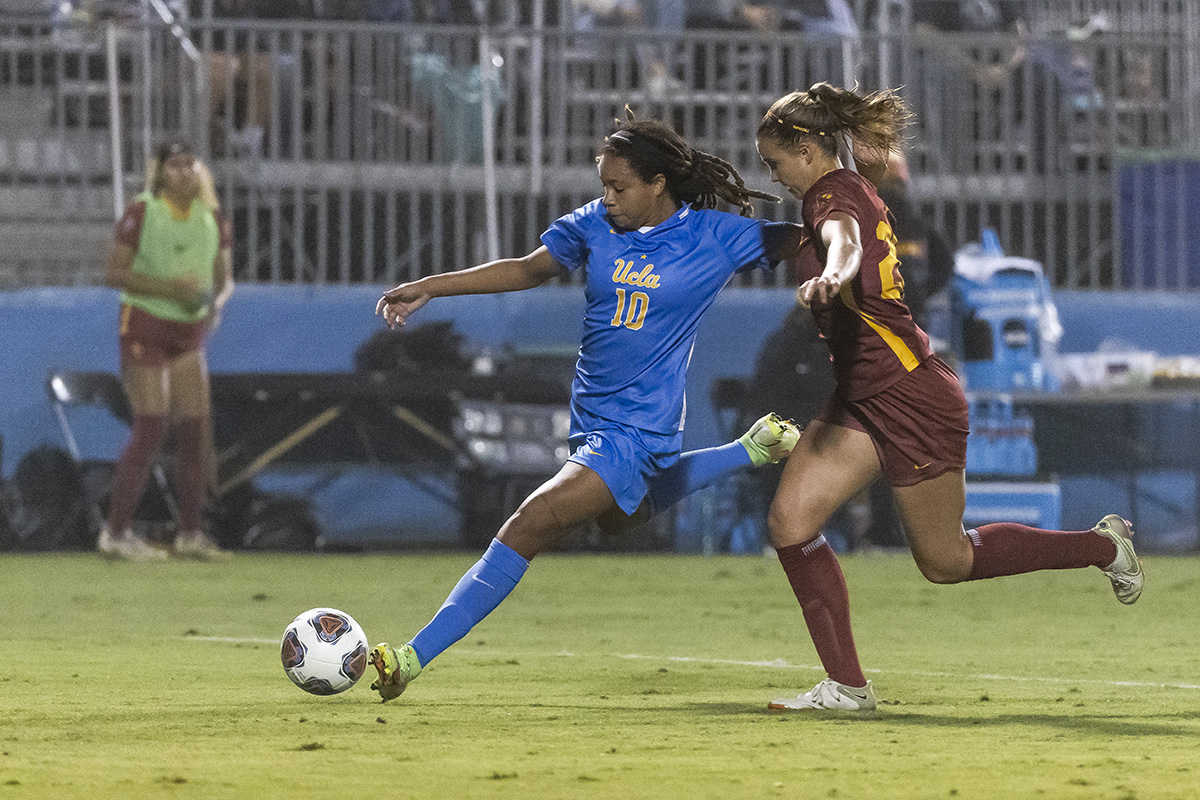 Junior forward Mia Fishel scored a goal in UCLA women's soccer's season-opening win over UC Irvine in August. The No. 2-seeded Bruins will match up with the Anteaters once more in the first round of the NCAA tournament. (David Rimer/Assistant Photo editor)
Women's Soccer
---
UC Irvine
Friday, 6 p.m.
Wallis Annenberg Stadium
Pac-12 Insider
The Bruins' quest to the national title will commence against a familiar foe.
No. 2 seed UCLA women's soccer (16-0-3, 8-0-3 Pac-12) will face off against UC Irvine (15-5, 8-2 Big West) in the first round of the NCAA tournament Friday at Wallis Annenberg Stadium. The Bruins previously faced the Anteaters in August to open their season in a game that saw the blue and gold walk away with a 3-1 victory.
Despite the previous win over UC Irvine, junior forward Mia Fishel – set to play in her last NCAA tournament before turning pro – said UCLA is not underestimating the Big West champions.
"They just won their conference, so they're going to have confidence," Fishel said. "It's an advantage for them that they have played us so many times throughout the years."
The Bruins will have a leg up in postseason experience, as UCLA will have nine starters who have played in the NCAA tournament compared to zero from UC Irvine.
Coach Amanda Cromwell said it is great to have a group of experienced veterans that can help guide the freshmen.
"It's great for your veterans to lead the way in the postseason and just have them show the way with that excitement," Cromwell said. "Everyone knows (Friday) what is on the line and you got to keep winning. The whole team chemistry has been great and they'll keep that same kind of energy we had against (USC)."
UC Irvine is entering the game riding a six-game winning streak and its first Big West title since 1997, having only conceded one goal throughout the six-game stretch. UCLA, on the other hand, is fresh off a 3-1 defeat of crosstown rival USC to earn a conference title of its own.
Fishel said if the Bruins can replicate what they did against the Trojans, not only will they take care of the Anteaters on Friday, but they will have a deep tournament run in store as well.
"When we win our 1v1 battles, we are going to win and be successful," Fishel said. "If everyone does their job and follows the game plan and does what we're supposed to do defensively and on set pieces, we have the capability of capitalizing on all the opportunities and every moment that we have."
After allowing a goal to UC Irvine on opening day, UCLA proceeded to go on an eight-game shutout streak – its longest since 2014. However, since the end of the shutout streak, the Bruins have given up one goal per game.
Freshman defender Lilly Reale, the latest recipient of the Pac-12 Defender of the Week award, said in order for the defense to slow down the Anteaters, it needs to maintain strong communication.
"As a backline, we just need to stay organized and keep doing what we have been doing," Reale said. "We know they have really good players on offense and (we'll) just try and shut them down as much as we did against USC. That's what is going to help us keep the shutout which is something we value as a team."
With the COVID-19 pandemic delaying the 2020 season to a spring start, UCLA will be playing its second NCAA tournament in seven months. The Bruins have played a combined 36 games in the 2021 calendar year.
Cromwell said she will try and keep players as fresh as possible for the tournament, with UCLA's depth set to play a significant role.
"(We need to) score early and often to get players off the field when we can, and rely on our depth," Cromwell said. "Our depth is one of our strengths and we really got to rely on it."
UCLA will open its 2021 NCAA tournament Friday evening against UC Irvine at 6 p.m. at Wallis Annenberg Stadium.
Fenn is currently a Sports staffer on the baseball beat. He was previously a reporter on the women's soccer beat and a contributor on the beach volleyball and men's and women's golf beats.
Fenn is currently a Sports staffer on the baseball beat. He was previously a reporter on the women's soccer beat and a contributor on the beach volleyball and men's and women's golf beats.