Women's tennis wraps up fall preseason schedule, looks ahead to regular season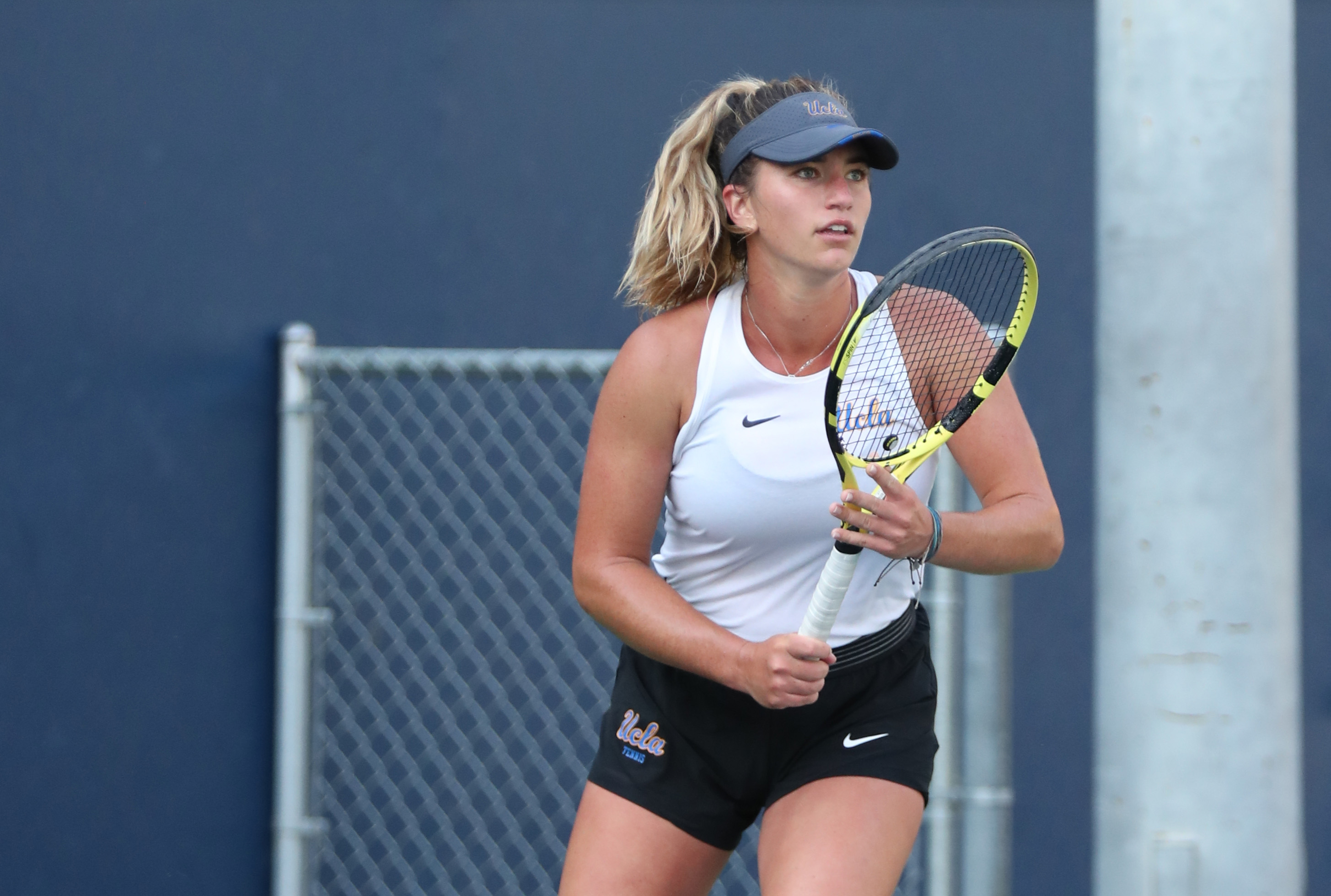 UCLA women's tennis freshman Kimmi Hance readies to hit the ball. Hance collected three wins at the Jack Kramer Fall Invitational in California over the weekend. (Courtesy of Jesus Ramirez/UCLA Athletics)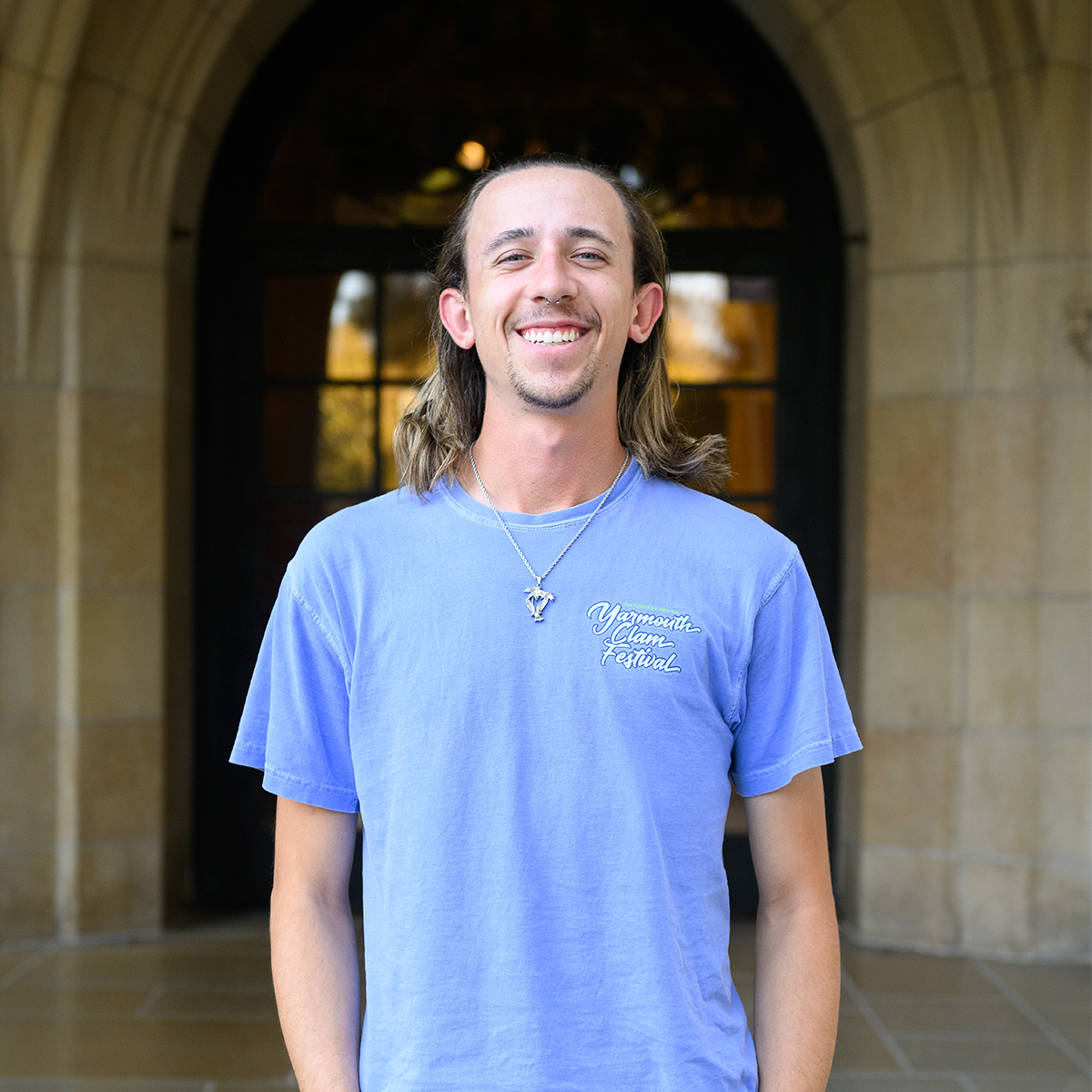 Two contingencies were in action for the Bruins' fall finale.
UCLA women's tennis sent three players to the ITA National Fall Championships in San Diego and another four to the Jack Kramer Fall Invitational in Rolling Hills Estates, California. The two events over the weekend were the last of the blue and gold's fall tournament schedule before it commences the regular season at ITA Kickoff Weekend in January.
At the fall championships, junior Abbey Forbes was the Bruins' sole representative in singles play. Boasting a career-high No. 2 Oracle/ITA singles ranking, Forbes offered up two bagels to her round of 32 opponent, No. 114 Karine-Marion Job, in a 6-0, 6-0 triumph. This proved to be her last and only win of the tournament, as No. 57 Mariia Kozyreva of St. Mary's handed the junior a 6-7, 6-4, 3-6 exit. Although noting that more research on Kozyreva would've been beneficial, Forbes said she already has her eyes on the next time she matches up against the Gael player.
"I probably would've done a little more research going in, but I'm proud of myself for giving my best effort. I always go to matches with one hundred percent," Forbes said. "I know for sure the next time I see her, I'll be back fitter and better."
Fresh off their doubles title at the ITA Southwest Regional Championships, sophomore Vanessa Ong and freshman Elise Wagle teamed up on the doubles front for UCLA. The underclassmen tandem had never played a doubles match together before the regional championships, but rattled off five consecutive wins to earn a seed at the fall championships.
Ong and Wagle's winning ways continued in the first set against Princeton's Daria Frayman and Grace Joyce, but they were ultimately unable to stay hot in San Diego. The two Bruins suffered their first loss as a partnership via a 6-3, 5-7, 0-1 (7-10) decision in their opening matchup.
"If you drop your level just a bit, these teams are going to take advantage because you're playing against the best teams in the country," said coach Stella Sampras Webster. "It was a great learning experience just to see they're right in there with the top players in the country, just learning that you have to be able to maintain that high level."
Among those taking the court for UCLA at the Jack Kramer Fall Invitational, freshman Kimmi Hance had the highest finish of any Bruin. Hance posted three wins, the most of any UCLA player at either the fall championships or the invitational.
Two of her victories came in doubles play with junior Sasha Vagramov, beginning with an 8-4 conquest of Cal Poly's Kim Bhunu and Melissa LaMette in the round of 16. The duo followed up their performance with an 8-2 victory in the quarterfinals over Pang Jittakoat and Carolina Piferi of Fresno State.
Hance and Vagramov then found themselves in a bout against Pepperdine's Savannah Broadus and Shiori Fukuda, but fell 8-5 to the pair of Waves, one win short of the final.
"(Hance is) a champ. She's an elite athlete and she pushes herself to do things that are tough," Sampras Webster said. "I'm so glad that she wasn't afraid to go out and play again after a tough match the Friday before."
Hance said she was grateful for match opportunities and felt that her level of play progressively increased throughout the fall.
"I'm feeling pretty good. Honestly, I was just happy to go and get a lot of matches in," Hance said. "The hardest thing to do in the fall is trying to get many matches in, and I feel like after each match I was playing a little bit better."
While UCLA's regular season schedule and lineup have yet to be determined, Sampras Webster said the team has displayed drive and ambition in the preseason.
"What we've seen so far is that this team is hungry," Sampras Webster said. "We definitely have not reached our peak. We have a lot of tennis to play, and I think they're really enjoying the Bruin way and what we're doing with our athletes."
Forbes echoed the coach's sentiments, saying the trio of freshmen this year reflect the team's overall mentality.
"Our freshmen, though nobody knows them yet, they're very hungry and they have the grit and drive and determination that you need on a college team," Forbes said. "Our entire team has it."
Nelson is currently an assistant Sports editor on the softball, men's tennis and women's tennis beats. He was previously a contributor on the men's tennis and women's tennis beats.
Nelson is currently an assistant Sports editor on the softball, men's tennis and women's tennis beats. He was previously a contributor on the men's tennis and women's tennis beats.