Scouting report: UCLA men's basketball vs. Villanova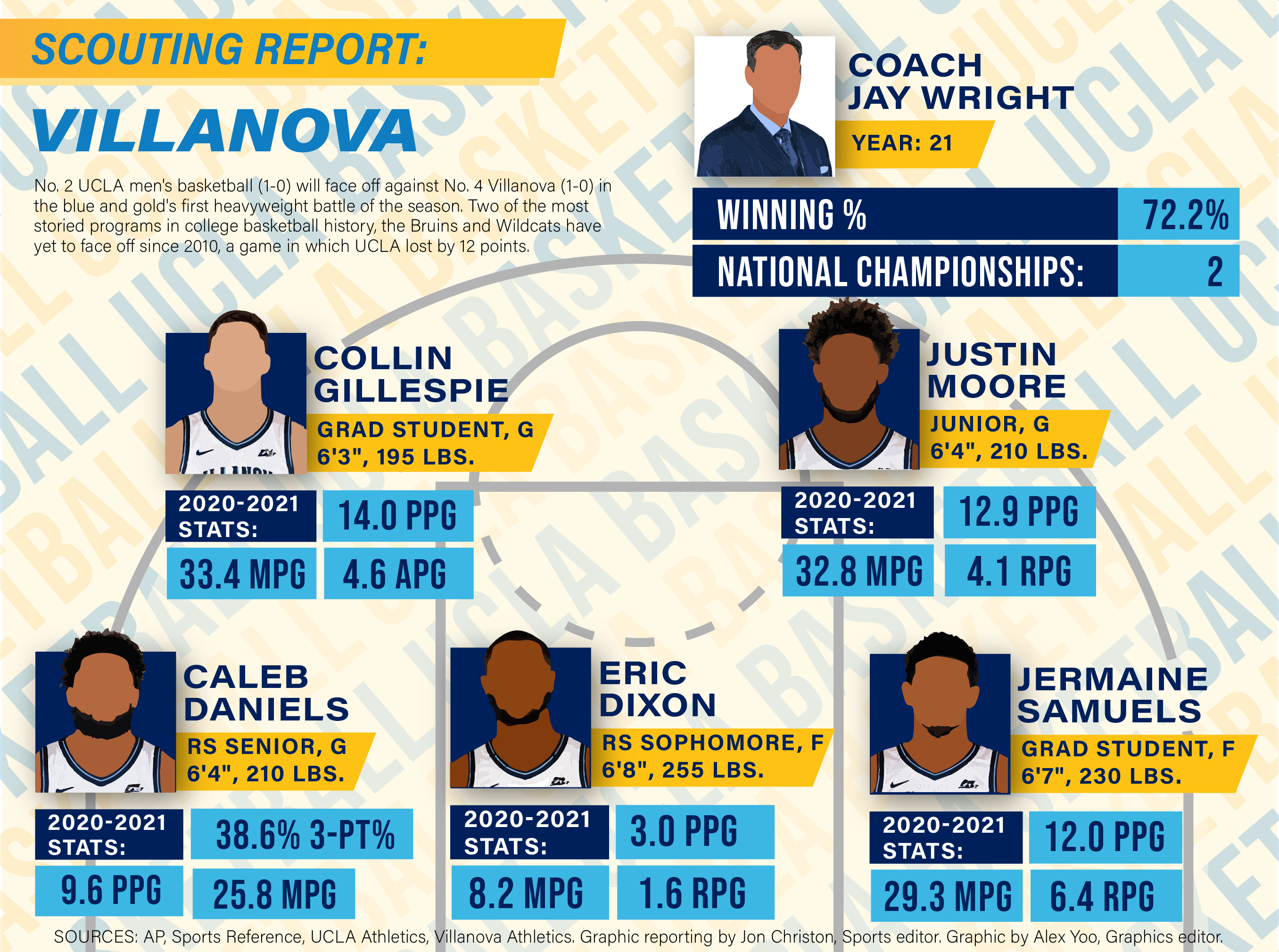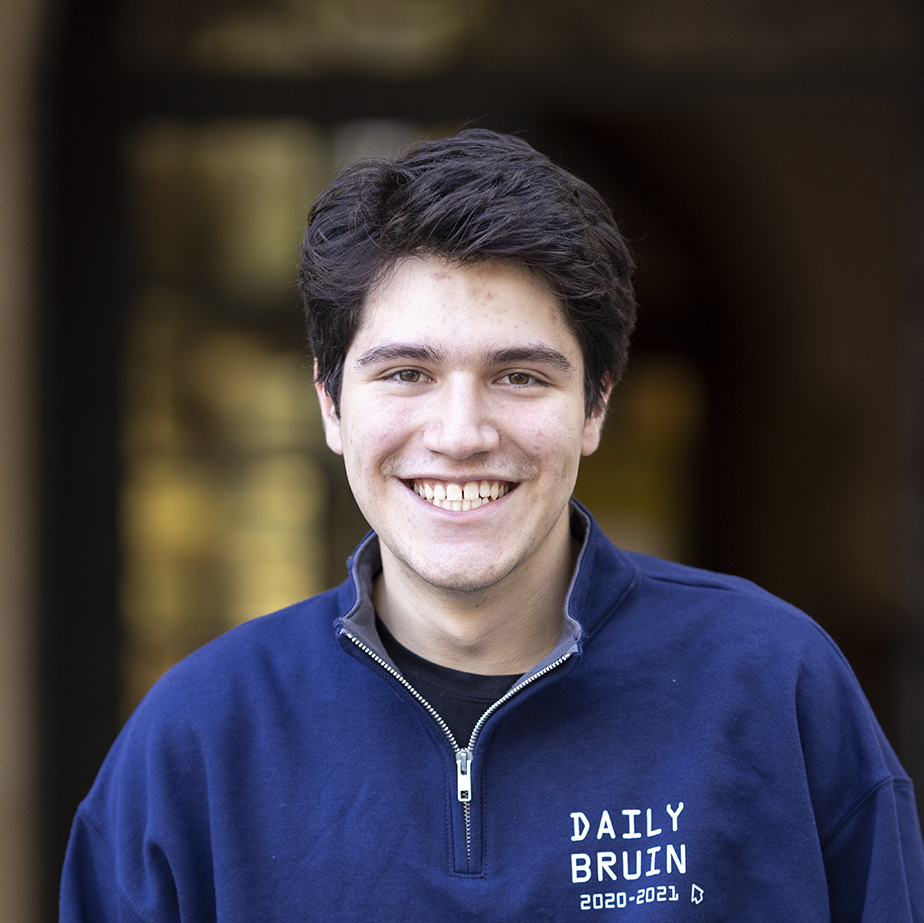 No. 2 UCLA men's basketball (1-0) will take on No. 4 Villanova (1-0) in one of the premier college basketball matchups this season. While the Wildcats have three all-time national championships compared to the Bruins' 11, Villanova has been one of the most prestigious NCAA programs of the past decade, picking up two of its three titles in the last six seasons. Here is the first men's basketball scouting report of the season from Sports editor Jon Christon – who is tired after writing nearly 5,000 words about basketball in the past 24 hours and change.
Personnel:
Coach: Jay Wright
Starting Lineup: G Collin Gillespie, G Justin Moore, F Jermaine Samuels, F Brandon Slater, F Eric Dixon
Best Player: G Collin Gillespie
X-Factor: G Justin Moore
From Kyle Lowry to Ryan Arcidiacono to Jalen Brunson, Villanova coach Jay Wright has always had an experienced point guard that runs the show.
This season is no different.
Guard Collin Gillespie has been with the Wildcats for four years already, opting to return for a fifth season this year with his extra year of eligibility granted because of the COVID-19 pandemic. After starting just one game in his freshman campaign in 2017-2018, Gillespie has started every game he has played since then, totaling 86 in that time period.
In his first three years as a starter, Gillespie averaged 13.1 points per game while dishing out nearly four assists across 32.1 minutes per contest. After turning the ball over 100 times between his sophomore and junior seasons, Gillespie bounced back with a 2.9 assist-to-turnover ratio in 2020-2021, good for 17th in the country – two spots below UCLA redshirt junior guard Tyger Campbell.
Gillespie is by far the most important piece of this lethal Villanova offense, a unit that averaged 77 points per game a year ago with the guard at the helm but only 66.2 in five games without him.
A torn MCL kept him out of those final five games a year ago – a stretch in which Villanova finished 2-3 – but Gillespie is fully recovered from his injury and is back in the Wildcats' starting five, playing 31 minutes and posting 13 points and five assists in Villanova's season-opening win over Mount St. Mary's on Tuesday.
While Campbell will likely take the bulk of the Gillespie assignment Friday, the possibility remains that coach Mick Cronin will stick lengthier freshman guard/forward Peyton Watson or junior guard/forward Jaime Jaquez Jr. on the Villanova guard from time to time to speed up his decision-making process and ensure the ball stays out of his hands after he gives it up.
However, even if the Bruins are successful in that strategy and force the rock away from Villanova's stalwart point guard, the Wildcats have more than enough alternate backcourt weapons to make the home team pay.
Guard Justin Moore – Villanova's third-leading scorer a year ago – is coming off a career-high 27 points in the Wildcats' opener after going 6-of-8 from the 3-point line. Guards Caleb Daniels and Chris Arcidiacono also provide backcourt depth for Villanova, while wings like Jermaine Samuels and Brandon Slater likewise have the ability to supplement some ballhandling and playmaking duties.
But for all their depth at the guard and wing positions, the Wildcats will have a sizable disadvantage down low.
Villanova does not carry a single player over 6 foot, 9 inches tall on its roster, with 6-foot-8 forward Eric Dixon marking the tallest player in its starting five. The Wildcats faced a similar predicament a year ago, and they finished the season 235th in the nation in defensive rebounding and tied for 295th in blocked shots. To put it in perspective, redshirt senior center Myles Johnson blocked 21 more shots a year ago than the entire Villanova team.
UCLA, which often played small a year ago, will have the size advantage for the first time in recent memory, and it will be crucial that it capitalizes on the opportunity.
If the Bruins are to win this game, they will have to start in the paint. Expect UCLA to try and get to the rim by any means necessary, whether it be through transition, half-court drives, straight post touches or on the offensive glass.
Offensive Stat Profile:
2020-2021 KenPom ranking: 12
2020-2021 Adjusted offensive rating: 119.0 (6th)
2020-2021 Adjusted tempo: 64.2 (336th)
There aren't many other college basketball teams with a better statistical profile over the last half a decade than Villanova.
Since the 2015-2016 campaign, the Wildcats' offense has ranked in the top 20 every season in KenPom's adjusted offensive efficiency, which tracks points scored per 100 possessions. This includes Villanova's top spot in 2018, the year in which it took home its second national championship in a three-year stretch.
Wright utilizes one of the most modern and professional offenses in all of college basketball.
Like most NBA teams, Villanova has completely changed its shot chart in the past few years. In their first 12 seasons with Wright at the helm, just once did the Wildcats shoot more than 21.6 3s per game across an entire campaign.
However, in the last eight seasons under Wright, Villanova has taken more than 23 3-pointers per game every season – including 30 per game in 2018-2019 – while often ranking in the top 30 nationally in the same category.
The Wildcats have been undoubtedly effective in making this stylistic shift, ranking in the top 15 in effective field goal percentage – a stat that weighs 3-pointers more heavily than 2s – four times since the 2014-2015 season after having never previously cracked that mark under Wright.
Also like a modern NBA offense, Villanova plays at its own pace. It turns the game into a possession-by-possession battle, never ranking better than 80th in adjusted tempo in any season since 2013.
This means the Wildcats beat their opponents through isolation, where guards like Gillespie, Brunson and Ryan Arcidiacono have had the opportunity to slow the game down to a halt, break down their defender one-on-one and kick out to an open shooter on the perimeter.
Theoretically, UCLA does have the perimeter defenders to stifle this half-court Villanova attack. However, in their first official game of the season against CSU Bakersfield, the Bruins showed a few worrying signs in this regard.
Without redshirt senior forward Cody Riley for most of the game, Johnson and redshirt junior Kenneth Nwuba were tasked with center duties. When defending the pick and roll, both Johnson and Nwuba attempted to emulate Riley and play up on the ballhandler, oftentimes leaving them defending guards out on an island on the perimeter.
They got away with it because of the caliber of the opponent, but if Cronin and UCLA attempt that strategy against Villanova, they will play directly into the visiting team's hand.
Defensive Stat Profile:
Half court: Extended matchup 2-3 zone
Wrinkles: 1-2-2 trap
PnR defense: Hard hedge and recover
Adjusted defensive rating: 96.0 (66th)
If there's one word to describe what Wright likes to do defensively, it's "pressure."
The Wildcats aren't like a Bob Huggins-coached team that utilizes a full-court press, but they definitely make their opponent sweat.
Villanova starts its defense in a matchup 2-3 zone in the half court that extends far beyond the 3-point line. If an opposing player has the ball anywhere in the vicinity of 35 feet from the basket, you'd better believe he will be checked by a Wildcat defender.
While small, the Wildcats use their mobility and defensive versatility to their advantage. If opponents try to screen a Wildcat defender off of them, Villanova will respond by sending a hard hedge from the screener's man while the ballhandler's defender goes over the top of the screen. This puts two defenders on the ball – one in front and one behind – forcing the ballhandler to make a quick decision while pressured from both directions.
Villanova employs many mobile bigs, and although they aren't the best rim-protectors, they can move their feet and won't be left out to dry if they are forced to defend a guard for a few seconds each possession. They are also mobile enough to quickly recover after flashing at the ballhandler, giving their opponents mere seconds to make the right read and making a pass to the post all but impossible.
This is just in the half court, however, as after made baskets, the Wildcats extend their pressure a little further. Wright uses a 1-2-2, three-quarters court trap that again forces opponents to prematurely get the ball out of their hands.
Just as Villanova doesn't have anyone over 6-foot-9, it also doesn't have a player shorter than 6-foot-3 on the roster, meaning the Wildcats don't have a weak link in this press. Although it isn't big vertically, Villanova will stretch you out horizontally while getting in passing lanes and forcing bad decisions.
This is where the Bruins' experience will come into play. UCLA has a seasoned point guard who excels at making the right decisions and limiting turnovers in Campbell, while most of its other upperclassmen players have experience facing off against similar defensive schemes.
Overall, the Bruins should have the means to handle the Wildcats' defensive pressure bringing the ball up the floor, but watch for Villanova's half-court defense to give UCLA – a team that struggles with ball movement from time to time – fits throughout the game.
Christon is currently a Sports senior staff writer. He was previously the Sports editor on the men's basketball and football beats and the assistant Sports editor on the women's basketball, softball, men's tennis and women's tennis beats. Christon was previously a contributor on the women's basketball and softball beats.
Christon is currently a Sports senior staff writer. He was previously the Sports editor on the men's basketball and football beats and the assistant Sports editor on the women's basketball, softball, men's tennis and women's tennis beats. Christon was previously a contributor on the women's basketball and softball beats.