Former professional surfer transitions to UCLA, barrels toward graduation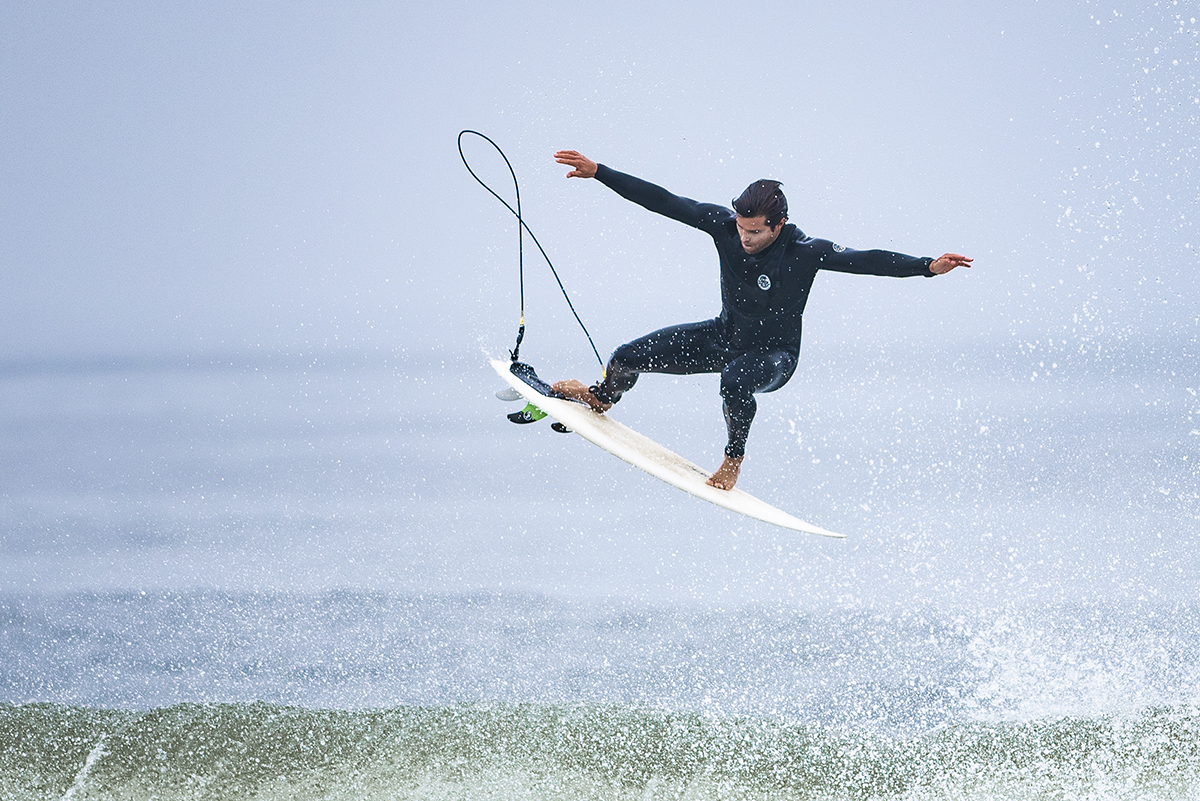 Fourth-year economics student Dillon Perillo rides the waves. The 31-year-old is a current UCLA student who spent more than 10 years as a professional surfer. (Anika Chakrabarti/Assistant Photo editor)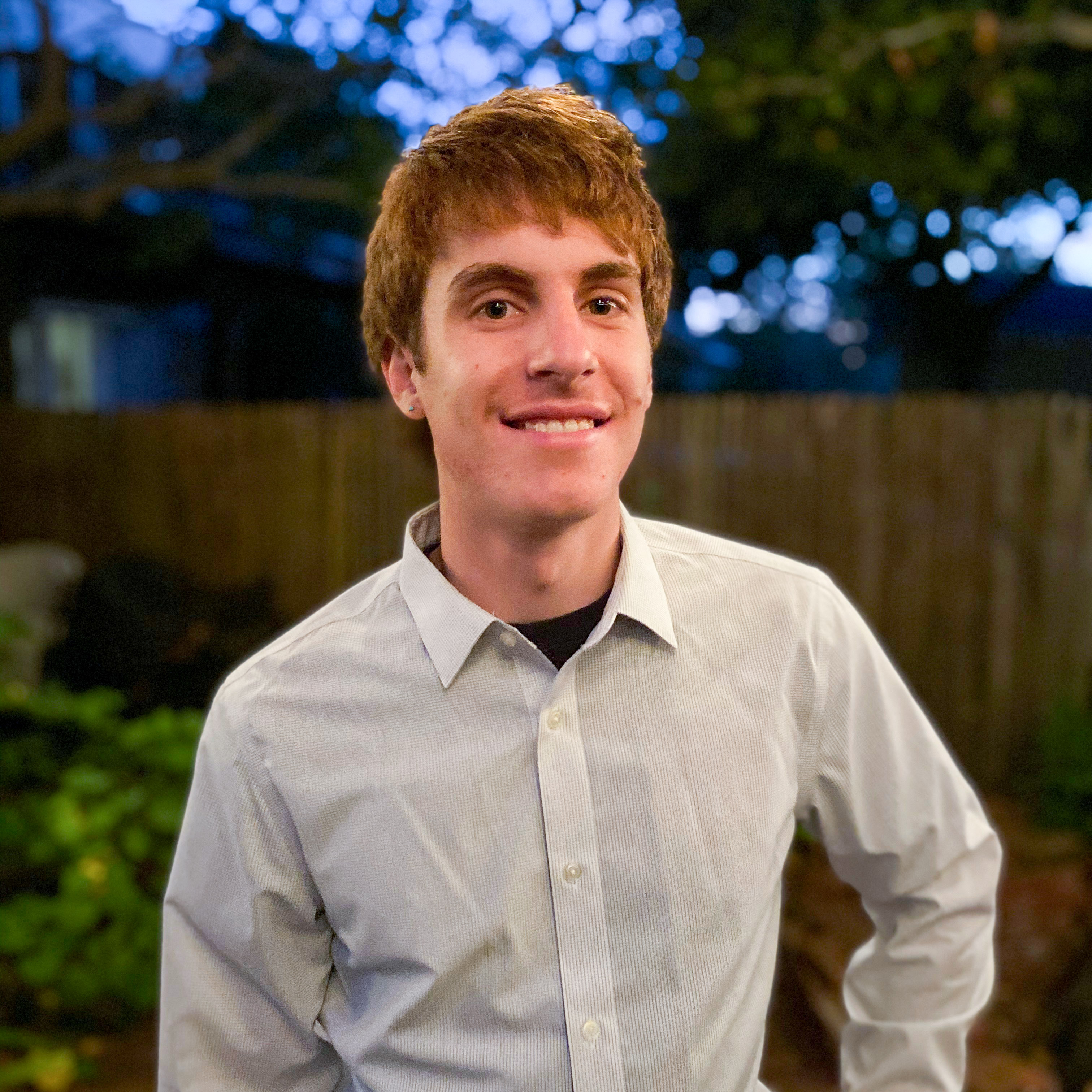 Dillon Perillo has gone to UCLA, worked a professional career and retired.
But not in that order.
The 31-year-old Southern Californian worked for more than 10 years as a professional surfer before retiring, although he's far from retired in the typical sense.
These days, he spends his weeks at UCLA sitting in lectures, attending discussion sections and spending hours on homework far away from the sounds of crashing waves and the thrills of surfing.
Through the changes, the fourth-year economics student's identity has remained the same. He's still a surfer at heart.
"I just wander through school with my glasses on (and) get a coffee. I don't even know the names of the halls," Dillon said. "At the end of the day, I'm just a surfer. Simple guy."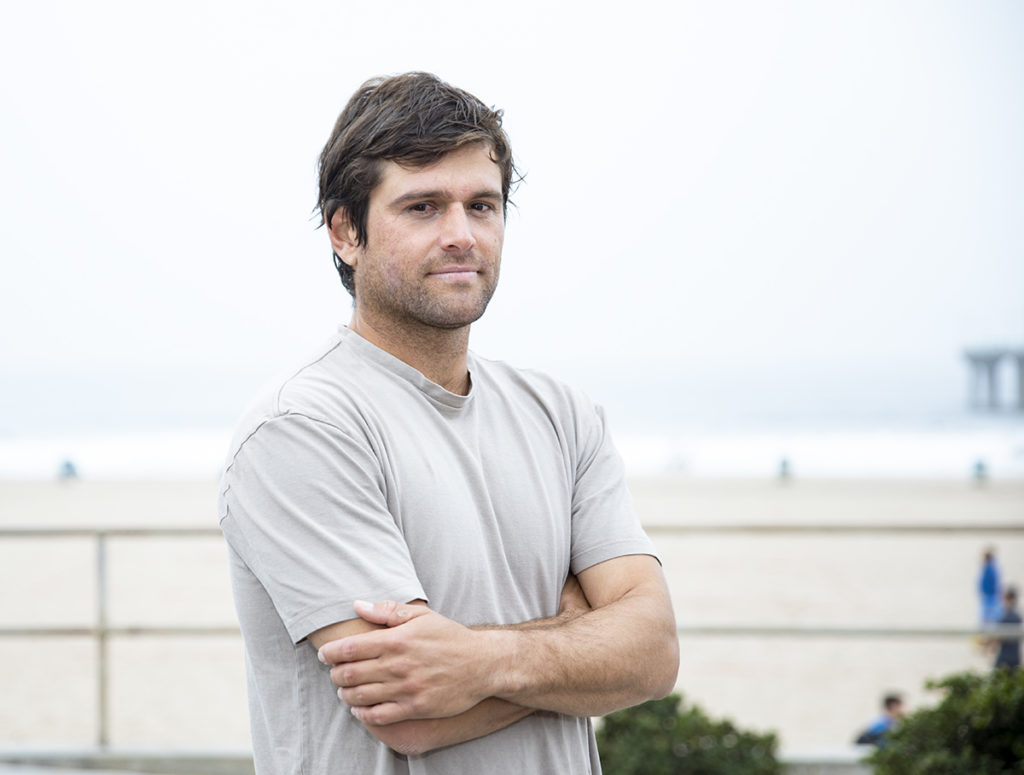 Born in Thousand Oaks but raised in Malibu, Dillon is the son of Damien Perillo, an avid surfer who started taking Dillon into the waves at 5 years old. At first, Damien was unable to coax Dillon out where the waves broke. He was timid and would drag his boogie board only out to the shallower sections of the water, his father said.
As time went on, Damien started bringing Dillon to deeper sections of the ocean, closer to where the bigger waves broke and where the main group of surfers caught them – known as the lineup.
"At 8 or 9 years old, Dillon went out there in the lineup and caught a wave all the way to the beach, and that was it," Damien said. "After that, I couldn't stop him from paddling out and catching waves."
Dillon was hooked. He started surfing every day with his neighbors and friends, who quickly caught on to his talent. One day, the neighbors told Damien that Dillon had a "style that's very unique and really progressive for a kid his age."
That conversation pushed Dillon to join the Malibu Surf Team, where he started competing against teams from all over California, from Orange County all the way north to Ventura and Santa Barbara.
"He was a phenom," said Dillon's friend Colton Sarlo. "He was this kid from Malibu who surfed really, really good."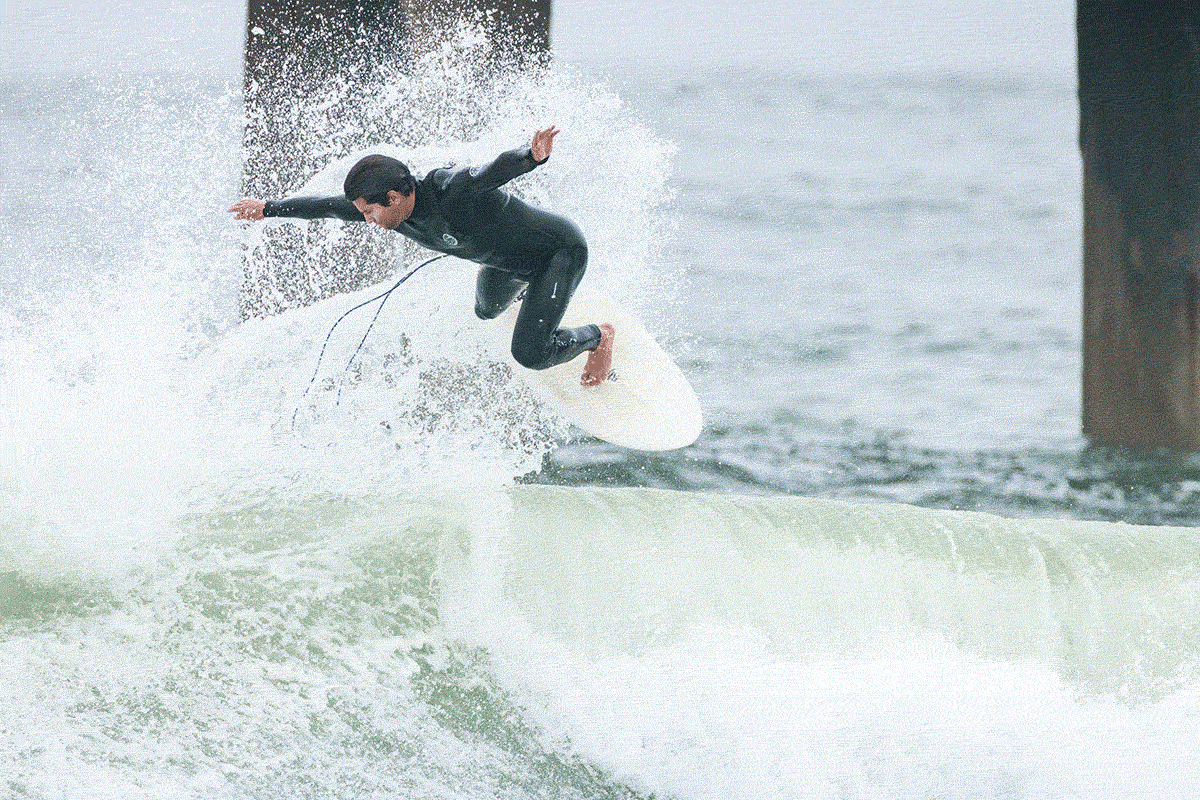 As Dillon participated in more amateur surf contests through the National Scholastic Surfing Association, he started to get noticed by surf apparel company Hurley. At age 14, a sales representative from the company approached Dillon on the beach one day and asked him if he wanted to be sponsored – a deal that would give him free wetsuits, free apparel and pay for his contest fees.
"(Dillon) calls me up, I'm at the job working, and I get this call at the construction site," Damien said. "And it's Dillon, and I said, 'What's up son?' (Dillon) goes, 'Dad, Dad, just say yes, please say yes. Can I get sponsored by Hurley? Please can I get sponsored by Hurley? They want to sponsor me.' And I just went, 'Are you kidding? Of course.' I was so excited for the boy."
From there, Dillon began competing in even more NSSA contests up and down the California coast. He began performing better as well, making it to the finals before winning contests altogether. Eventually, he won the 2006 NSSA National Open Championship's junior division at 16 years old.
Dillon was still in high school, but he was spending so much time traveling to surf contests away from school that he opted for a home study program. For Dillon, it had become simple. In the water, competing among the waves, that was where he wanted to be.
"At 16, it was all I thought about, all I cared about," Dillon said. "I didn't think about college at all anymore. I just surfed, and I was super competitive, just obsessed with surfing."
Dillon graduated from high school and went fully professional at 17, earning a living from his sponsorships. He competed in the World Surf League Qualifying Series at some of the world's best surf breaks, making trips to Australia, Portugal, Mexico, Hawaii and more.
At 19, Dillon's achievements and surfing style quickly caught the eye of a new sponsor: Rip Curl. The company wanted him to focus his energy on free surfing instead of contests.
"In any extreme sport, there's generally speaking two avenues: There's the freestyle – or 'free' surfing – and then the competitive route," Sarlo said. "(Dillon) really blossomed in the realm of free surfing."
As his focus turned to free surfing, Dillon stopped competing in as many contests and began chasing the best swells wherever they took him.
He teamed up with his friends who were also professional surfers and traveled together to the same spots every year to film videos that they posted online – Indonesia, Portugal, West Australia, Puerto Rico and more.
At one point, Dillon and other professional surfers spent months on a boat traversing the entire Indonesian Archipelago, discovering waves no one had ever surfed before.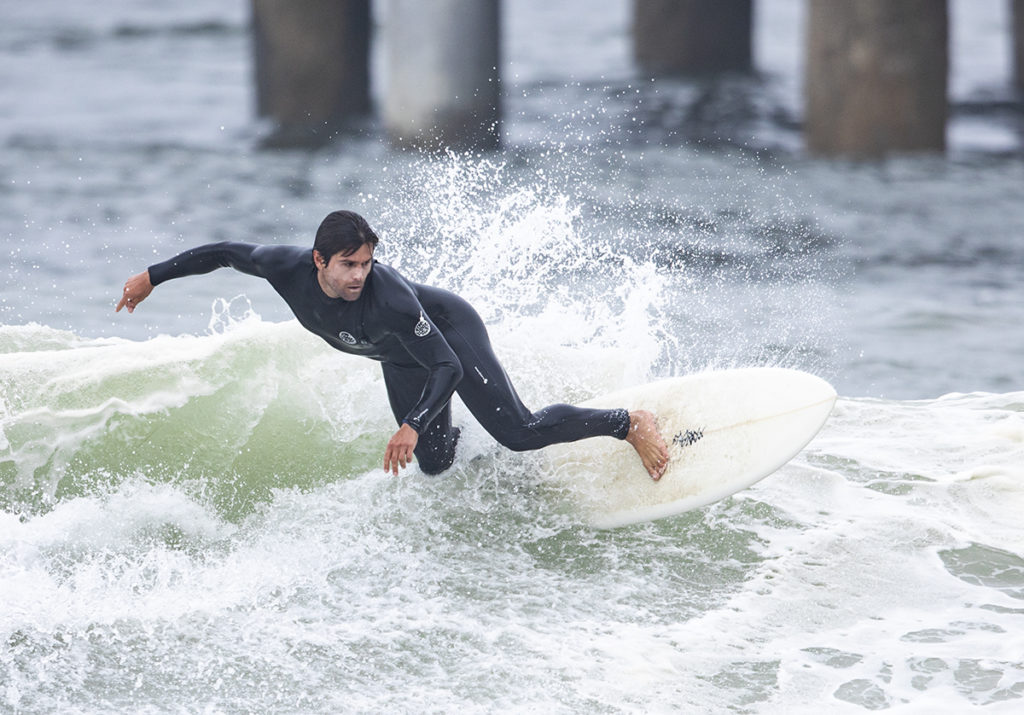 "It's a blur really because you are constantly traveling and jet-lagged, then you're surfing, burnt out, then you're jet-lagged and then you come home and just kind of sit around," Dillon said. "Swell hits somewhere and you get on the plane again. Looking back, it happened really fast."
While Dillon admits he was lucky to have been able to pursue professional surfing, he said it was not a career without its fair share of ups and downs. He suffered a knee injury at age 23 and was out of the water for almost half a year.
Unable to surf, he said he found himself in an existential crisis. It was his therapist who suggested he should go back to college, but Dillon did not want to take the advice.
His career continued on into his late 20s – traveling, surfing, filming and repeating – before college reentered the picture, this time for a non-injury-related reason.
At 28 years old, Dillon's expiring sponsorship with Rip Curl left him at a crossroads. He had to decide if he should search for a new sponsor, retire and get a job, or pursue an education.
"In my mind, you only make it to 30, or 33, if you're lucky. I was 28 at the time, I've already surfed in my mind as good as I could," Dillon said. "I simply didn't think I could make anything greater, and at that moment when I lost my deal, it was time to move on."
After his decision to retire, Dillon was convinced by his friend Dylan Goodale, a fellow retired professional surfer and current student at USC, to pursue a college education.
After two years at Santa Monica College's Scholars Program, Dillon applied and was accepted to "about every single one" of the schools he applied to, according to Sarlo. He chose UCLA, but with his junior year online, Dillon found the transition back to the classroom challenging, especially for someone who made a living being outdoors.
"I did the bare minimum, I just didn't want to do another Zoom. Sign up for any programs? It's more Zoom. More interviews? It's more Zoom," Dillon said. "I'm just used to being at the beach I guess."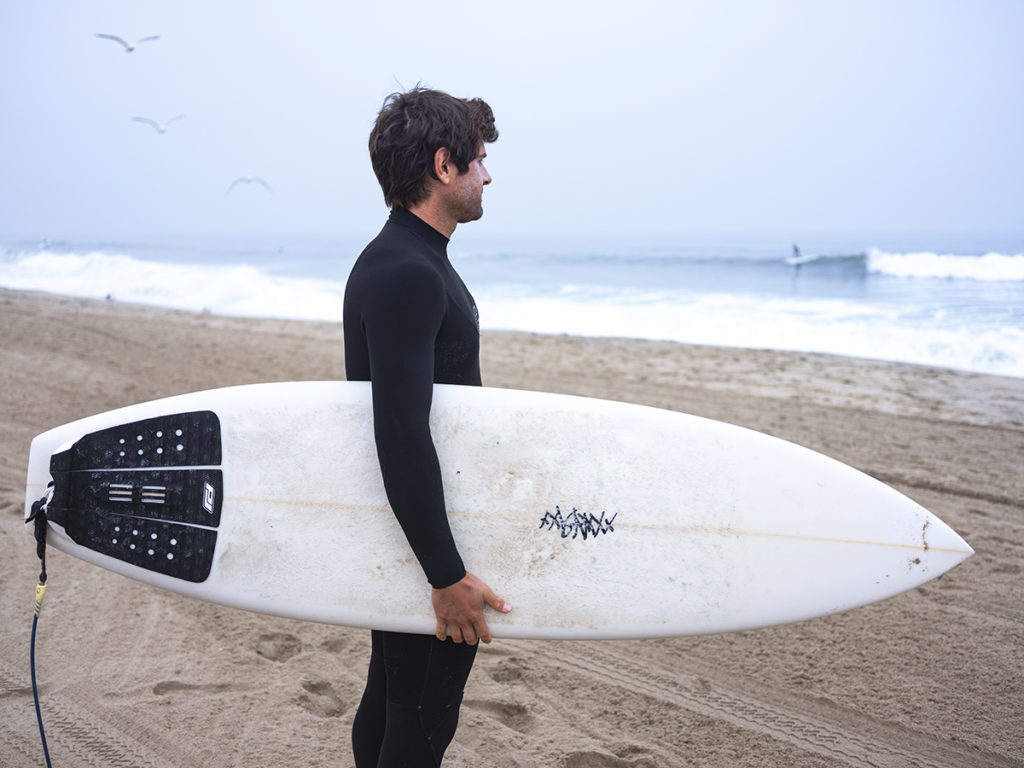 With his classes now back on campus, Dillon still surfs at least two times a week through all his studies. He said he finds it more fun than when he was a professional – he even thinks he surfs better sometimes. He's also taken up coaching younger surfers and volunteering for THERAsurf, a local nonprofit helping children with special needs learn how to surf.
But as his stint at UCLA comes to a close, Dillon said he is starting to feel the same uncertainty he had when he decided to retire from professional surfing. With graduation soon approaching and the possibility of a future in real estate, finance or graduate school in question, he has once again found himself at a crossroads.
But regardless of where his education takes him, Dillon said he will always be "just a surfer" – at least for the foreseeable future.
"As long as my hair is sunburned and my face is tan, I'll look at myself in the mirror like that," Dillon said. "Until I graduate and get an office job and I turn really pale and my hair goes black again, then maybe I won't look at myself as a surfer."
Greenberg-Bell is currently a Sports reporter. He was previously a contributor on the men's soccer, women's soccer and men's volleyball beats.
Greenberg-Bell is currently a Sports reporter. He was previously a contributor on the men's soccer, women's soccer and men's volleyball beats.