UCLA men's golf coach announces retirement, looks ahead to season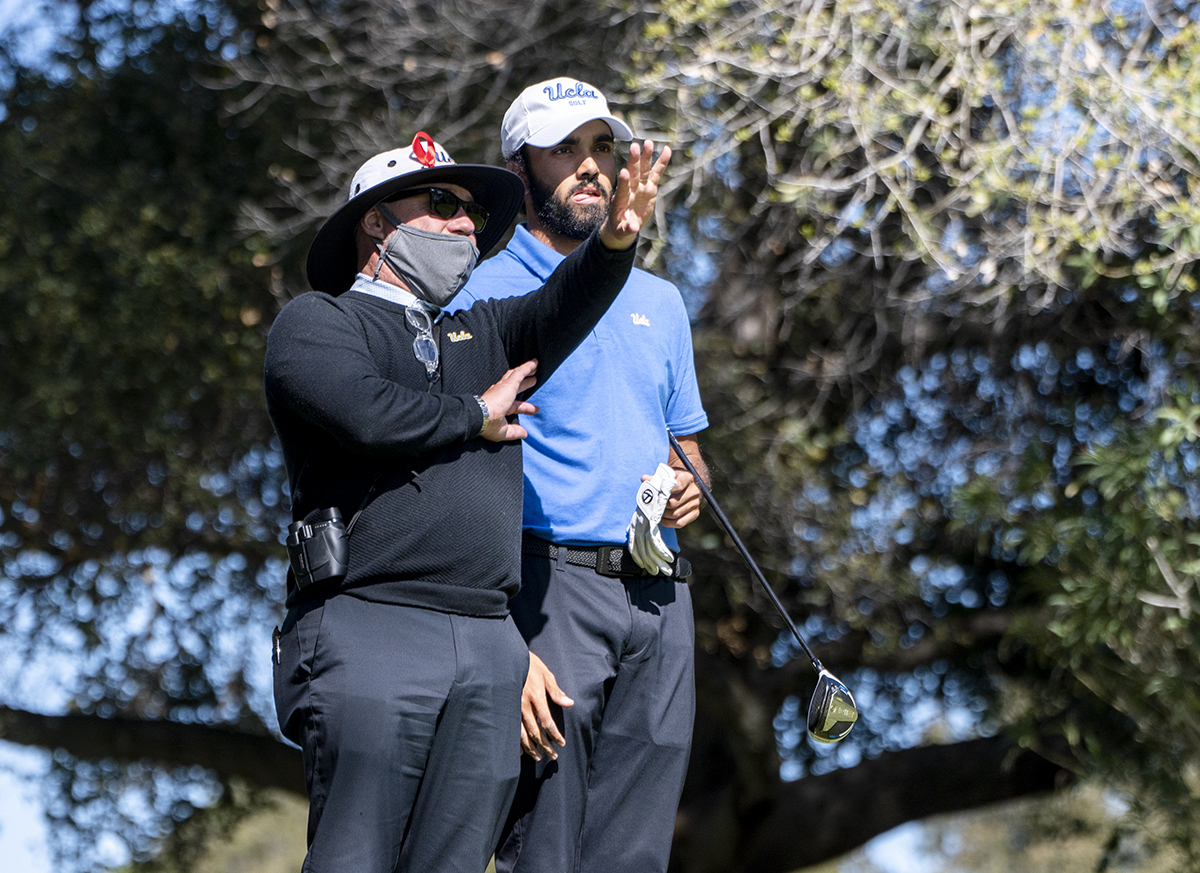 Derek Freeman (left) coaches on the course. The UCLA men's golf head coach announced his retirement from the program following the 2021-2022 season Monday after 15 years at the position and 16 total seasons with the Bruins. (Jeremy Chen/Daily Bruin staff)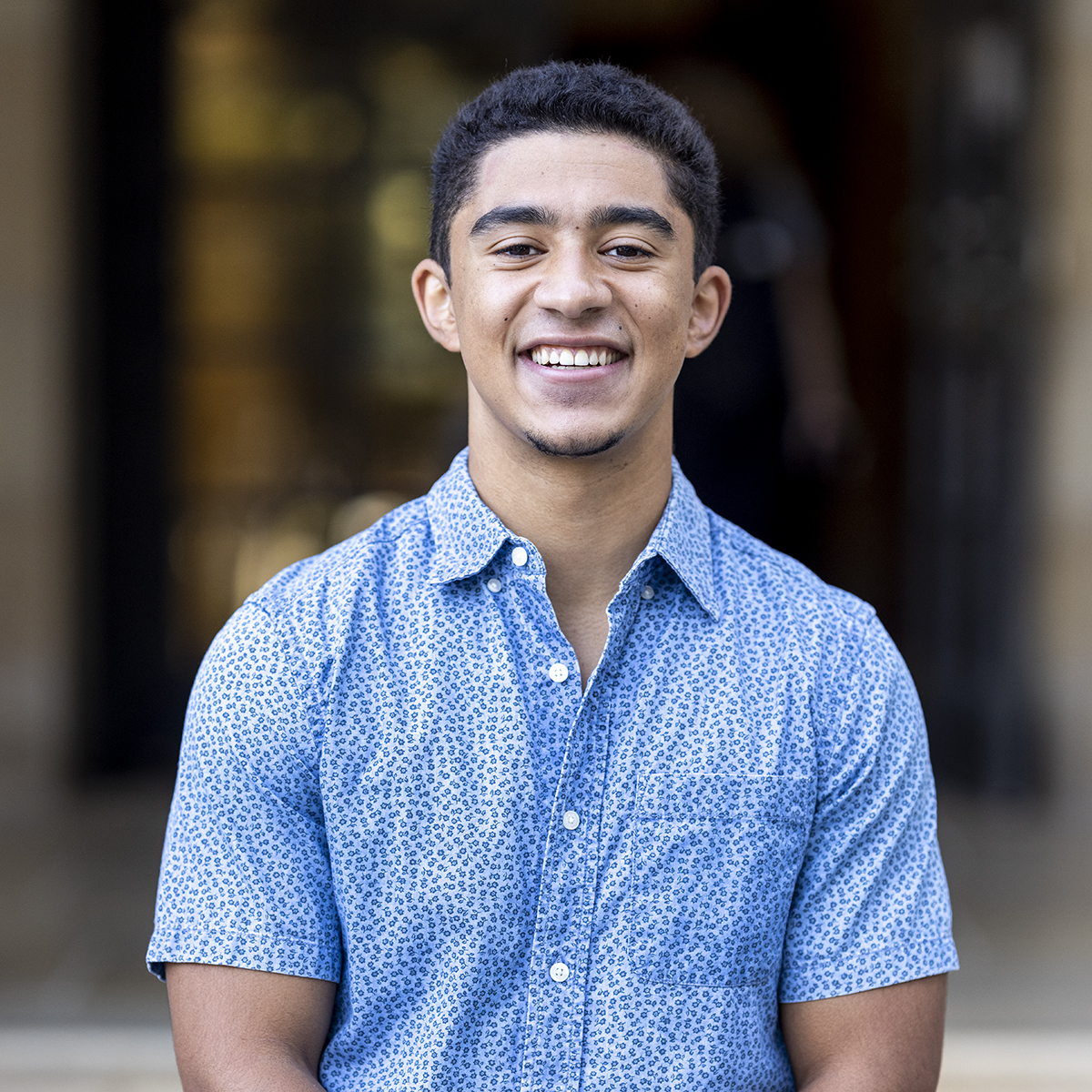 It's the end of an era for the Bruins.
After 15 years serving as head coach for UCLA men's golf, coach Derek Freeman announced Monday that he will be retiring at the end of the 2021-2022 season.
"(I) finally made the decision within the last couple of weeks that now is the time to really step away," Freeman said. "I've loved UCLA, it's a fabulous place, it's been wonderful to me and my family. I've enjoyed coaching all the great players we've had here, but I just realized that it was time for me to start something new."
Freeman informed his players of his decision to step down during a team meeting just prior to the announcement being made public, according to graduate student Devon Bling. Bling said the discussion between the coach and his players was a heartfelt one.
"It was a pretty emotional conversation, a lot of us were shocked," Bling said. "We didn't really see it coming, but coach Freeman is ultimately going to do whatever's best for him. He's coached a long time, he's won national championships and I respect whatever decision he has to make."
Freeman joined the UCLA program as an assistant coach in 2006 before becoming the head coach the following year. He went on to lead the Bruins to the 2008 NCAA championship in his first season as head coach – the blue and gold's first national title since 1988.
The former University of Oklahoma golfer and Oklahoma City University women's golf head coach also won three regional championships with UCLA, including the 2011 Regional Title, which earned him Pac-10 Coach of the Year honors.
Bling – who was named All-Pac-12 Second Team last season and qualified for the U.S. Open and Masters tournaments during his five years with Freeman – said Freeman's extensive knowledge and experience have helped him mature since coming to campus as a 17-year-old.
"I was 17 years old for the first two months, and he's seen me mature and grow as a golfer," Bling said. "He's given me so many different connections, and he's a great man in the industry of college golf – he knows everybody. If I needed any sort of help or guidance, he always used his experience and his wisdom to push me in the right direction."
In addition to Bling making the cut at the 2019 Masters, former UCLA golfers Kevin Chappell and Patrick Cantlay experienced both collegiate and professional success under Freeman's guidance.
Freeman coached both Chappell and Cantlay to Pac-10 Golfer of the Year awards and the Bruins' only Jack Nicklaus Award wins – the annual award given to the best men's collegiate golfer. Chappell now has one PGA tournament win, while Cantlay was last season's PGA Tour Player of the Year and has six PGA Tour victories thus far in his career.
When asked about what makes Freeman a unique and successful coach, senior Sean Maruyama said the coach's competitive spirit outmatches his own players.
"As a coach, we could all feel that he hated losing more than any one of us did," Maruyama said. "Obviously we don't like losing, (but) he was even more driven to win than all of us, and I think that's what motivated us to try to get better each year."
Following his retirement announcement, Freeman will continue coaching the blue and gold during its current offseason period after playing three tournaments in the fall. The Bruins' winter season begins Jan. 24 at the Southwestern Invitational in Westlake Village, California.
Freeman said he hopes his sudden decision can motivate his players to succeed during the final stretch of his storied career.
"I've tried about every mechanism possible to energize my team over the years – this is the one that I've never tried," Freeman said. "Maybe this gets them excited to really work hard and finish off my last season in a great way. They're going to do everything in their power for us to have a great, great spring."
Carlson is currently a staffer on the women's basketball and softball beats. He was previously a reporter on the men's golf beat.
Carlson is currently a staffer on the women's basketball and softball beats. He was previously a reporter on the men's golf beat.