Opinion: UCLA must accommodate transfer students with more academic flexibility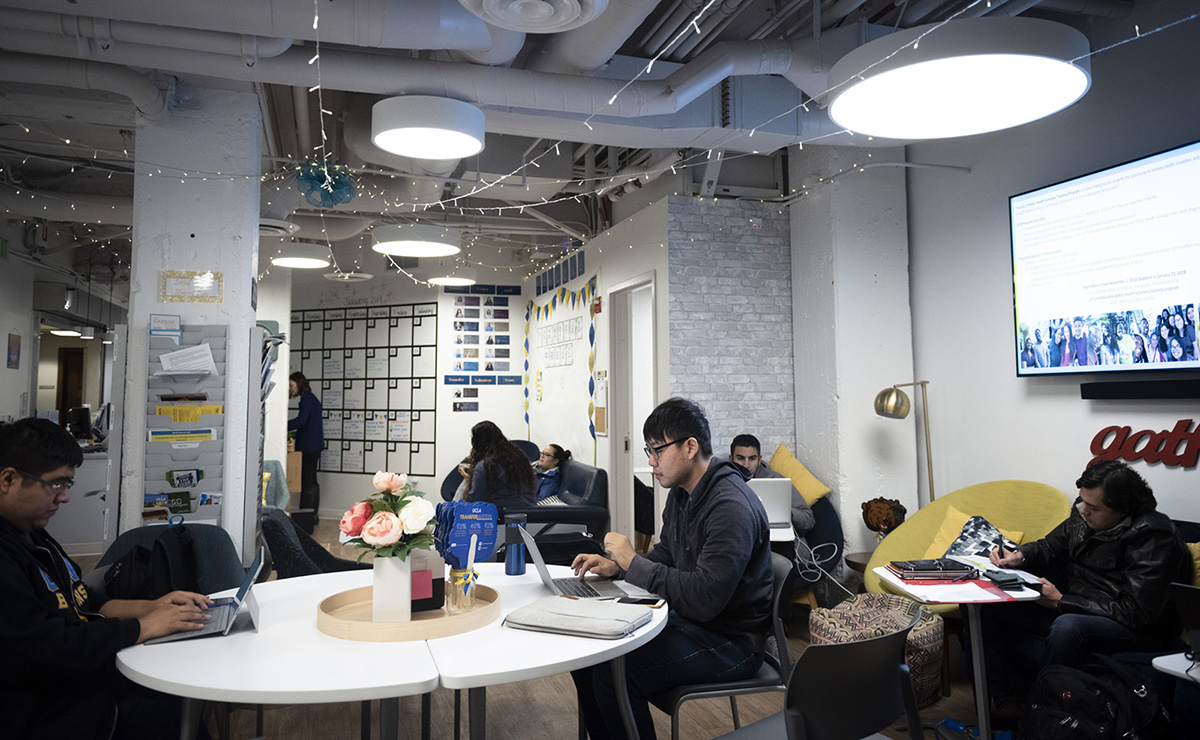 The Transfer Student Center is a hub for the transfer community at UCLA. Resources like this are helpful, but the university should push for systemic changes that make education more accessible. It can start by normalizing a three- or four-year graduation pathway for transfer Bruins. (Daily Bruin file photo)
Three out of 10 undergraduate students at UCLA change majors.
But for about a quarter of the student body, opportunities to rethink their futures aren't so easy to come by.
In comparison to direct-entry students, transfer students have little wiggle room to take the time to explore their academic interests after arriving at UCLA.
While direct-entry students have the luxury of completing their degrees in four years, transfer students are expected to complete their degrees within two years of matriculation. Direct-entry and transfer students who want to stay an additional year must file a petition, but it doesn't erase the fact that the latter has half the time as the former to figure out whether they want to pursue this option.
This timeline minimizes transfers' ability to switch or add on majors and minors.
The completion of prerequisites, classroom space and the department determine transfer students' ability to change their majors. These criteria make it nearly impossible for many to even consider other fields of study. UCLA should normalize a three- or four-year pathway for transfer students, which would allow them to explore other academic avenues and change majors without the stress of adhering to a strict graduation timeline.
Our school needs to recognize that everyone's situation is different and extended time would ultimately benefit transfer students.
To be fair, some transfer students could reach their degree before the two years, and others may be able to complete their requirements by their expected graduation date.
Not everyone can hit the ground running while adjusting to UCLA, though. A third or even fourth year would be helpful for transfer students, especially if they wish to change their degree plans.
Undergraduate Students Association Council Transfer Student Representative Herman Luis Chavez said transfers may need to take longer than the two years allotted not just because of academic reasons but also because of the semester to quarter adjustment, as well as social and cultural barriers.
Commuting, family responsibilities and dependents are all factors that disproportionately contribute to transfer experiences and can create roadblocks for a strict two-year graduation timeline. In fact, 80% of undergraduate parenting students across the University of California are transfer students. A three- or four-year pathway could alleviate feelings of concern that are caused by educational costs, off-campus workload and lack of campus involvement.
The numbers speak to these benefits. Without the limitation of a two-year completion expectation, transfer student graduation rates at UCLA jump nearly 20%.
"Even though many transfers are coming in with associate (degrees) completed and all of their requirements finished for the degree that they were admitted with, that doesn't change the fact that there is still so much room for experiencing UCLA," Chavez said.
He added that missing just one prerequisite could determine whether or not a transfer student can change their major. This includes coursework that may not have been available at the previous institution a student transferred from.
Some departments don't even allow transfer students to switch into their major programs. For example, the UCLA School of Theater, Film and Television bars transfer students from taking on the film and television major once they've enrolled at UCLA.
The broader academic system needs to understand that students whose responsibilities extend beyond school can't thrive in the same conditions as their peers – and that they deserve to be accommodated accordingly.
With limited time at UCLA, transfer students should be able to get the experience they want.
The value of choice at stake in the limitations placed on UCLA's transfer community is multifaceted.
"I think (transfer students) should be able to extend if they want to. In the end, it's their money, it's their time," said Vincent Arizpe, a fourth-year transfer and geography/environmental studies student.
UCLA spokesperson Ricardo Vazquez said in an emailed statement that most transfer students are able to change their major with completed prerequisite courses, unit maximums and the approval of the department. He added that these restrictions are in place to provide students with a quality academic experience as well as keep the admissions process fair.
But a quality academic experience can't exist if students are forced to prepare for a career they're not interested in.
A student's time and experience at UCLA is unique and will be shaped by new avenues of academic aspirations. These should not be stifled by the possibility of not being able to stay an extra year or two.
Transfer students deserve the chance to immerse themselves in all that UCLA has to offer without feeling like they're falling behind.